Serving up Hollywood in Bali
Meet Adrian, our Concierge Consultant 
Every once in a while, we receive a concierge request that changes up the rhythm of our day and that's when we know it's time to hit the ground running, and we love it. Adrian recounts the time he was involved in helping a guest plan their very own hollywood-esque holiday.
The Concierge Request 
As early as 6 am Bali time, Adrian receives a text message asking if he could help with a marriage proposal. We love requests like these. After a few messages, Adrian realises the proposal isn't what we're used to coordinating. This one is going to require a lot more bling.
Villa Finder: How did you make the concierge request come to life?
Adrian: I was really geared up to work on this request! It had so many interesting elements to be sorted out before and during the guests' stay. First off, we arranged a VIP Fast track at immigration for 24 guests. Yes, it is possible to do that! We knew he wanted to propose to his partner in an elaborate way so we envisioned the villa to be beautifully decorated for the couple's special moment.
I got in touch with our local event experts and arranged for them to have the villa's pool decorated with flower petals. Hundreds of silky rose petals floated on the surface and formed the words "Will you marry me"?
Villa Finder: Did she say yes?
Adrian: Of course she did! Since they were traveling with a big group of friends, they wanted to celebrate their engagement at one of the hottest clubs in Bali, Omnia. We prebooked a VVIP table at Omnia for 32 people and because the future groom wanted to capture the moment, he requested for a private and personal photographer to document their event! I knew a local/international photographer perfect for these occasions and made the arrangements. I loved that the guest was flexible with my recommendations. It meant that I could ensure the quality of work for the decorators and the photographer.
Villa Finder: Was it difficult to arrange all these requests?
Adrian: Not at all. For most of these requests, we know who to contact to make it happen. For this particular stay, the guest even requested for an IV Hangover cure! It was not a usual request of course but it was made before their arrival so I was able to arrange it without a fuss!
Villa Finder: Did they request for anything else during their stay?
Adrian: Yes, a few more..they wanted to really enjoy their getaway and we were happy to oblige. We arranged for private spa services so the guests could enjoy massages in the comfort of their own villa. We also made traveling around Bali a bit easier for the group by booking a transport service that accommodated 35 people. That's a bus full of happy guests 😉
Villa Finder: Lastly, what would you like guests to know about our concierge services?
Adrian: That we really enjoy putting their trips together!! I think it's important that our guests know that we've been in their shoes too, so we know how great (and not great) it feels when your holiday goes according to plan. Even if you don't have a plan…that's what we're here for and being locals, we're happy to share our best tips.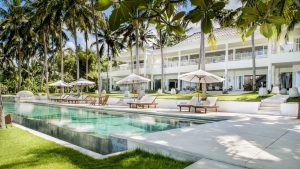 Adrian's villa pick: Villa Stella, Candidasa
Perfect for honeymooners or small families who love beautiful architecture and want a peaceful beach holiday.