Happy wife = happy life right? Well, is there anything that makes the mama happier than a bunch of content and exhausted kids at the day's end? Plan a stay at one of the best Seminyak family villas and ensure that the little ones stay entertained the entire length of your holiday in Bali.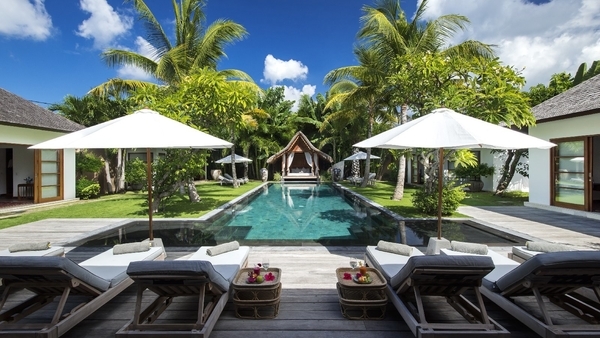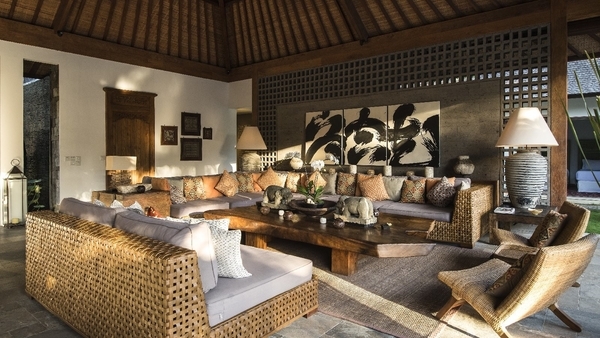 With seven bedroom suites, Villa Tiga Puluh is large enough to accommodate two or three families travelling together. A room with twin beds is connected to a larger, queen-size bedroom, particularly nice for younger kids who need to be within easy reach to their parents. A 10-minute walk to Jalan Oberoi, aka 'Eat Street', this tucked-away villa is great for hosting BBQ cookouts, yoga retreats or other special events.
Prices start at US$1,328 (low season), US$1,732 (high season) and US$2,079 (peak season)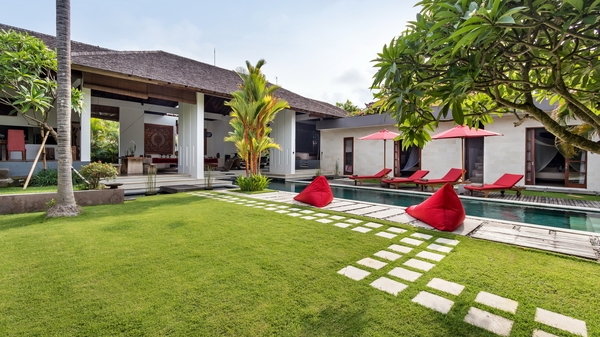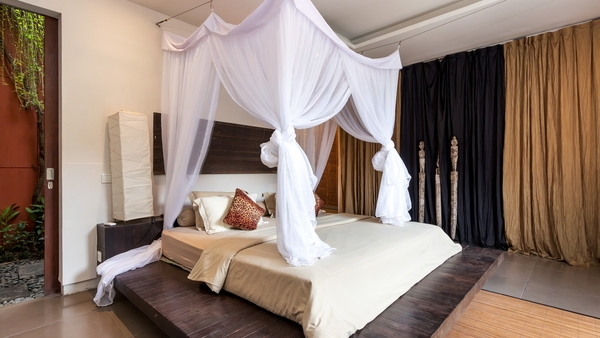 Minimalist and airy in design, Villa Arte strikes just the right balance so that both adults and children never want to leave this beloved vacation rental. The expansive green grass lawn allows kids to play at ease while you and friends can lay back in the open living room and still keep in eye on them. A dedicated media area just next to the living room displays a TV with international channels and a DVD player for movie nights. Villa Arte also has a special studio bedroom with a private living and kitchen area, well-suited for a couple with children.
Prices start at US$363 (low season), US$396 (mid-high season), US$$500 (high season) and US$522 (peak season)
Related: Bali with kids: 6 family activities for the ultimate family fun time!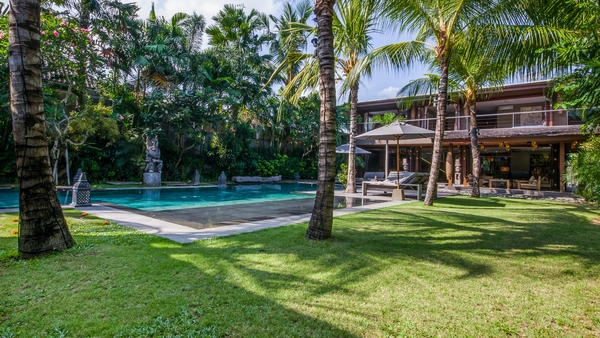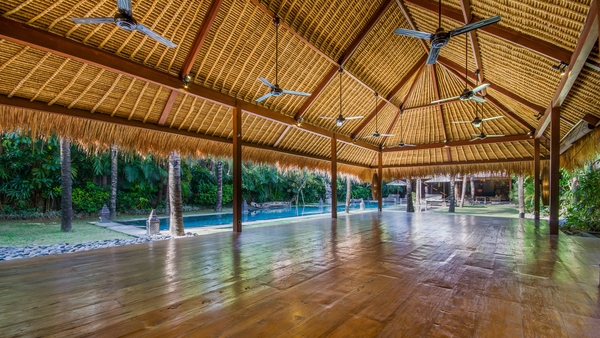 Designed especially for private yoga retreats, Villa Yoga is also a superb place to call home for a few days or weeks. Kids will go nuts over the lap swimming pool and the outdoor yoga studio where they too can take part in a yoga or dance class. Villa Yoga hosts seven rooms in all, some with queens, some with twins, and one with a combo queen and single for when all of the kids want to throw their own slumber party.
Prices start at US$890 (low season), US$990 (mid-high season), US$1,200 (high season) and US$1,500 (peak season)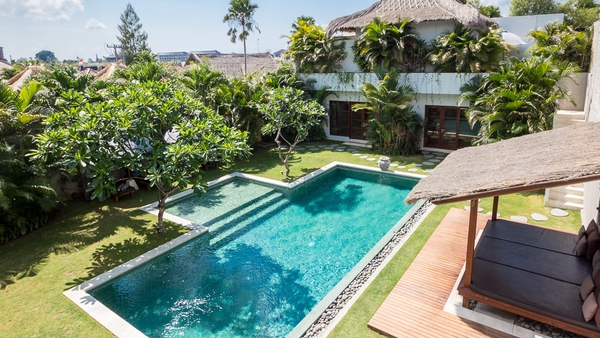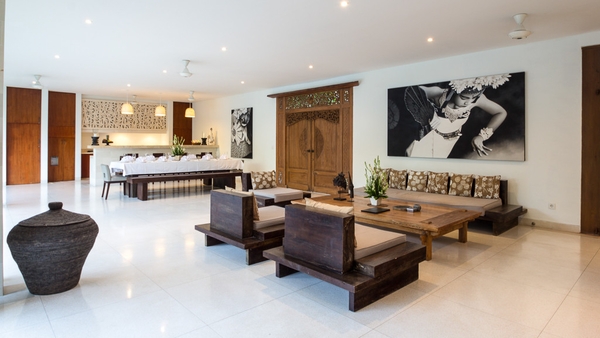 Villa Chocolat 6 is a favourite destination of ours for many reasons, not least of which include its ability to connect with the two-bedroom villa next door, increasing the total number of potential guests to 16. Featuring a large yard and pool, side-by-side queen bedrooms, a video game console, games and an iPod dock stations, this villa promises to keep your whole group entertained for days on end. If needed, families can also request baby cots, high chairs or car seats from the manager.
Prices start at US$1,045 (low season), US$1,369 (high season) and US$2,004 (peak season)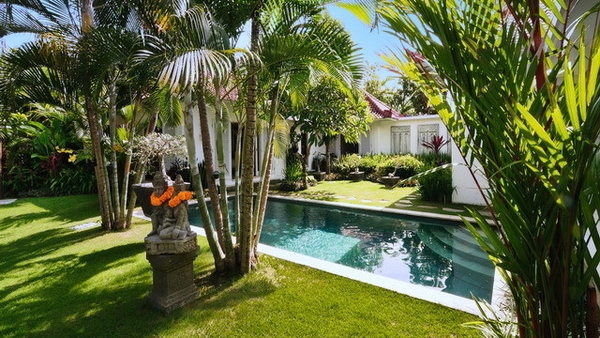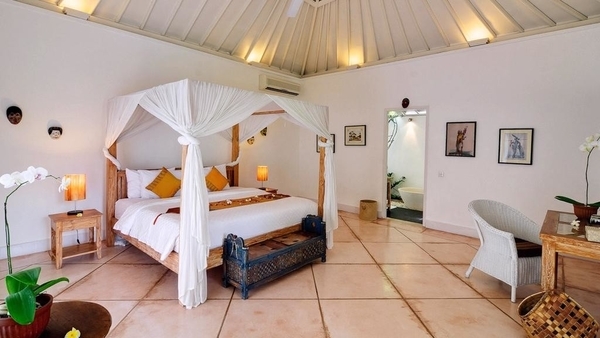 Cosy in layout and decor, the owners of Villa Sipo designed this five-bedroomed Seminyak retreat as one they themselves could call their family home when in Bali. Charming touches are obvious all throughout Villa Sipo, from the double swing under the tree to the two separate swimming pools, ping pong table and large canopied BBQ area, this home away from home is sure to be a hit with guests of all ages.
Prices start at US$762 (low season), US$825 (high season) and US$1,720 (peak season)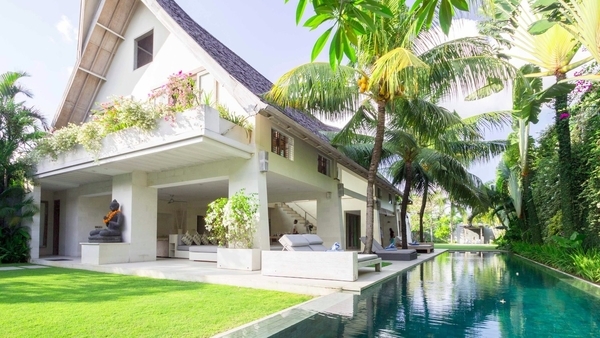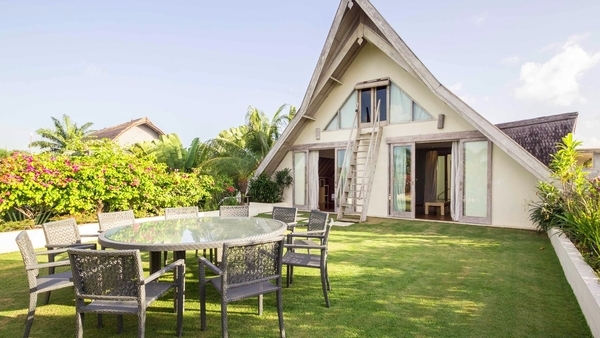 Boasting a cinema room with full-sized projector, two swimming pools, bicycles for exploring the neighbourhood and an upstairs sleeping loft, Casa Mateo is a family's dream holiday home in the centre of Seminyak's Oberoi district. The staff will also be happy to arrange a professional babysitting service if the adults are ever in need of a night out at one of the many fine-dining restaurants and bars just a short walk from the villa's front door.
Prices start at US$725 (low season), US$900 (high season) and US$1,350 (peak season)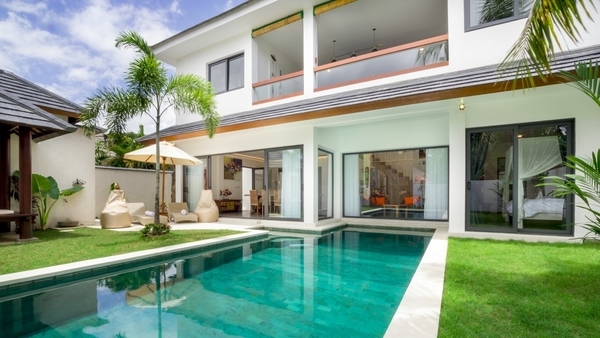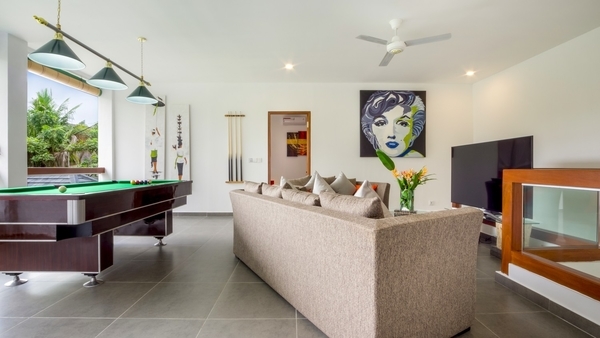 Villa Wiana features a contemporary tropical-chic design with floor-to-ceiling glass doors that open up straight to the swimming pool. Now, ain't that part of every kid's dream? Wait until they hear about the cinema/game room that awaits just upstairs from the living room. The light-filled living space is wonderfully spacious and homey, featuring a hypermodern kitchen, a dining area and a woven lounge set that faces a huge flat-screen TV. While the kids watch their series upstairs, mom and dad can sit in the living room downstairs to watch a movie of their taste. What more could you wish for?
Prices start at US$260 (low season), US$290 (mid-high season), US$330 (high season) and US$360 (peak season).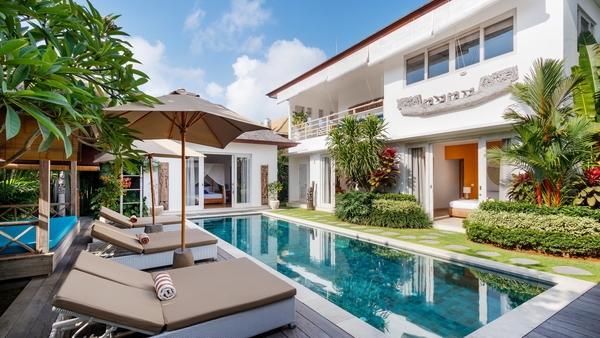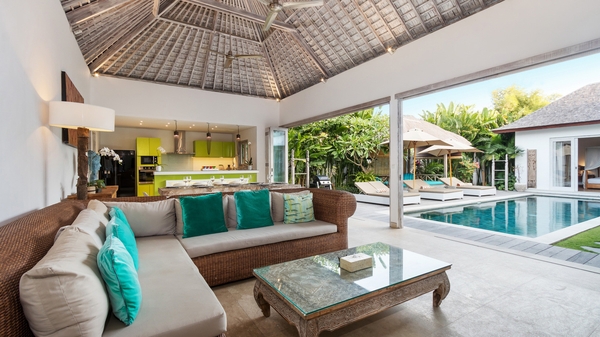 Fusing contemporary style and modern comforts with traditional tropical elements, Paraiba is a dream holiday villa brought to life. Featuring a wonderful tropical garden planted with all kinds of green foliage, a private glistening swimming pool, cushioned sunbeds and a shady daybed, parents and kids can spend endless days here just chillin' under the sun of their holiday home in Seminyak, Bali.
Prices start at US$320 (low season), US$340 (mid-high season), US$380 (high season) and US$490 (peak season).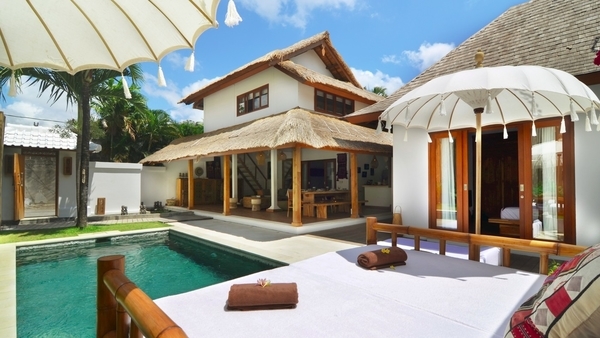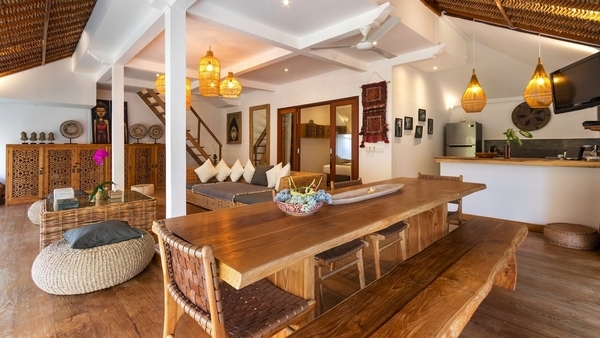 Located in the Drupadi gangs of central Seminyak, relaxation and peacefulness come naturally here at Villa Waterlily. The traditional pavilion features a tropical 'alang alang' thatched rooftop and the house is made from gorgeous ancient teak wood, adding a chic rustic feel. Kids will love the open-plan setting with a pool just steps away from the sofa.
Prices start at US$260 (low season), US$290 (mid-high season), US$330 (high season) and US$360 (peak season).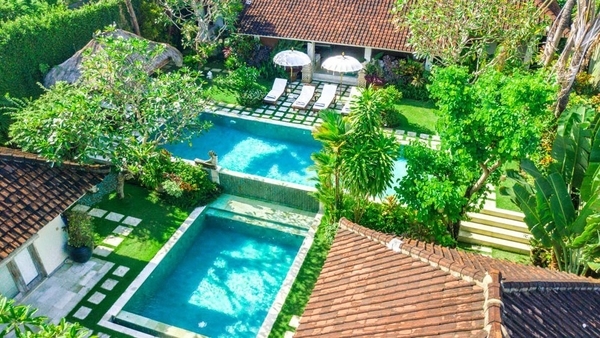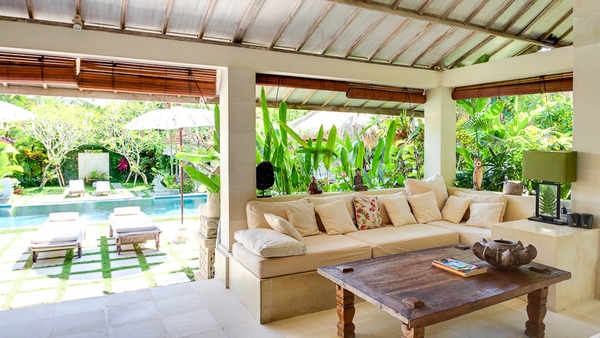 Villa Senang is hidden away from crowds and noises in Batu Belig, a peaceful yet trendy area in between Berawa and Petitenget. This traditional Balinese luxury retreat features a sprawling garden with not just one but two swimming pools to dip into. One pool overflows in the other, creating a cascading waterfall effect in the garden. On holiday with friends? Villa Senang has a lovely neighbour called Villa Gembira, and together they can be rented out as Villa Sembira, featuring 3 swimming pools. Girls, boys, moms, dads, there is enough space for everyone and the beach of Batu Belig is just meters away.
Prices start at US$400 (low season), US$430 (mid-high season), US$520 (high season) and US$545 (peak season).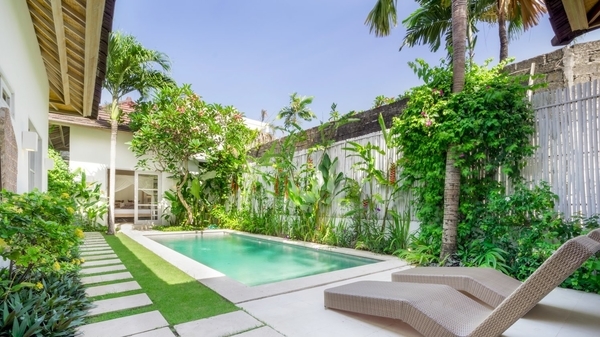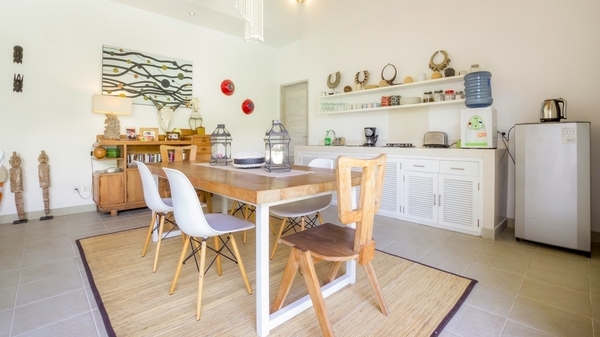 Villa Tara is a charmer and it makes a super cozy, utterly tropical family home in a quiet area of Seminyak. Colorful and happy, this 3-bedroom villa embraces the sweet tropical island living with an open-plan living room furnished with a sofa, TV, dining table and kitchen. The bedrooms are situated around the private swimming pool and waking up to these crystal clear waters beneath Bali's clear blue sky is pure bliss for the whole family.
Prices start at US$130 (low season), US$140 (mid-high season), US$150 (high season) and US$210 (peak season).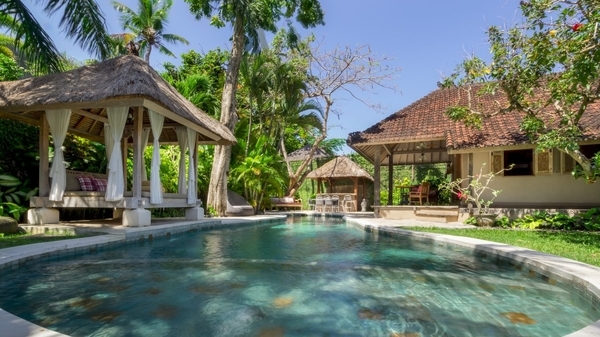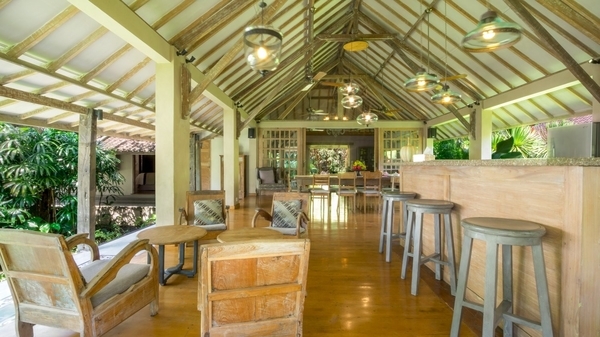 This gorgeous traditional luxury retreat is huge and absolutely stunning. Great for one big family or two smaller befriended families that want to spend their holiday in Bali together while still keeping enough privacy at the same time. The expansive tropical garden is home to a crystal clear free-form swimming pool with a pool bar. There is a communal living pavilion in the centre of the estate and the bedrooms are divided over several stand-alone pavilions scattered around in the greenery of the garden to enhance privacy. An amazing stay in chic and happening Petitenget.
Prices start at US$470 (low season), US$490 (mid-high season), US$550 (high season) and US$570 (peak season).
Please follow and like us: