Beach fun, surfing, sunsets, playtime, music, monkeys, food, and cultural experiences – you'll find it all in Uluwatu. Upcoming, trendy and yet incredibly laid-back and fun-loving, Uluwatu is located in the southern tip of Bali (the little tip at the end when looking at a map of Bali Island). From the airport, it's about 30-45 minutes away and is home to one gorgeous white sand beach after another – the very best on the island! A great place for a memorable family getaway in Bali.
The ultimate beach destination in Bali
Every beach in Uluwatu is like a tiny paradise of its own with perfectly white sands, turquoise bays, awesome surfing waves and cool beach bars. The beaches are hidden away at the bottom of high limestone cliffs. Some of them are easily accessible while others are a bit harder to reach, but all the more rewarding. Uluwatu is popular not only with surfers, for its great surfs but perfect for families with kids, with its safer swimming beaches.  
Uluwatu travel guide for families: Unwind, play and relax
Our advice? Stay in a villa close to the beach in Uluwatu and go explore. The area around Bingin Beach is perfect; just a drive away you'll find great family cafes and restaurants and venture a bit further, you'll find other nearby beaches where lots of other families will be hanging out. The kids can make friends here!
Other activities you can fill your time with include a visit to local temples, spotting monkeys, relaxing at the spa or chilling out at family-friendly beach clubs. Uluwatu has it all.
Because we always like a list, here are 6 ways for parents to unwind and 6 activities to keep the kids entertained (you can even do both at the same time!)…
1. Relax and play at Padang Padang Beach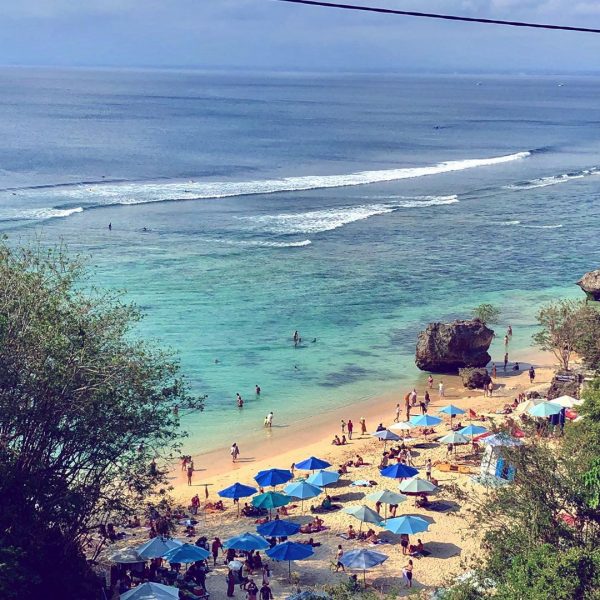 Padang Padang is great for families with kids! Calm waters (most of the time), possibilities to go surfing, snorkeling and even see monkeys – perfect! There are also plenty opportunities for kids to entertain themselves on the beach. We suggest challenging them to build sandcastles or cook up some delicious 'mud cookies'. 
A rouze long enough to let the parents sunbathe on their Balinese sarong or chill out in the shade of a parasol. We love that the area is free from loud, intrusive music, and dangerously high waves (at least not too close to shore), and when it's time for lunch, simple warungs for a quick meal and a drink is just a stroll away.
This pristine little bay is located at the bottom of a cliff and as you walk down a short rocky trail that's easy enough for both adults and kids to manage.
2. See the enchanting Kecak Dance at Pura Luhur Uluwatu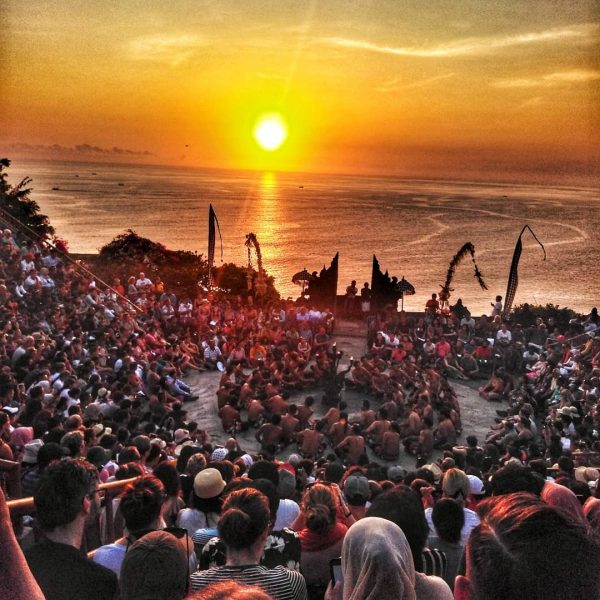 Take the kids for a fun, cultural and intriguing experience at the Uluwatu Temple around sunset time. Every night of the week, something magical takes place here on the limestone clifftops. Instead of a traditional 'Gamelan' orchestra, the Kecak dance enthralls its audience. With a polyrhythmic vocal orchestra, this theatrical performance that tells an ancient saga from the Ramayana Epic is truly impressive to see and hear! The performance includes a fire display, hand-carved masks, excitement and a lot of laughter. When purchasing your tickets, you'll be provided with the option of an explanation of the story in your language. The end of the performance involves lots of interaction with the audience and once it is done, you can take some cool family photos with the artists (and their amazing costumes!).
Get here early in the afternoon around 4 pm. See the breathtaking ocean views from this 70-meter high clifftop temple, meet the monkey tribe and learn more about Pura Luhur Uluwatu – one of the most important sea temples in Bali. The Kecak performance takes place at an open amphitheater in the light of a sunburst sky. 75 male dancers will enter the stage, making rhythmical sounds and shaking their hands up into the sky. Soon after, the main characters of the story appear: Rama, Sita, Hanoman and the evil Ravena. It's not to be missed!
3. Sundays Beach Club – relaxation and family fun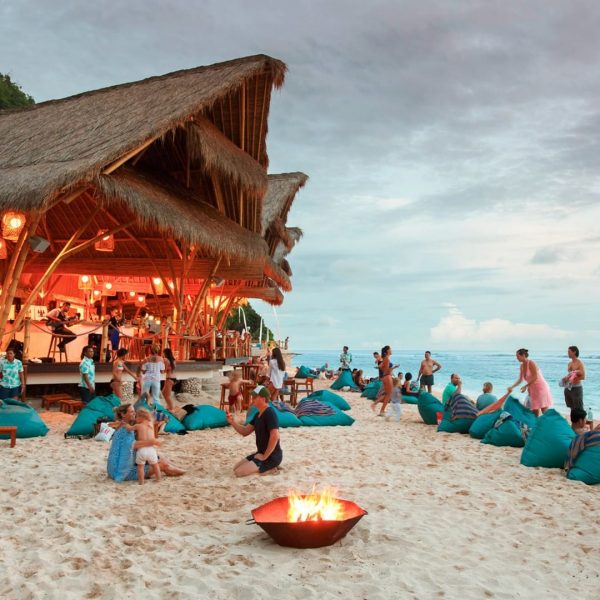 Sundays Beach Club is designed for families with kids! Secluded, private and wonderfully tropical with fantastic ocean views, this beach club is part of a villa resort (Ungasan Clifftop Villas) with plenty of family activities going on at the beach such as watersports, bonfires, movie nights and much more. The water is safe for swimming and parents and kids can go paddleboarding, kayaking, surfing or take a break and munch on delicious food.
4. Swimming, seashells, local food, and magical sunsets @ Balangan Beach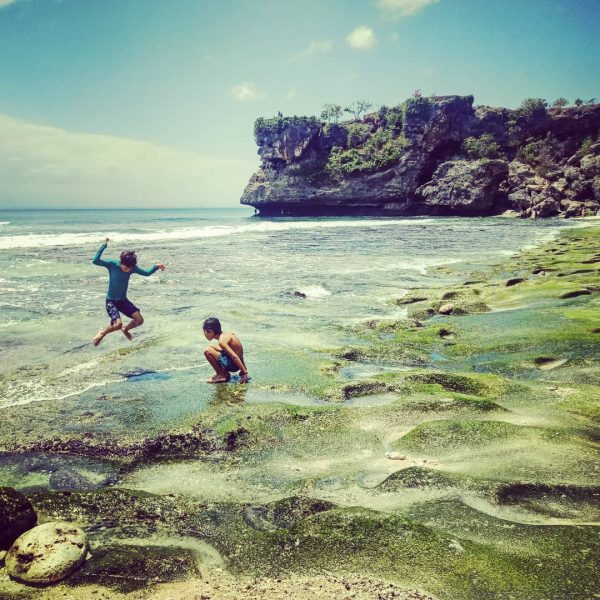 Balangan is a famous surf beach and it is also a much-loved photo spot for brides to be and romantic couples. But for family travelers, Balangan Beach is best for its laid-back, local vibe with simple beach huts and warungs dotting the coastline; the best spot to score an authentic traditional Indonesian 'nasi goreng' with a fried egg on top. You can hang around here all day, swimming, playing, eating and drinking cold young coconuts while you wait for sunset (the best time to order a cocktail or an ice-cold Bintang beer!).
When the tide is high, this beach is an amazing surf spot but parents should be cautious when taking the kids for a swim. During low tide, Balangan Beach naturally transforms into a moon-like landscape of rocks, little bathing pools and curious sea creatures – a great playground for curious kids! You can even consider walking around the cliff towards Dreamland Beach and back if you are up for a little family adventure.
5. Where daddies unwind – New Kuta Golf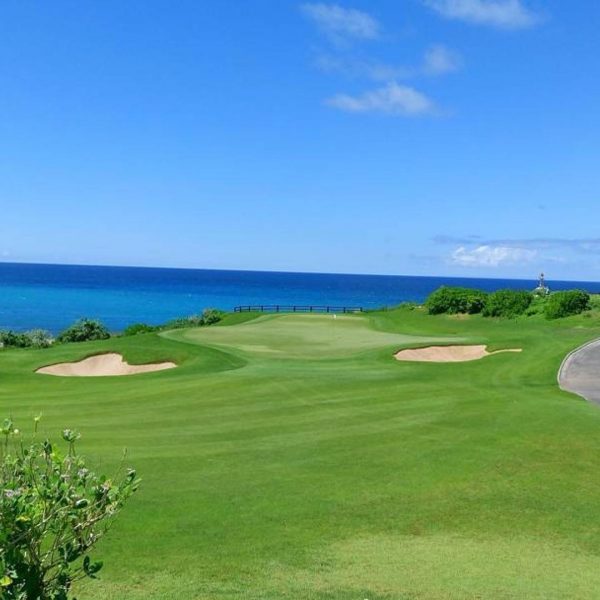 This is probably the best spot for dads who golf! New Kuta Golf is a gorgeous clifftop golf course, close to Dreamland Beach. Kids can even tag along or be kept busy with fun and games at the Klapa Lounge and Club. The views of the course against the blue Indian Ocean is stunning! It may not be for everyone but if you are a golf lover – the golf club is worth the visit. 
6. Pool fun with the kids
Enough of the beach? Never! But we know out of all the days on holiday, you might appreciate just one relaxing in the comfort of your private villa. This is where "chilling by the pool" is best practiced and we can tell you, it's the perfect spot for parents to unwind while the kids paddle around in their floaties. That, some sunblock, a jug of lemonade and a jug of something else… you're all set! Throw in a BBQ if you've invited newfound family friends by the beach; the staff of your private villa can even arrange for a lavish BBQ spread of freshly grilled seafood from Jimbaran Market. Can't hurt on holiday!
7. Spa Time! The ultimate place to relax and unwind.
Hire a nanny and escape to the spa – or, go for a family spa treatment at heavenly places like Karma Kandara! Pure bliss. Don't feel like going out? You can also bring the spa to the villa. Perhaps after the kids have gone to bed, or,  a massage by the side of the pool in the daytime? Difficult to decide but great that you'll have so many options!
8. The Anak Atelier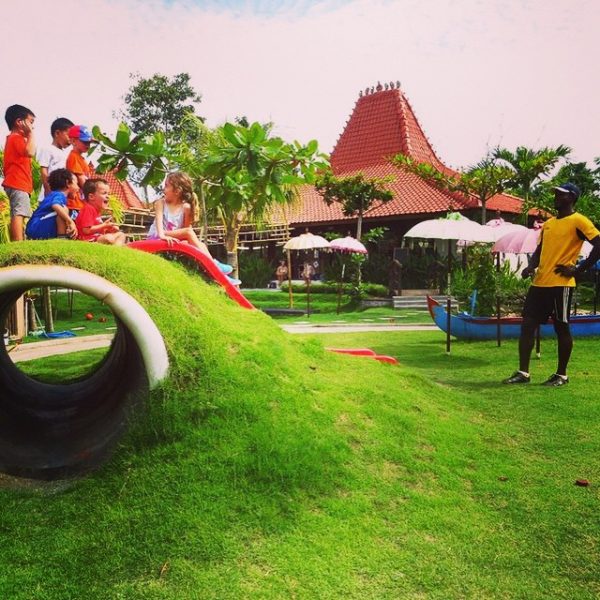 The Anak Atelier is an international preschool and kindergarten that is not only meant for families living in Bali. Between 3 pm to 5 pm, they open their doors for everyone to come and play in their sprawling garden and kids club. The outdoor area features a natural stream, a sand-pit, mud-kitchen, expansive lawns to run around on, swings, slides, holes and climbing racks – kids will love it! The staff is professional and loving – a great place to drop the kids off for hours of outdoor fun while parents drop by a spa or do some shopping at the nearby Nirmala Supermarket.
9. Paint-a-pot at Jenggala Keramik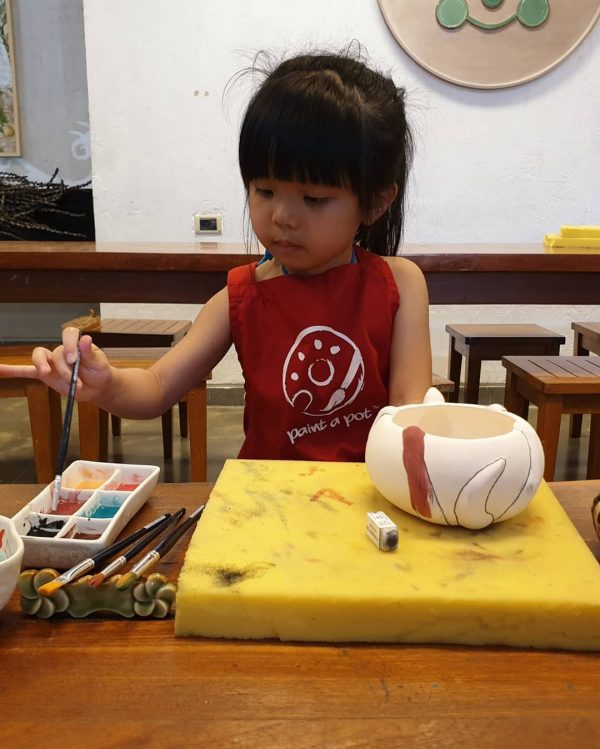 You will find the most beautiful ceramics at Jenggala Bali but what's even better, you can drop in for a workshop at the main flagship store in Jimbaran (on the way to Uluwatu). Kids will be entertained and parents can do some shopping (or join the workshop!). It's a great way to tease out the inner artist. The workshops are on every day from 9 am to 5 pm. Do note, your self-made ceramic piece will be ready for pick-up after 4 days as it has to be baked in the traditional Kiln ovens on-site. 
10. Create your own perfume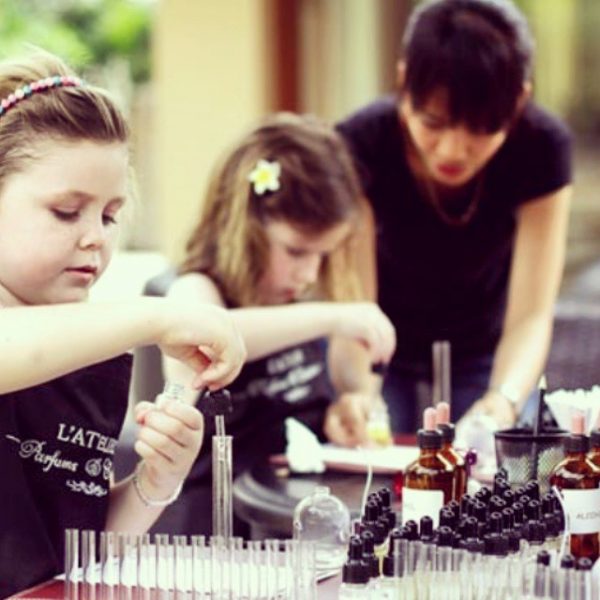 A wonderful idea for mums and daughters alike, making your own perfume is an exercise for the sense. Dive into the world of scents as you pick out local flowers and herbs to create your very own perfume. These classes are held over at Ayana Resort in Jimbaran. Just sign up for a class at L'Atelier Parfums et Creations. You can also go with the entire family as there are special kids workshops. For a romantic touch, mom and dad can make each other a special scent- you'll be surprised at what each other picks!
11. Coffee network – a hidden gem for families with kids
Located somewhere secret just off Jalan Raya Uluwatu, lies the ultimate family playground. A pool, volleyball net, hammocks, inexpensive food and drink – this is a great place for parents to have coffee and a smoothie bowl while the kids have fun on their own. Enjoy!
12. Family cafes: munch and lunch while kids play
A lovely garden-setting, delicious (and healthy!) food (including raw chocolate sweets!!), live music, yoga, DJs – what more could you wish for? The Cashew Tree is a popular and charming family cafe in the Bukit and no matter what time of day it is, you'll find that the vibe here is relaxed, with good healthy meals, coffee, cakes or a yummy smoothie bowl making this one of the most popular family hang-out spots. And did we mention the playground is every kid's dream? You'll easily spend 2 to 3 hours here in comfort. 
---
See our villa collection in Bali. Selected and inspected by Villa Finder
Please follow and like us: