We know Seminyak is all about stunning sunsets, shopping and dining but are there any family-oriented places to take the kids for drinks and a meal? Yes, there are! Seminyak may be highly fashionable and sophisticated but she also loves your little cupcakes and cheeky little rascals – you just need to know where to go. We looked around and found 11 family cafes in Seminyak. Check them out below.
Did you already find that perfect family villa to spend this Bali holiday with the kids? if not, you may want to check out our best family villas in Bali.
1. Dinner & traditional Balinese dance – Made's Warung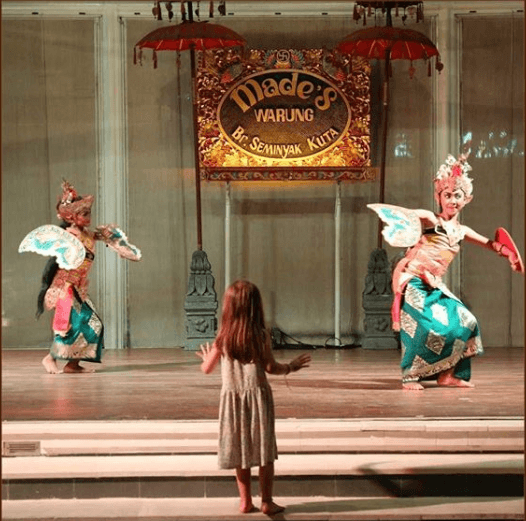 Made's Warung started out as a small Indonesian street stall but it grew into a famous restaurant chain in Bali. The Seminyak dining venue is wonderfully spacious and the restaurant is quite an icon on Seminyak's main street. Made's Warung is a great place to go for a family dinner! The recipes are still authentic Indonesian and the food is delicious, the staff loves kids and at the same time, the restaurant is a great place to sniff up some local culture. Every evening, there is a traditional Balinese dance performance held at Made's Warung, with all its drama, glory, music and costumes, enchanting the whole family. Traditional Balinese food combined with a cultural dance performance is the magic mix for a perfect family evening out to remember. They've got Western options on the menu too, so no worries if your kids (or the grandmas and grandpas) are difficult eaters.
Made's Warung
Address:  Jl. Raya Seminyak, Seminyak, Kuta, Seminyak, Kuta, Kabupaten Badung, Bali 
Contact: +62 361 732 130
Opening hours: every day from 10 am – 12 am
2. A hidden tropical oasis in central Seminyak – The Straw Hut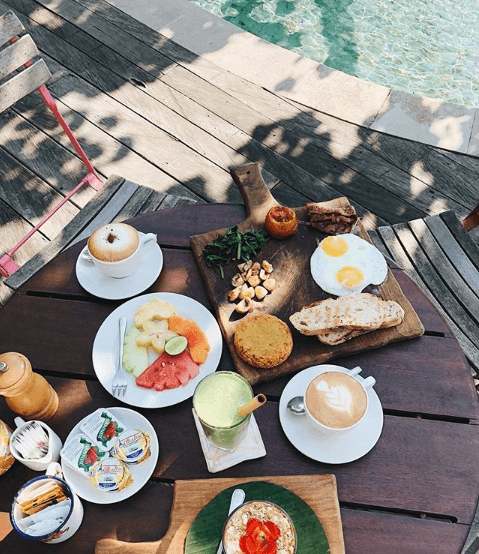 The Straw Hut is one of Seminyak's hidden gems, located perfectly central yet in a quiet and peaceful area. This tropical oasis features a big garden with a lagoon-like swimming pool and poolside tables. Any time of the day, The Straw Hut is a great place to come and chill out with the kids. They will be happy to go swim in the pool while parents can enjoy a long, lazy breakfast, brunch or lunch. The pool has got a large shallow area where moms can take their little babies for a swim, too. The music is relaxed, the staff friendly, the food very well priced – wonderful! Did you know, Petitenget Beach and KU DE TA Beach Club is less than 1 km away? So after chilling out at the Straw Hut all day long, you can head straight to the beach to catch the sunset.
The Straw Hut
Address: Jl. Sari Dewi No.17, Seminyak, Kuta, Kabupaten Badung, Bali
Contact: +62 361 736 750
Opening hours: every day from 7 am – 11 pm
3. Bali's biggest salt-water pool and jumping platforms – Mrs Sippy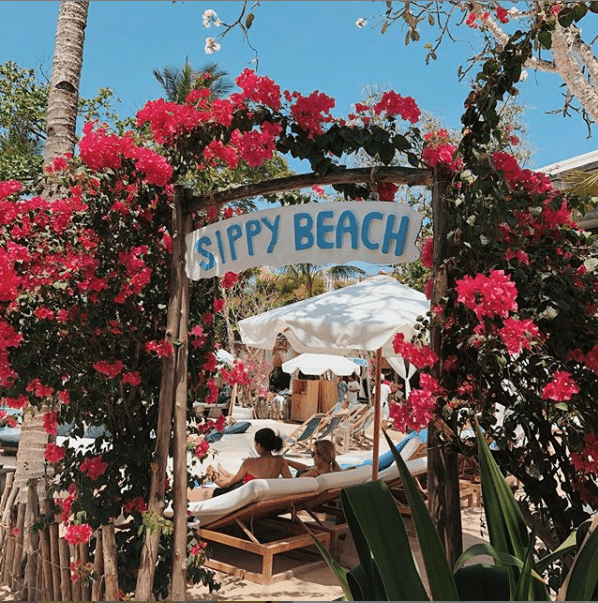 Mrs Sippy charges an entrance fee of IDR 100,000 but, this chill-out Seminyak haven is home to Bali's largest salt-water swimming pool. Why do kids love this place so much? It might have something to do with their jumping platforms (1, 3 and 5 meters high) and the unicorns that float on these crystal clear waters.  The pool is shaped like a tropical lagoon with a shallow area for the little ones and deluxe daybeds are placed by the poolside. Mrs Sippy serves Mediterranean-inspired food, prepared in their open-air kitchen with locally-sourced produce. They also have plenty of burgers (including a kids burger) and wood-fired pizzas on the menu. The DJs keep the tropical holiday vibes going, perfect for sipping some cocktails or fresh tropical juices under the sun (and in the shade!). Mrs Sippy attracts a mix of families and groups of friends.
Do note that there are minimum spending fees for the daybeds (IDR 600,000) and the cabanas (IDR 1,000,000) on top of the entrance fees.
Mrs Sippy
Address:  Jl. Taman Ganesha, Gang Gagak 8, Kerobokan Kelod, Kuta Utara, Seminyak
Contact: +62 361 335 1079
Opening hours: daily from 10 am – 9 pm
4. Beach vibes and good times – La Plancha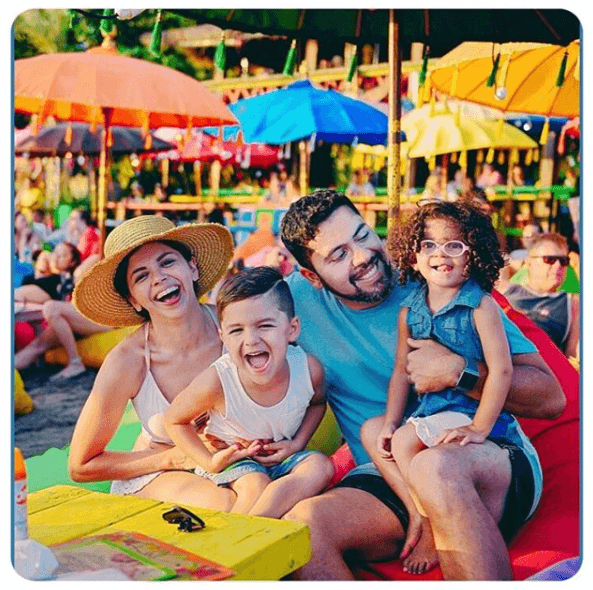 It's always a good idea to let kids run wild and free on a tropical sandy beach while parents can keep a watchful eye from a distance, having some cocktails and enjoying the tropical beach vibes. La Plancha (or any of the other beach bars on Double Six Beach) are the place to be for all of this and more. In the afternoon, perfectly in time before sunset, bean bags are laid out on the beach, shaded by charming Balinese parasols. Get into the chill-out mood, order some drinks and food and wait for the sunset to kick-in. The music is good, the kids can play in the sand, building sand castles, splash in the sea or run around with the sea breeze in their hair. Everything is wonderful and you may start daydreaming about moving to Bali forever 🙂
La Plancha
Address: Jalan Mesari Beach, Seminyak
Contact: +62 878 6141 6310
Opening hours: daily from 10 am – 12 am
5. Tea time for the kids – Biku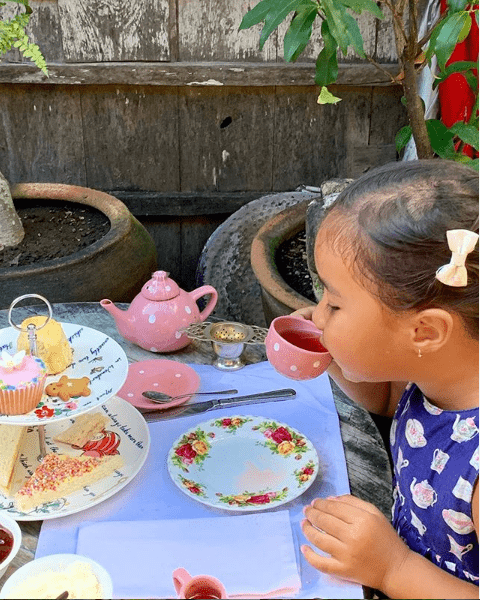 Biku is a beautiful family restaurant tucked in an ancient traditional Javanese Joglo house. Biku is also known as a "tea house" for they do delightful high teas, sometimes combined with tarot readings upon request. For sure, all kids love to come here for the high tea sweets, but they will be thrilled to find out that they can get their own kids' high tea, with teacups, mini cupcakes and other treats matching their size. On other days, Biku makes a great stop to go for a good meal at any time of the day. There is no need to rush – kids can happily play at Biku's kids' playing corner and parents really get to enjoy their dinner in peace. Biku sells some cute kids stuff, too, if you aren't done with your shopping in Petitenget just yet.
Biku
Address: Jl. Petitenget No.888, Kerobokan Kelod
Contact:+62 851 0057 0888
Opening hours: daily from 8 am – 11 pm
6. Awesome family breakfast @ TIIGO Seminyak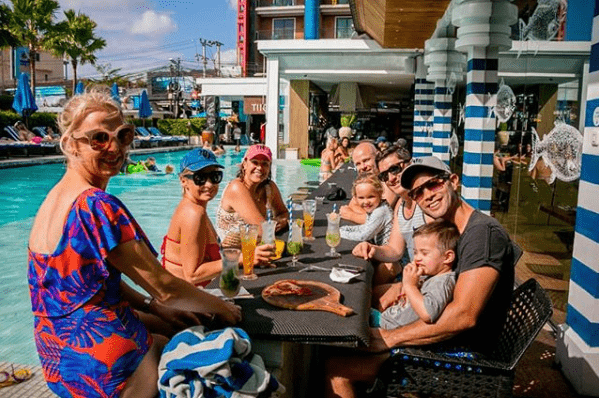 I'm kinda giving away a big secret here – this is the best breakfast deal in Seminyak and it is simply a heavenly playground for families with kids. TIIGO is part of Montigo Resorts, located on the trendy and happening Petitenget strip in Seminyak. For only Rp. 100,000 you can munch on a delicious breakfast buffet – all you can eat. There is yoghurt, fruit, croissants, cakes, french toast, pancakes, waffles, eggs, free-flow Illy coffee (including latte, cappuccino, ice coffee), juices, rice and a grand selection of warm dishes but that is not all! TIIGO features a huge sparkly swimming pool with floating bean-bags and giant unicorns. Everyone is most welcome to jump in before, after or even during your breakfast. The kids can also play at the kids club, supervised by loving staff -TIIGO is a family paradise! Shhh – don't tell too many people about this super deal 😉
Note: The TIIGO Breakfast buffet is available every day from 8 am until 10.30 am.
TIIGO Seminyak
Address: Montigo Resorts Seminyak, Jalan Petitenget, Seminyak
Contact: +62 361 301 9888
Opening hours: daily from 8 am – 11 pm
7. A French brunch with rice paddy views – Monsieur Spoon Petitenget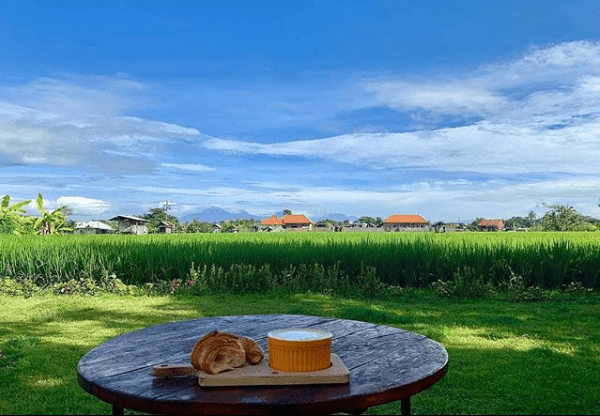 Monsieur Spoon has got the best croissants on the island! What kid doesn't love a freshly baked croissant? The Petitenget outlet of this French cafe and bakery features a big grassy garden overlooking the rice paddies of Umalas, making it a great place to take the kids for breakfast or lunch. They are free to move around, play on the grass and parents get to enjoy the rice paddy views and drink their cappuccino while it's still hot – all you need, right? Everything is delicious: their bread, jam, coffee, pastries, juices, smoothies – Yum!
On a side note, Monsieur Spoon offers fun and inspiring kids pastry classes on certain Sundays in Canggu and Monsieur Spoon Ubud sometimes organises Sunday's Brunches. If you happen to be around on those Sundays at those places in Bali – make sure to be there. You can check their events here. I already made a request for the Sunday Brunch to start happening here in Seminyak because I for one, would be going there every time – Fingers crossed!
Monsieur Spoon
Address: Jl. Petitenget No.112-A, Kerobokan
Contact: +62 878 6280 8859
Opening hours:  every day from 7.30 am – 9.30 pm
Related: Seminyak Bakeries: where to get your bread, cakes & pastries
8. Family Beach Clubbing – Cocoon Beach Club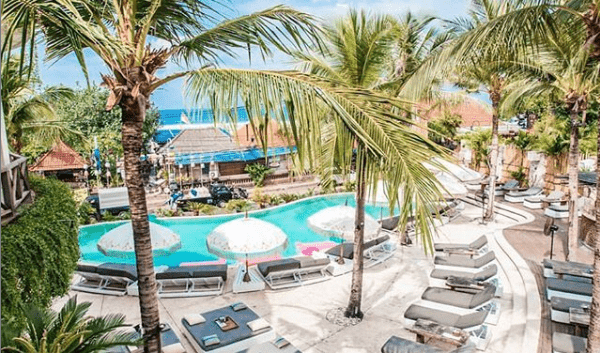 Cocoon is a beach club on Double Six Beach in Seminyak, featuring a big, glistening curvy swimming pool with ocean and sunset views. The restaurant sits right next to the pool and there are plenty of poolside daybeds, too. Pick a spot and you can easily spend the whole day here – everyone is bound to have a great time. On the menu, you'll find pasta, pancakes, homemade gnocchi and grilled fish. There is a separate kids' menu, too, and high chairs for the littlest family members. If not splashing in the pool, having fun with the inflatable toys, kids can make drawings while waiting for their meal to arrive. Great fun!
Do note: better not to come when there is a pool party going on – its loud, busy and kids are not allowed in the pool. The early morning is the best time to come when everything is still quiet and peaceful.
Cocoon Beach Club
Address: Jl. Double Six No. 66, Blue Ocean Boulevard, Seminyak
Contact: +62 822 4723 7023
Opening hours: every day from 10 am – 12 am
9. Sundays are for the kids – KU DE TA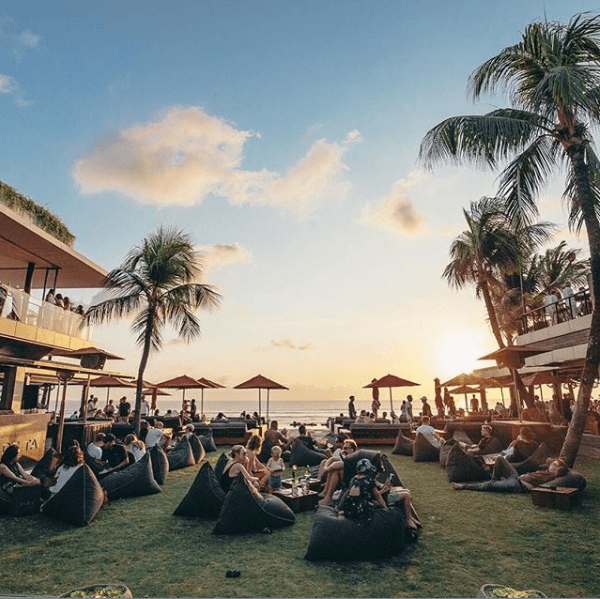 KU DE TA is one of the most celebrated beach clubs on Bali Island. It's got a pool, sunset lounge beds and a great kitchen where the food and cocktails are prepared. What makes KU DE TA so great for families with kids? Well, every Sunday, it is family day at KU DE TA, from 9 am until 3 pm. A special kids' brunch is combined with jumping castles, face painting, games, balloons and creative crafts activities. All kids activities are free of charge. So, the little ones will have a blast and parents can have cocktails and food. Splendid!
KU DE TA
Address: Jl. Kayu Aya No.9, Seminyak, Badung, Bali
Contact: (0361) 736969
Opening hours: every day from 8 am – 2 am
10. Nino Wednesday – LacaLaca Cantina Mexicana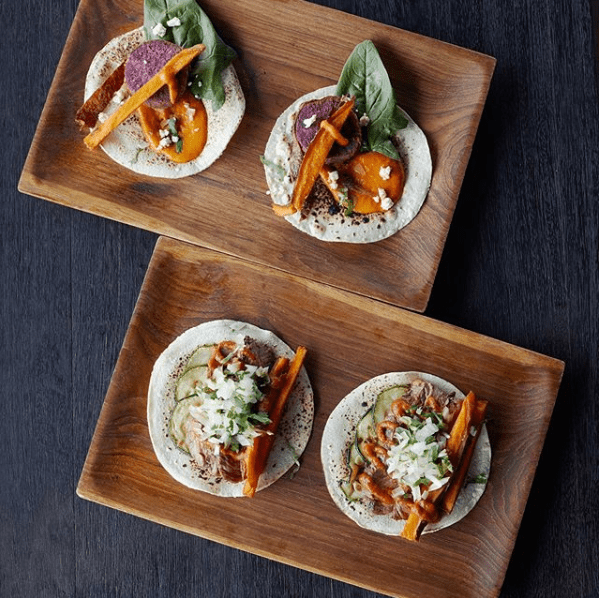 This colourful, Mexican restaurant, located on the corner of Jl. Drupadi and Oberoi's Eat Street, features a lovely garden setting, Mexican sombreros, and all the Mexican classics when it comes down to drinks and food. Margaritas, sangria, fajitas, burritos, tacos and the list goes on. It is a true feast! Most kids love a crispy taco with melted cheese on top and on Wednesday evenings, LacaLaca welcomes all kids below 12 to come and eat for free between 5 and 7 pm. It is Niño Wednesday – Hooray! On top of that, the Margaritas are only Rp. 50,000 – it's a win-win! So, get yourself dressed up for some Mexican vibes and your Wednesdays in Seminyak can't go wrong!
LacaLaca
Address: Jl. Drupadi No.1, Seminyak
Contact: +62 822 4731 2218
Opening hours: every day from 8 am – 12 am
Please follow and like us: