Seminyak is always trending and innovative, never losing her sense of coolness and fashion. There are hot new hang out places, cafes and restaurants opening up every month and here's what to check out so far in 2018:
1. NamNam Noodle Bar
When walking past this restaurant outside on the street, you wouldn't expect the paradise that awaits inside. The gorgeous interior design, the endless choices of charming seating places, the open-kitchen, the incredible rice paddy views and of course, the authentic Vietnamese food, NamNam Noodle Bar is already a celebrated restaurant in Singapore and Jakarta and now finally in 2018, it has opened its doors up in Seminyak. I am a definite fan of pho (the traditional Vietnamese rice noodle soup spiced up with coriander, chilli peppers, Thai basil and more goodness), however, at NamNam Noodle Bar, I went out of my comfort zone and tried out some new authentic Vietnamese dishes on the menu. Boy, what a feast it was! Everything is exciting at NamNam Noodle Bar, even their ice teas and desserts. A definite hot new table and a must-visit during your stay in Seminyak.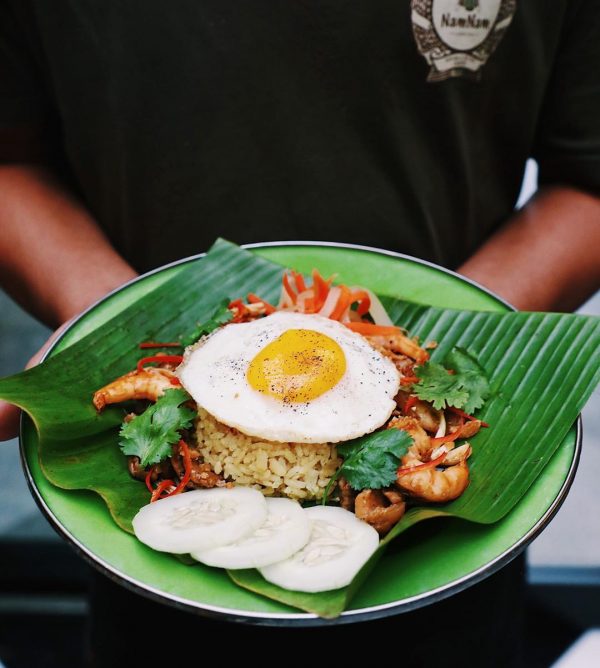 NamNam Noodle Bar
Address: Jl. Petitenget No.110 – 111, Seminyak, Bali, Indonesia.
Contact: (0361) 4735794
Opening hours: daily from 11 am – 3 am
2. Vedic Cafe
This charming little Ayurvedic cafe stands out from the crowd with its bright blue and yellow colours and its flowery porch and balcony. Vedic Cafe is the place to score some delicious traditional Indian health food. Hot chai, chapati flatbread, samosas, dosa, fresh naan bread, spied up curry and mango lassi are all on the menu and there are lots of vegan option, too.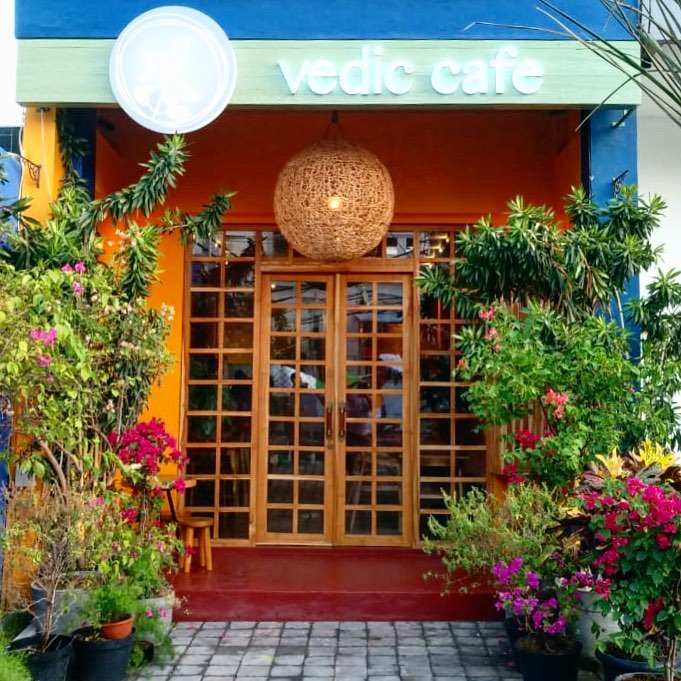 Vedic Cafe
Address: Jl. Petitenget No.100-78, Bali, Indonesia
Contact: 082230005050
Opening hours: Wednesdays to Mondays from 10 am – 10 pm (closed on Tuesdays)
Related: Organic eats in Seminyak: A haven for food lovers
3. Mad Sparrow
Mad Sparrow is a sleek, contemporary new Japanese restaurant, featuring outstanding Japanese cuisine and a great selection of draft beers. Munch on a wide range of homemade sushi and yakitori enjoyed with some Japanese sake or a pitch of craft beer, this diner makes a lovely hang-out in Petitenget! Featuring cool wall paintings, the vibe is trending and modern, the service is friendly and the prices are reasonable.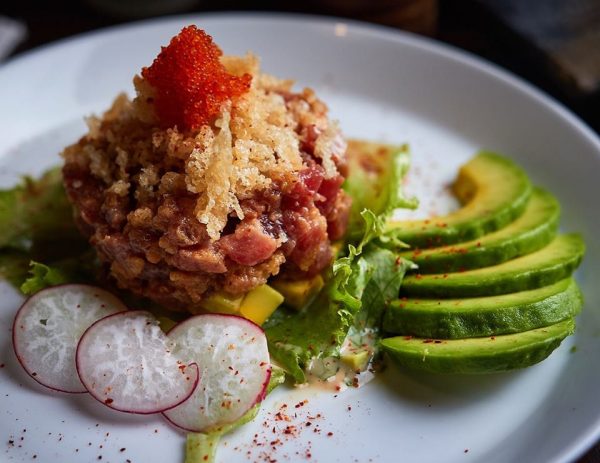 Mad Sparrow
Address: Jl. Petitenget No.114, Seminyak, Bali
Contact: 0811-3882-980
Opening hours: Tuesday till Friday from 5 pm – 11 pm. Saturday and Sunday from 5 pm to 12 am. Closed on Mondays.
4. Neon Palms
Hipsters, come on out! This may be the coolest and definitely, one of the most colourful new diners in Seminyak 2018, located on the first floor of the trendy clothing shop Bali Boat Shed in Oberoi. Funky interiors, classy cocktails, tasty tapas and tacos for sharing with friends and family, Neon Palms is Instagrammable as can be and the food is delightful! An awesome place where you can go shopping, wining and dining, all in one go. Open for breakfast, lunch and dinner, this funky new food hang-out in Seminyak also features vegan and gluten-free options and they have a dedicated kids' menu, too. Come in with friends or family – everyone will have a delightful time and you can snap some really fashionable photos, too 🙂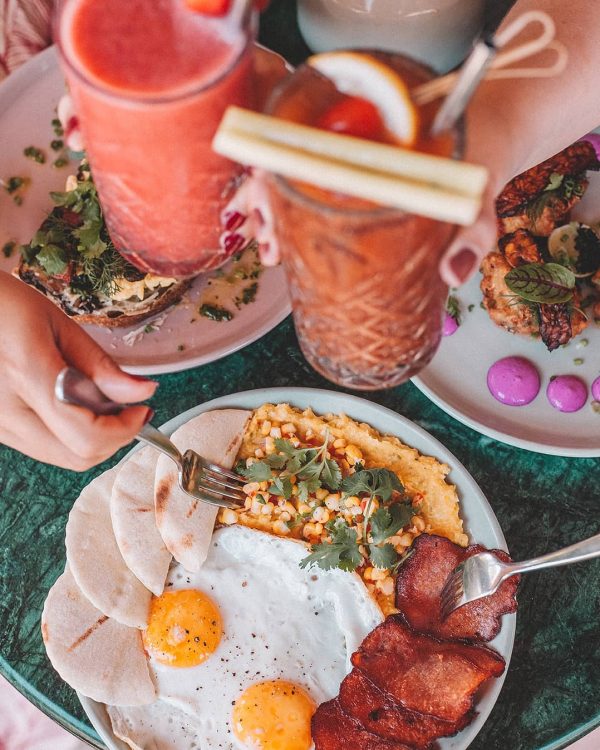 Neon Palms
Address: Jl. Kayu Aya No.22 2nd floor, Seminyak, Bali
Contact: (+62) 813 5379 4644
Opening hours: Daily from 8 am to 12 am
5. Expat. Roasters
This sophisticated coffee hub features speciality coffee from across the globe and they work closely together with local Balinese farmers. The bold, elegant, urban interior design is ruled by grey concrete, teak wood and glass. Expat. Roasters may be a small speciality coffee brew bar but their coffee is grand! Think V60 pour over coffee, latte art in a cup, toasties, homemade banana bread, donuts and brownies freshly baked every day.
Expat. Roasters
Address: Jalan Petitenget No. 1a, Seminyak, Bali, Indonesia
Contact: +62 361 738 454
Opening hours: Daily from 7 am to 5 pm
Related: Best brunch in Bali: Tasty and Insta-worthy Cafes in Seminyak & Canggu
6. Mr Husky
The chef of Mr Husky restaurant in Kerobokan, is Satrya Nugraha, winner of the popular television show Hell's Kitchen Indonesia. On the menu, you will find a wide range of traditional Southeast Asian dishes. Chef Satrya travelled around to get a real authentic taste of each region and cook it up right here at Mr Husky Restaurant. Indonesian, Vietnamese, Thai, Singaporean and Malaysian, there are lots of things to choose from. Aside from the recommended Pad Thai, chilli crab, Vietnamese paper rolls, pho and nasi campur, Mr Husky also features great artisan cocktails prepared with homemade liquor and homemade syrup. They've got a list of crafts beer, too, as well as a reasonably-priced wine menu and even the coffee is of outstanding quality.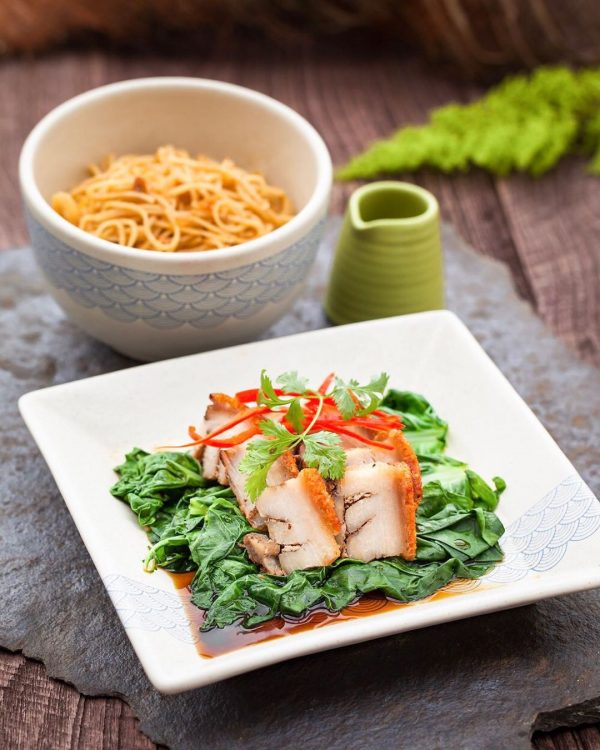 Mr Husky
Address: Jl. Gn. Tangkuban, Seminyak, Kerobokan Kelod, Bali
Contact: +62 361 9348858
Opening hours: daily from 10 am to 10 pm
7. Lily Jackson
This brand new restaurant is the latest project of former Ritz Carlton head chef and founder of Ginger Moon Canteen on Oberoi Road, Dean Kedell. The menu is innovative and exciting with Asian-inspired dishes to try out. This big restaurant features two stories, designed with floor-to-ceiling glass windows and it truly catches your eye when walking past it, especially in the evening. On the ground floor, there is the open kitchen and an air-conditioned dining room. upstairs, there is a semi open-air setting for dinner under the stars. Lily Jackson also offers an amazing collection of pastries for those with a sweet tooth. What's with the name? Lily and Jackson are the two kids of Dean Kedell and his wife Baya.
Jackson Lily's
Address: Jl. Raya Seminyak No.2, Seminyak, Bali
Contact:  (0361) 4740121
Opening hours: 11 am to 11 pm. Closed on Tuesdays
8. Timo Bottega Italiana
Timo Bottega Italiana is the newborn baby of Zibiru Restaurant, located right on Jalan Petitenget in the most high-end neighbourhood of Seminyak. Born for success, this casual, sophisticated dining venue is the place to be for the island's very best Italian food. Fresh, organic ingredients, basic Italian recipes that have been passed on from generation to generation. Homemade pasta, delicate desserts, dark-roasted Italian coffee, you came to the right place! Their open kitchen allows you to take a peek into the process of fresh pasta making. Really cool!
Timo Bottega Italiana
Address: Jl. Petitenget No.777, Seminyak, Bali
Contact: (0361) 3003498
Opening hours: daily from 9 am – 11 pm
9. Le Moulin Crêperie
Add a little bit of French taste to your holiday in Bali at Le Moulin Creperie. With imported chocolate from France, this authentic creperie keeps you coming back for more. People were already raving about the crepes at Moulin in Ubud and now, since February 2018, they have opened up a sister venue in Seminyak. These French crepes come in all sorts of flavors, sweet and savory, and their coffee is also superb. Favorites are the chocolate and nuts crepe and crepe with imported goat cheese, diced bacon, smoked ham, nuts and honey. We know, it sounds like something made in heaven… come and grab one for yourself while you are here.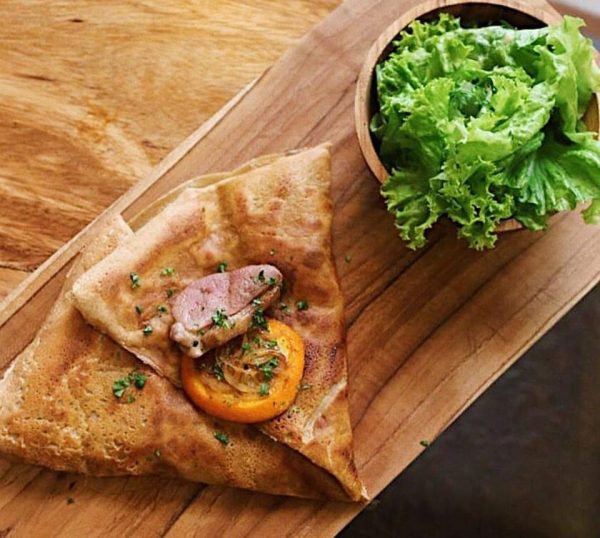 Le Moulin Creperie
Address: Jalan Raya Kerobokan, Kerobokan, Bali
Contact: 0818-0376-9318
Opening hours: 8 am to 11 pm
10. coconut karma
Next door to Balkan BBQ, sits Coconut Karma, a brand new, charming little coffee bar. The rumour goes that they serve a pretty nice breakfast and excellent coffee at very affordable prices. You can even have a tarot reading done while sipping your hot latte of iced cappuccino.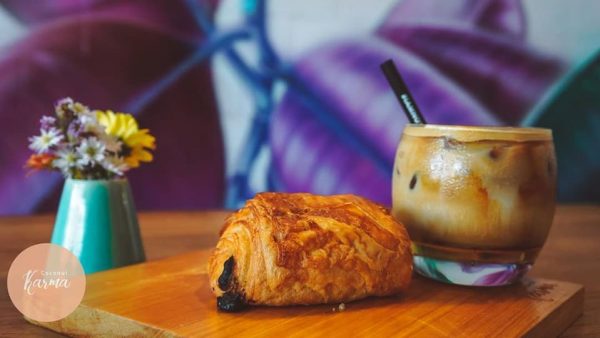 Coconut Karma
Address: Jl. Kunti 1 Arcade No. 9 Seminyak, Bali
Contact: 0878-6336-5829
Opening hours: daily from 8 am – 9 pm
---
Have you visited any of the above-mentioned cafes or restaurants? We would love to hear about your experiences! Please leave your comments below 🙂
Please follow and like us: