A romantic getaway to the hottest town on Bali Island deserves an amazing stay! A gorgeous private pool villa exuding intimacy, luxury, and blissfulness if what you need! No worries, you won't have to build the love nest yourselves. Seminyak has got some pretty awesome 1-bedroom villas where you two can float away in a bubble of love and romance while the fashionable and always buzzing town of Seminyak awaits just outside. Explore our entire collection of 1-bedroom villas in Seminyak or have a look at our pick of the 10 most romantic villas in Seminyak: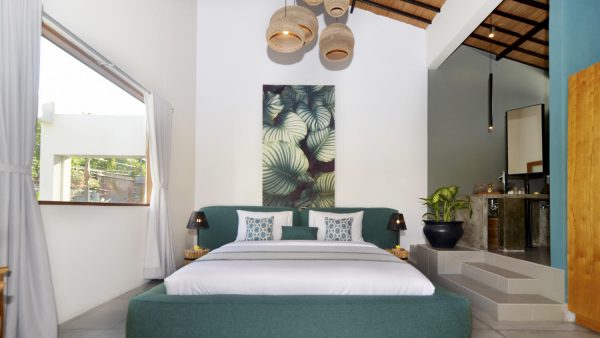 Villa Infinity is a peaceful luxury oasis hidden away in Petitenget – the chicest neighbourhood of Seminyak. Most of the living is done outdoors at Villa Infinity where the garden and living areas are idyllically infused into one. The crystal clear swimming pool is the centrepiece. By the poolside, you can lounge together on the comfy day-bed with cocktails, music and magazines. Tanning is done on the sunbeds, shaded by a traditional Balinese parasol. The covered, shady terrace features a circular table for two and a kitchenette. The perfect spot to enjoy breakfast in the morning or an intimate dinner beneath the stars in the evening. Light-blue and turquoise colours give the bedroom suite a calm, serene ambience. The super comfy king-size bed and the AC promise a perfect night sleep after a relaxing hot shower together in the en-suite.
Around Villa Infinity
Go explore Petitenget on foot, you will never have to walk very far. Go dine at the beachfront Italian restaurant La Lucciola and for sunset drinks, head to KU DE TA or Potato Head, sipping a cocktail or two while gazing at the enchanting orange sky. The beach of Seminyak and Petitenget is less than 1 km away.
Prices start at US$160 (low season), US$210 (mid-high season), US$230 (high season) and US$250 (peak season).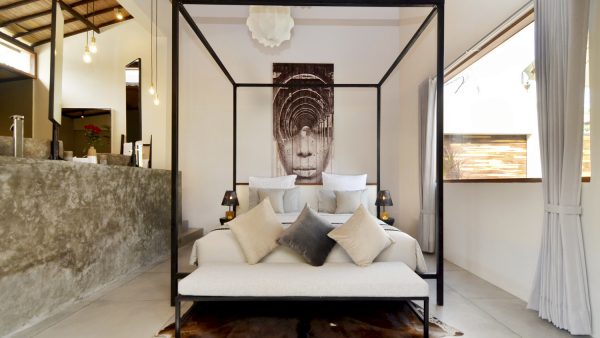 Villa Beyond is the sister villa of Villa Infinity. These romantic 1-bedroom getaways can also be rented out separately or together, great for 2 couples travelling together. Villa Beyond features a huge circular bathtub in the en-suite and what romantic couple doesn't want to soak in a flower bath together before cuddling up beneath the blankets with the AC on? This villa's garden is a tropical place with a private swimming pool to dip into. Afterward, soak up the sun on the reclining chairs to catch that gorgeous tan. At Villa Beyond, living is done the tropical way in the open-air, lounging on a comfy day-bed and dining by the poolside at the circular 2-seater table. The kitchen, on the other hand, is found indoors and it is super spacious and modern.
Around Villa Beyond
Located in the heart of Petitenget, you will enjoy easy access to plenty of charming and trendy cafes such as Revolver and Grocer & Grind. Nearby are also the island's best restaurants, the coolest beach clubs, exclusive spas and boutique shop. There is always something going on in this buzzing cosmopolitan beach town.
Prices start at US$168 (low season), US$210 (mid-high season), US$241 (high season) and US$262 (peak season).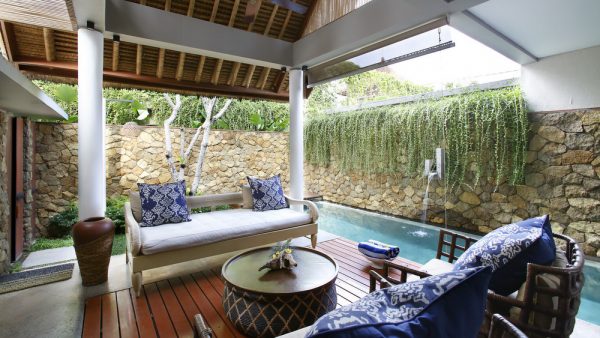 Mahala Hasa is a villa complex of Seminyak, designed especially for honeymooners and couples in love on a romantic getaway. Each villa exudes romance inside out – they are love nests you won't want to leave with traditional Balinese decorations, modern comforts and an unbeatable location in the centre of town. Want to go to the beach for sunset drinks? No need to hurry, there is a free shuttle service to take you there and back. Expect 5-star services, intimacy and luxury at a very affordable price. The living room borders a private swimming pool and upstairs, an opulent bedroom & bathroom awaits, just for you and your loved one to soak in love and romance.
Around Villa Mahala Hasa
The neighborhood of Villa Mahala Hasa is classy and sophisticated Petitenget. The Woo Bar,
Potato Head are nearby happening beach clubs and restaurants include Sarong, Biku and Bambu. The location is also strategic towards Batu Belig, Canggu and Kerobokan.
Prices start at US$130 (low season), US$168 (high season) and US$213 (peak season).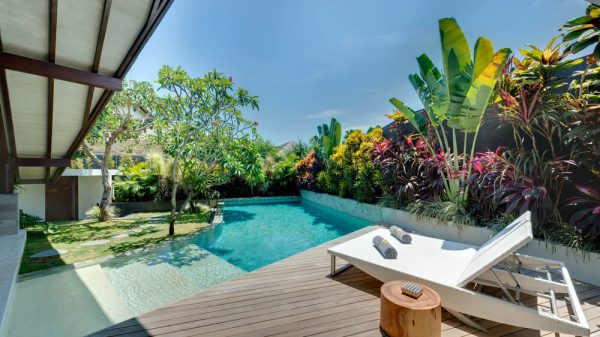 Contemporary-styled and designed with natural stone, teak timbers and rattan, Layar villa is stunning! Featuring sharp lines and triangle shapes, Layar Villa is spacious, exclusive and peaceful despite its super central location in Seminyak. Couples in love seeking luxury, 5-star services, tranquility, entertainment and beach life, Layar Villa is the place to be. Your private outdoor area is like a little Garden of Eden with a private swimming pool and a BBQ. The living room features a comfy sofa and a big flat-screen TV for cozy in-villa movie nights. Enjoy a romantic candlelight dinner at the oval-shaped dining table while sharing a bottle of wine from the kitchen's wine-cooler. The air-air-conditioned bedroom flows into an opulent en-suite bathroom featuring a luxurious monsoon shower and an outdoor river-rock tub for bathing beneath the stars. In the morning, grab yourself a cup of Nespresso coffee before plunging into the pool. Wonderful!
Around The Layar Villa
The Layar villa is situated just off of the famous Eat Street in Oberoi. The beach is a short 10-minute walk away but you can get there in no time using the villa's complimentary buggy to shuttle you back and forth. Celebrated restaurants such as La Lucciola, Bambu and Sarong are all within walking distance of the villa.
Prices start at US$356 (low season), US$445 (mid-high season), US$508 (high season) and US$547 (peak season).
Related: Couples' Guide to Seminyak: Love and Romance are in the Air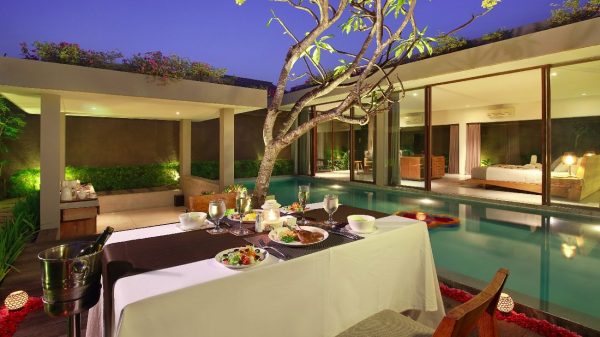 Like a white, glass, sunlight-soaked palace, Villa Ziva is a jaw-droppingly beautiful, ultra-modern luxury getaway. Through the full-length glass doors, you can enjoy the view of the glistening swimming pool from everywhere – even while soaking in a hot flower bath in the en-suite of your luxury bedroom quarters. The bedroom features a cozy TV sofa lounge and in the morning, simply slide open the glass sliding doors and dip into the pool. Romantic in-villa candlelit dinners are set-up on the timber deck by the poolside under Bali's starry night sky.
Around Villa Ziva
Grocer & Grind, Seminyak Village, Oberoi's Eat Street, these are just some of the hot spots close to Villa Ziva. Grab a coffee at Revolver, shop a little and walk onwards to KU DE TA Beach Club for sunset drinks in style.
Prices start at US$355 (low season), US$405 (high season) and US$435 (peak season).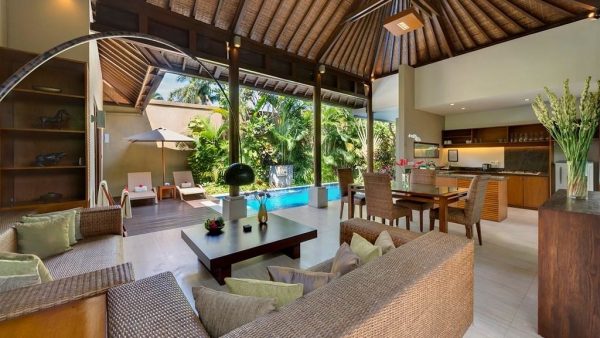 Part of the Lakshmi Villas, Villa Solo is a spacious yet intimate 1-bedroom holiday retreat hidden away in a gang just behind the beach, KU DE TA and La Lucciola. Featuring a traditional Balinese pavilion with a high soaring timber rooftop and an airy, tropical open-concept design that overlooks the pool, couples may fall in love with this tropical way of living. All modern comforts are there: a cushioned rattan sofa, a TV, dining area and a fully-equipped kitchen.  The master bedroom flows out to the garden and pool through full-length glass doors. Before sleep, fill up the tub in the marble en-suite bathroom and embrace the bliss. What more could you lovebirds need?
Around Lakshmi Villa Solo
The location couldn't be any more enviable… you don't get to stay at a private villa closer to Petitenget Beach than this. At the same time, the ambience while lounging in your private garden and swimming in your pool, is perfectly tranquil as if miles away from the buzzing crowds. Best of both worlds!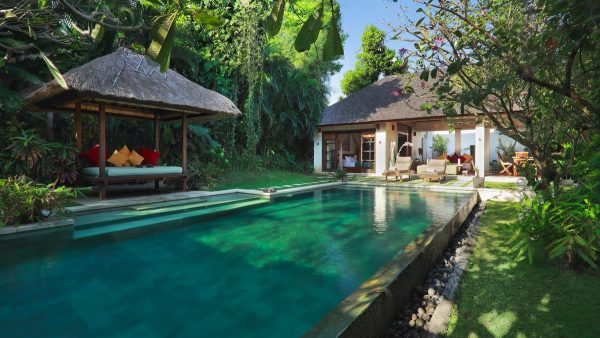 Villa Bali Asri 7 is a traditional Balinese-style luxury home of Seminyak. Designed with a great love for natural materials and eye for detail, this spacious one-bedroom villa is like a gorgeous tropical palace where you and your loved one can live like a king & queen this holiday in Bali. The Bali Asri Estate features a pampering spa and a gym, free to use for all guests staying at Villa Bali Asri. You can even get a private master chef to cook you an haute-cuisine romantic dinner in your private villa.
Around Villa Bali Asri 7
Located just minutes away from the beach in Seminyak, the location of Villa Bali Asri couldn't be any better. To the right leads straight to KU DE TA Beach Club and Oberoi Road. Walking in the other direction leads to the charming beach bars of Double Six.
Prices start at US$354 (low season), US$413 (high season) and US$454 (peak season).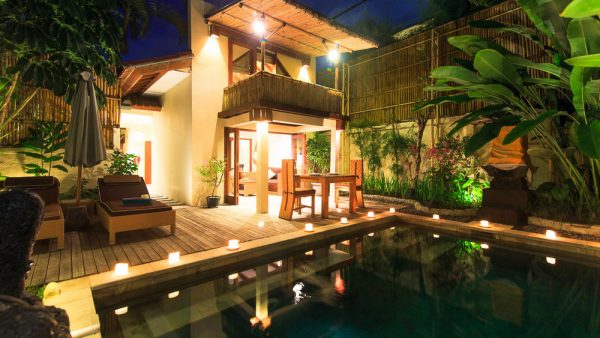 Villa Seriska Dua Seminyak is a modern Balinese style home with state-of-the-art entertainment facilities and a pretty private garden with a swimming pool. This cozy luxury retreat makes a perfect love nest for couples and it is also great for those lovebirds traveling with a baby or toddler. While the lively center of Seminyak awaits outside, staying is also wonderful. How about cuddling up in front of the TV on the cozy mezzanine lounge of the living room or a romantic dinner by the poolside? The king-size bed is elegantly draped in yellowish curtains and the room is fully air-conditioned for your comfort.
Around Villa Seriska Dua Seminyak
Hidden away in the heart of town, there are lots of things to see and do within a short walking distance of your villa. Shops, beach, bars, restaurants and so on. Go explore and find out!
Prices start at US$169 (low season), US$199 (high season) and US$245 (peak season).
Please follow and like us: