If you're thinking of visiting Bali, you'll soon discover that it's a destination that doesn't require a hefty budget to explore. In fact, some of the very best, unvarnished Balinese experiences are free of charge. Awash with geological wonders, terraced rice fields, and spectacular volcanoes, Bali is often referred to as the 'Land of the Gods'- and for good reason. This island enchants with flowery ceremonies and ancient stone temples with a backdrop of lush greenery. Best of all, you will find plenty in terms of inexpensive accommodations, without having to compromise on comfort or quality. Here are our suggestions for 16 of the best budget-friendly villas in Bali that don't break the bank.
Seminyak
While Seminyak is often hailed as a popular party destination for young travelers, this region is also home to an abundance of cultural and gastronomical spots, ideal for a family-friendly holiday in Bali.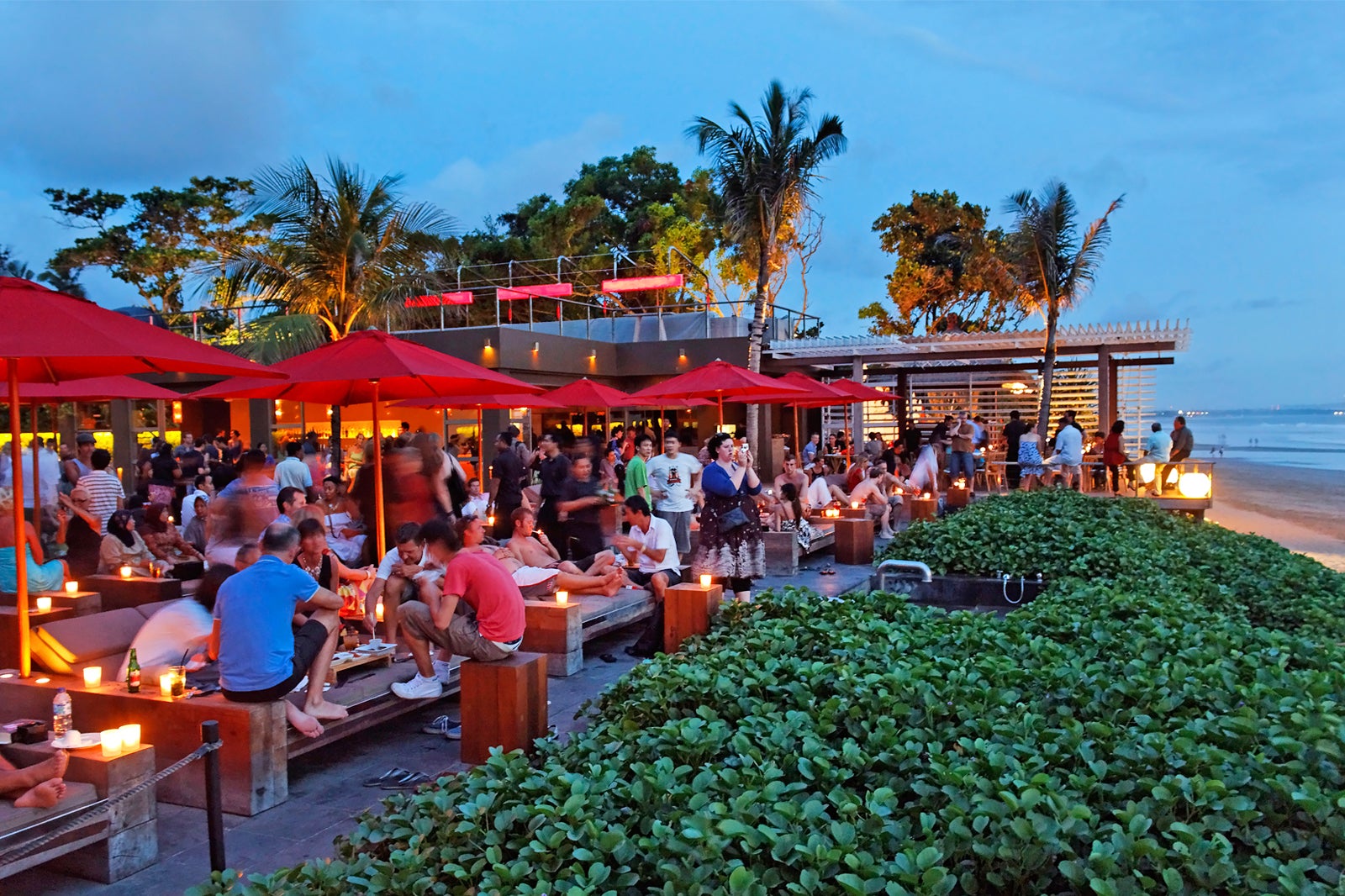 Villa Hiburan 1
Just 13km from Ngurah Rai (Bali) International Airport you'll find Villa Hiburan 1, a four-bedroom establishment that places you right in the midst of Seminyak and its action-packed lifestyle. A stone's throw from the beach, this budget-friendly villa comes with a private swimming pool fringed by a spacious deck where you can soak up the sun from one of the loungers. A charming yet budget-friendly villa in Bali, this family-friendly establishment can accommodate up to eight persons, but if you're traveling with a larger group, it can be rented alongside Villa Hiburan 2.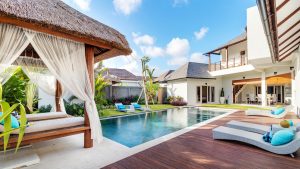 While this villa is affordable, you can expect elegant touches, including a luxurious tropical-style bathroom in the master suite, complete with an open-air shower sheltered by a pergola roof. Child-friendly amenities can be arranged if needed. With staying at this villa, you can enjoy easy access to Ku De Ta, a popular beach lounge serving local delicacies such as pan-roasted Barramundi washed down with aromatic cocktails.
Price:

From USD 320/ night
Villa Atmo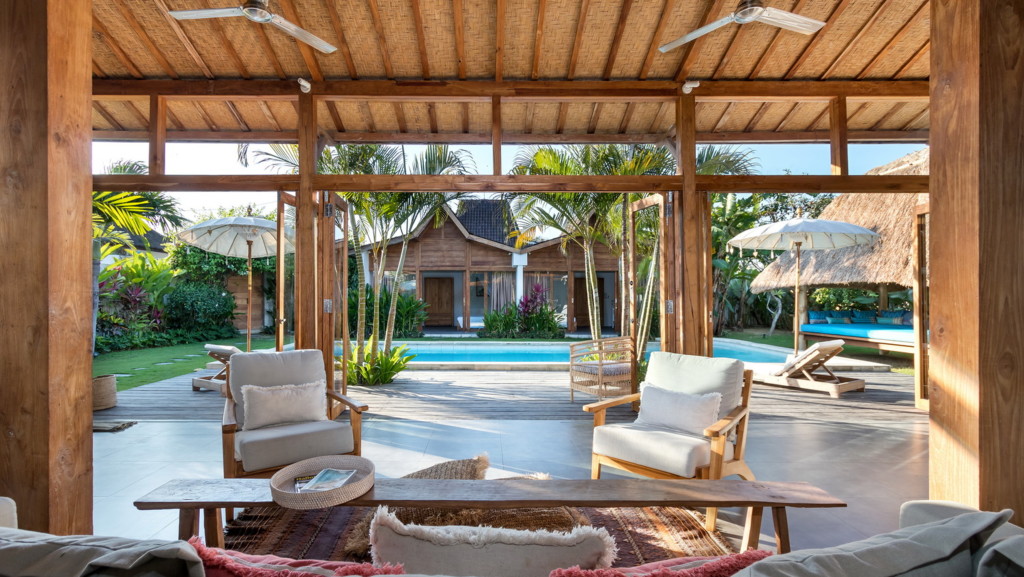 Perfect for groups of up to ten persons, Villa Atmo is easily distinguishable by its Joglo-style architecture reminiscent of Javanese vernacular houses. Another budget-friendly villa for families or groups of friends who wish to immerse themselves in the Balinese lifestyle, this villa uses naturally sourced materials in their interior design and architecture. If you're traveling with children, you will be glad to learn that one of the four air-conditioned bedrooms comes with bunk beds for the kids.
One of our personal favourites, the friendly staff and service of the villa will take care of everything you may need during your stay. If you want to unwind during your holiday in Bali, you can always treat yourself to a soothing body treatment at the Cozy Spa Batubelig, located a quick drive from the villa; for a quick bite check out the popular Taco Casa restaurant, located just seven minutes from the villa.
Price:

From USD 256/ night
Villa Shantika
Another budget friendly option is Villa Shantika. Complete with your own private swimming pool and a sprawling compound of tropical plants swaying gently against a turquoise sky, this villa boasts intricately carved doors and an Alang-Alang roof for a more authentic experience. Guests can choose from three air-conditioned bedrooms that can sleep up to six persons. Thanks to the semi-outdoor space, you can dine under the stars or savor a light lunch in the warm Balinese sunshine.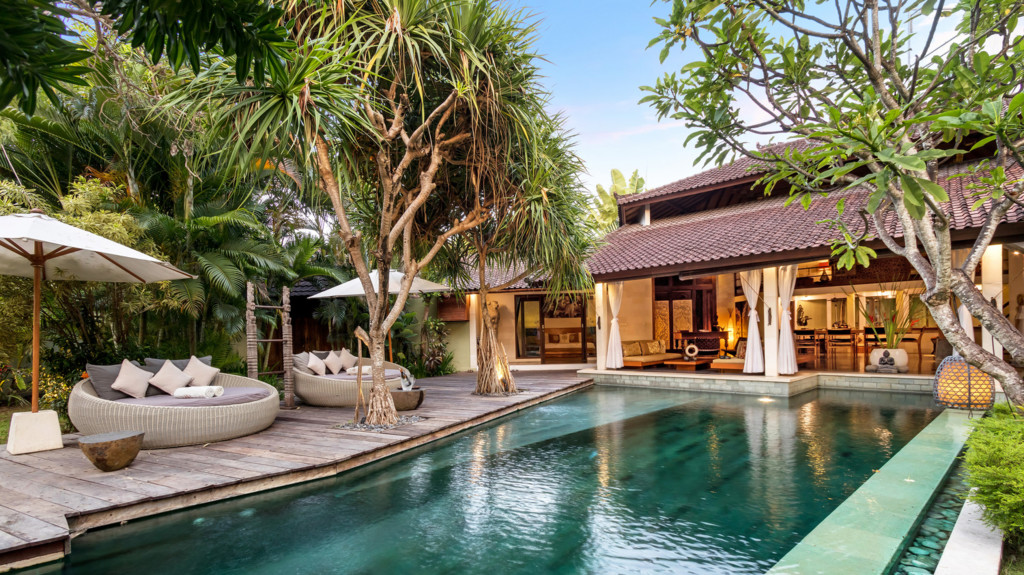 Two staff members are at your disposal to ensure your well-being and that of your guests. If you would like to explore Seminyak's abundant marine life, head over to Adventure Scuba Diving School, located less than ten minutes from Villa Shantika via Jl.Drupadi road. If you're an amateur diver, rest assured that you can get PADI certified at this establishment.
Price: As from USD 340/night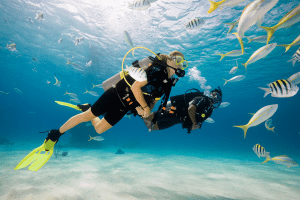 Villa Iluh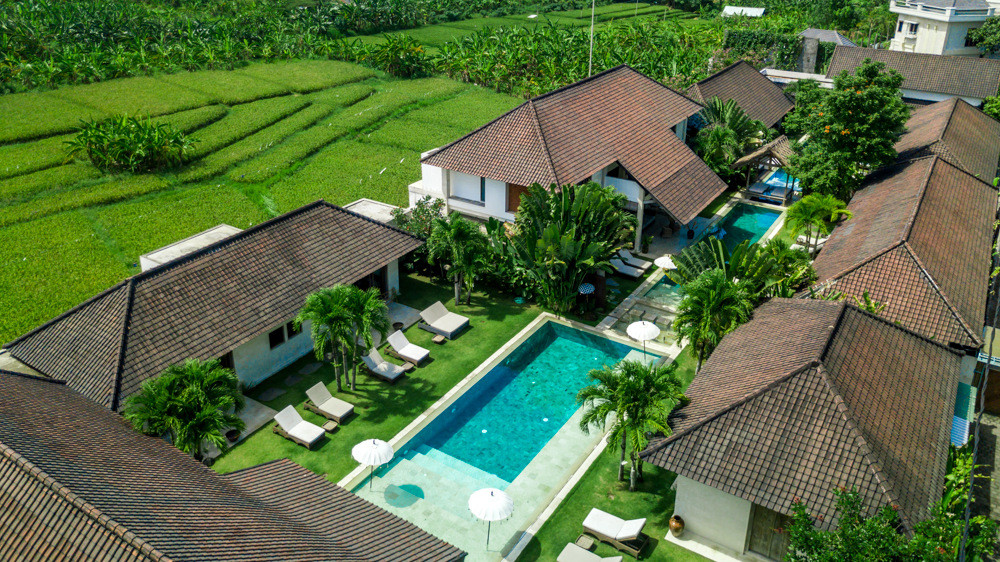 Families or groups of friends looking for a villa that can accommodate a big group will find their match in Villa Iluh, a cozy retreat tucked away near the center of Seminyak. As a result, you will be close to Seminyak's beach bars, clubs, restaurants, and cafes. This villa also provides five air-conditioned bedrooms to accommodate up to ten guests. While it is one of the most budget-friendly options in the area, this tropical gem certainly delivers in terms of comfort and even provides up to ten staff members to look after you. After exploring the neighborhood, you can lounge in the semi-outdoor living room, breathing in the tropical fragrance from the expertly manicured garden.
This establishment also places you close to some of Seminyak's most popular tourist spots, including Petitenget Beach and Batubeling beach, both found just ten minutes away. After a day on the beach, you can take a short drive to the beachfront Sardine restaurant, open daily from 11.30am to 4pm for lunch and 6pm to 1am for dinner. Overlooking luscious rice fields, this place is especially known for its cocktail hours between 4pm and 6pm.
Villa Anam
In terms of budget-friendly villas in Bali that are also luxe in design and feel you won't find any better than Villa Anam, a truly luxurious retreat with a gym, home theatre, tropical garden, two swimming pools and ten bedrooms. Ideal for larger groups of 20 persons, this villa is enhanced by a rooftop lounge where you can savor a drink while admiring spectacular sunsets over the ocean. You'll be able to experience Balinese hospitality at its best thanks to the friendly villa staff who are always on hand to make sure that your stay goes off without a hitch.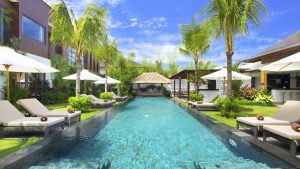 If you're looking to indulge in some shopping during your holiday in Bali, you can simply take a short, eight minutes' walk across Jl. Drupadi Gg. The Jero to reach Ashitaba, known for its meticulously handcrafted rattan items such as purses, bowls, containers, and more. Prices run as from 50,000IDR (just a little above 3USD).
Price: From USD 1508/night
Canggu
Another popular spot among digital nomads and groups of friends or family, Canggu is Seminyak's trendier sister, bursting with vibrant party scenes and soothing yoga retreats. Canggu is most known for Batu Bolong Beach, hipster cafes and the black sand Canggu Beach. More importantly, it also happens to be home to some of our most beautiful budget friendly villas.
Villa Senara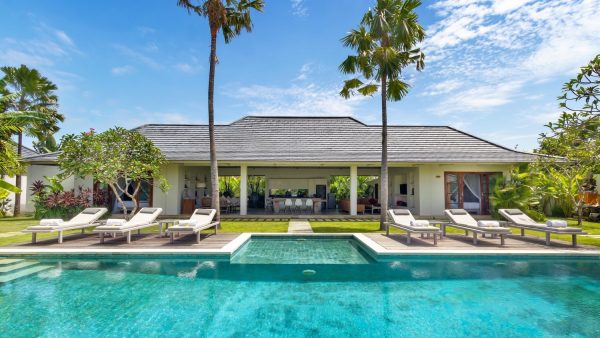 Just 1.8km from the airport is Villa Senara, a beautiful modern villa with an expansive garden- our recommended spot to sunbathe or savor an alfresco meal. Adorned with stunning Balinese artifacts, the villa has a stunning 14-meter long swimming pool and a bale when you need a break from the sun. The massive open-plan living room provides ample space for relaxing while soaking up the views.

When you feel like exploring the area, head over to Berawa Beach where surf classes are available for first-time surfers. After working up an appetite on the waves, head over to the Green Ginger Noodle House, located just steps from the villa.
Price: From USD 389/night
Villa Jaanuva
If you're looking for a budget-friendly villa in Bali to accommodate a small group of up to six persons, Villa Jaanuva might just be your home away from home. Spacious and newly-built with a contemporary layout, this villa offers three bedrooms where you can relax in air-conditioned comfort.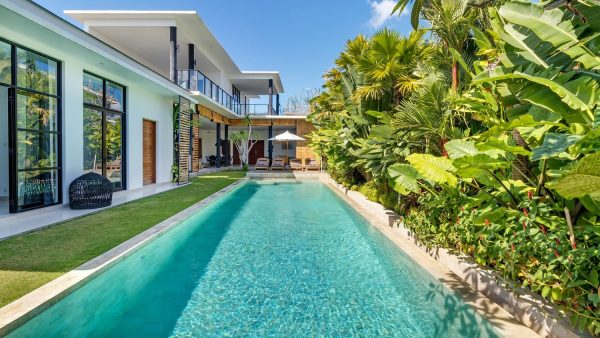 In the morning, start your day off right with a hearty breakfast at the popular Café Del Mar (or breakfast at the villa!), located a quick stroll from the villa. Committed to offering an Ibiza-like experience in Bali, the café is also lively beach club. After breakfast, browse through the stalls at the La Laguna Gypsy Market (grand reopening in 2020!) offering more than 150 stalls that specialize in traditional Balinese and ecological products.
If you'd like specific recommendations based on your holiday preferences, don't hesitate to contact our concierge team to help you plan various excursions around Bali, airport transfers, or in-house massages.
Price: From USD 240/night
Villa Karein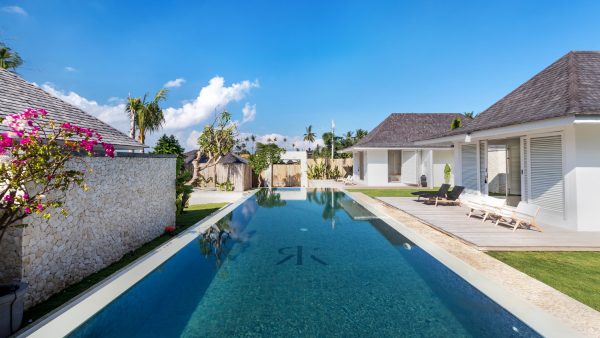 Perfect for larger groups who looking for a luxurious but affordable villa, Villa Karein is nestled in the midst of gorgeous green rice fields of Canggu. Designed to accommodate up to ten guests in five bedrooms, you'll have private access to the villa's 15-meter long swimming pool with a spacious deck where you can sunbathe or enjoy cocktails by the pool. Families traveling with children can request kid-friendly amenities such as a pool fence, babysitters, and baby cots. In the afternoon, relax with a sunset stroll through the rice fields or take a drive to the peaceful Seseh and Echo beaches. As the day comes to an end, head over to nearby restaurants such as The
Lawn or The Loft both popular for their trendy spaces and delicious food.
Ubud
During your holiday in Bali, you will quickly come to the realize that Ubud is as laidback as it is rejuvenating. This relaxing hub is sprinkled with hidden waterfalls, jungle swings, terraced rice fields, and the kind of picturesque Instagram-worthy scenery that you can only dream about. One of the best spots for digital nomads and families alike, Ubud boasts a distinct wellness culture, offering an extensive choice of vegan and healthy restaurants.
Villa Omah Padi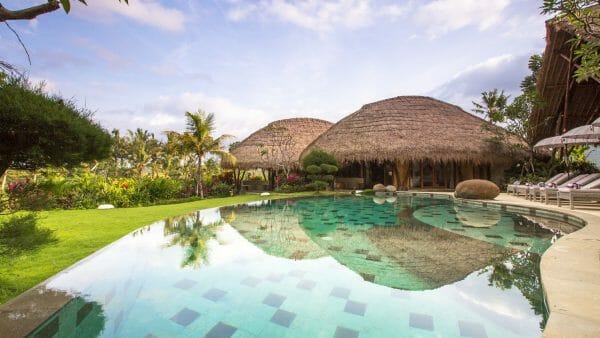 With five spacious and air-conditioned bedrooms to sleep groups of up to ten guests, Villa Omah Padi lies in the midst of lush rice paddies. Perfectly complementing your holiday in Bali, this villa spreads across 1500 square meters of land, harmoniously fusing traditional Indonesian architecture with contemporary accents. Under a typical Balinese roof expertly crafted from bamboo and thatched reeds is a large living area where you can relax with your loved ones after visiting some of Ubud's best attractions. To make sure that you're comfortable and well-taken care of, the villa provides a team of staff comprising of pool maintenance, security, gardeners, and housekeepers.
For example, you can easily rent a bicycle, scooter, or even a car to visit the Agung Rai Museum of Art located less than 10 minutes away via the Jl. Raya Nyuh Kuning road. For lunch, fuel up at the Nasi Ayam Kedewatan Bu Mangku restaurant where a traditional Balinese feast will "set you back" 35,000IDR (approximately 3-4 USD).
Price: From USD 358/night
Candidasa
Candidasa may not be as high on your list as Ubud or Seminyak, but there's no denying that this vibrant region is home to some of our most prized budget friendly villas in Bali. Located on the eastern coast, this seaside town is known for its abundance of nautical activities and a freshwater lagoon.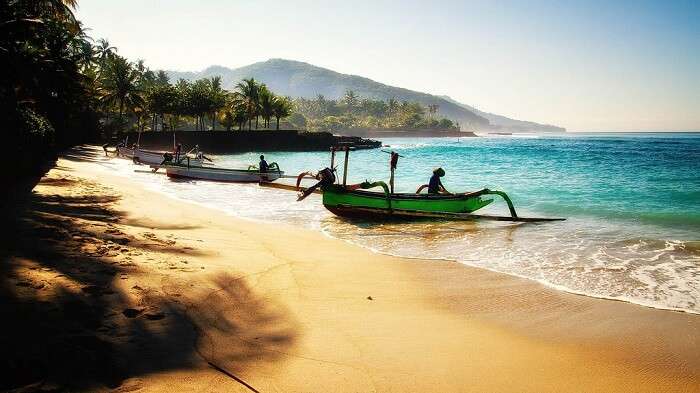 Villa Gils
With a stay at Villa Gils, you'll certainly feel like you're stepping into a resort-like oasis just steps away from Mendira Beach is found Villa Gils. Boasting a friendly team of five staff, this villa offers four bedrooms and plenty of space for up to eight persons. Families will be glad to learn that the main swimming pool provides a floating footpath leading to a shallow kiddie pool, perfect for young children to wade in. And if you feel like exploring the area, you'll find that most attractions lie just a stone's throw from the villa.
If you're feeling adventurous, just off the coast of Candidasa you'll find three islands that offer plenty of picturesque diving and snorkeling opportunities: Gili Biaha, Gili Mimpang, and Gili Tepekong. It should be noted that these diving spots are best suited to experienced divers due to the strong current.
Price: From USD 264/night
Villa Aamisha
If you're passing through Candidasa and looking for an affordable villa check out Villa Aamisha. With sweeping views of the ocean right from the living room, this villa can comfortably sleep up to eight guests in its four air-
conditioned bedrooms. Featuring seven staff members to look after you, the villa offers plenty of alfresco dining spots, a private 30m-long infinity pool, and an outdoor lounge overlooking the mesmerizing lagoon.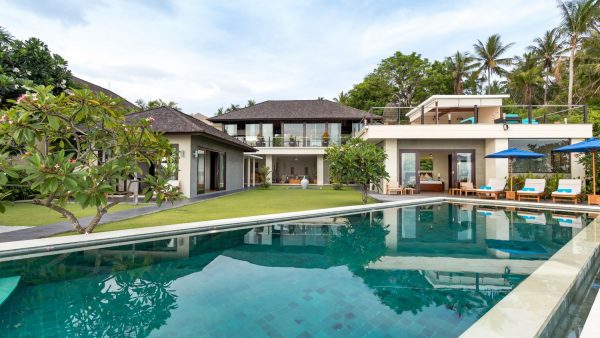 If you're traveling with children, keep them entertained at the Charly's Chocolate Factory, located on Jasri Beach, a mere 15 minutes from Candidasa. Known for its eccentric infrastructure of bamboo huts, soap studio, and of course, chocolate taste testing. In the popular Bali trend of creating social media photo opportunities, the grounds of the factory also come with a swing for that iconic social-medial picture. It only costs around 10,000 IDR to visit the factory, which is less than a dollar!
Price: From USD 450/night
Uluwatu
With Pintrest-worthy sights and spectacular cliffs to rival Ireland's, Uluwatu encompasses some of the most beautiful beaches in Bali. With an unblemished scenery, ancient temples, and a surf-loving culture, this area is perfect for groups of friends.
Villa Surga One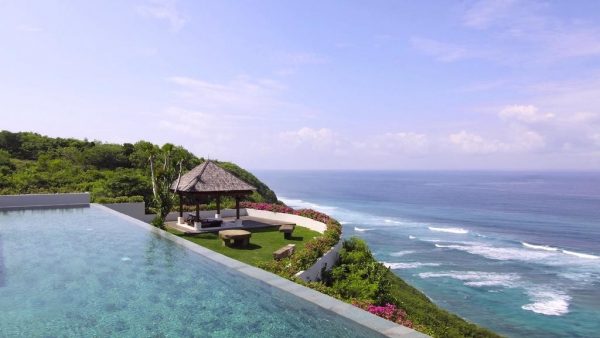 Majestically perched on a cliff overlooking the gleaming ocean, Villa Surga One boasts an experienced team of staff who will be there to take house chores off your hand. While this establishment is one of the best budget friendly villas in Bali, it also provides security and personal guest assistants to ensure your well-being. With six bedrooms, Villa Surga One can accommodate up to eight persons and comes with two swimming pools, gazebo, service bar,
and more.
Should you wish to immerse yourself in Bali's rich culture, you can take a short drive to the popular Uluwatu Temple, a clifftop temple that features breathtaking sunsets in the evening. At nightfall, you can even attend a traditional Kecak Dance ceremony by the glow of an open-air fire. Before heading back to the villa, you may wish to treat yourself to a full-body Balinese massage at the Esthetic Spa Uluwatu which is open daily until 9pm.
Price: From USD 3,322/night
Lovina
Located in North Bali, the coastal town of Lovina is especially known for its black sand beaches and excellent walkability. Whether you're just passing through or planning an extended stay with friends or family, rest assured that you'll have plenty of great accommodation options for your holiday. Lovina is particularly renowned for its virgin coastlines, thick greenery, and dolphin watching opportunities.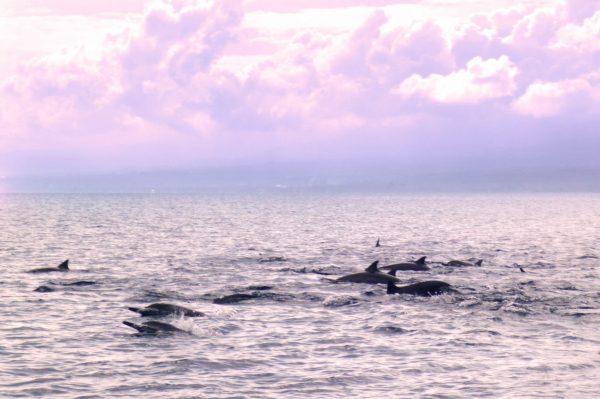 Villa Naora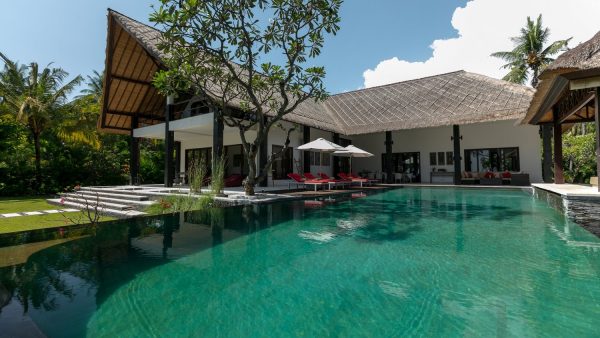 With four bedrooms, seven staff members, and a 10-person capacity, Villa Naora places you right by Lovina Beach where you will be treated to incredible views of the volcanic sand beaches. Indeed, if you wish to dip your toes into the lagoon, you simply need to cross through the stone pathways leading directly to the shoreline. With a brightly lit interior, this villa offers plenty of outdoor space where you can relax or savor a meal under the warm sunshine.

Don't miss the opportunity to spot a dolphin- book one of the many dolphin-watching tours available on the island. We suggest taking a quick drive from your villa to the Dolphin Watching Lovina And Snorkeling Herman Lovina Tour where you can book an excursion of your choice. This agency is open daily from 5.30am to 10.30am and prices start as from 100,000 IDR (less than 10 USD).
Price: From USD 270/night
Villa Bloom
While browsing for a budget-friendly villa in Bali, you may want to check out Villa Bloom, especially if you're traveling with a smaller group of six persons. Fitted with three bedrooms, this villa offers various services, including housekeeping and an in-house chef who can cater to any diet, including vegetarians. A semi-open dining room enables you to enjoy your meals while gazing out at the azure horizon.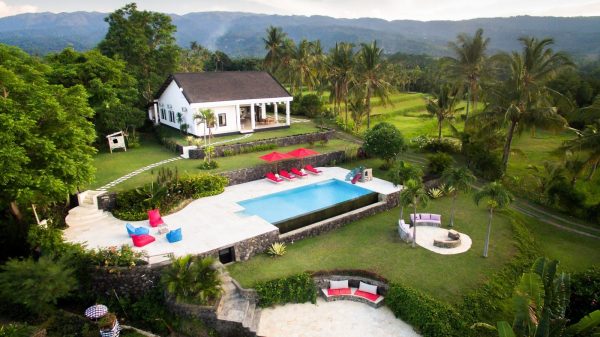 If dolphin-watching is not really your thing, you can always take a drive to the nearby Sing-sing Waterfall and Gitgit Waterfall for striking photo opportunities. After an invigorating hike around the waterfall, soak your muscles and enjoy a rejuvenating moment at the Banjar Hot Springs.
Price: From USD 272/night
Ketewel
To experience Bali in its true, unvarnished self, consider spending some time in Ketewel, a rural spot famed for its seaside rice terraces and fertile volcanic soil where farmhouse restaurants grow their own ingredients.
Villa Delfino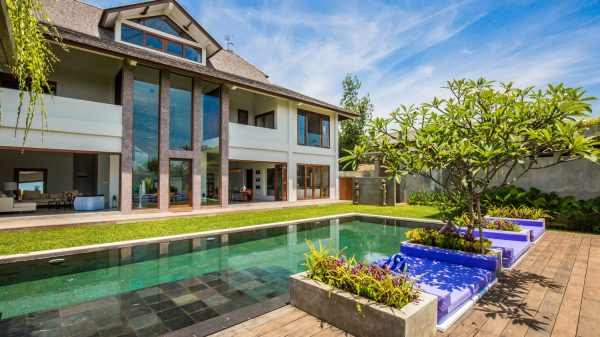 In a prime location less than two kilometers from the beach, Villa Delfino is ideal for larger groups of up to ten persons. Spanning across three stories, this tranquil mansion serves up luxurious vibes without breaking the bank. You can pick from five air-conditioned bedrooms and if you don't feel like cooking, you can always request to have the in-house chef to cook traditional Balinese dishes. After the meal, gather your whole family in the state-of-the-art Media Room to enjoy a movie. Surfing enthusiasts will undoubtedly appreciate the thundering waves at Ketewel Beach, especially if they're visiting between November and April. If you're thinking of going surfing, bear in mind that the best swell angle is from the south of the beach. Don't worry about having to travel with your surfing gear: just a short distance from your villa you'll find various surf establishments such as SD3 Surf Point and East Bali Surf and Sail.
Price: From USD 448/night
Exploring Bali in all its splendor
There's always so much to do and see in Bali that time seems to come to a standstill on this majestic island. This is why most travelers choose to spend a few days in each area to really experience the many different and unique parts of Bali that you won't find anywhere else in Indonesia. If you're planning a holiday across the entire island, you may wish to check out our exclusive guide listing most of the best things to do in Bali, regardless of your budget.
Please follow and like us: