Canggu is a spot well-sought for city dweller tourists. As the hottest spot in Bali, it has countless fun things to try. If you want to party hard, it offers a shiny nightlife that makes you stay until dawn. If you want a physical challenge, you can spend your day learning to surf. But after your tiring day-to-day, you might want your vacation to be about healing. You can have a slow day in nature with a long walk in its well-known rice field, traveling to its various beaches for sunset-viewing, or having your meal in a nature-built cafe.
And for a perfect rejuvenation, you might want to book a massage session in a spa. A massage has various health benefits, such as relieving anxiety, improving sleep quality, boosting focus, and helping with muscle pain. After your day of treatment, your fatigue will melt away. And now you are ready again for your long days! In beautiful Canggu, your options are unlimited. So here are the top recommended places for a massage in Canggu!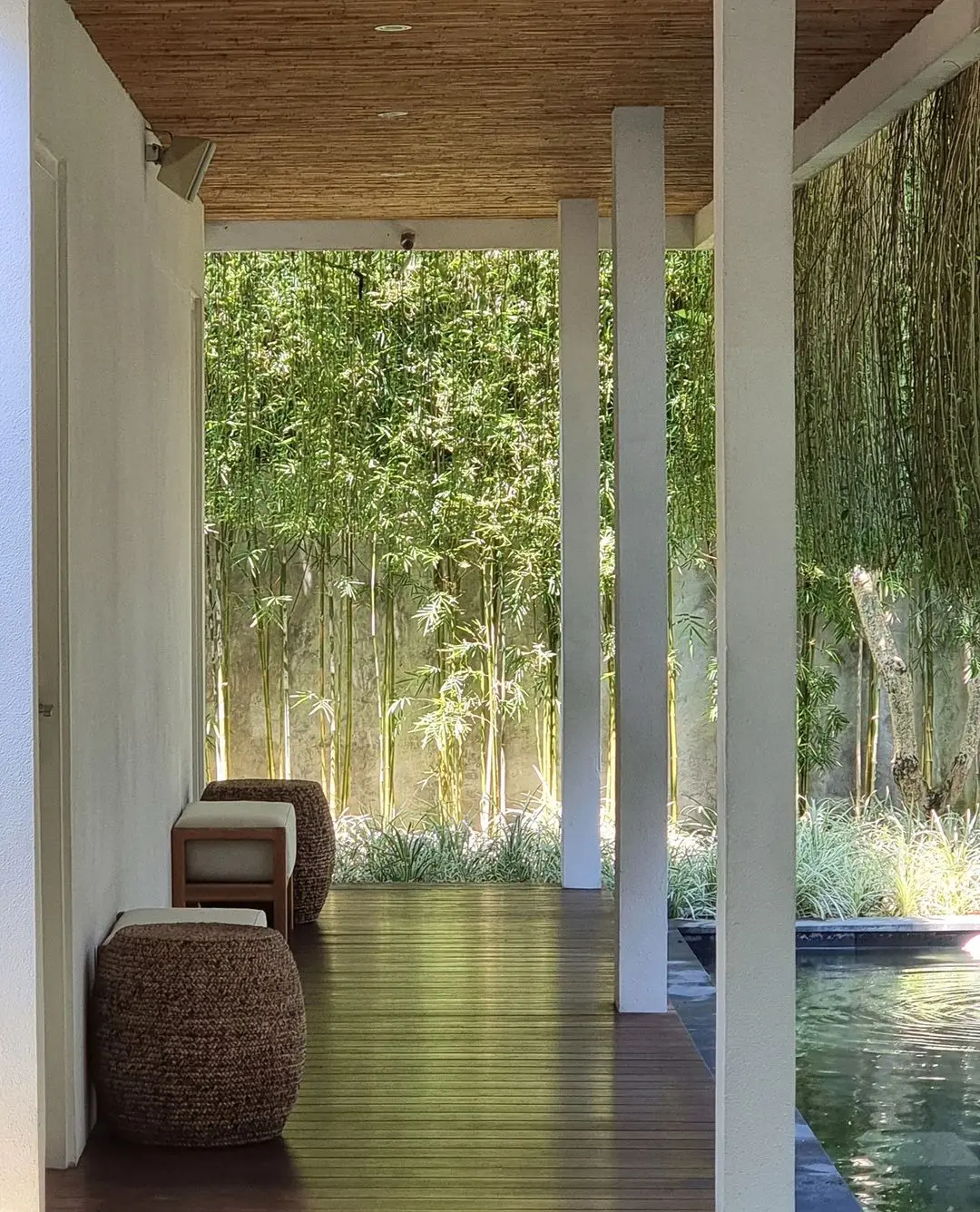 Located in Batu Bolong beach, an epicenter of tourist destinations in Canggu, this wellness spot was a go-to spa for the jet set.
It was built by Ina Bajaj, a New Zealand businesswoman who aims to deliver the best in beauty and wellness in a serene environment.
As the visitor steps their foot inside Spring Spa, they'll be greeted by a luxurious tropical modern setting with a white-washed interior, beach lounge sitting, and large rattan pendant lights that would give a relaxed island feeling. Each treatment room is decorated similarly to create a comfortable, soothing atmosphere for a spa treatment.
Spring Spa Canggu Services
Spring Spa offers an abundance of services. From quick beauty touch-ups to a complete rejuvenation package.
Popular massage treatment in Spring Spa is Balinese Massage. You will have a pro massage therapist well-trained in human anatomy, who can immediately understand your condition and work on your pain spot and make you feel fully recovered after the session.
Address: Jl Pantai Batu Bolong no 83C
Operating hours: 9 AM to 8 PM (daily)
Price: starts from 130K IDR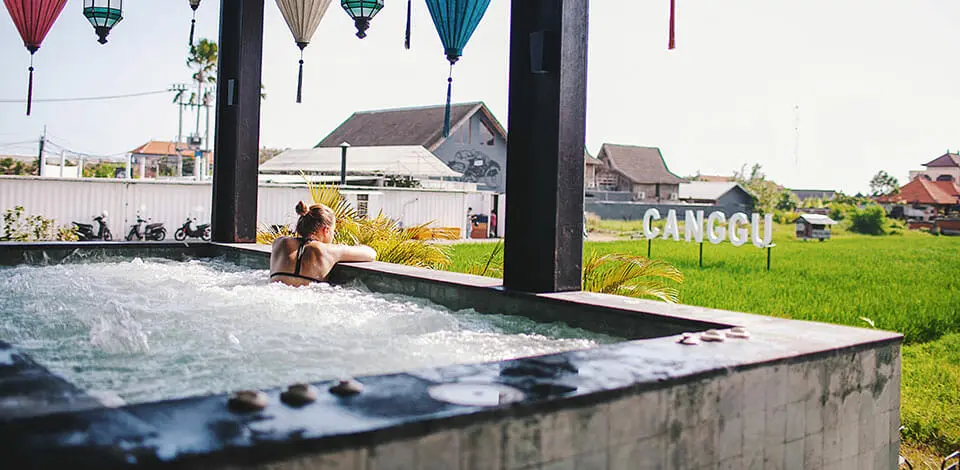 If a high-end big metropolitan city feel is more of your thing, AMO Spa might be your go-to for a spa day choice.
From the entrance, it evokes a feel of luxurious New York spots with its expensive-looking matte black doorway. And as you step inside its pristine white walls decorated with beauty products are ready to greet you. While in the other room, an industrial brick wall gives a comforting cozy feel for all the clients.
AMO Spa Services
This bougie treatment spot offers all the beauty and wellness needs for your day spa session. It provides manicures and pedicures, makeup, eyelash extension, hair care, and facial, and this spa place is topped off with the AMO Thermea facility with a sauna and IV therapy.
And last but not least, you'll have your massage session with the carefully chosen massage therapist that would massage your tiredness away.
Address: Jl. Pantai Batu Bolong No.69
Operating hours: 9 AM – 10 PM (daily)
Phone: (0361) 9071146
Price: starts from 120K IDR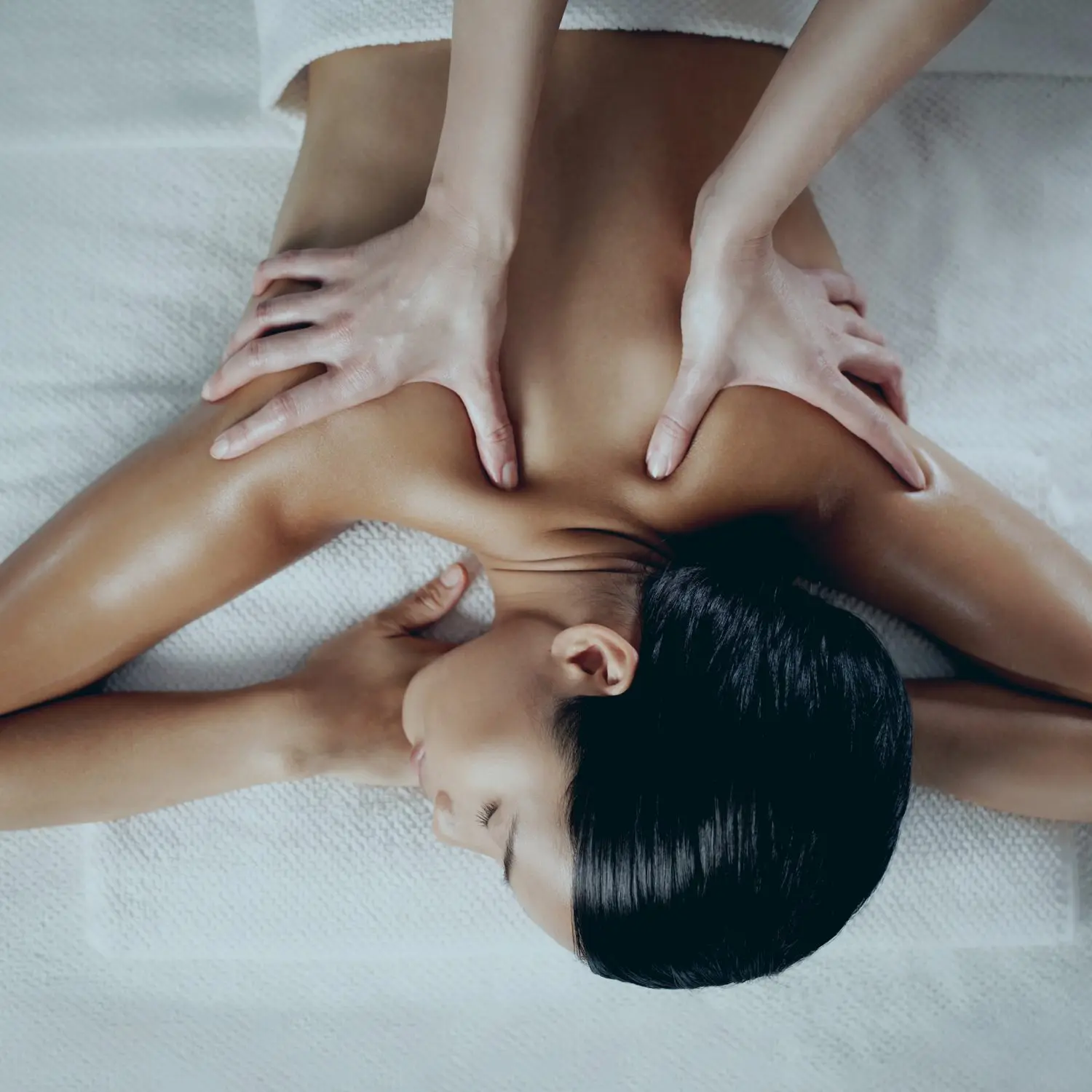 If you would like a more grounded massage spot, Ida's Bodyworks could be a place for you.
With its classic and homey Bali vibe, Ida's Bodyworks in Canggu is a new branch of its first establishment in Ubud. And the place is known among tourists thanks to Madame Ida herself!
Ida's Bodyworks Experience
She has one hell of an experience. The owner of this place might have done more than ten thousand massages in her lifetime, and got you to think "this is what a massage is supposed to be".
As a highly experienced therapist, who gained her top-tier ability from the encounters she had with her thousand clients, each with their unique problems, her technique is not by-the-book, but rather she's studying your body with the touch of her tiny but skilled hands.
She will feel every knot and pain in your body and proceed to meticulously do her work. And afterward, you will feel fully rejuvenated by seemingly a simple massage, but it hits you right exactly on the spot.
Address: Jl. Pantai Batu Mejan Jl. Canggu Padang Linjong 34
Operating hour: 12-8PM (Sunday Closed)
Price: About $12 (175K IDR)
Related article: Best brunch in Bali: Tasty and Insta-worthy Cafes in Seminyak & Canggu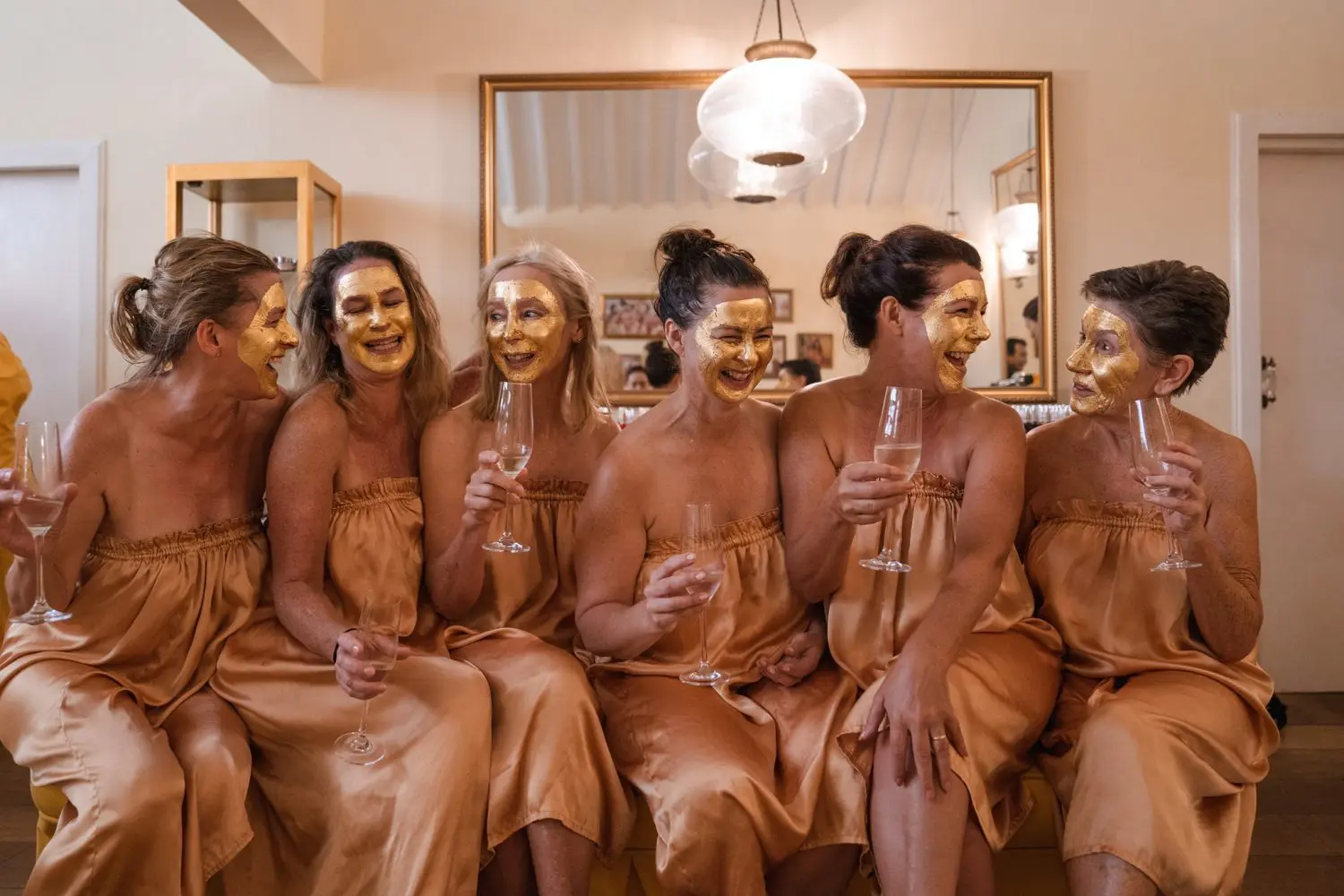 This unique spa will leave you covered in gold – literally.
With its royal-inspired setting dominated by golden color and ornaments, the pristine Goldust Beauty Lounge focused on the unhurried pampering. Visitors are encouraged for a slow day of full-body treatments that will give the deepest level of healing benefits.
Goldust Beauty Lounge Services
This beauty center offers various beauty and wellness-related services, with its most instafamous treatment in this spot being 24K Gold Facial. It is a facial service with a gold-infused concoction consisting of collagen boosting, skin tightening, and enlightening formula that results in rejuvenating anti-aging benefits!
For a massage, you can have various choices of treatment. From Goldust's signature massage with warm stones for ultimate relaxation to Back Buster Massage, a deep tissue, intense treatment.
Goldust Beauty Lounge also encourages a party with your close-knit group of friends, with their Spa Parties package complete with bottles of champagne to celebrate or just simply kick back and relax.
Address: Jl Batu Bolong No. 66, Canggu
Phone: +62811383721
Operating hours: 10 AM – 6 PM (daily)
Price: starts from 95K
Simple. It is an apt description to define Therapy on the surface. From its one-word name to the understated exterior with its pristine doorway with whitewashed wall and black door.
But inside, with its interior adorned with the muted color scheme, in the building made of wood and concrete materials, this all-Bali vibe spot gives you the warmest and most welcoming feel.
Therapy Services
Quality is what Therapy prioritized. They have the most environmentally friendly products that were not tested on animals and are chemical-free. And the place offers highly skilled massage therapists that have been trained all about pressure points, giving you an effective massage treatment.
Aside from massages, Therapy offers other beauty and health treatments such as body scrubs, facials, and manicure-pedicures.
One of the options for massage is The Healing Act, a massage based on traditional Balinese techniques that can change your whole body for just one hour. But if you want a longer hour of pampering, you can get a 3 hours package that includes other treatments such as scalp therapy and manicure-pedicure as well as massage.
Address: Echo Beach Jalan Pantai Batu Mejan, Echo Beach, Canggu, Bali
Phone: +6287862137603 / +628224724223
Opening hours: 10 AM-8 PM (daily)
Price: starts from 170K IDR
Related: Shopping, spas, luxury villas, sunset cocktails – it's a girls' trip to Seminyak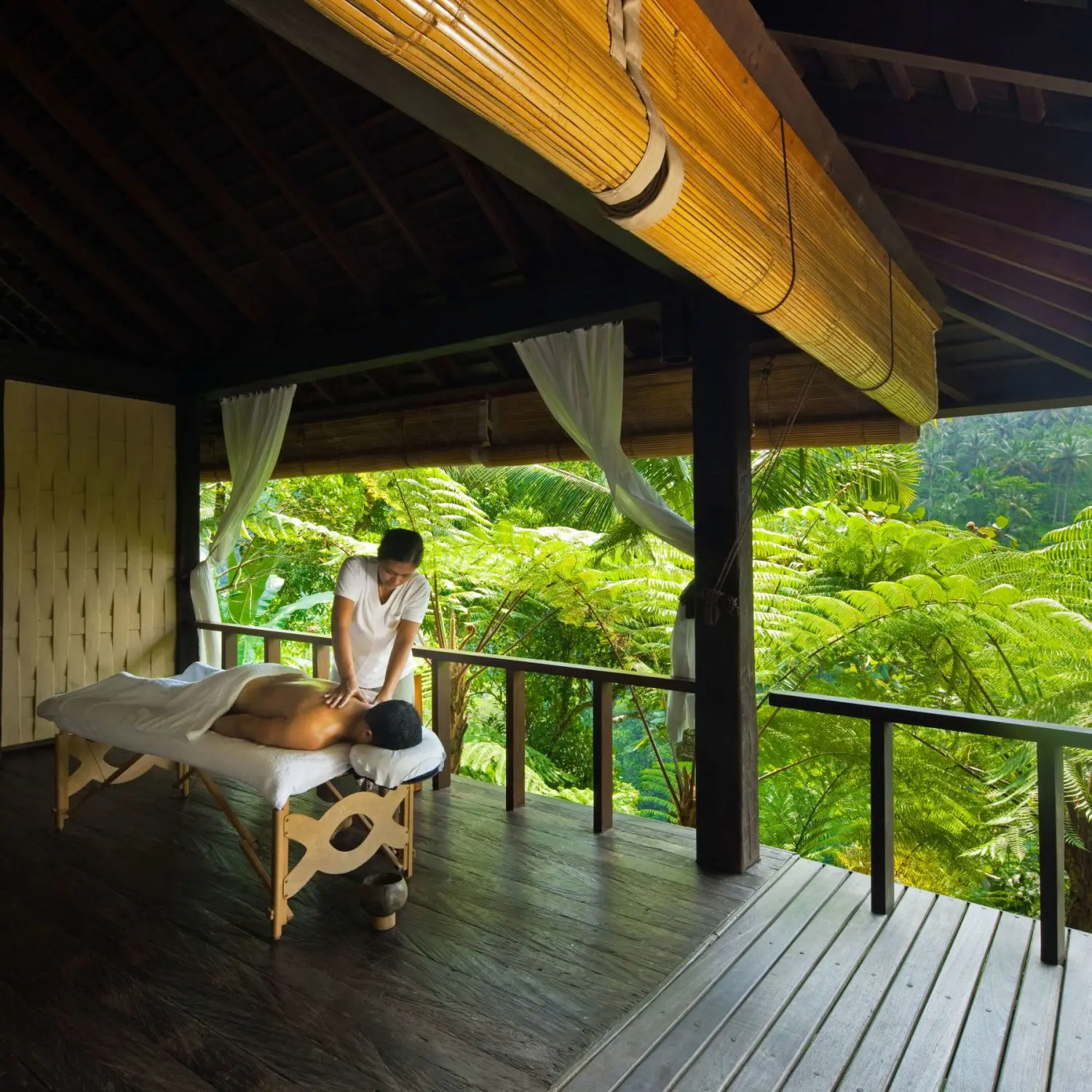 Como Shambhala Retreat aims for a wellness paradise matching its title, Shambhala–a farfetched utopia.
And as you step into the beachside resort and its spacious white interior, a calming feeling would wash you already. This spot at COMO Uma Canggu also offers a view overlooking the pleasant Bali surfing breaks.
Como Shambhala is not just a luxury spa. It is known as an all-encompassing wellness destination with a complete set of all your desires in pampering. Aside from the spa, it has a gym, a cafe with all choices of healthy menu, and a yoga studio.
COMO Shambhala Retreat Services
This retreat specializes in hands-on-healing and holistic treatment that takes inspiration from science as well as ancient eastern wisdom. It offers various kinds of services, such as Asian-inspired body treatments and hours with massage therapists that use full-body strokes technique, as well as facials with top-quality ingredients that give a rejuvenating effect.
On top of the treatments, this retreat is located just right next to Echo Beach, where the visitor can have a peaceful walk along the black sands.
Address:  COMO Uma Canggu, Echo Beach, Jl. Pantai Batu Mejan
Phone: (0361) 6202228
Operating hours: 10 AM – 7 PM (daily)
Price: starts from 150K IDR
Located in a simple little house between the rice fields, Lotus Massage Therapy is a perfect spot in nature for day treatment.
It is known as a  place that is always clean and smells good and it employs excellent massage therapists.
Lotus Massage Therapy Services
In Lotus Massage therapy, you can get a full-body massage at an overall considerably cheaper price compared to other fancy massage places in the area. And the choice is varied. You can have a Balinese Massage for 60 minutes or 90 minutes, a deep tissue shiatsu massage, and a massage specifically for surfers' needs.
The massage therapists are known to be strong and have a specific set of skills to determine exactly the place of the knots in your body that needs to be healed.
Being in a small building, it does not provide private massage rooms for the customer's treatment, but you don't have to worry, because it has privacy curtains that cover all sides.
Besides the massages, Lotus Massage offers anti-cellulite and slimming spa treatment and aromatherapy.
Address: Jl Pantai Batu Bolong no 13
Phone: 081999748221
Operating Hours: 10 AM – 8 PM (daily)
Price: starts from 180K
Related: 15+ Best Villas in Bali that don't break the bank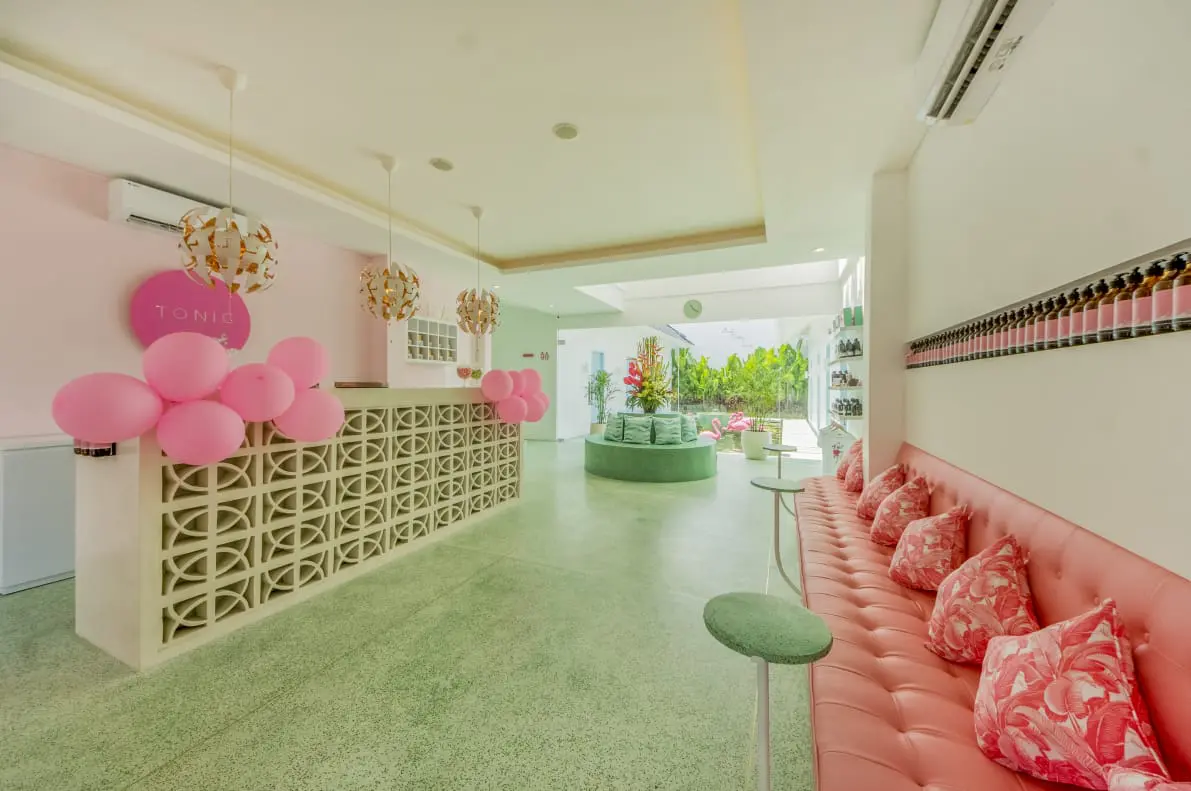 If you have a penchant for playfulness, you might want to pop a visit to Tonic Day Spa and Botanicals for your day of treatment!
This Spa place conveniently takes a spot in the hip locale of Canggu, only a 500m walk from Echo Beach. The establishment gives off a modern and youthful feel with its crisp architecture mixed with the pastel Palm Spring theme for its interior. With vibrant colors of green palm and tropical leaves contrasted with pink flamingo motifs, its rejuvenating fresh aesthetic is Instagrammable if it's your thing.
Tonic Day Spa Services
The price is considered standard for individual treatment. But before you visit, you might want to check out their website for a weekly promotion. Tonic offers a full body massage with exfoliating, moisturizing, and a facial on the side for 450K IDR. A package treatment worthy of two hours treatment
For individual services, you may have various types of massages such as classic Balinese Massage, Botanical Herb Massage, and Bamboo Massage. And for other services, they offer scrubs, facial treatment, manicures and pedicures, and other beauty and wellness treatments.
Address: Echo Beach Villa, Jl Pantai Batu Mejan
Phone: 082144164410
Operating Hours: 10 AM – 9 PM (daily)
Price: starts from 100K
More about Bali: Halal Restaurants in Seminyak – Finding Halal food in Bali's chic district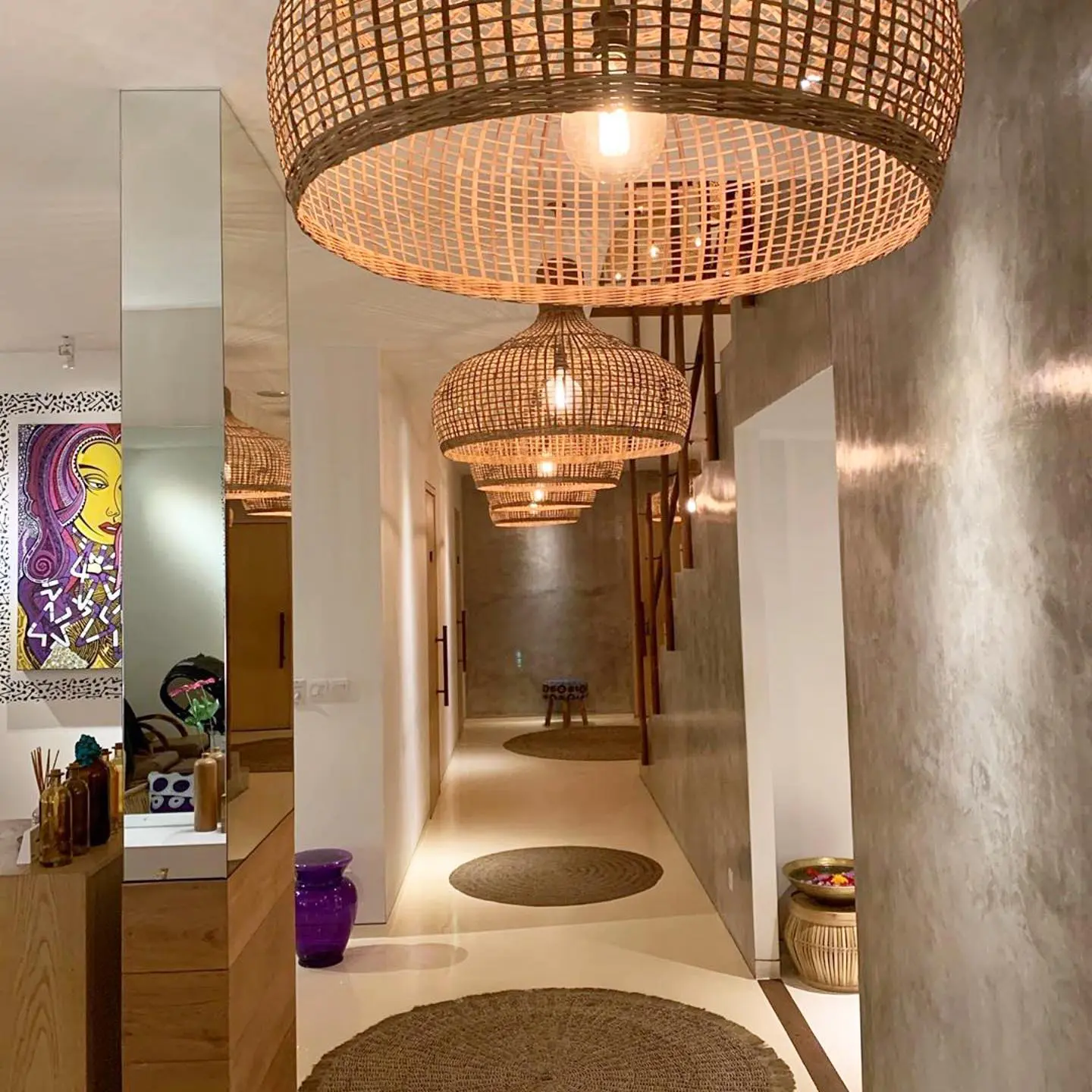 With pristine decor with a touch of artistic style, Espace Spa gives an elegantly enticing ambiance that draws you in.
Espace Spa was founded by a meditation teacher and offers relaxation in various ways of massages, specific body treatment techniques, and aromatherapy.
Espace Spa Services
In all of their services, Espace staff delivers treatment with the professional technique taught by a master trainer meant to rejuvenate the customer.
The service has a variety of body treatments. For full-body pampering, one of the most sought-after treatments is organic charcoal scrub with the spa's signature essential oil that ends with a full body massage. But for customers that don't have all day, they offer a 30 minutes chair massage meant to quickly relieves tensions in the neck, shoulder, and upper back before the customer goes back to their day.
Espace's way of healing comes in its attentive and thoughtfully precise way in the massages. Nothing is rushed or formal in this Spa.
Address: Gang Badung, Jl Batu Mejan
Phone: 08113890442
Operating Hours: 10 AM – 9 PM (daily)
Price: starts from 136K IDR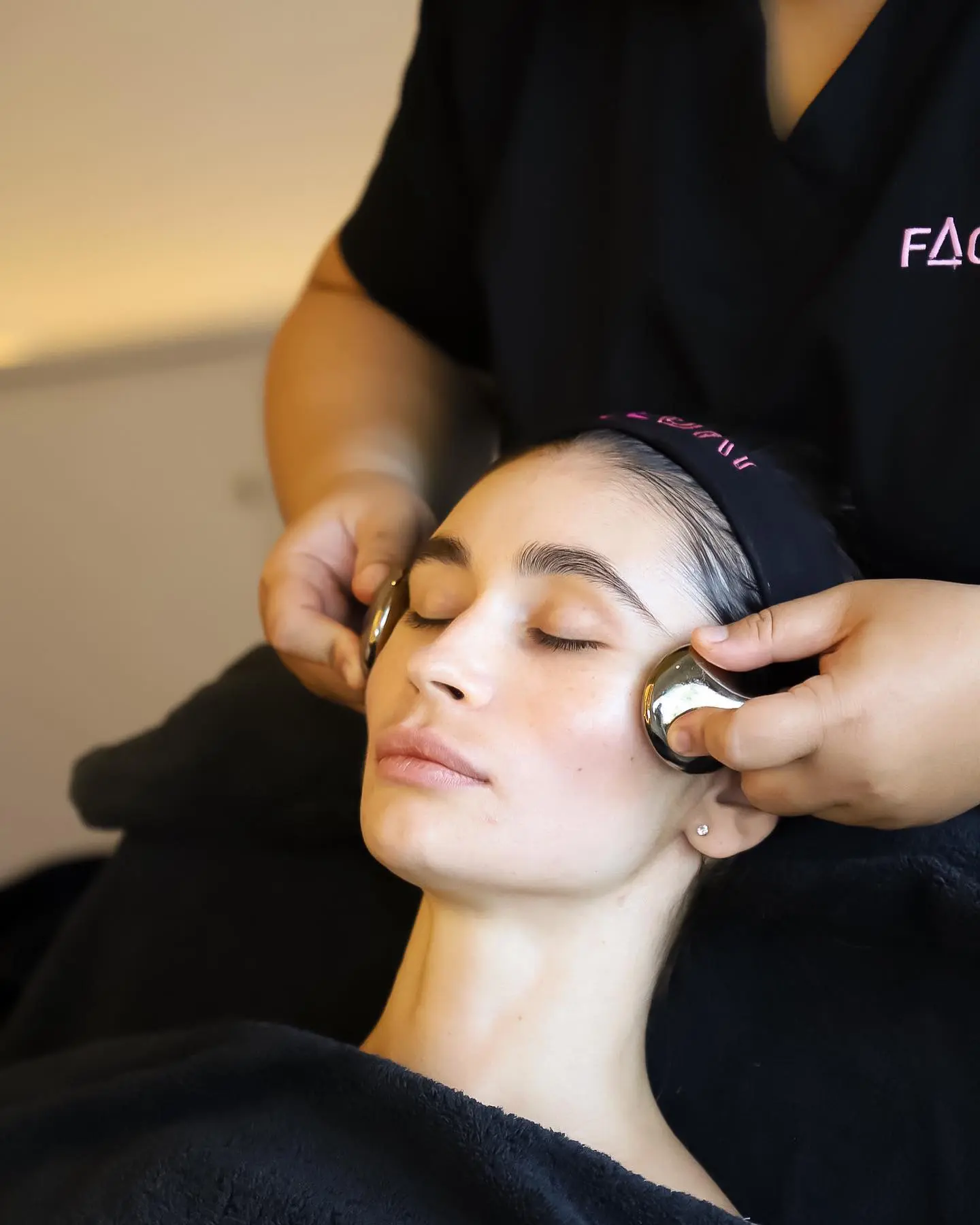 At first glance, this business seems to be another facial center. but FaceDay offers a therapeutic face massage full of health benefits for busy city people.
Said to offer a "functional facial", the massage aims at defining your natural facial structure.
FaceDay Services
For your first visit, you can have a free evaluation of your face. The therapist will use an instrument designed to analyze your skin, and it is linked to an app that makes results of problematic areas in your skin. Later, the info can be used by the therapist to suggest a specific facial treatment for your needs.
The treatments range from a technology-free facial using a suction cup for lymphatic drainage, to a high-tech facial meant to boost your facial muscle tone with a technique involving LED lights.
The treatment takes a shorter pampering time. You can pop a visit to this salon during a quick break from your work or vacation.
Address: Jl Pantai Berawa 38
Phone: 081139600027
Operating Hours: 10 AM – 6 PM (daily)
Price: start from 340K IDR
Body Temple Spa is located in Finns, a name that is far from unheard by beach club enthusiasts.
Finns are known for their hangout spots on Berawa Beach. But on Finns Recreation Club, a one-kilometer walk or ride through villas and rice fields, you'll find various tourist attractions. Splash Water Park, Strike Bowling, Fitness Center, various cafes and restaurants, and last but not least, Body Temple Spa.
Body Temple Spa Services
This spa offers many treatment choices. It has a 30 minutes massage session called Quick Fix Massage, Sport Massage, Pregnancy Massage, etc. For the general public, a recommended package is Tropical Glow Body Treatment. It is a 140 minutes treatment session consisting of a foot bath, Balinese massage, and ends with a body scrub and body mask. Another well-sought package is Body Temple Ritual, a 90 minutes session that starts with coffee and honey body scrub intended to help blood flow and minimize cellulite, followed by a traditional massage for a full relaxation session.
Aside from massages, you can have other beauty and health treatments such as facial, hair treatment, and body wrap.
Address: Jl. Pantai Berawa No.8
Phone: 085792362236
Operating Hours: 11 AM – 8 PM (daily)
Price: start from 200K IDR
Please follow and like us: