Seminyak is the perfect destination for a party holiday. The lively and colourful streets of central Seminyak are home to lots of bars and clubs to explore at night. In the daytime, you can shop around at hip fashion boutiques, pamper yourself with traditional Balinese spa treatments and soak up the sun on the beach, followed by sunset drinks at charming beach bars and world-famous beach clubs. What's the first thing you need for this party holiday to Seminyak? That's right: you need a private Seminyak villa – a solid luxury base where you can relax, sleep 'till noon, swim, lounge, chill and do whatever you feel like. Nothing beats having your own private villa, just for you and your travel party to enjoy. Here is our pick of the 10 best party villas in Seminyak (in no specific order):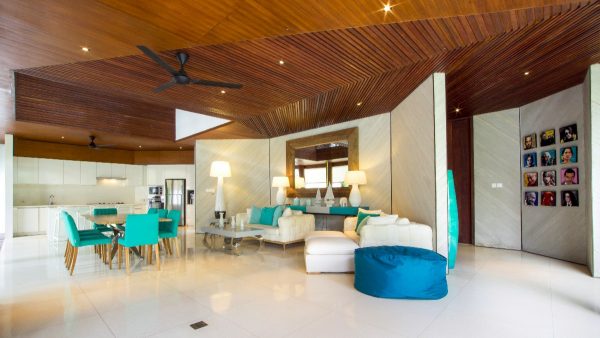 Villa Summer makes the perfect party hub, located right in the heart of town. This villa features a unique architectural design and a big triangle-shaped swimming pool with a triangle-shaped island floating on top. The open-plan living room gives direct access to the pool, there are bean bags to chill out on and the villa even boasts a dedicated cocktail & barbecue area. Following the spiralling staircase upstairs, leads to a lofty TV/entertainment lounge, adjoined to a balcony. Villa Summer has 3 bedrooms. The master suite features a private plunge pool of its own plus a sunken bathtub in a luxuriously-styled en-suite bathroom. A great find!
Around villa Summer
Located in Petitenget, this villa is close to Seminyak's most high-end boutique shops, restaurants, coffee bars and beach clubs. The villa is hidden away in a quiet lane and yet, it takes just minutes to be right where the buzz is.
Prices start at US $340 (low season), US $355 (mid-high season), US $410 (high season) and US $450 (peak season)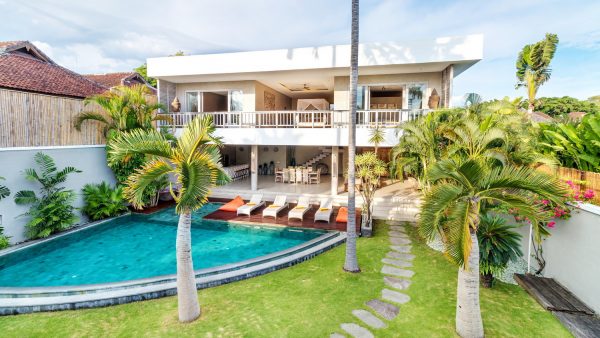 Villa Lisa certainly is a stylish place to spend this Bali holiday with friends. Spacious, chic and contemporary with a notch of glamour, this Seminyak holiday haven has got all the facilities for an amazing stay. Just put on some music, plunge in the pool, soak up the sun beneath the leafy palm trees and let the good vibes roll. The turquoise swimming pool certainly is an eye-catcher and so is the villa's interior design ruled by creamy whites, charcoal grey and light timbers.  You can have cocktails at the kitchen's breakfast bar or sip them by the poolside. You can spend endless wonderful evenings enjoying good food and great wine at the dining table or watching movies with popcorn and drinks on the comfy sofa. Villa Lisa makes a chic and solid base from where to dive into Seminyak's nightlife, that's for sure!
Around Villa Lisa
It's safe to say that this villa is close to everything. Hungry? Head over to Eat Street? Want to shop? Stroll around in Petitenget. Want to try surfing or just gaze at the Island Sunset? Stroll down to Seminyak Beach.  It's all very nearby and walking around to get from one place to the other is just lovely.
Prices start at US $245 (low season), US $275 (mid-high season), US $370 (high season) and US $390 (peak season)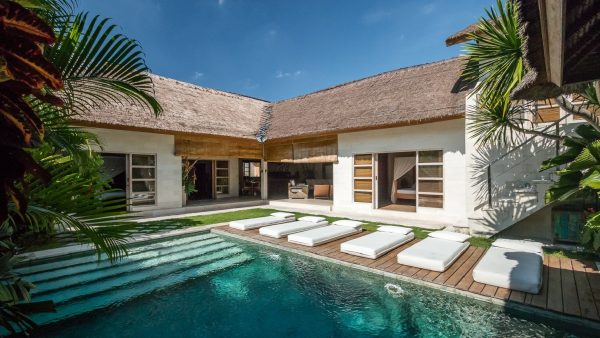 This 3-bedroom holiday retreat is a true tropical hide-out in the heart of Seminyak. Featuring a traditional design with intriguing artwork and beautiful Balinese interiors, you know you are holidaying on an exotic island, alright. The villa's garden is a perfect place for fun, relaxation and BBQ cocktail parties. The wide and spacious open-plan living room features big sofas and comfy armchairs to chill out on together with friends. The bar-stools make another nice hangout spot to have some Bintangs or cocktails together at any time of the day. Villa Angrek even has a private spa. Life is good here at this Balinese luxury villa!
Around Villa Anggrek
Villa Anggrek is found in the Drupadi Gangs of Seminyak. A short walk leads to Oberoi's 'eat street' on one end and to Gado Gado Beach on the other. Shopping, surfing, sunset drinks and dancing, you can easily do everything from this private vacation home in Seminyak.
Prices start at US $285 (low season), US $315 (high season) and US $345 (peak season)
Our personal tip: Ask the staff to prepare a late healthy breakfast for your hangover. They are super accommodating!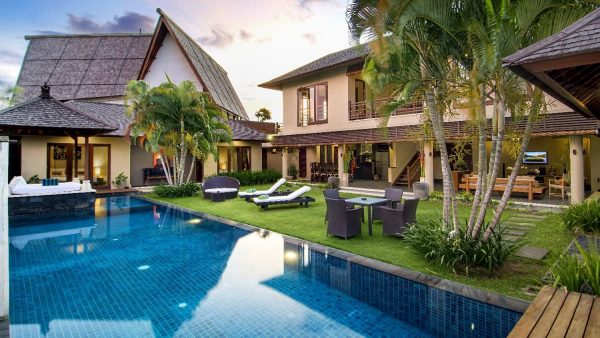 Villa M features a big, lofty, open-plan living space and a big tropical garden with a pool and an alfresco dining area. The perfect holiday hub for a group of friends to have an awesome time! From the waterfall feature and leafy greens to the rooftop terrace and the spacious air-conditioned living room, everything at Villa M is designed tropically and luxuriously for you to get the best of both worlds. Enjoy a Balinese massage by the poolside, have some drinks at the kitchen bar, watch the latest movies in the living room and gaze at the sunset sky from the rooftop terrace. At Villa M, you and your friends are bound to have an amazing time together!
Around Villa M
Located just off of Jalan Petitenget in the most trendy part of Seminyak, you got some of the best restaurants just around the corner of your vacation home. You can also easily walk to the beach and sit down for sunset drinks at Potato Head, if not hanging around on your very own rooftop terrace once again.
Prices start at US $555 (low season), US $610 (mid-high season), US $695 (high season) and US $865 (peak season)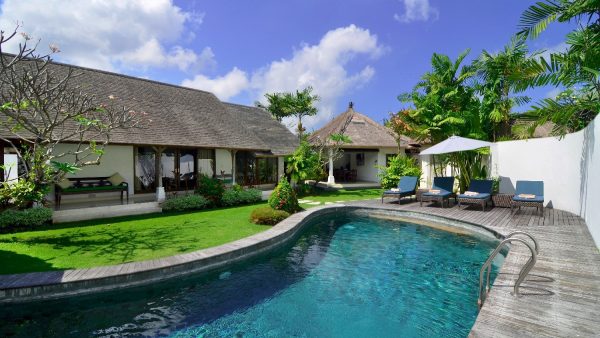 For those of you, seeking a unique island home in the heart of buzzing Seminyak, Villa Damai Kecil may just be the right place for you. At this 3-bedroom holiday retreat, you can jump into the glistening water of the pool straight from the living room. The architecture is stunning, featuring a round pavilion with a high soaring thatched rooftop. The interior design is characterized by traditional artifacts and the ambience is rustic and ethnic. The garden is big and sunny, perfect for parties under the sun or a starlit sky. The lawn is perfectly well manicured and the pool is shaped like a lagoon with beautiful curves and crystal clear waters. All three bedrooms are spacious and air-conditioned and they feature wonderful outdoor bathrooms with luxurious rain showers.
Around Villa Damai Kecil
This villa is hidden away from the crowds, right in the center of town. In just minutes, you can be standing the happening Oberoi Road where it is all about shopping, coffee, eating and nightlife. Follow this road and you will hit the beach where great surfing waves and stunning sunsets await you every day.
Prices start at US $247 (low season), US $330 (high season) and US $412 (peak season)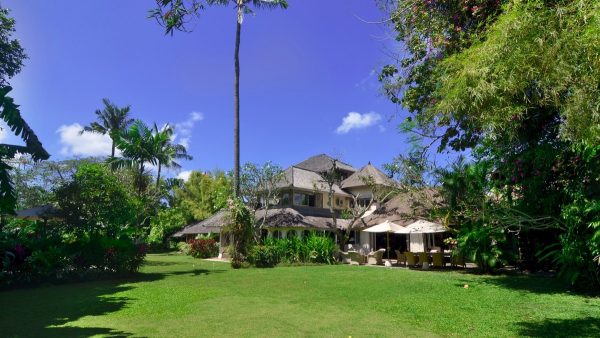 You won't be lacking any space at this charming European-style luxury home away from home in Bali. The Orchard House will just charm you out with its playful character and fun amenities.  The garden is massive, perfect for outdoor parties, day and night, but the fun doesn't stop there. The Orchard House boasts a media room with not only a huge flat-screen TV but also karaoke equipment, a PlayStation and Wii game consoles for hours of fun. The villa features a 10-seater alfresco dining table, a BBQ, a 13-meter lap pool, a trampoline, swings and a tree house. It is unlike any other vacation home in Bali and it is also perfect for children, so bring your kids along this holiday with friends to 'the island of the Gods'.
Around The Orchard House
This villa is well hidden from the hustle and bustle that's going on outside. While lounging in the garden or swimming in the pool, you have no idea you are finding yourself in the heart of Seminyak. Go out and you can explore the lively streets of this beloved beach town on foot. The beach is also reachable on foot in approximately 10 minutes.
Prices start at US $890 (low season), US $990 (mid-high season), US $1150 (high season) and US $1390 (peak season)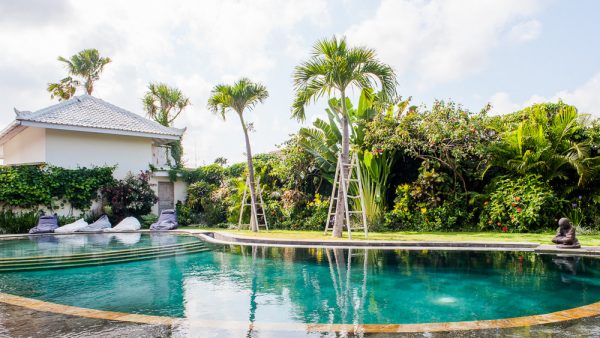 You just have to take one look at Villa Oberoi to know that this holiday retreat makes a great place to throw parties. The lofty open-plan living room is just one of many communal hang-out spots where you can chill out and have fun with friends. There are plenty of cozy nooks and little corners, as well. Lounge by the poolside with cocktails and snacks, hang out on the attic and play some guitar, watch TV in between a stack of pillows, and play your favorite music on the iPod dock to get the party vibes going. There are indoor and alfresco dining options but the most time you will be spending in the garden, embracing the tropical island lifestyle with pool parties, barbecue feasts and late-evenings with wine and good company.
Around villa Oberoi
From Villa Oberoi, it takes just 5 minutes to walk to the beach and KU DE TA beach club. The villa is also close to Oberoi's Eat Street and a 10-minute walk leads to Double Six and La Plancha.
Prices start at US $750 (low season), US $810 (high season) and US $960 (peak season)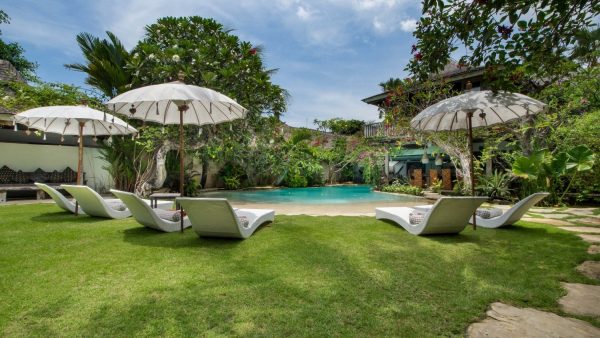 This is the ultimate tropical party villa with no less than 7 bedrooms. Villa Phinisi has got unique features unheard of. The sunken living room has an underwater view of the pool, like a giant aquarium where you can watch your friends and family swim as if holidaying in a submarine. You can snap some great fun photos, too! The living room is super spacious and its design is striking with all of the recycled wood, taken from old Indonesian sailing boats. In for a cosy movie night? Close the glass doors, turn on the AC, pull out the wide retractable screen and let the projector roll: an in-villa cinema room is created. How cool is that? Villa Phinisi has a private spa and gym and the pool looks like an oasis or a desolate beach and all of that, right here in the heart of Seminyak. Amazing!
Around Villa Phinisi
The best thing about the location of this villa is that it feels residential despite its super central location in the most upmarket part of Seminyak. Villa Phinisi is just a hop and a skip away from Petitenget Beach and Jalan Oberoi.
Prices start at US $753 (low season), US $844 (high season) and US $924 (peak season)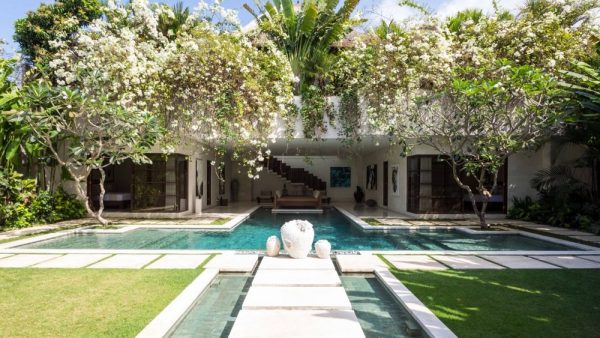 This villa is stylish, spacious and sophisticated. Exquisite artwork, antiques, inspiring interiors and unique features, Nyaman Villa 4 is a stunning luxury villa where you will want to stay forever. Nyaman Villa 4 features a unique T-shaped swimming pool and a lushly vegetated rooftop with flowers falling into the garden, swaying in the wind above the pool. It is a stunning sight! A daybed floats above the pool creating a great spot to enjoy a massage, getting ready for another night out. Sit at the island bar for cocktails in the afternoon, get a private gourmet chef over to prepare a lavish dinner and go dress up for another night of dancing in Seminyak.
Around Nyaman Villa 4
The villa is located in a gang just off of Eat Street in the upscale Oberoi district of Seminyak. La Favela and The Champagne Bar are just some great places you should check out after sunset.
Prices start at US $1035 (low season), US $1301 (high season) and US $1531 (peak season)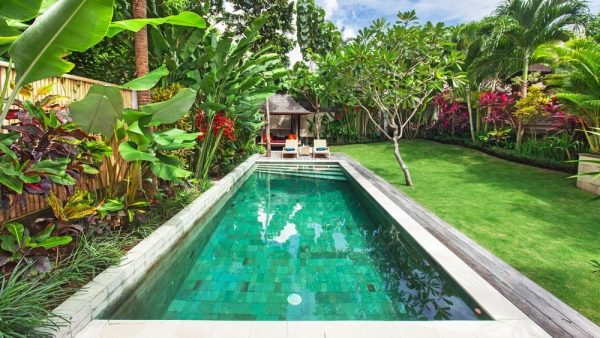 The garden of Villa Liang is green as can be, surrounded by tall lush greenery and scenting tropical flowers. With tropical greens towering out above the pool and the manicured lawn of the garden, this holiday haven makes a great venue to throw garden parties! Villa Liang is a perfect little paradise retreat. A holiday haven where you can laze, swim and have fun with friends and family all day long. The open-plan living room is spacious and it naturally flows out into the garden where the intimate garden BBQ parties are held. The kitchen is sleek and modern and it comes with an island bar and stools to sit and craft some tropical cocktails.
Around Villa Liang
Villa Liang is located in Batu Belig, just a 5-minute drive to Seminyak and also a short drive from Canggu.
Prices start at US $287 (low season), US $310 (high season) and US $471 (peak season)
Please follow and like us: