The coffee scene is expanding in trendy, sophisticated Seminyak and there are more and more super cute, vintage coffee cafes opening up along the lively streets of this celebrated beach town in the south of Bali. We tracked down some of the cutest hot spots in town. Charming places to get a lovely breakfast with coffee in the morning or a delicious hearty bite in the afternoon. Places with bright colourful, vintage interiors, beautiful mural paintings, sweet cakes and laid-back atmospheres. Awesome places where you can turn to for your daily shot of caffeine, combined with a healthy detox juice and a piece of raw chocolate. Our pick of 9 cute cafes in Seminyak are highly Instagrammabe, too!
1. Kynd Community
Colourful, charming and always busy from morning until closing time in the late afternoon. Kynd Community is a cool and trending plant-based cafe located in Petitenget. A great place to go for your morning coffee, a healthy breakfast and late lunch when strolling back to your Seminyak villa after spending the day at the beach! The mural paintings and charming sitting nooks, make this cafe a highly Instagrammable hot spot in buzzing Seminyak. Their 'Love Mugs' are quite easy to fall in love with, indeed; hot chocolate crafted with organic, locally-sourced cacao, home-brewed, spiced-up chai tea, green Matcha Late or even the Golden Ayurvedic latte with turmeric and ginger – stopping by here for hot drinks and something sweet is never boring. For breakfast, how about scrambled tofu or smashed avo with coconut feta? Kynd Community has got an innovative menu and the dishes are super duper tasty, too!
Kynd Community, Jl. Petitenget No.12X, Seminyak, Bali. Open daily from 6 am to 5 pm. Contact: +62 859-3112-0209. Price range: $$
2. Baby Revolver Espresso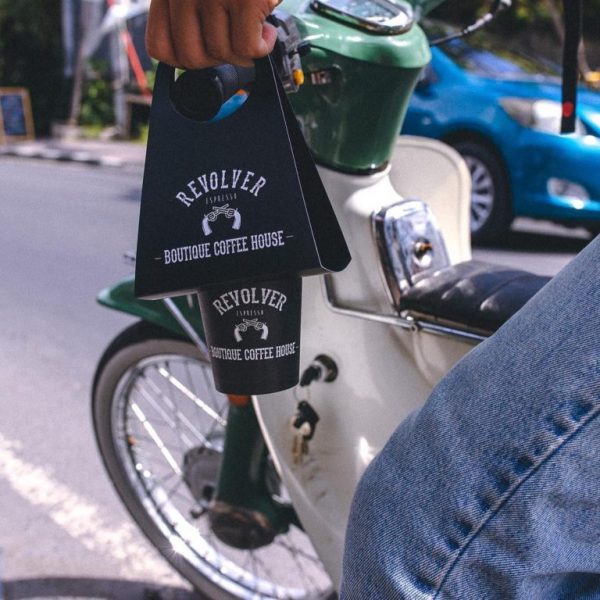 Everybody knows that Revolver Coffee is one of the best boutique coffee houses on the island of Bali and Baby Revolver is the cute little sister, lesser-known among the crowds. Baby Revolver Espresso is a real tiny cafe located on Jl Petitenget and if you are lucky to spot it while strolling around Seminyak. One thing is for sure – this boutique coffee house will charm you out! In addition to the excellent coffee, you will find fruit bowls and fresh yoghurt, wraps, panini's, salads and all kinds of sweet treats on the menu. Baby Revolver actively promotes their coffee delivery services to your Bali villa – make use of it!
Baby Revolver, Jalan Petitenget, Seminyak, Bali. Open daily from 7 am to 6 pm. Contact: +62 851-0244-4468. Price range: $$
3. Sea Circus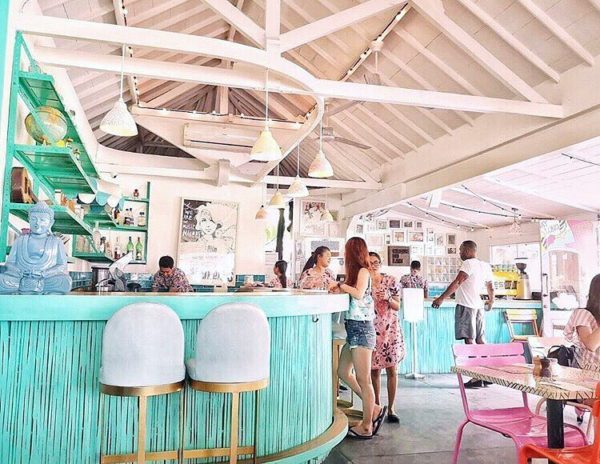 Sea Circus features really cool street art that really catches your eye when strolling around on Jalan Kayu Aya in the hottest part of Seminyak. Pink, green, blue, yellow – it is a circus of colours and this cute cafe certainly is one of the happiest cafes in town, located just meters from the beach and KU DE TA beach club. Sea Circus is a restaurant, cocktail bar and coffee hub in one go – there is something for everyone and you can snap some really cool photos at this charming cafe. Waffles, pancakes, bagels, smoothie bowls, small plates to share, amazingly delicious margaritas and a taco bar – you just gotta love this place!
Sea Circus, Jl. Kayu Aya No.22, Seminyak, Bali. Contact: +62 361 738667. Open daily from 7 am to midnight. Price range: $$
Villa Finder's tips: We adore the little positive fortune cookie that comes with every order. It's a great way to start the day with kindness and positivity 🙂
4. Cafe Organic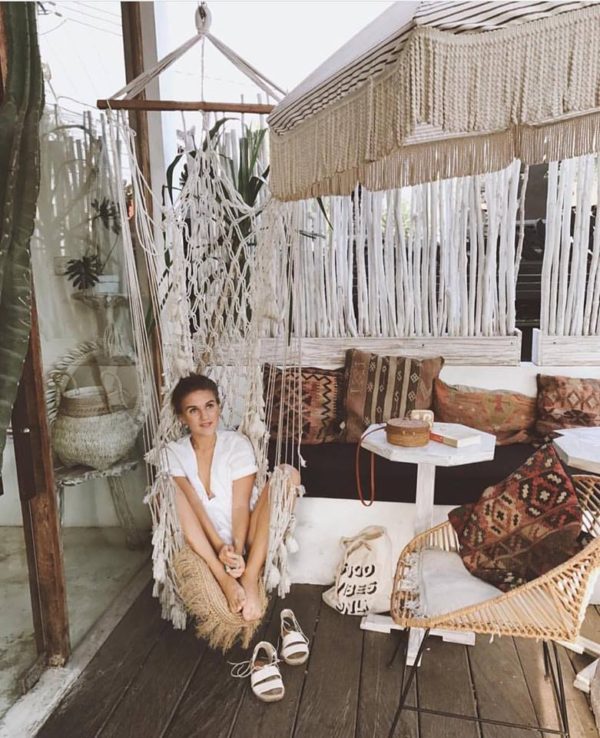 The garden gangstas of Organic Cafe are true experts when it comes down to healthy food and quirky interiors. You can come here for healthy vegetarian, vegan or raw food, crafted with organic, locally-produced ingredients. Fresh from the land -yay! Mural paintings, indoor and outdoor seating arrangements. An amazing place, iconic to the trending scenes of Seminyak.
Cafe Organic, Jl. Petitenget No.99 X, Kerobokan Kelod, Kuta Utara, Kabupaten Badung, Bali. Contact: 62 812-3612-8341. Open daily from 7 am – 10 pm. Price range: $$
Related: Best beach clubs in Bali: Instagram worthy cocktails, pools and more 
5. Shelter Cafe Bali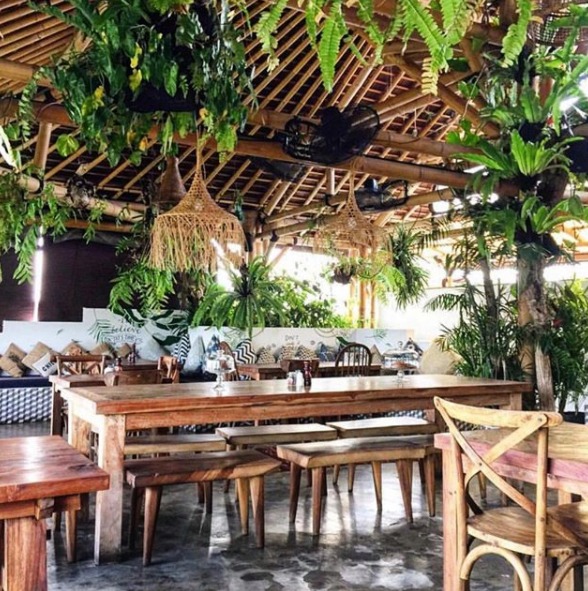 Colourful, happy, breezy and always busy, Shelter Cafe is a great place to meet up with the girls for a healthy breakfast, lunch or coffee break. Tucked in a beautiful bamboo-structure, this charming cafe sits on top of Nalu Bowls on a side lane of Jalan Raya Seminyak. With plants all around, Shelter Cafe is not just a cafe – it is a rooftop garden with chill-out music, happy waiters and yummy food (including the famous acai smoothie bowl). A cool coffee or smoothie bowl pit-stop with a whole lot of charms. Go check it out!
Shelter Cafe, Jl. Drupadi 1 No.2b, Seminyak, Kuta, Kabupaten Badung, Bali. Contact: +62 813-3770-6471. Open every day from 8 am to 6 pm
6. The Fat Turtle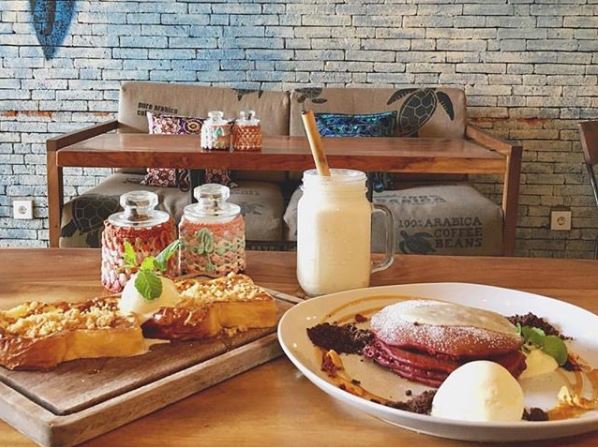 Hidden away on the Petitenget Strip, The Fat Turtle cafe is quite a find! Famed are their fluffy red velvet pancakes, green tea churros, the milkshakes and the matcha yoghurt parfait. The food is excellent, the coffee is delicious and the prices are moderate. Vintage interiors are combined with an industrial touch and cute turtle murals. Sit down at one of the tables and study that innovative menu. You are going to love this place (And the food!) to bits!
The Fat Turtle, Jl. Petitenget No.886A, Kerobokan Kelod, Kuta Utara, Kabupaten Badung, Bali. Contact: +62 899-8912-127. Open every day from 8 am to 6 pm. Price range: $$
7. Tropicana Cafe & Churros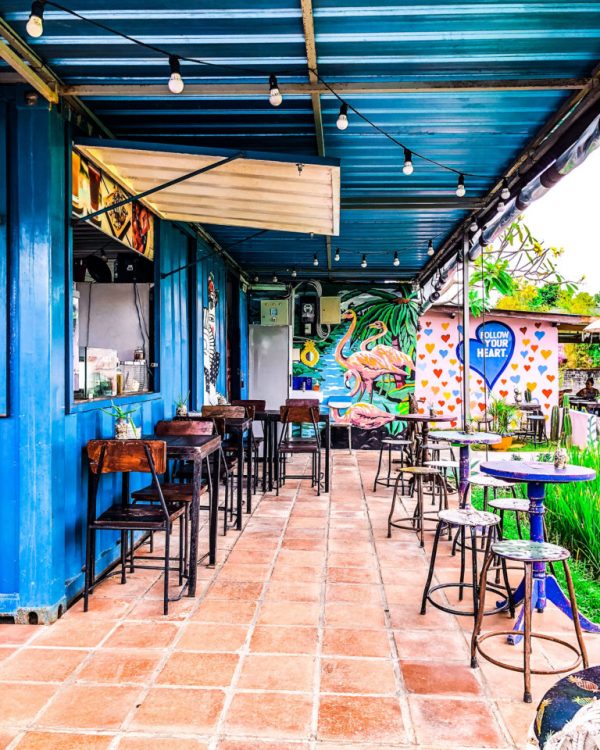 Tropicana Cafe & Churros is located just outside of Seminyak, in the rice fields of Umalas. It is a cool place to get coffee and churros with a view. The exact location is best-kept-secret for it to remain a hidden gem of Seminyak. The setting is utterly tropical with pineapples, flamingos and flowers all around the sitting posts. get comfy in between the pillows and the murals and take in the rice paddy view while sipping your coffee and letting your taste buds go wild on the Spanish churros. Tropicana Cafe and Churros is tucked in an industrial container, making this place an even cooler hang-out spot for coffee and brunch.
Tropicana Cafe & Churros,  Jl. Umalas I No.54, Kerobokan Kelod, Kuta Utara, Kabupaten Badung, Bali. Open every day from 7.30 am to 10 pm. Price range: $
8. Coffee Cartel
Coffee Cartel is a boutique coffee house in the purest essence of the word. These guys are truly passionate about coffee and food and it shows. Every dish is served beautifully and there are lots of cute little sitting corners where you can take some very cool photos to feed your Instagram account. Sit on the terrace in the front or inside, downstairs or up on the mezzanine level, you are bound to enjoy your time (and the coffee!!!). You can even have your own latte art created by the Coffee Kartel baristas.
Coffee Cartel, Jl. Lb. Sari No.8, Kerobokan Kelod, Kuta Utara, Kabupaten Badung, Bali. Open daily from 7 am to 6 pm. Price range: $$
Please follow and like us: