A teardrop-shaped island rising majestically in the middle of the Laccadive Sea, Sri Lanka packs in a delightful medley of laidback and thrilling adventures. If you're considering your first trip to this sun-kissed island and know you want to wake up to the sound of waves crashing on the beach, read on for our guide of the best hand-picked beachfront villas (for moderate to luxury budgets) and what to do around the area!
Nestled off the coast of India's south-eastern coast, Sri Lanka is known for its inviting beaches, diverse culture and rich canopies of thick foliage perfect for hiking. Whether you feel like lying on a beach with a Toddy Tapper's Punch- the local cocktail, or traipsing through the jungle in search of a hidden waterfall or embarking on a scenic rail adventure, there's no denying that this island has something for just about everybody.
Mirissa
A beach town with a lively party scene, Mirissa is home to some of the most spectacular beaches in Sri Lanka. When the tide is low, you can dip your toes in the wet sand and explore the many rock pools. Should you wish to shop for souvenirs, you'll find colorful souvenir stalls and hawkers on just about any beach in Mirissa.
Villa Pointe Sud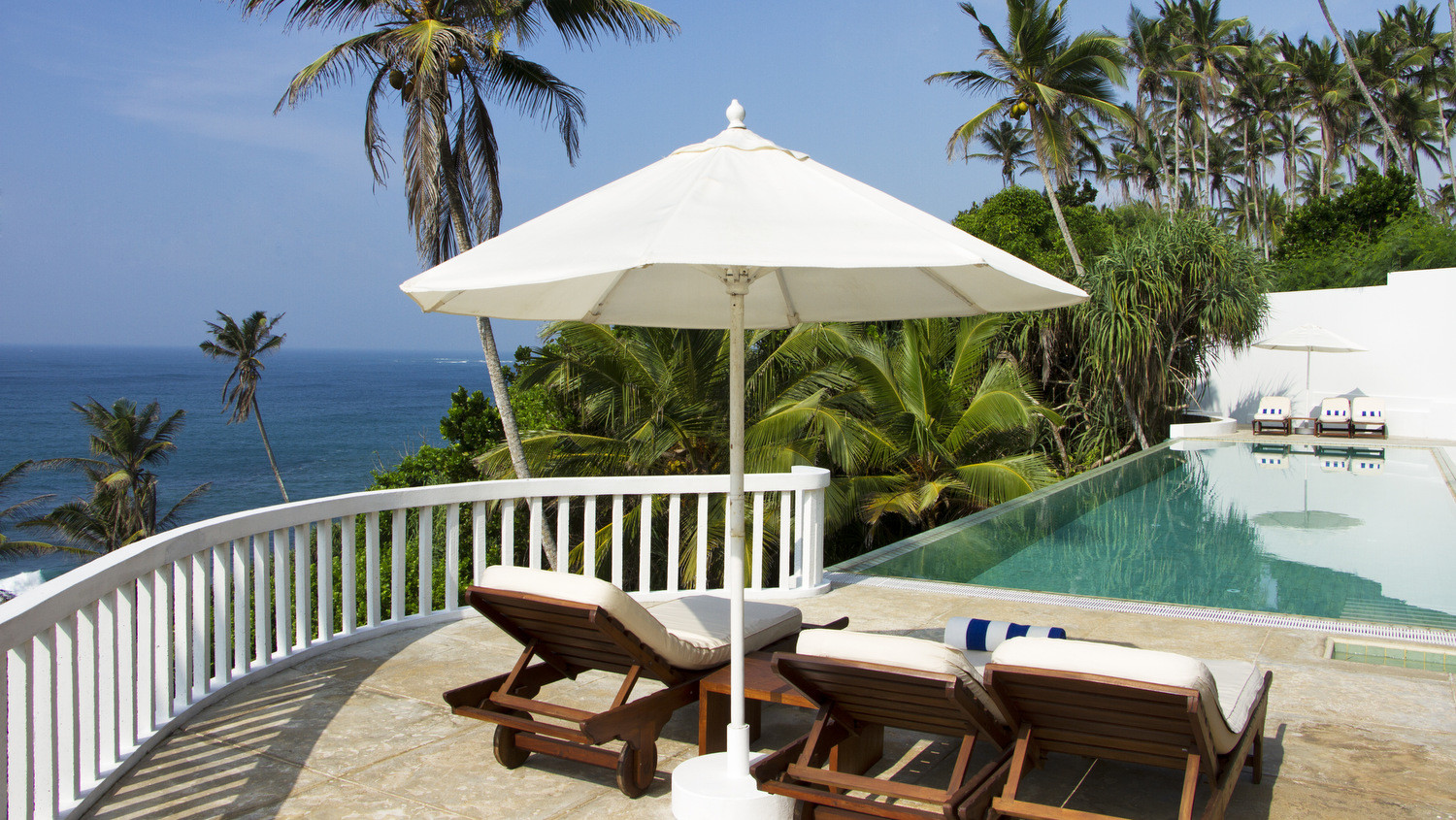 Villa Pointe Sud is a sprawling, bi-level retreat that features five bedrooms in the charming coastal town of Mirissa. Spanning over an impressive area of 726 square meters, this villa lies in a massive garden awash with thick, tropical vegetation.
One of Villa Pointe Sud's best features is that it provides direct access to a completely private stretch of beach, ideal for guests who are in dire need of some sun and Vitamin Sea! You can enjoy complimentary services such as daily housekeeping. A spacious outdoor lounge provides sweeping views of the ocean and plenty of space to soak up that delightful tropical sun.
Things to do nearby
Dance the night away at a beachfront pub
After exploring the massive grounds of the villa, you'll find that there's always plenty to do nearby: easily recognizable by its distinctive crescent shape, Mirissa is renowned for its excellent nightlife with DJs spinning energetic tunes virtually every evening. Indeed, a short drive from Villa Pointe Sud takes you to Mirissa Eye, a lively pub that lies right on the beach. Sink your toes into the sand while knocking back lip-smacking cocktails or treat yourself to a delectable meal of Mahi Mahi and other fresh seafood.
Let your worries melt away at the spa
Travelers who wish to adopt a more Zen-like attitude during their holiday in Sri Lanka will undoubtedly find their joy in one of the many spas that dot the region. In fact, just twenty minutes from Villa Pointe Sud is found the Secret Root Spa, a soothing establishment nestled in the shade of coconut palm and banana trees. Indulge a 'Shirodara' Ayurvedic Head Treatment whereby warm oil is gradually poured on the forehead prior to a blissful head massage. After your treatment, you can always go for an Herbal Steam-bath to flush your system of toxins.
Check out the reptiles and playground
For a unique family experience, you can always check out the Sri Lankan Snake Farm, located just a half hour's drive from Villa Pointe Sud. If these reptiles aren't quite your cup of tea, you'll find that Adventure Park: Jungle Playground Mirissa lies a short ten-minutes' drive from the villa. Offering family-friendly activities, this park offers 14 adventures, including climbing and mini-golfing. You can also explore the on-site jungle with plenty of flora and fauna, perfect for a relaxing afternoon stroll with your family.
Villa Finder tip!

To avoid the yearly monsoons, it is recommended to visit Sri Lanka between January and March. This is when you can expect dry and sunny days with moderate to little rainfall with a temperature ranging between 20 and 30 degrees Celsius. If you're visiting in January, you will also be able to soak up some of the local culture- experience national celebrations such as the Pongal Festival.
Galle
Around 120km from Colombo, the city of Galle is found on Sri Lanka's southwestern coast. An ideal destination for family holidays in Sri Lanka, Galle offers various attractions, some of which recognized by UNESCO. Best of all, it offers plenty in terms of accommodation and entertainment alike, ensuring that you'll spend a memorable holiday in Sri Lanka. In fact, the historic town of Galle offers plenty of dining options that are highly prized by tourists and locals alike
Villa Ambalama
Not far from the UNESCO World Heritage Site of Galle is found Villa Ambalama, a luxurious hideout with four bedrooms and jaw-dropping views of the Indian Ocean. With a thirteen meters-long swimming pool and barbecue facilities in the beautifully trimmed garden, this villa boasts spacious interiors. Make full use of the modern kitchen to prepare a meal and savor the fruits of your labor on the patio while gazing out at the sea.
An elegant beachfront villa in Sri Lanka, Ambalama spans across two levels and is well-equipped with various types of staffing, including pool maintenance, guest assistants, gardener, and even housekeeping. Rest assured that the villa places you away from the hustle and bustle of the city, without completely isolating you from all the fun activities nearby. This majestic establishment can quite comfortably accommodate up to eight persons, which is perfect if you're traveling with your friends or family.
Skinny Beach House
If you need to accommodate a smaller group, you can always opt for Skinny Beach House that can welcome up to six guests. This retreat lives up to its name and has quickly established itself as one of the best beachfront villas in Sri Lanka.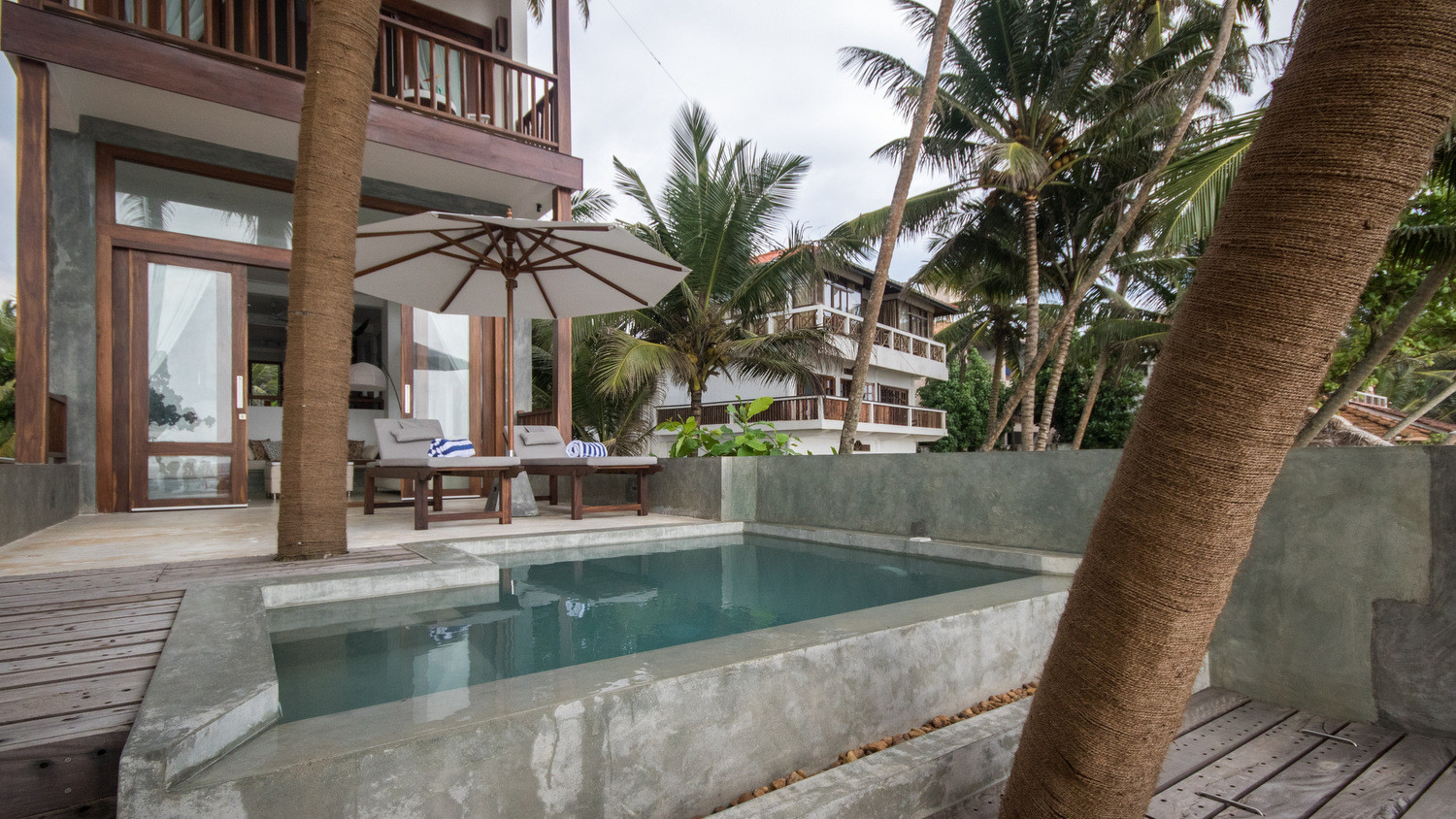 Also located in Galle, this ocean-front villa radiates serenity and tranquility, creating the perfect haven for a restful family holiday in Sri Lanka. With two bedrooms, this villa provides easy access to the beach, where you will find comfortable lounge chairs to relax with a good book.
To ensure your well-being and that of your guests, Skinny Beach House provides different types of services, including a friendly house manager, Bluetooth speakers and high-speed internet. This kid-friendly accommodation even provides extra amenities such as highchairs, cots, and babysitting services. On the outskirts of Dalawella, this villa also provides organic toiletries, making getting ready a breeze in the morning.
Things to do near the villas
Explore the Marine Archeological Museum
If you're hungry after your tour of the museum, head over to the Coconut Sambol, located less than 10km from Villa Ambalama. Open every day until 10pm, this budget-friendly restaurant offers local dishes as well as various gluten-free and vegan options. Soak up a traditional Sri Lankan experience with a feast of soya bean curry, chutney, pulses, rice, and fried fish- all served on a freshly plucked banana leaf of course! A full meal like this can set you back 900 LKR, which is less than 5 US Dollars.
Sit down to a local feast
If you're hungry after your tour of the museum, head over to the Coconut Sambol, located less than 10km from Villa Ambalama. Open every day until ten pm, this budget-friendly restaurant offers local dishes as well as various gluten-free and vegan options. Soak up a traditional Sri Lankan experience with a feast of soya bean curry, chutney, pulses, rice, and fried fish- all served on a freshly plucked banana leaf of course! A full meal like this can set you back 900 LKR, which is less than 5 US Dollars.
Relax by the Galle Fort Lighthouse
Travelers looking for an Instagram-worthy location for those iconic photos can check out the iconic Galle Fort Lighthouse, another ancient structure built during the British Colonial Period. Standing at a height of 26.5 meters, this site offers plenty of smooth, sunny terrains where you can sit down with your loved ones over a picnic. In this area, you will also find locals and tourists alike indulging in various recreational activities such as cricket and flying kites. Take a dip in the ocean and be sure to hang around to witness one of the most spectacular sunsets in the region.
Ahangama
Located in Sri Lanka's southern province, Ahangama may be just a small, sleepy town but it packs an assortment of beaches and ancient architecture that you can explore at ease. There's no denying that Ahangama is one of those rare places on earth where time does feel like it's come to a complete standstill. Whether you're traveling with your friends or family, you'll be pleased to know that Ahangama packs some of the best beachfront villas in Sri Lanka, thanks to its azure and green scenery.
Villa South Point
With plenty of room to accommodate up to eight persons, Villa South Point lies in the chic city of Koggala, known for its stilt fishing opportunities. Beautifully fusing Dutch colonial and British architecture, this sea-facing villa features offers three bedrooms and gorgeous gardens where you can enjoy a lazy afternoon stroll.
Overlooking the ocean is a delightful infinity pool from which guests can admire striking sunsets in the evenings. More importantly, you can expect to be completely pampered during your stay, thanks to the security personnel, pool cleaner, gardener, and housekeepers. There's even an in-house chef to put together any meal of your choice. In fact, guests can even book additional services such as on-site massages, babysitting, laundry, as well as a personal driver.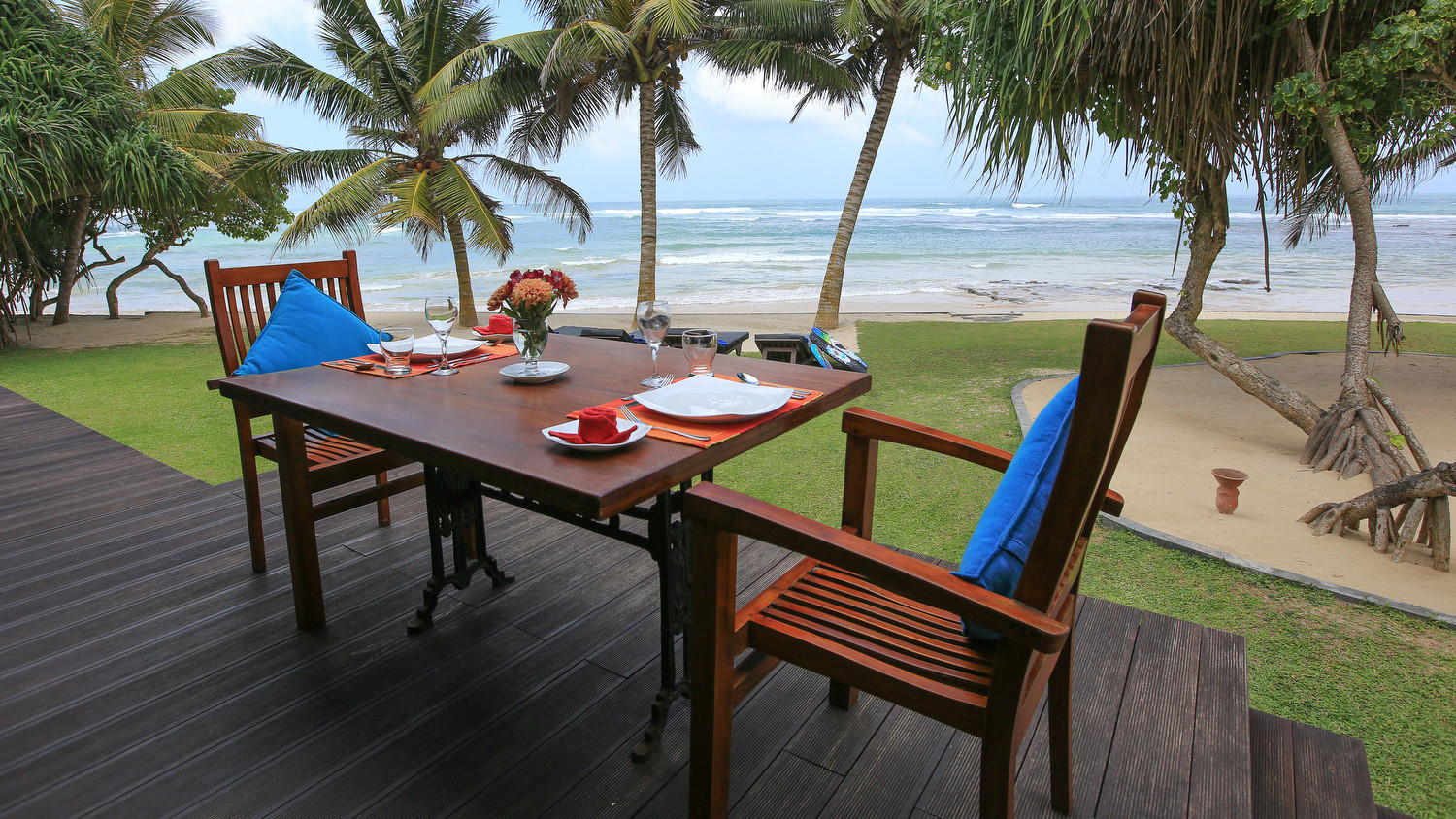 Villa South Point Ocean
If you need a bigger establishment to accommodate a larger group of friends or relatives (up to 15 persons), you can check out Villa South Point Ocean, an eight-bedroom luxurious retreat that spans across three floors. With a colonial-style décor, this beachfront villa in Sri Lanka redefines elite living at its best and features a lush tropical exterior with ample space for outdoor yoga.
Offering a spectacular landscape, this villa boasts just about everything to rejuvenate you to the very core. While there's plenty to do right at the villa, you'll also be able to explore the numerous attractions that lie nearby with just a quick car ride. In the expertly manicured garden, you will also find a gleaming pool perched high above the ocean as well as plenty of space to enjoy a delicious al-fresco meal with your loved ones.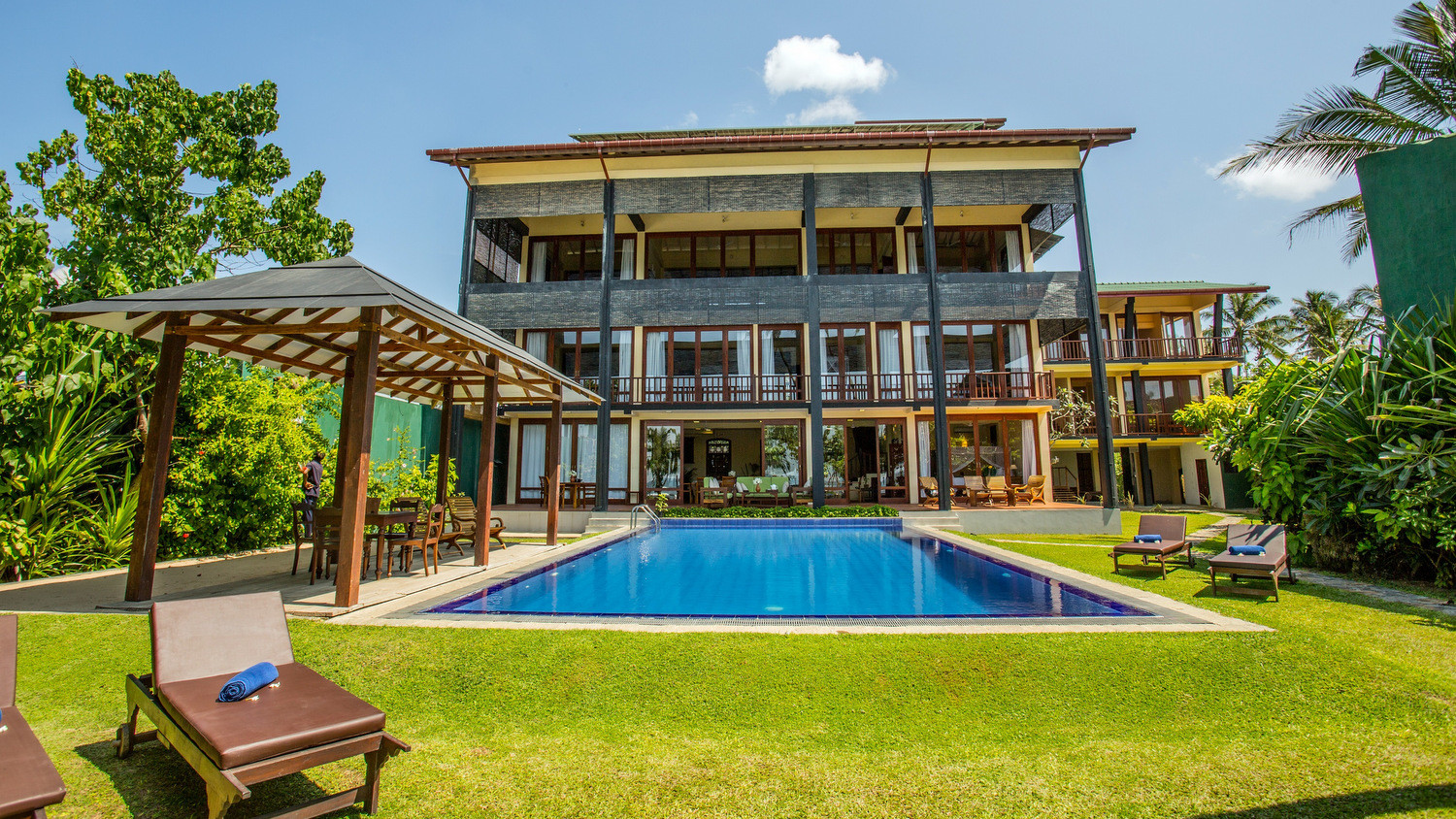 Things to do near the villas
Discover Koggala's many attractions
The posh city of Koggala lies in the area of Ahangama, renowned for its thrilling surfing spots. If you're looking for a more laid-back activity, you can always relax on the pristine Koggala Beach while watching the slit fisherman gather their catch of the day. A unique attraction in the area is the Koggala Sea Turtle Farm & Hatchery, located on Mantara Road. A non-profit organization, this establishment started in 2010 and it is responsible for the safe release of over 100,000 turtles till date. Located just a five minutes' drive from Villa South Point, this organization is open Monday to Sunday, from 8am to 6pm.
Embark on the Tea Route
If there's one thing Sri Lanka is known for- along with its unvarnished scenery of course- it's for the extensive assortment of teas grown on the island. Should you wish to visit one of the country's many plantations, you'll find that the Handunugoda Tea Estate is just 7.7km away via the Kathaluwa Thiththagalla Road.
The good news is that a tour of the estate is completely free, making it ideal for anyone looking to curb their expenses during their holiday in Sri Lanka. Feel free to stroll around the plantation and explore the different type of tea bushes before settling down for a snack of tea and chocolate cake, also free of charge. After your tour, you can browse through the on-site store and purchase any kind of tea that you want, including herbal, fruity, green or malted black tea. This plantation is especially prized for its virgin white tea which is said to be entirely untouched by humans.
Uncover ancient architecture before lunch
Guests who are interested in Sri Lanka's ancient temples can check out the Kathaluwa Old Temple which lies just a quick drive from Villa South Point Ocean, not far from Galle. Founded in the 13th century, this meticulously carved building was refurbished in the 19th and 20th century to make it safe for visitors.
After touring the temple, head over to Wiener Dschungel Restaurant, popular among locals and tourists alike. While its name remains a mystery, this eatery specializes in Sri Lankan cuisine and is known for its generously sized portions. If the weather is good- which is nearly always the case in Sri Lanka- you may want to sit outdoors and let the warm sunshine wash over you as you tuck into a fresh seafood platter, right by the beach.
Tangalle
A sunny, palm-fringed region located in Sri Lanka's southern point, Tangelle is ideal for anyone who wishes to make the most out of the island's nautical activities. Whether you want to relax on the beach, break away to one of the many parks, or savor some fresh seafood, you'll certainly find that Tangalle offers some of the most exciting sea adventures to complement your holiday in Sri Lanka.
Ranna Beach Villa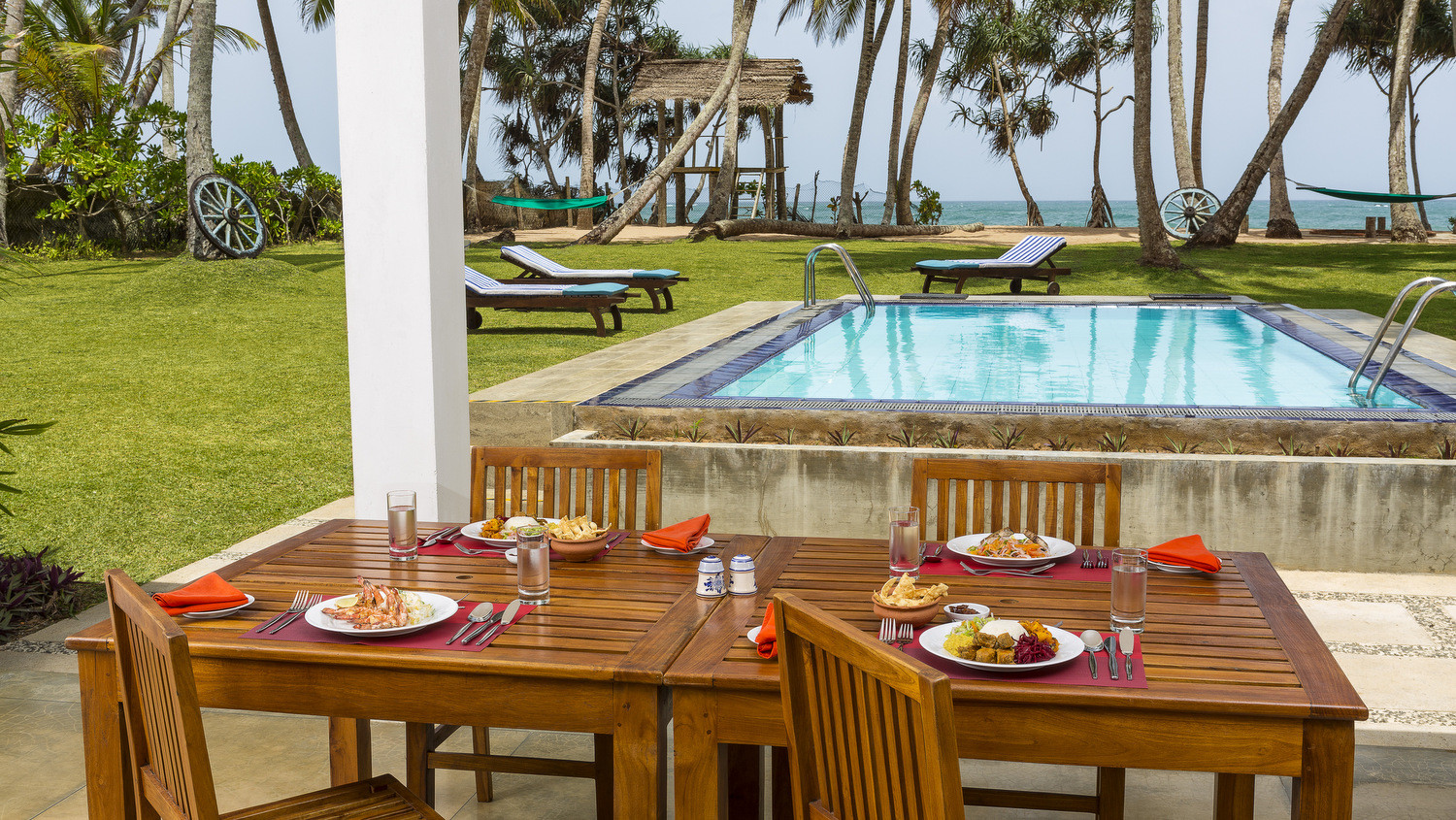 Fringed by the gleaming Indian Ocean, Ranna Beach Villa offers three bedrooms to accommodate up to six guests. Around 50m from the ocean, this beautifully structed villa features plenty of options for some much-needed rest and relaxation. One of the most prized beachfront villas in Sri Lanka, Ranna Beach Villa features onsite parking, a large garden, dining and living areas, as well as an infinity pool from which you can soak up sweeping vistas of the sparkling lagoon.
All three bedrooms are well-equipped with queen-sized poster beds and aircons and the master suite even offers a direct access to the garden. In terms of services, you can expect to be well-looked after by the housekeepers who will ensure that you always have a pristine living environment to return to after your adventures in Sri Lanka. A security personnel is on-site 24/7 to ensure your safety. It is also possible to reserve paid services such as car rental, massages, and laundry services, among others.
Things to do near the villa
Browse through the Tangalle Town Center
Just twenty minutes from Ranna Beach Villa is found the vibrant Tangalle Town Center where you can browse through souvenir stalls or sit down at one of the many family-owned cafes that dot the area. 20km to the north of Tangalle is found the popular rock temple of Mulkirigala featuring wall paintings and statues encased in natural caves. In one of the caves, you'll also find a library dating all the way back to 1826, back when Sri Lanka was under British Colonial Rule. It should be noted that travelers will need to embark on a rather strenuous climb to reach some of the areas around the temple.
Grab your surfboards and hit the waves
Offering some of the best surfing spots in Sri Lanka, Tangalle is an absolute paradise for amateur and professional surfers alike. Head over to Unakuruwa, a place famed for its majestic waves and crystal-clear waters. You'll undoubtedly be hungry after battling the ocean, so sit down for a quick snack at Moon River, a tiny restaurant with just three tables that are set right there on the beach.
Take a tour of Amanwella Silent Beach
If you don't mind venturing off the beaten track, you certainly don't want to miss a day trip to Amanwella Silent Beach. With gloriously calm waters for both fishing and snorkeling, this spot features a golden crescent-shaped beach, beautifully bordered by swaying coconut palm trees. In one end of the bay, you'll find a beach shack selling various types of refreshments that will undoubtedly be welcomed on a hot summer's day.
Sri Lanka with kids
Once you've chosen your family-friendly villas from our list, you may want to browse through our family-friendly activities in Sri Lanka to ensure that the kids are entertained and happy during your stay.
Please follow and like us: