So, you want to stay right in the action of buzzing trending and fashionable Seminyak and you want to be as close to the beach as possible, living the good life in a gorgeous private pool luxury villa? We don't blame you! How to track down the perfect Seminyak beach villa? Don't sweat, we've already done the hard work for you and made an awesome list of the best Seminyak villas near the beach. Check them out below and make your inquiry directly or contact our talented team of villa experts to get even more amazing beach villa options. Let's go!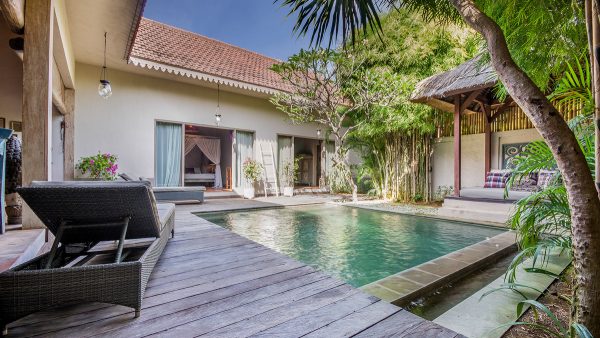 Villa Zenitude is a really tropical and utmost charming stay in the heart of Seminyak. Housing 2 deluxe villa suites, this private pool vacation home is perfect for couples and small families. The villa features a traditional Balinese open-plan living room and a lovely private tropical garden with a pool to plunge into. Despite its central location, the environment is perfectly peaceful and tranquil. Just what everyone needs on their Seminyak holiday! Villa Zenitude is a little heart stealer and it is perfectly affordable, too! Awesome!
Getting to the beach from Villa Zenitude
Villa Zenitude is hidden away in a gang between Double Six and Dhyana Pura. It takes just minutes to stroll down to Double Six Beach and sit down for some sunset drinks at La Plancha or Chez Gado Gado. Furthermore, there are plenty of shops, cafes and restaurants to check out and you've got Bintang Supermarket practically around the corner. Truly an excellent location!
Distance to the beach: 850 meters
Prices start at USD $160 (low season), USD $170 (mid-high season), USD $210 (high season) and USD $230 (peak season)
Related: Best beach clubs in Bali: Instagram worthy cocktails, pools and more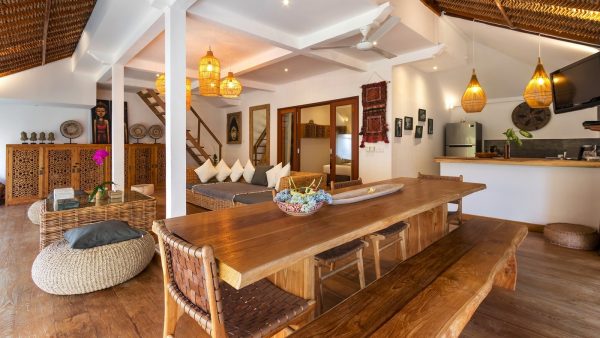 Villa Waterlily is a glorious tropical hide-out in buzzing Seminyak. Located in the Drupadi gangs, Dhyana Pura 'Party' street and Gado Gado Beach are just a skip and a jump away from your front door. The celebrated and iconic Oberoi Road is also easily reached on foot, should you feel like shopping and eating out after spending another lovely morning or afternoon on the beach. Villa Waterlily features tropical architecture with 'alang alang' thatched rooftops, Balinese-inspired interior designs and 3 bedrooms with AC. The perfect blend of tropical charm and modern comforts! All that combined with all of the fashion and fun in Seminyak makes your stay at Villa Waterlily just Splendid!
Getting to the beach from Villa Waterlily
Gado Gado Beach and the colourful beach bar La Plancha are just meters away from the villa but you can also make your way to KU DE TA Beach Club, just a tiny bit further in the Oberoi district of Seminyak. No matter which beach you will go to, you can expect perfect surfing waves, chill-out vibes, cocktails, cold Bintang beers and the most mind-blowing sunsets imaginable.
Distance to the beach: 800 meters
Prices start at USD $280 (low season), USD $310 (mid-high season), USD $390 (high season) and USD $420 (peak season)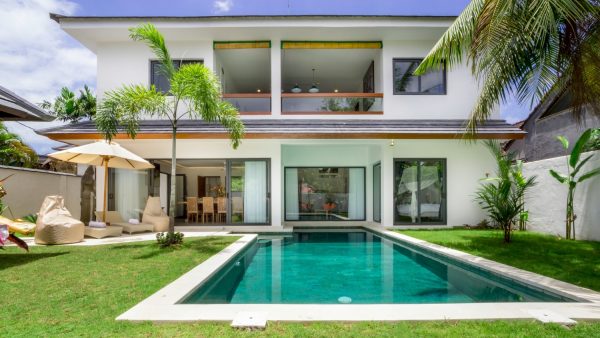 Highly contemporary, tropical chic and stylish, Villa Wiana has got state-of-the-art entertainment facilities, modern architecture, tasteful artwork and a hot location in the centre of Seminyak, close to Double Six Beach. Blending the best of tropical living with modern comforts, Wiana features a light-filled living space with glass doors opening up to the garden. In fact, the living room boasts direct access to the swimming pool when those glass doors of the living room are open. On the first floor of the villa, you will find a billiard table and a sofa facing a massive flat-screen TV. Villa Wiana houses 3 bedrooms, all stylish and chic – everyone will love staying at this glorious beach villa in Seminyak!
Getting to the beach from Villa Wiana
Villa Wiana is located on the corner of Jalan Dhyana Pura, tucked away peacefully in one of the gangs off Jalan Drupadi in the centre of Seminyak.  On the other end, Jalan Drupadi leads to Oberoi Road. Gado Gado Beach is just minutes away and the surrounding streets are bursting with liveliness, cafes, shops, restaurants and bars. Let's go party!
Distance from the beach: 850 meters
Prices start at USD $290 (low season), USD $310 (mid-high season), USD $390 (high season) and USD $430 (peak season)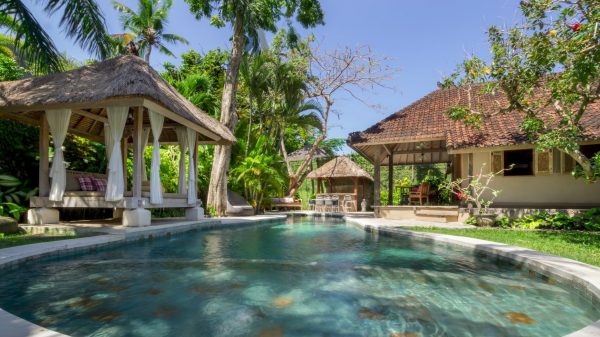 This grand and stunning holiday haven is like a hidden oasis of tranquillity and luxury. Something nobody would expect to find in the trendiest, most happening part of Seminyak: Petitenget. Such beauty and bliss, Villa Koyama features aesthetic traditional designs and its got a massive garden with a curvy lagoon-inspired swimming pool to plunge into. By the poolside, there is a bar with high chairs to sip cocktails with friends. Also, there is an alfresco dining table for those lovely family meals enjoyed in the garden of your holiday home in Bali. Villa Koyama has got an abundance of places to relax, chill and sunbathe under the tropical sky. Antiques, museum-quality artwork and modern amenities, Villa Koyama has got it all!
Getting to the beach from Villa Koyama
Petitenget Beach is home to amazing beach clubs such as the world-famous Potato Head, W Bali and newcomer Mano Beach Club. It's all just meters away from your tranquil paradise garden inside Villa Koyama and so are many of Seminyak's chicest dining venues and beauty salons. Think Sarong, Metis, Bambu, Rob Peetoom, Jiwa and more. It's truly unbeatable!
Distance to the beach: 800 meters
Prices start at USD $470 (low season), USD $490 (mid-high season), USD $630 (high season) and USD $650 (peak season)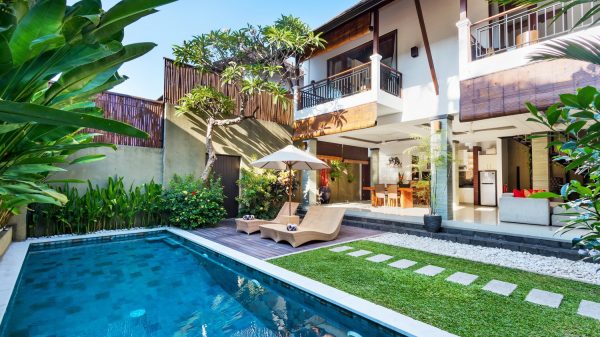 This is a Balinese-inspired holiday complex located in a small gang just behind Oberoi Road. The Kumpi Villas houses a collection of comfortable and luxurious 2 and 3 bedrooms villas. It is also possible to rent the villas in conjunction with one another, creating large 5 bedroom holiday havens with 2 swimming pools and multiple lounging and dining spots. The Kumpi Villas has got attentive, professional staff to look after you and the villa and the interior designs of these luxury villas are natural and very elegant.
Near The Kumpi Villas
The Kumpi Villas holiday estate sits quietly and secluded in a small gang that runs parallel to the famous and always happening Oberoi Road in Seminyak. Literally, everything is nearby: KU DE TA Beach Club, Revolver Espresso, Seminyak Village, La Favela. You can go sunset sippin', shopping, dining, dancing, it's all easy from this best-kept-secret Seminyak gem.
Distance to the beach: 700 meters
Prices start at USD $343 (low season), USD $364 (high season) and USD $384 (peak season)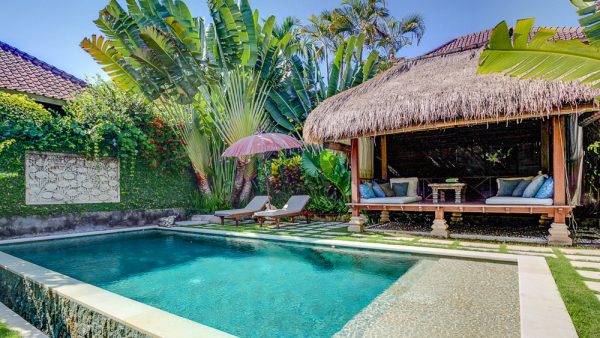 Villa Gembira is a little oasis, hidden away from crowds in a gang behind Jalan Batu Belig. Utterly tropical and secluded, this 2-bedroom villa is the little sister of Villa Senang (4bedrooms). Villa Gembira can be rented individually or together with her loving big sister. A lane alongside koi fish ponds and fountains lead passed the open-plan living room and the 2 bedrooms, straight towards the gorgeous tropical garden where a private swimming pool sparkles. The pool has got a shallow area for little kids to play, there are poolside lounge beds with a sun umbrella and there is a huge thatch-roofed gazebo to sit with drinks and friends or read a book in solitude. This villa is great for small families and couples.
Getting to the beach from Villa Gembira
This villa is located in Batubelig, in between trendy Petitenget and Berawa (Canggu). Just a few meters from the villa, you'll hit Batu Belig Beach where just recently, Tropicola Beach Club opened its doors alongside some charming local beach bars. Batu Belig is another splendid sunset spot with terrific surfing waves. A lovely lunch? Try one of the salads at Watercress Cafe, head over the Nook, surrounded by rice paddies or check out Strawberry fields. Dinner? You're in luck, some of Seminyak's best restaurants are located at the very end of the famed Petitenget Strip, such as Metis, Baracca and Sardine.
Distance from the beach: 700 meters
Prices start at USD $170 (low season), USD $190 (mid-high season), USD $250 (high season) and USD $280 (peak season)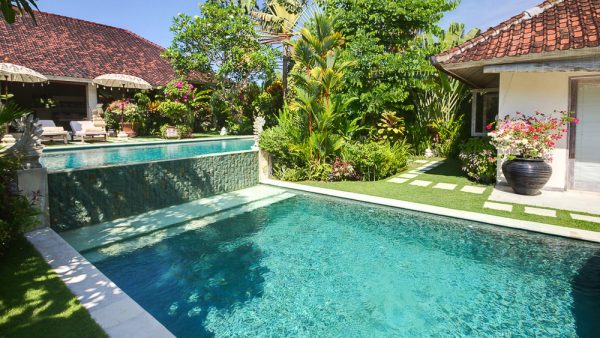 Villa Senang is a beautiful and peaceful 4-bedroom vacation retreat with a tiered garden and 2 swimming pools. The main pool gently overflows to the smaller pool, creating a tranquil cascading waterfall effect.  The villa features traditional Balinese pavilions scattered around the sprawling garden and the ambience is utterly tropical and peaceful. Villa Senang is all about open-plan living, chilling in the garden, swimming in crystal clear waters and spending quality time with friends and family in a tranquil haven close to the buzzing nightlife and shopping streets of Seminyak and Canggu.
Getting to the beach from Villa Senang
Walk out the gang, and you will find yourself on Jalan Batu Belig, leading to the beach (Batu Belig Beach) on one end and to Petitenget (the trendiest neighbourhood in Seminyak) on the other.
Distance from the beach: 700 meters
Prices start at USD $410 (low season), USD $440 (mid-high season), USD $530 (high season) and USD $560 (peak season)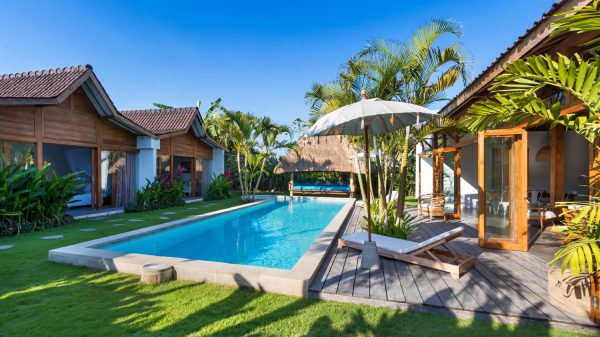 Tranquil as can be, Villa Atmo sits amidst rice paddies in the outskirts of Seminyak in Batu Belig. The beach of Batu Belig is within short walking distance from the villa, and there a plenty of charming cafes, boutique shops and restaurants to explore. This charming island home features modern Joglo-inspired pavilions (traditional Javanese houses made out of teak wood). Furthermore, the villa features a peaceful garden with a pool and 4 deluxe bedrooms. The living room is wonderfully light-filled and it features a reading nook with a comfy swinging chair, a lounge area with garden views, a family dining table and a family kitchen. Great for families, indeed! It's even got a bedroom with 2 bunk beds for the kids, sleeping up to 4 children in one bedroom. How they'll love it!
Getting to the beach from Villa Atmo
The location of Villa Atmo is quiet yet strategic, close to Seminyak, Canggu and Umalas. The beach with its awesome surfing waves and mind-blowing sunsets is just meters away. Ready for sunset and cocktails? There are plenty of beach clubs around such as La Laguna, Tropicola, Potato Head, Woo Bar, KU DE TA and Finn's Beach Club, just to name a few 😉
Distance from the beach: 1.1km
Prices start at USD $320 (low season), USD $360 (mid-high season), USD $440 (high season) and USD $500 (peak season)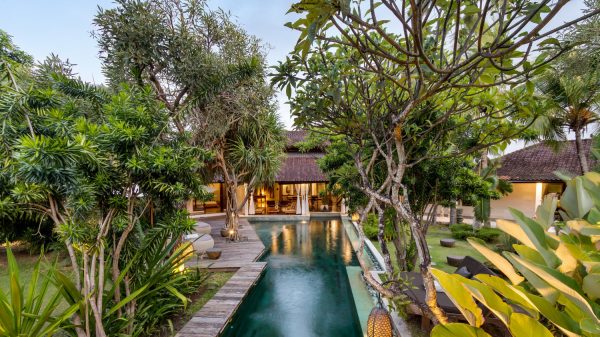 This stunning luxury villa is found right in Seminyak's fashionable city centre. The design of Villa Shantika is unique and absolutely gorgeous, featuring a soaring timber rooftop and a lofty mezzanine to watch TV and read books. The villa features rustic handmade wooden furniture, a warm and natural earthy colour palette and a beautiful garden. In the garden glistens a lagoon-like private swimming pool, surrounded by plants and more tropical greenery. Nestled in between the greenery, there are daybeds and reclining chairs to snooze and tan whenever you feel like it. The garden is like a secluded hidden paradise, spacious and blossoming. Something unexpected in the centre of Seminyak, indeed! To top it off, Villa Shantika has got 3 luxury bedrooms with AC.
Getting to the beach from Villa Shantika
Everything that lively and colourful Seminyak has to offer! Couldn't be better!
Distance from the beach: 750 meters
Prices start at USD $320 (low season), USD $350 (mid-high season), USD $450 (high season) and USD $490 (peak season)
Please follow and like us: