Though it is necessary to splurge on a luxe accommodation sometimes, it is also nice to travel to an exotic destination and not break the bank. As the litany of Seminyak villas grows and grows, so do the number of affordable homes available for short-term rental. Some of our favourite villas to stay in are the ones intimate in size, great value for the price and located smack dab in the middle of Seminyak's lovable madness. Check out our best affordable villas in Seminyak below!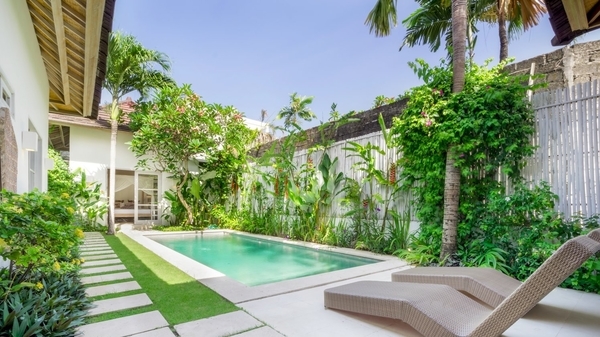 Tropical, happy and peaceful is what Villa Tara is. Featuring an airy open-plan living room adorned in vivid colours of pink, orange, yellow and blue, Villa Tara is charming yet stylish and truly one of a kind. Another great thing is that all 3 bedrooms enjoy direct access to the sparkling private swimming pool of the peaceful tropical garden. Such bliss!
Around Villa Tara
Villa Tara is located in the gangs behind Seminyak's main shopping street, close to the Bintang Supermarket and just a 15-minute walk from Double Six Beach. Check out Shelter Cafe for a lovely lunch or a Nalu Bowl.
Key features
3 en-suite bedrooms with direct access to the pool | Short walk to Double Six Beach | Option of renting as a 1, 2 or 3 bedroom private residence |
Prices start at US$130 (low season), US$145 (mid-high season), US$150 (high season) and US$210 (peak season).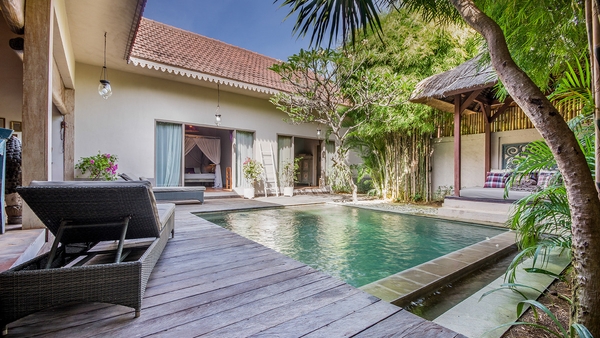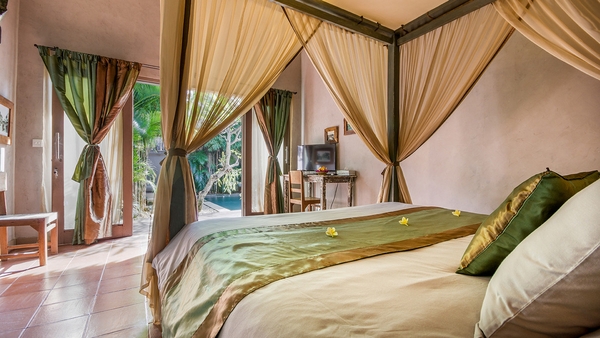 Villa Zenitude is another tropical-styled villa hidden away from the crowds in the quiet gangways of Seminyak. This villa is quite the 'Zen' place indeed, featuring a lovely private garden and pool guarded by Buddha statues. Living is done the tropical way in the open-concept pavilion. The 2 bedrooms are fully air-conditioned for your comfort and they come with private en-suites.
Around Villa Zenitude
The beach of Seminyak is less than 1 km away and on the way, you will pass lots of cafes, restaurants, shops and spas. It is never boring and yet the villa is perfectly tucked away from the noise and the crowds.
Key features
A 10-minute stroll from Double Six Beach and La Plancha | Daily breakfast and airport pickup included in your stay | 2 en-suite bedrooms |
Prices start at US$150 (low season), US$160 (mid-high season), US$170 (high season) and US$180 (peak season).
Related: Cheap eats in Seminyak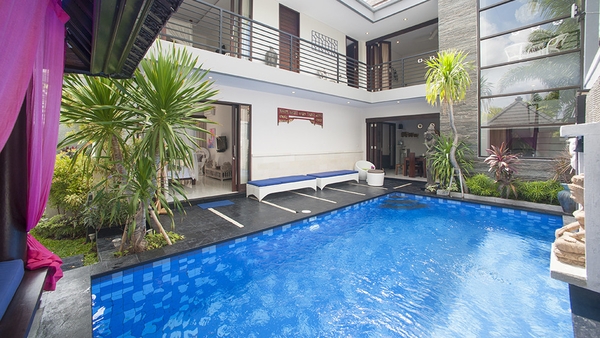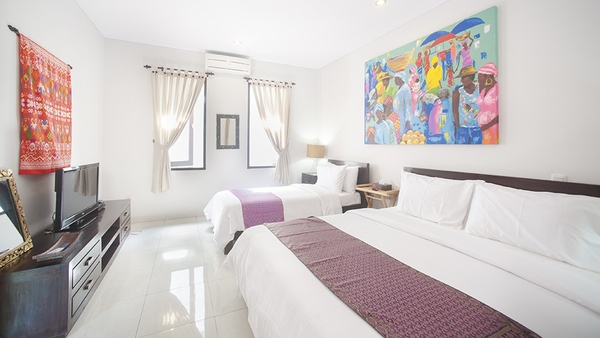 Villa Penelopy Satu is a clean and comfortable, modern holiday retreat located just around the corner from Oberoi Road. This sleek, stylish double-storey villa houses multiple living areas. The dining room and kitchen are located on ground level with easy access to the pool. Adjacent, you will find the air-conditioned TV lounge and upstairs another lounge room which opens up to a breezy balcony. A spacious master bedroom on the ground level and two guest bedroom upstairs, Villa Penelopy Satu is great for a group of friends or a family. Travel with a bigger party? Rent this villa out together with its sister(s) Penelopy Dua and/or Penelopy Tiga.
Around Villa Penelopy Dua
Just a stone's throw from Trattoria, Cafe Bali and Revolver Cafe, you are finding yourself staying in the most trendy part of town. Stroll further along Oberoi Road and you'll pas Seminyak Square and the contemporary shopping mall Seminyak Village only to continue to KU DE TA beach club for sunset drinks and La Lucciola for dinner by the seaside.
Key Features
Truly unbeatable location off Oberoi Road | Can be rented with Villa Penelopy Dua next door for a total of 6 bedrooms | Air-conditioned TV Lounge | Breezy balcony |
Prices start at US$141 (low season), US$190 (high season) and US$221 (peak season).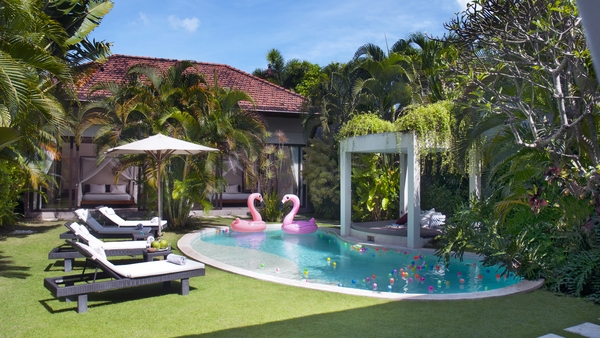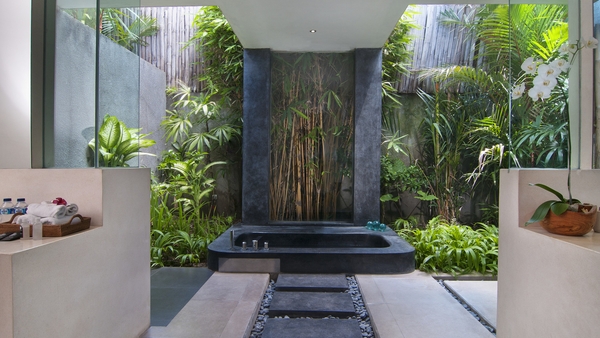 Without a doubt, the very best thing about Villa Alice Dua is its huge sprawling tropical garden – something hard to find in the center of buzzing Seminyak.  The garden is home to an inviting free-form swimming pool, a poolside cabana and plenty of lounge beds for sunbathing. The open-plan living room features chic red curtains, a dining and sitting corner and a spacious state-of-the-art kitchen. The two master suites are tucked in a separate pavilion on the other side of the garden. These villa suites exude comfort and luxury, boasting AC, four-poster king-size beds and beautiful garden-style en-suites fitted with large soaking bathtubs and open-air monsoon showers.
Around Villa Alica Dua
The highlights don't stop at this elegant 2-bedroom luxury villa! Villa Alice Dua is located in the sophisticated and trendy Oberoi district of Seminyak, just a 3-minute walk from the celebrated Eat Street and a 5-minute drive to Ku De Ta Beach Club.
Key Features
Huge private garden | Inviting curvy swimming pool | Poolside cabana | Garden bathrooms with tubs and monsoon showers | Guests can rent with sister villa, Villa Alice Satu |
Prices start at US$295 (low season), US$345 (high season) and US$395 (peak season).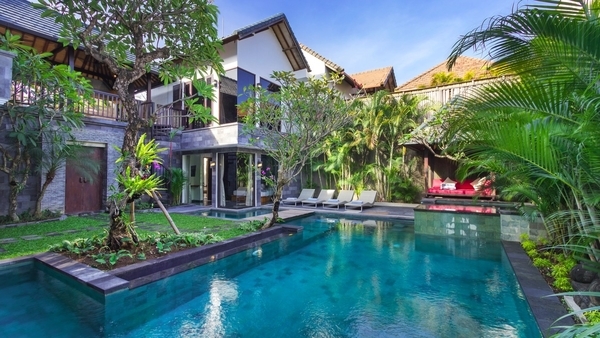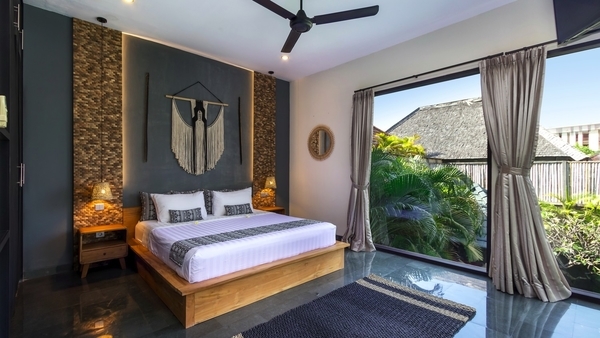 A gorgeous private garden planted with tropical palms, flowering plants and scenting frangipani trees is part of this Seminyak luxury home. The tropical greenery grows lushly around the L-shaped swimming pool that features a shallow wading area for the kids to safely splash and play. A jacuzzi is built on top of the pool creating a cascading waterfall effect and everything is perfectly peaceful and sunny! Villa Sundari features a modern air-conditioned living space enriched by traditional art pieces. Upstairs on the first floor, you will find a breezy sunset terrace to gather for afternoon cocktails. All 4 bedrooms are modern and comfortable and three of them have large terrazzo tubs in their ensuites.
Around Villa Sundari
Located just behind Bintang Supermarket and SIP Wine Bar, guest can easily explore Seminyak town by foot. The beach is just a 15-minute stroll away.
Key Features
Open-air, rooftop terrace | Garden Jacuzzi | Shallow pool for the kids | Air-conditioning in the living room |
Prices start at US$395 (low season), US$415 (mid-high season), US$480 (high season) and US$525 (peak season).
Related: 10 best late-night spas in Seminyak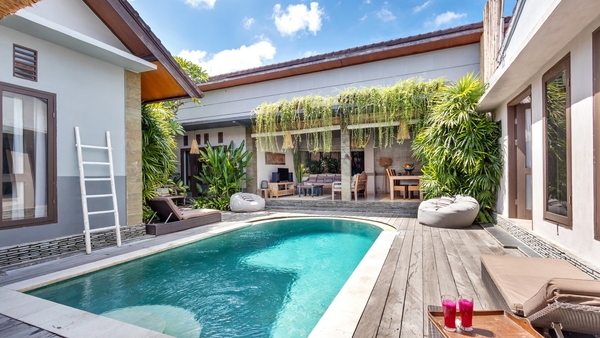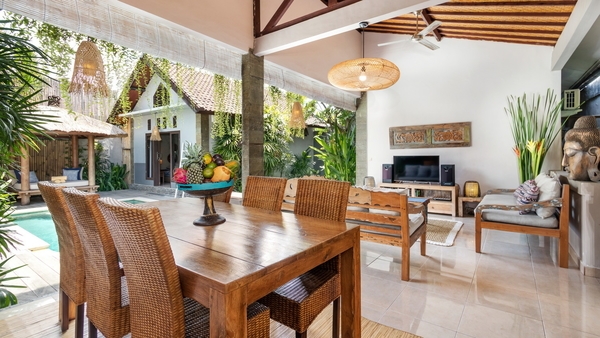 Villa Chamade is a lovely rustic tropical home under the sun in Seminyak. This well-appointed 3-bedroom Bali villa blends traditional charm with modern comforts and a sprawling garden with a pool, cushioned pool beds and a shady gazebo. The light-filled open-plan living room features rattan and teak furniture, wooden-carved artwork and Buddha statues. There is a sitting/TV corner, a dining area, a kitchen and three spacious, restful bedroom suites.
Around Villa Chamade
Safely nestled away in the gangways between the beach and the Bintang Supermarket, everything Seminyak has to offer is easily explored on foot. Surfing, swimming, shopping, dining, spa time – you name it – it is nearby.
Key Features
Easy pool access from every room |Complimentary daily breakfast |  8-10 minute walk to Double Six Beach
Prices start at US$220 (low season), US$240 (mid-high season), US$285 (high season) and US$295 (peak season).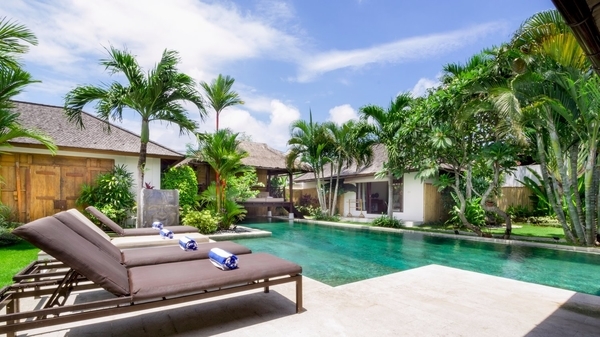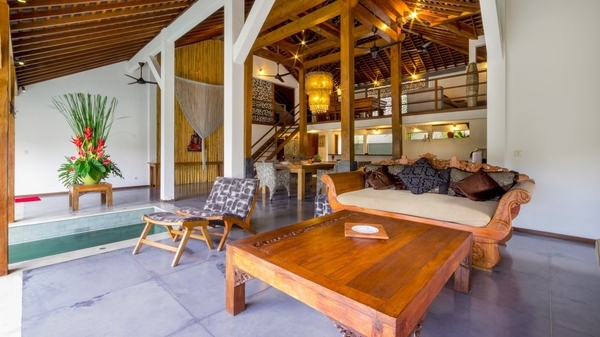 This hidden gem fuses the best of East and West. Villa B features a stunning traditional pavilion with a lofty mezzanine lounge functioning as an entertainment area. The interior design is stylish and set up spaciously, complete with a big modern kitchen, a lounge corner with cushioned Balinese daybeds and a dining area illuminated by a gorgeous dramatic chandelier.  Villa B boasts a huge garden with an 18-meter swimming pool that runs from the living all the way to the other side of the garden. Go on and chill out in a gazebo or go bathe under the sun on the reclining chairs. The three bedrooms are also super spacious and beautiful, welcoming you like royalty.
Around Villa B
Villa B is located in between Sunset Road and Jalan Raya Seminyak, the town's main shopping street. Go walk around to find boutique shops, cafes, restaurants and spas. The beach is around 15 minutes away on foot, strolling along Jalan Double Six or Jalan Dhyana Pura, both much-loved among tourists alike.
Key Features
Traditional Joglo=inspired design | 18-meter swimming pool with shallow kids' area | Upstairs billiards loft and cinema lounge | 15-minute walk to the beach |
Prices start at US$296 (low season), US$355 (high season) and US$474 (peak season).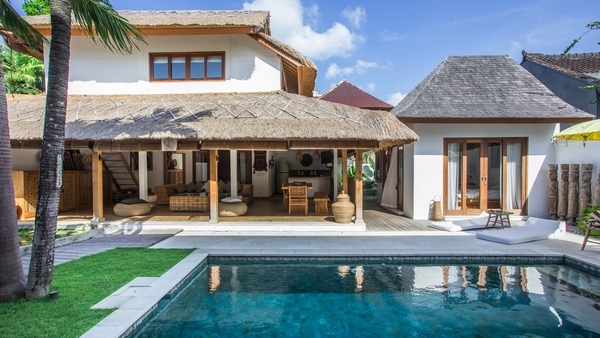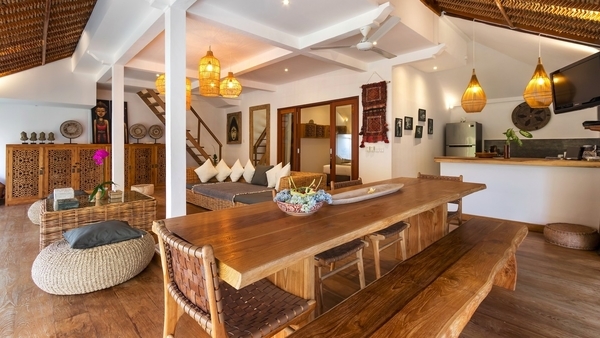 Villa Waterlily is a charming, traditionally-styled luxury villa featuring timber pavilions, alang alang thatched rooftops and a natural interior design topped off with intriguing tribal artwork. The garden is sunny and peaceful with high bamboo walls, a crystal clear pool and a deeply cushioned daybed to relax on, sunbathe and read in the shade of a Balinese parasol.
Around Villa Waterlily
Idyllically located in the Drupadi area of Seminyak, just steps away from Jalan Dhyana Pura Street and a 5-minute stroll to Double Six Beach, there is lots of entertainment around ranging from beach bars to shops to spas, restaurants and nightclubs. You can also easily walk towards the upscale Oboier district of Seminyak in approximately 20 minutes for a high-end dining experience or cocktails at fancy beach clubs.
Key Features
Peaceful sunny garden with a pool | Bamboo poolside daybed | Gorgeous Joglo-inspired pavilion | Nespresso machine |
Prices start at US$230 (low season), US$360 (mid-high season), US$330 (high season) and US$360 (peak season).
Please follow and like us: