Seminyak is probably the most popular and certainly the most fashionable beach town in all of Bali. The golden sandy coastline of Seminyak is famed for its stunning sunsets, great surfing waves and happening beach clubs. The town itself is home to endless lively and colourful streets full of boutique shops, exclusive spas, trendy cafés and excellent dining venues. It is no wonder that this buzzing town is a highly-sought tourist destination all year round. There are no villas located directly by the beach in Seminyak, but here is our selection of the best Seminyak villas near to the beach. They are all within walking distance to the beach. Check them out!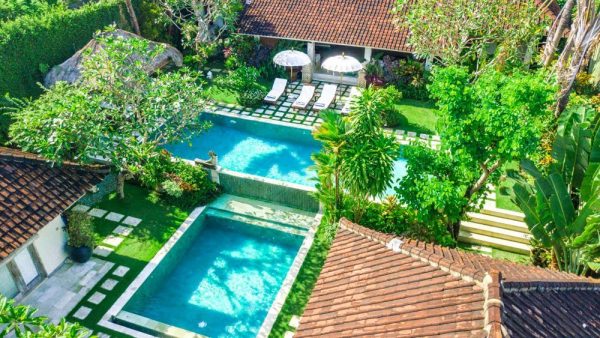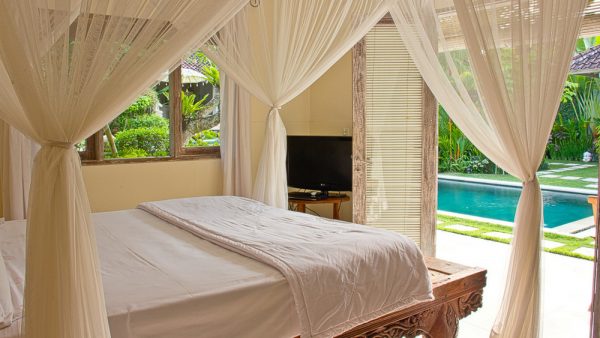 Villa Senang is a beautiful Balinese-style 4-bedroom villa, featuring hand-carved wooden furniture, antiques as well as modern comforts. The airy open-plan living room overlooks the gorgeous, private tropical garden where not just 1 but 2 swimming pools glisten brightly in the hot Balinese sun. One pool gently flows into the other, creating a cascading waterfall effect, adding all the more to that tranquil holiday ambience. All bedrooms are furnished with comfy beds elegantly draped in white curtains and modern amenities such as AC and satellite-TVs. The bathrooms are open-air, boasting alfresco showers and opulent bathtubs in two of the bathrooms.
Around Villa Senang
Villa Senang has a perfect location for those wanting to stay somewhere quiet and peaceful and yet not too far from the shops, restaurants and beach clubs of buzzing Seminyak. Batu Belig Beach is just a short stroll away and nearby cafés and restaurants include famous ones like Watercress, Sardine, Metis and Nook.

Key Features
2 swimming pools | Beautiful Balinese interiors | Open-air bathrooms | Sprawling garden |
Prices start at US$400 (low season), US$430 (mid-high season), US$520 (high season) and US$545 (peak season).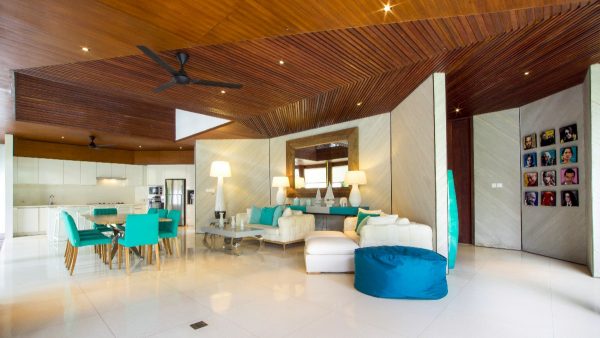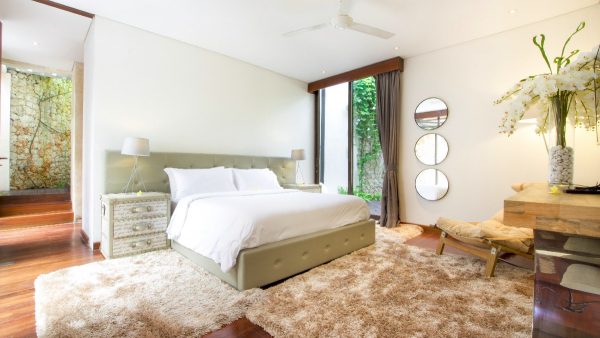 The architectural design of Villa Summer is absolutely stunning. Featuring natural stone walls shaped in curves and triangles, a timber rooftop and a stylish interior design ruled by aqua and turquoise colours, this villa blends natural elements with modern style. At the same time, guests get to experience the sweet tropical island living, with the swimming pool just steps away from the sofa and dining table. Following the spiralling staircase up to the second floor leads to a lofty media lounge. This is the perfect place for a cosy in-villa movie evening with friends, family, popcorn and drinks. There are 3 spacious bedroom suites and the master suite boasts a private plunge pool of its own.
Around Villa Summer
This stylish contemporary luxury villa is tucked away in the gangs of Petitenget, just minutes away from all of Seminyak's most chic and trendy shops, restaurants, bars and beach clubs. A great base from where to go explore!

Key features
Unique architectural design | Deluxe master suite with a plunge pool | TV mezzanine lounge | BBQ & cocktail terrace |
Prices start at US$340 (low season), US$355 (mid-high season), US$410 (high season) and US$450 (peak season).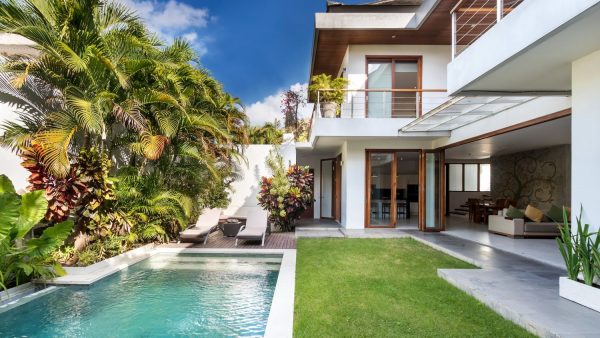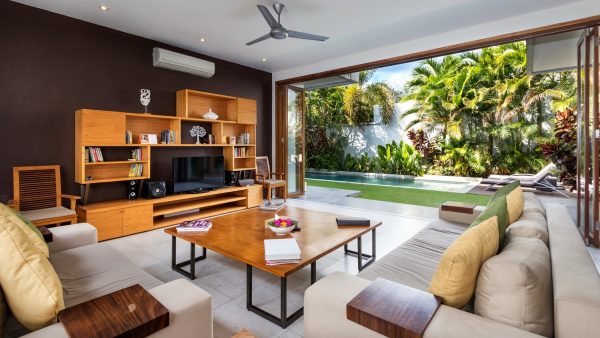 This pretty 3-bedroom villa blends colonial charm with Balinese elegance. Villa Casa Cinta 1 features an all-white double-storey, wooden-carved house with breezy verandas and balconies overlooking the lush tropical garden and the inviting salt-water swimming pool. Soaked in natural sunlight, Villa Casa Cinta 1 features a TV sofa corner, a dining table and a western kitchen. Put together with a great eye for the little details, the interior design is super stylish and really pretty.
Around Villa Casa Cinta 1
Casa Cinta 1 is strategically positioned for both tranquillity and entertainment. The closest beach is Batubelig, a beautiful quiet beach with gorgeous sunsets and perfect surfing waves. The nicely paved road that leads to the beach is Jalan Batubelig and it is home to shops, cafés and restaurants. Walking in the opposite direction leads to the hustling and bustling centre of Seminyak.

Key features
Peaceful garden with a salt-water private pool & waterfall feature | DVD's, books & board games | Colonial-inspired balconies & verandas |
Prices start at US$250 (low season), US$295 (mid-high season), US$335(high season) and US$434 (peak season).
Related: Where to go for breakfast in Seminyak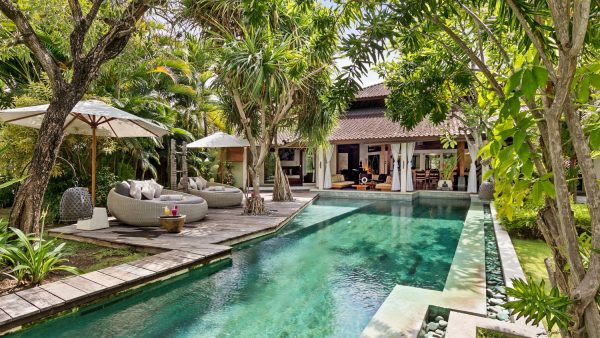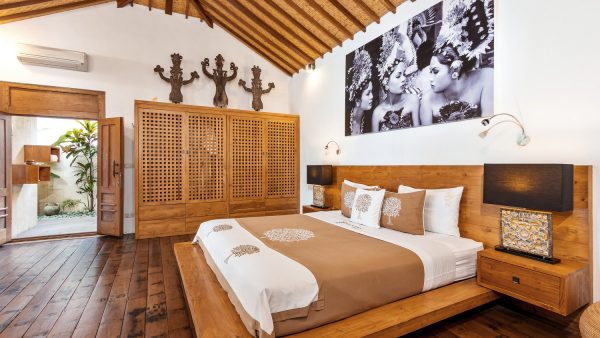 Villa Shantika is gorgeous, featuring a traditional Balinese living pavilion, crafted out of teak wood. The villa is furnished tastefully with stunning hand-carved furniture, tribal artwork and a dramatic chandelier that illuminates the teak wooden dining table. This 3-bedroom Seminyak villa sparkles like a raw diamond. The open-plan living concept allows guests to dip into the swimming pool anytime, surrounding themselves in the lush tropical greenery of the garden. Deluxe round-shaped woven daybeds and timber reclining chairs are placed around the natural tiled swimming pool, both in and out of the hot tropical sun so suit everybody's needs. The mezzanine media lounge features a great collection of books and a TV corner, perfect to spend the lazy hours of the day. Villa Shantika is a holiday home where you wish you could stay forever!
Around Villa Shantika
Located on Jalan Drupadi, the nearest beach is Double Six where you can chill on beanbags at charming beach bars such as Champlung and La Plancha. You can also easily stroll down to Oberoi Road, the trendiest shopping and dining street of Seminyak, found at the other end of Jalan Drupadi. There are tons of spas, shopping boutiques, coffee bars and restaurants around, so go explore and find your favourite Seminyak hang-outs!

Key features
Mezzanine media lounge | Traditional Balinese two-tiered living pavilion | Shady garden with a private pool |
Prices start at US$290 (low season), US$320 (high season) and US$450 (peak season).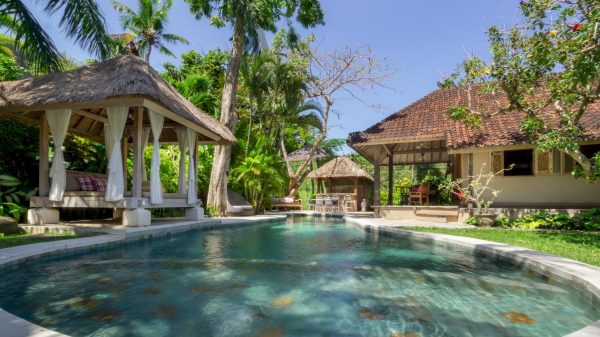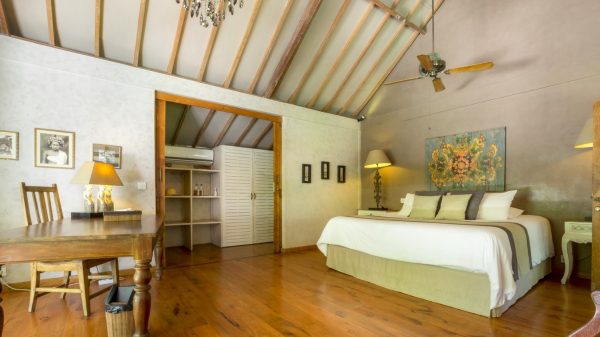 Villa Koyama is all about space, luxury and tropical charm. This grand 5-bedroom getaway features a huge garden with oriental ponds and a stunning lagoon-like swimming pool. Scattered around in the lush tropical greenery of the garden, you will find several Balinese-style pavilions. Each and every one of them features beautiful antiques and exotic artwork. Guests can dine indoors or alfresco-style by the poolside, get their cold drinks at the state-of-the-art kitchen or at the garden cabana bar. For air-conditioned comfort, go chill out in the TV lounge to watch a movie or your favourite show. The curvy swimming pool has got a shallow end for the kids, making Villa Koyama a perfect family holiday haven. Feel welcome!
Around Villa Koyama
With so much space around, you would almost forget that this villa is located right in the heart of Seminyak. In fact, it is located in Petitenget, the chicest and trendy neighbourhood of this buzzing beach town. Guests can walk to Potato Head Beach Club, to the famous Eat Street or just get lost for hours, strolling around the living shopping streets with ice cream stands and coffee bars.
Key features
Lagoon-like swimming pool with shallow area for the kids | TV lounge | Alfresco dining area | Cabana garden bar |
Prices start at US$470 (low season), US$490 (mid-high season) US$550 (high season) and US$570 (peak season).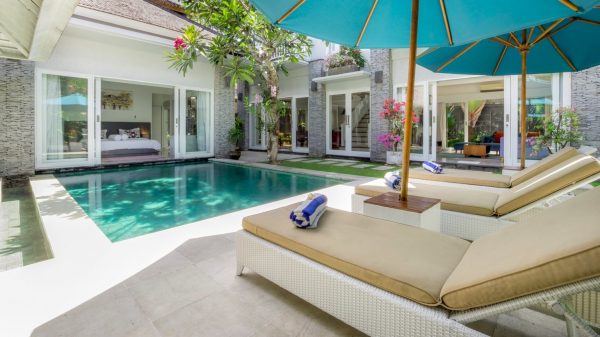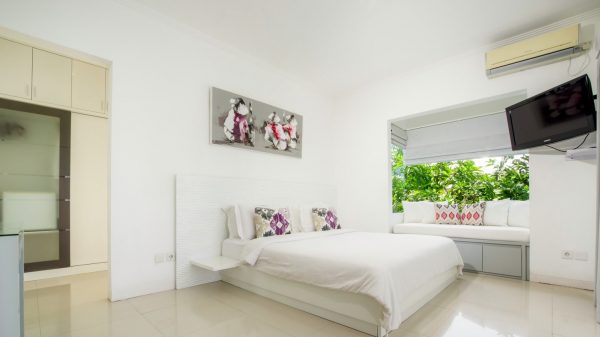 This crisp and clean 3-bedroom holiday retreat blends the contemporary with the traditional. The glass sliding doors, natural sunlight and white interiors, give Villa Alun its elegance and its tranquil feel. The garden is a place of peacefulness, featuring a private pool, oriental ponds, scenting frangipani trees and tribal statues. Villa Alun boasts an open-plan poolside living room as well as an air-conditioned living space. The living room is equipped with all modern amenities including a home cinema. Whether you are seeking a break from the tropical heat or if you are up for a BBQ garden party, Villa Alun accommodates your needs.
Around Villa Alun
Leaving your secluded gang, leads to Jalan Batubelig from where you can head to the beach or wander into the crowds of Seminyak. There are tons of restaurants, beach clubs and shops around and upcoming Canggu is just a short drive away.

Key features
Direct swimming pool access from the bedroom | Air-conditioned media lounge | Open-plan & air-conditioned living | BBQ |
Prices start at US$330 (low season), US$390 (high season) and US$500 (peak season).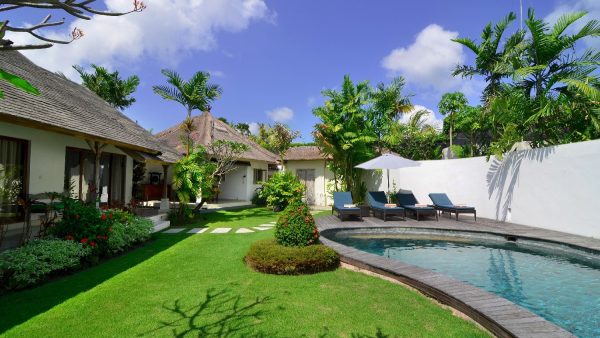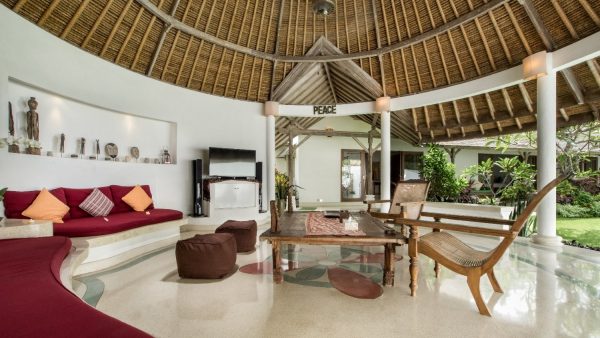 The stunning 'alang alang' thatch-roofed, circular pavilion makes Villa Damai Kecil stand out from all other Seminyak beach villas. From this beautifully designed open-plan living space, you can jump straight into the water of free-form curvy swimming pool. The dining room and kitchen are tucked in a second open-plan living pavilion on the other side of the garden, creating several spaces to hang out together with loved ones or enjoy some peace and quiet. The three bedrooms feature large double beds, air-conditioned and tropical open-air bathrooms to shower beneath the stars.
Around Villa Damai Kecil
Villa Damai Kecil is located in the Oberoi district of Seminyak, within short walking distance of the iconic Eat Street and Jalan Petitenget where the most excellent high-end dining venues of Seminyak are found. Nearby beach clubs include KU DE TA and Potato Head – make sure to catch that sunset!

Key features
Circular pavilion with alang alang roofing | Free-form swimming pool | outdoor bathrooms | Great collection of art |

Prices start at US$247 (low season), US$330 (high season) and US$412 (peak season).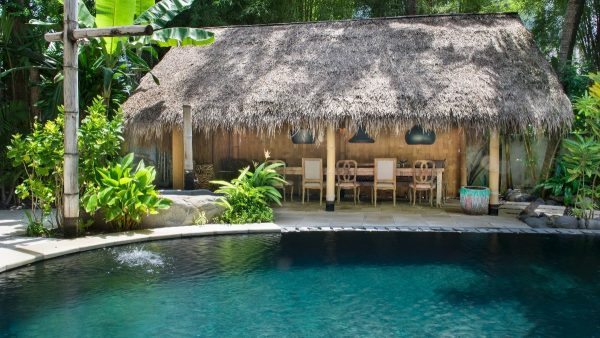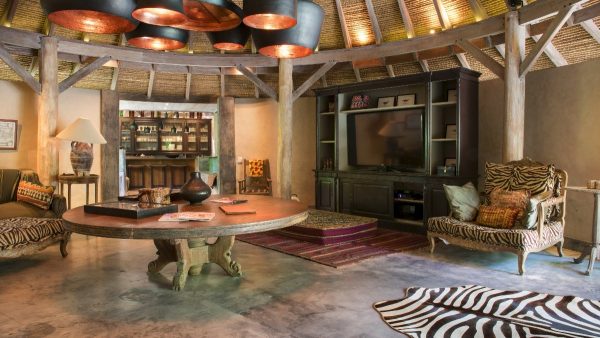 Exotic, tropical and utterly exclusive, the Africa House is a really special place! It is a place you certainly wouldn't expect to find in the centre of Seminyak. There are many highlights at this luxury mansion but the most eye-catching one is the oval-shaped swimming pool sparkling in the heart of the garden. In between the tropical plants and trees, there are sun loungers, beanbags and garden cabanas found. One of them is an alfresco dining pavilion for garden dinner parties. Tucked in a unique round-shaped house with a high soaring thatched rooftop, the space has a natural feel enriched by an interior design ruled by leather carpets, vintage furniture and artwork. Hand-beaten copper lamps and a huge flat-screen cable TV make the last finishing touch. An amazing place, obviously inspired by exotic Africa.
Around The Africa House
The Africa House is part of the Island Houses Seminyak, located in a secluded lane, just meters away from Petitenget Beach and Oberoi's classy Eat Street. The Africa House makes the most exotic escape of Seminyak with a most enviable location towards this beach town's hot spots.

Key features
Magnificent oval-shaped swimming pool | Alfresco dining pavilion | African-inspired interior design | Vintage carpets and artefacts |

Prices start at US$250 (low season) and US$400 (high season).
Please follow and like us: