Holidays are for getting pampered… and after a long hard day of shopping, cocktails by the pool and eating excessive amounts of delicious food, a gal deserves to treat herself. What you don't want though, is to end up feeling as though you've had your nails done by your 9-year-old niece. In order to save you the work, I've tried and tested (I know, poor me!) some of my favourite spots in the Seminyak and Canggu area and put together a little guide, just for you!
Amo Spa – Seminyak & Canggu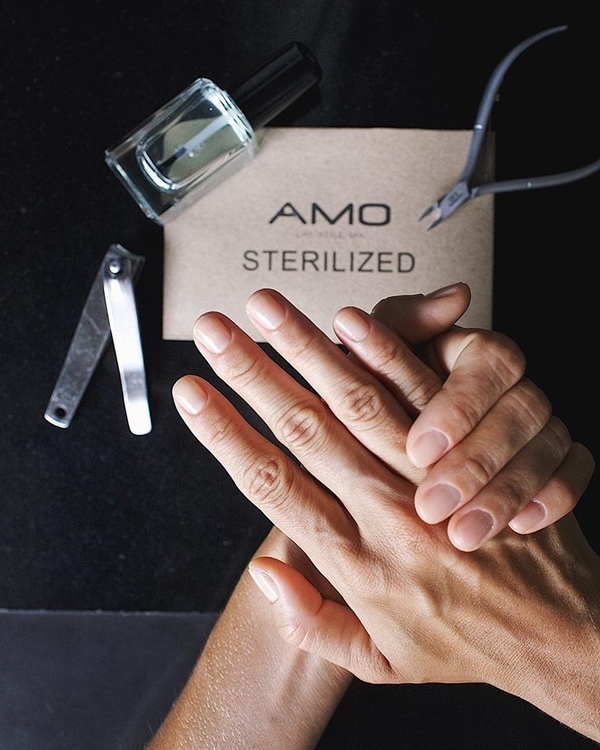 Whether you're sitting in the luxurious chairs of Amo Canggu, overlooking the busy main road with beautiful rice fields in the background, or sitting in the Seminyak studio admiring the stylish interiors, Amo Spa will leave you feeling as though you've slid straight into heaven.
The skilled Amo staff are some of the best I've experienced – neat, clean, thorough and my nails looked amazing! They will even give you an INCREDIBLE shoulder massage whilst you're waiting for your nails to dry… it's so good that you'll probably book in for a full massage straight after you're finished.
Amo Spa also offers mobile service, for those not quite ready to leave their comfortable Bali villas, or for those celebrating a special day!
Location 1: Jalan Petitenget No. 100X, Seminyak
Location 2: Jalan Pantai Batu Bolong No. 69, Canggu
Open: 9am – 10pm
Nail services offered at Amo Spa:
Nail polish (OPI)
Gellish
Shellac
Gel
Nail art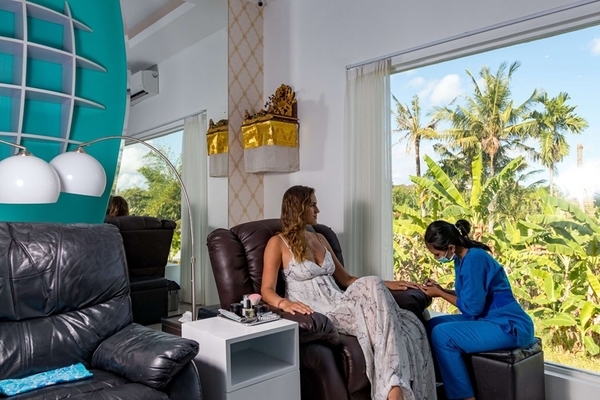 Rin Beauty Studio will make all of your nail art dreams come true. Unlike many other nail salons, Rin exclusively uses Japanese products and a fantastic, Japanese inspired application method. This quaint nail salon focuses on gel nail art, eyelash extensions and cosmetic tattoos and is therefore able to offer highly trained and specialised technicians. Great if you'd like something specific!
Location:  Jalan Mertanadi No. 92, Kerobokan
Open: 9am – 7pm Monday to Saturday
Nail services offered at Rin Beauty Studio:
Gel nails
Gel nail art
Acrylic Extensions
Acrylic refills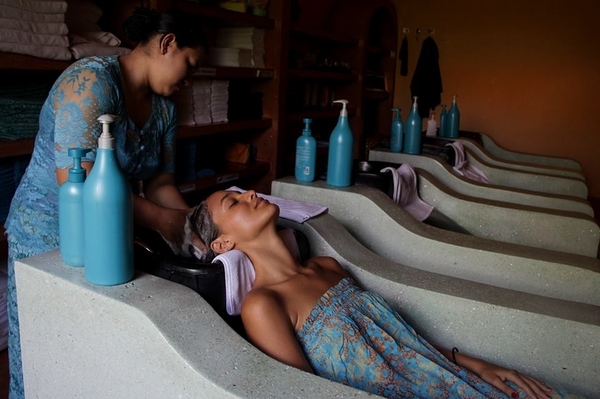 Bodyworks has been in business for 20 years, the reasons for its continued popularity are clear to see as soon as you step through the door. As you walk around the spa you will be mesmerised by the design – the entrance courtyard boasts bright greens and palms, whilst the courtyard emulates Moroccan vibes with burnt orange walls and pot plants. Finally, the interiors are an ocean blue to put you in a zen-like state of mind.
Most importantly of all, the Bodyworks staff are friendly, professional and well-qualified, meaning your nails will look fantastic. To top off the experience you can enjoy a delicious fresh juice whilst you wait. All of this plus a Balinese price tag will leave both you and your wallet, feeling well and truly pampered!
Location: Jalan Kayu Jati No. 2, Petitenget, Outer Seminyak
Open: 9am – 10pm 
Nail services offered at Bodyworks
Polish
OPI gel manicure/pedicure
Sports manicure/pedicure
French manicure/pedicure
Flower manicure/pedicure
Related: Best luxury massage in Bali: top 7 picks for an AMAZING massage in Bali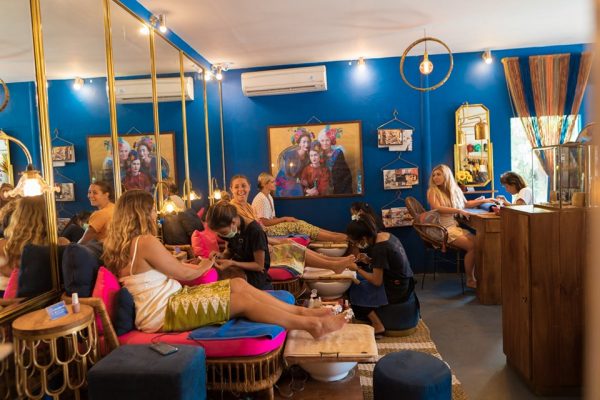 Colors is a quirky nail bar, with a fun and eclectic sense of style, which is sure to lift anyone's spirits, that offers a wide variety of high-quality nail treatments.
Colors uses Nailberry polishes, making it a great choice for animal lovers and the environmentally-conscious as these are breathable luxury polishes, made without many of the 'nasties' found in other brands and are also certified vegan and cruelty-free. Whilst you wait for your nails to dry, you can enjoy a healthy, and 100% organic, fruit juice served in a colourful jam jar.
Location: Jalan Raya Semat No. 15B, Canggu
Open: 8.30am – 7.30pm
Nail services offered at Colors Nail & Juice Bar
Polish
Acrylic full set
Nail 3D design
Gel polish
Revival treatment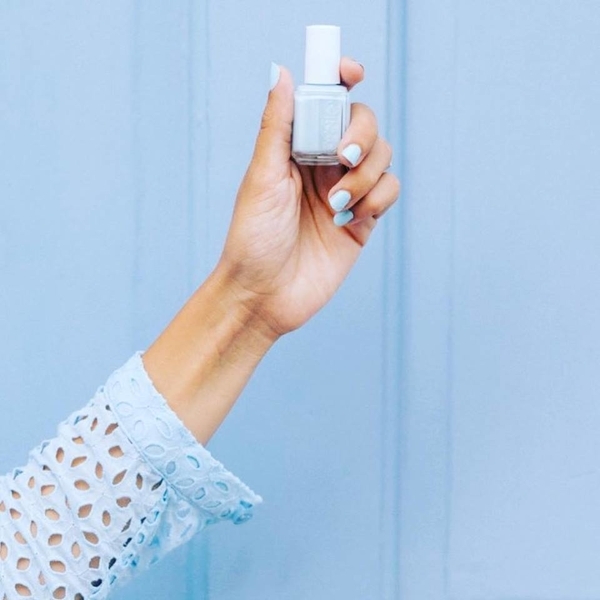 This is a cosy little space, situated right in the heart of trendy Seminyak, which is perfect for a bit of 'me' time. At JazB, they believe in the concept of 'Beautology' meaning they adhere to the usual beauty salon traditions, but add just a dash of science to the experience! Oh, and as a little bonus, they also serve free drinks and snacks.
In addition to their comprehensive list of luxurious treatments, JazB also offers an express nail service, meaning you can keep your time away from the beach or pool to an absolute minimum!
Location: Jalan Kayu Aya, 2nd floor Unit A, Seminyak Square, Seminyak
Open: 10am – 8pm
Nail services offered at JazB:
Express Manicure/Pedicure
Classic Manicure/Pedicure
Spa Manicure and Paraffin Hand Treatment
Spa Pedicure and Foot Mask
Kids Manicure and Pedicure
French Polish
Nail Art
Acrylic + Gel Overlay Extensions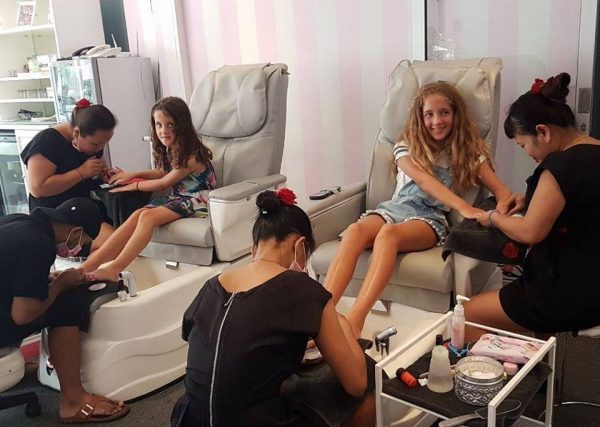 This is a really fun nail and champagne spa in downtown Seminyak. The décor is inspired by 1940s Parisian glamour; think Moulin Rouge, only with more pastels and pink candy-cane walls. The staff here are all well trained and only the highest quality products are used, all of which helps to ensure that the spa's stated aim of providing you with 'unsurpassed service and an unforgettable experience' is easily met.
Lady Marmalade offers more than just nail treatments, you can also enjoy a variety of alcoholic beverages, including cocktails, and, of course, champagne! If you really feel like pushing the boat out, you can also indulge in a traditional high tea.
Location: Jalan Drupadi No. 9
Open: 9am – 10pm
Nail services offered at Lady Marmalade:
Manicure and pedicure
Tiny tots manicure
French manicure
Shellac polish
P.I. polish
Soak-off gel
Nail art
Full set acrylics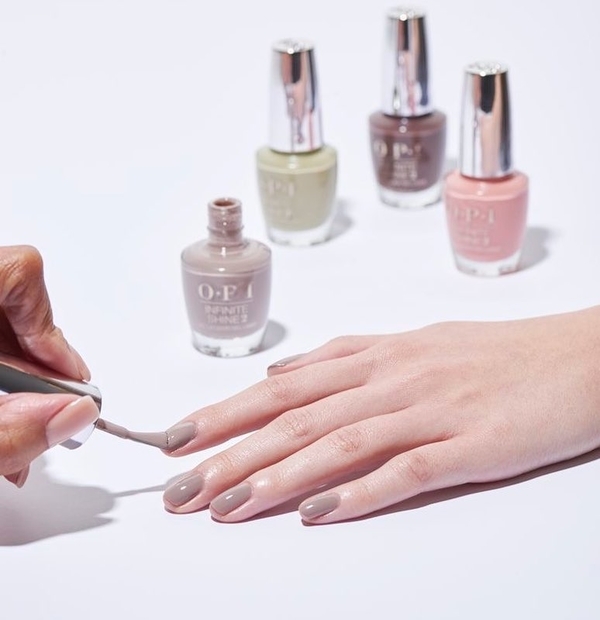 Walking into the Espace Spa is like a breath of fresh air, smooth lines, tasteful fittings and soothing, but vibrant, colours combine to give the place a sense of modern design with a Balinese twist. The spa was founded more than 15 years ago and its staff are all experienced and able to provide you with treatments of high quality. Prices are also quite reasonable here.
Location 1: Jalan Pura Batu Mejan (Pantai Batu Bolong), Canggu
Open: 11am – 8pm
Location 2: Jalan Raya Br. Basangkasa No. 3B, Seminyak
Open: 9am – 9pm
Nail services offered at Espace Spa Bali:
Manicure and pedicure
Kids manicure and pedicure
Shellac, O.P.I, and French polishes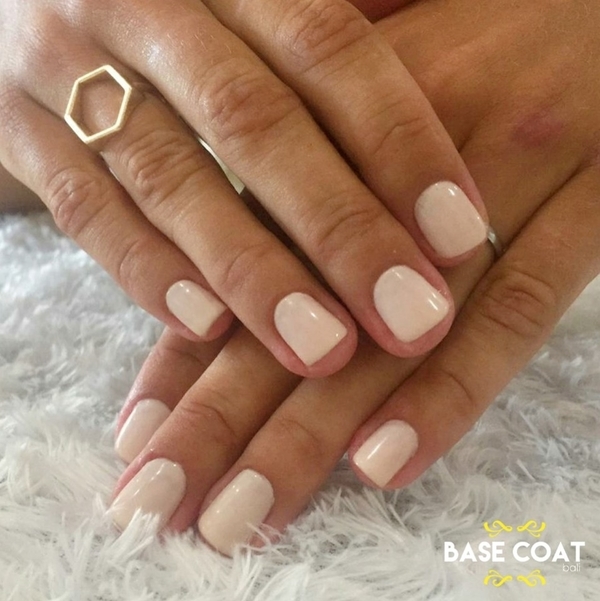 Base Coat is a fun little nail salon, tucked away in Seminyak. They use only the best quality nail products (incl. Sally Hansen, O.P.I. etc) and have fancy, tall-backed white leather chairs, that look more like thrones, in which you can recline whilst having your treatment. To top off the experience, complimentary tea, coffee, soft drinks and cookies are served with every treatment!
Not only does Base Coat do an excellent job with nails, but they also donate a percentage of their daily profits to organisations that promote community empowerment! In the past they have provided support for orphanages and disabled children, meaning that you will leave with both fantastic looking nails, and also the uplifting feeling of having given a little something back to Bali.
Location: Jalan Dewi Sri No. 4, Seminyak
Open: 10am – 6pm
Nail services offered at Base Coat:
Manicure / Pedicure
Gel polish
SNS
Acrylics
Acrylic infill
Nail art
Nail tip extensions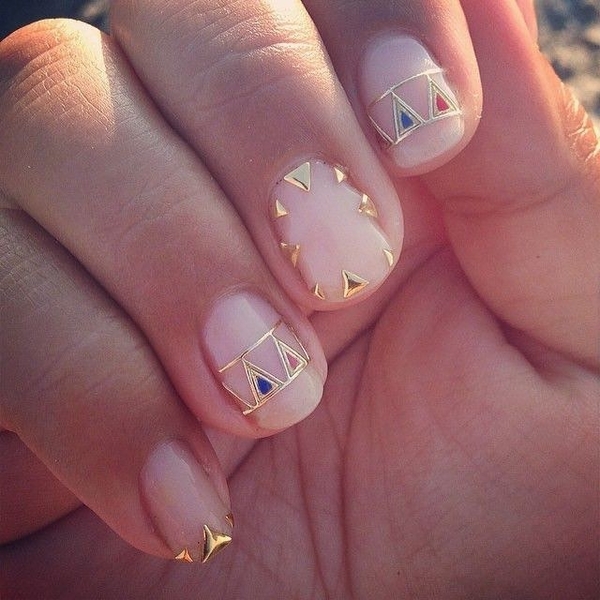 Run by Melbournian Rianni Hustler, Jet Black Ginger is one of Canggu's coolest salons. If you're one for interior design, you'll love the feel the moment you step foot into JBG. Imagine rustic concrete walls, black and gold metal furnishings and large plants and palms scatted throughout the entire salon. Oh, and did we mention the adorable French bulldog that often pops in to say hello? Then there are the services! The girls at JBG will get your nails looking like never before, smashing everything from a pretty French manicure, to some out-there bright red claws!
Location: Gang Jalak no. 20, Tibubeneng, Canggu
Open: 9am – 8pm
Nail services offered at Jet Black Ginger:
Manicure
Shellac manicure
Express manicure
Just polish/ shellac
SNS
Shellac/ SNS removal
French polish
Nail art
Pedicure (shellac, express and polish)
The Shampoo Lounge is located on the outskirts of Seminyak (they also have a branch in Nusa Dua) and has a fun, quirky vibe to it. It is also one of the best-known and most popular spas in Bali, whose friendly and professional staff will go above and beyond to ensure you are getting exactly what it is you're after.
In addition to nails, The Shampoo Lounge offers a comprehensive variety of spa and hair treatments making it a one-stop salon, perfect for unwinding in at the end of a long hard day of relaxing by the pool, whilst also preparing for a night out!
Location: Jalan Basangkasa No. 8X, Seminyak
Open: 9am – 7pm
Nail services offered at The Shampoo Lounge:
Acrylic full set
Acrylic extension
Gel (CND or Gellish)
Classic (OPI)
Nail art
Hot stone pedicure
Spa Pedicure
French manicure
Glo is a lovely spa in Seminyak (they also have branches in Canggu and at the Sandy Bay Beach Club in Nuse Lembongan) with a sophisticated sense of style. If you do not feel like travelling, you can make use of their 'Go Glo' service and literally bring the spa to you!
Glo use only imported products of the highest quality, the staff are perfectly trained and the setting is absolutely immaculate. If you smudge your nails within 24 hours… come back and they'll do it again for free! Oh, and did I mention that you can order a cocktail, wine, beer, French pressed coffee or gourmet tea whilst you're having your nails done?! All in all, this is one salon experience that will be sure to leave you positively 'glo-ing'!
Location: Jalan Kunti No. 119, Kunti Plaza, Seminyak
Open: 11am – 7pm
Location: Jalan Subak Sari No. 90, Canggu
Open: 10am – 8pm
Nail services offered at Glo Day Spa & Salon:
Nail polish (OPI, OPI Infinity, Dior, Chanel, Essie, Vinylux & Butter London)
Shellac
Japanese Gel
Chrome mirror nails
French manicure
Bubble white
Hot oil treatment
Nail art
Spa manicure/pedicure
Please follow and like us: