Beautiful, exotic, safe and so many things to see and do, Bali is a paradise island for all! Families are not left out. In fact, Bali is great for families with kids! Wondering how you can make the best of your holiday in Bali with kids? Get inspired by these 6 awesome family activities:
1. Beach time: Go for a family surf lesson and explore the wondrous underwater world
Family time at the beach is one of the best things to do in Bali! Kids can run around on the sandy shore with the wind in their hair, build sandcastles and swim in the sea. Parents can sit back, sip cocktails and watch the kids play. Ahh, life is good here in Bali, isn't it? Why not go for a family surf lesson? The beach in Seminyak is perfect for beginners and there are plenty of cool surf teachers around to get you up on your board in no time. Surely, this will be a family experience to remember all of your lives! Once you are done with the southern beaches, head to the east or northwest coast of Bali to explore the world beneath the surface of the sea. Amed and Menjangan Island are great for snorkelling and diving. Beach time  = family time in Bali!
Villa Finder's tip: Remember to reapply sunscreen every few hours. We tend to neglect this part, but the burn makes a strong statement for itself. Pack some aloe vera gel with you too.
2. Cultural performances: Learn more about the people and the island
Taking your kids to Bali is a wonderful cultural experience alone. Bali has got unique traditions and celebrations and you won't even have to go anywhere special to see, hear and feel the mysticism is in the air. There are offerings laid on the streets everywhere meant for the Gods and spirits that roam the island. There is incense burning everywhere, there are thousands of temples and shrines and intriguing street parades happen every day. You can hear chanting, drums and traditional gamelan music, Bali is a wonderful world! To make your Bali Trip even more of a cultural experience for your little ones, take them to see traditional Balinese dance performances. These performances are bursting with colours and they are a true feast for all of the senses and often, they are funny as well.
Villa Finder's tip: The Kecak Fire Dance is a good one to go see at the Uluwatu Temple just before sunset time. Another good option is at Made's Warung in Seminyak, combined with delicious traditional food and at Ubud Palace, there are also performances going on every evening. Plenty of options!
3. Rafting: Sail along beautiful nature in Bali with kids
Why not take the kids for a little adventure out on the river? Rafting is great fun and the sceneries are absolutely stunning. Bali has got 2 river rafting treks, one on the Ayung River near Ubud and another one in Karangasem on the Tegala Waja River. Both are kid-friendly, scenic and fun. It's a great way to get away from the phone, enjoy nature and spend some quality family time together!
Villa Finder's tip: Book a massage afterwards. It's heavenly.
4. Bali Treetop Adventure Park: Zipline through the jungle
Are your kids' little daredevils and not afraid of heights? Get them over to Bali Treetop Adventure Park, one of the best outdoor family activities in Bali. Just like Tarzan, kids can zipline from treetop to treetop and see what the island looks life from above the trees. Bali Tree Top Adventure Park has got 7 different circuits for families with kids of all ages, starting from 4 years old. Parents will enjoy Bali Tree Top Adventure park just as much as the kids will!
Villa Finder's tip: Trust us when we say parents will enjoy this too. It's one of our team's favourite activities! Bring along plenty of water and spend at least half a day there to enjoy the park to the fullest!
5. Enjoy great food and drinks while the kids are entertained at Bali's Family cafes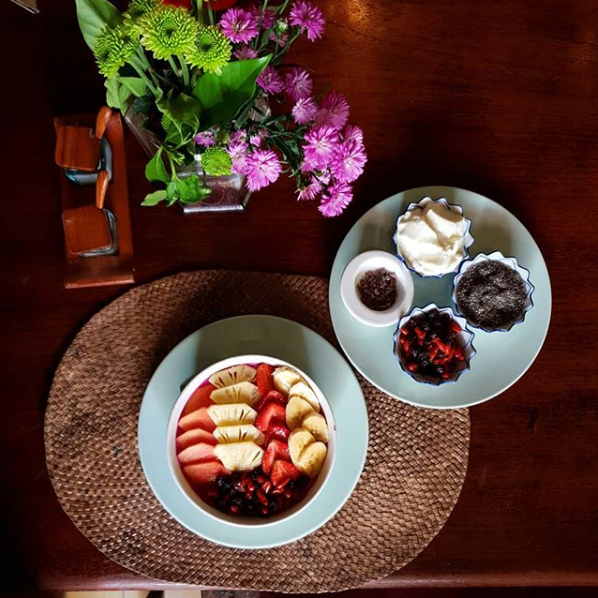 Especially in Canggu, Ubud, Seminyak and Sanur, there are plenty of family-oriented cafes with on-site playgrounds for the kids to have a wonderful time while mom and dad get to enjoy their coffee while it's still hot. Yay! No need to run after the kids and keep them happy with iPads and iPhones, they'll be off playing, swinging, swimming or joining crafts activities. We love The Joglo, Milk & Madu and Tamora Gallery in Canggu. In Seminyak, try KU DE TA on Sundays or head over to Tiigo for a breakfast buffet and free access to the kids club. In Sanur, ABC Beach Club at Art Hotel is a great family hang out with a large family pool and in Ubud, there is Bali Buda and Cinta Cafe. Do check them out for yummy food, great coffee, healthy smoothies and cakes – all enjoyed in tranquillity with your partner and the kids will love these places to bits, guaranteed!
Villa Finder's tip: You can't miss out acai bowls when you are in Bali!
Don't forget to book a family villa in Bali to the best tropical holiday!
6. Splash around at Waterbom Bali
When staying in a villa in the south of Bali around Seminyak, a trip to Waterbom is a must!  The entrance fee is not cheap but you can say you've been to Asia's #1 waterpark. There are lots of waterslides from nice and slow to super fast and very scary, something for kids (and adults) all age! There is also a lazy river and a kids water playground. Great fun!
Villa Finder's tip: If you are looking for a short break between the rides, there are plenty of other activities such as massage, manicure, hair braiding and fish spa.
Please follow and like us: