There are plenty of amazing restaurants in cosmopolitan Seminyak. From the famous 'Eat Street' in Oberoi to the buzzing Petitenget Strip and Batu Belig, you will find the best of the best such as Metis, La Lucciola, Bambu, Jemme, Sardine and many more. However, most of these celebrated places to eat in Seminyak are not certified as Halal. I asked around and even the traditional Indonesian restaurants such as Merah Putih and Sarong serve pork. Well, we are on the island of Bali after all, where the traditional and most loved dish is 'babi guling' – suckling pig. So, where does this leave you? Well, after a little bit of research and driving around, I found more than a handful of warungs and restaurants that do serve up 100% halal food. Check out these places for the best halal food in town:
1. Batik Bali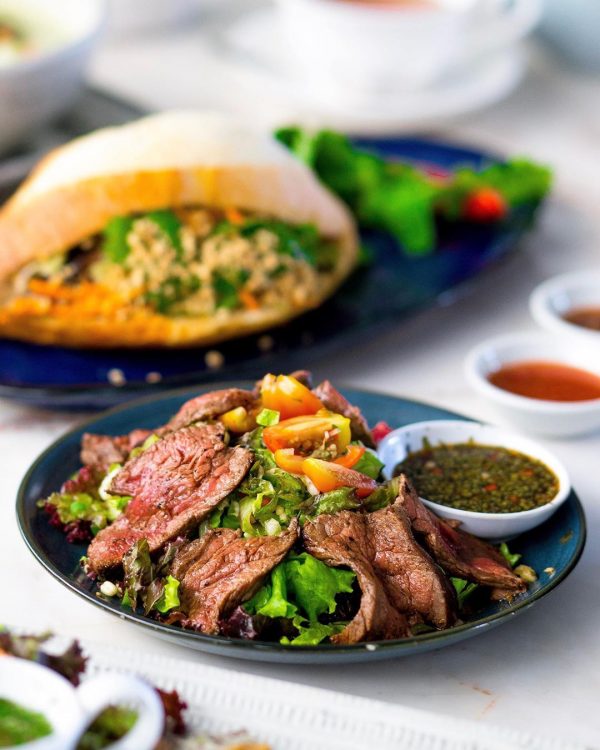 100% halal, 100% Instagrammable 100% authentic Southeast Asian cuisine and 100% delicious! Come to Batik Bali, conveniently located on Seminyak's famous Eat Street in Oberoi – you are in for a delightful evening out! This restaurant is named after the old Indonesian craftsmanship called Batik, using hot wax to make patterns on textile. This ancient trade and traditional form is art is recognized as a Unesco Worl Heritage and this halal restaurant in Seminyak features a gorgeous interior design with traditional Batik fabrics and stamps infused in all the tiny details of the decor. Amazing! The food is really great, too, with highlights from all over Southeast Asia including Indonesia, Thailand and Vietnam.
Batik Bali
Address: Jalan Kayu Aya, Seminyak, Kabupaten Badung, Bali, Seminyak, Bali, 80361
Contact: (0361) 735171 | info@batik-bali.com
Opening hours: every day from 11 am to 11 pm
2. Warung Murah
This is one of the favourites in town when it comes down to local food. It is cheap, authentic, humble and delicious, Warung Murah is located on Jalan Arjuna near Double Six Beach in Seminyak. There is a menu to order from but we highly recommend to skip it and choose your food directly from the counter. You can just point at the dishes you want and the lovely staff will design you a beautiful plate of authentic Indo food. Warung Murah is a Balinese eating place and yet it is 100% halal – great for those travellings who want to try Balinese food without the Babi Guling! Try Ayam Betutu, it is chicken prepared the Balinese way with lots of herbs and spices. Yum!
Warung Murah
Address: Jl. Arjuna No. 99, Legian, Kuta, Seminyak, Kuta, Kabupaten Badung, Bali 80361
Contact: (0361) 732082
Opening hours: every day from 8 am to 10.45 pm
3. Al Diwan Lebanese Cuisine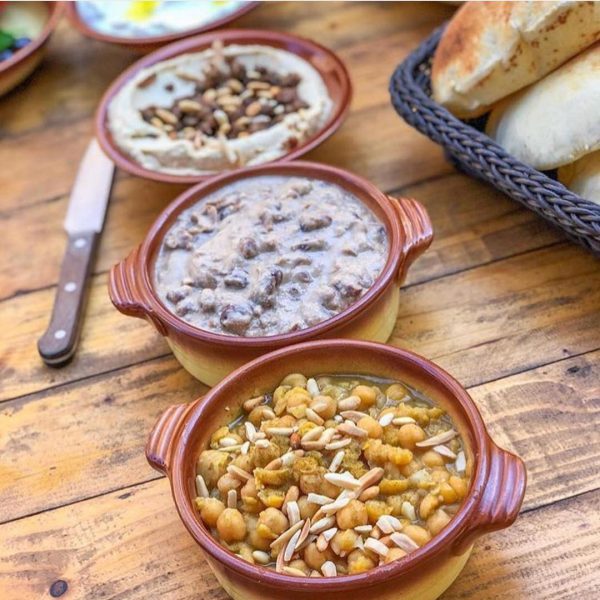 The best Middle Eastern food in Seminyak? You will find it at Al Diwan Lebanese Cuisine. A nice change from the Indonesian kitchen and also 100% Halal. This restaurant is found on Jalan Kayu Aya, better known as Oberoi's Eat Street. On the menu, you will find the traditional Lebanese mezze platters and dips such as hummus and manoosh with flatbread but also poultry, fish, grilled delights. All is halal and there are also plenty of options for vegetarians. This Seminyak restaurant is unique on the celebrated Eat Street, indeed. Really worth checking out!
Al Diwan Lebanese Cuisine
Address: Jalan Kayu Aya No.4b, Seminyak, Kuta, Badung, Bali 80361
Contact: +62 (0) 361-934 5934
Opening hours: every day from 11:30 am to 10:00 pm
4. Warung Melati
This is the place to be for a good, authentic Javanese lunch. Warung Melati is a busy little eating place, popular with expats and locals. Friendly people, fresh food, lots of veggies to go with your fish, chicken or beef and the most delicious sambal, all I can say is 'yum'! Come to this place between 11.30 am and 2 pm for the widest selection of dishes. I find myself coming back here all too often – it's the tastiest local food to be found around here if you ask me. The juices are also great! Warung Melati is located in a gang off Jalan Nakula where Seminyak hits Legian.
Warung Melati
Address: Jl. Nakula 5 No.5, Legian, Kuta, Kabupaten Badung, Bali 80361
Contact: 0896-6399-3501
Opening hours: Monday to Saturday from 11 am – 5 pm
5. Queen Tandoor
Curries, naan bread or chapati, saffron rice, chicken tandoori, Queen Tandoor is an excellent Indian Restaurant located in the centre of Seminyak. In the kitchen, there are highly-skilled Indian chefs at work all day and you can be sure, these curries won't disappoint! My personal favourites are Dahl and Korma and you have to get it with naan bread. It is the best! For starters, you will get papadum and traditional dips, this is complimentary and this is also really delicious! Sit outside or inside in the AC – Queen Tandoor is good for a fine-dining experience in Seminyak. If you love Indian food, don't miss out!
Queen Tandoor
Address: Jl. Raya Seminyak No.1/73, Seminyak, Kuta, Kabupaten Badung, Bali 80361
Contact: 0361) 732770
Opening hours: every day from 12 pm – 11.30 pm
6. Warung Bunana
Cheap, fresh, halal and packed with food lovers, Warung Bunana is a small street restaurant on Sunset Road, featuring an open kitchen where the food is prepared to order all day and evening long. What's their speciality? Roti Canai and Teh Tarik – delicious Malaysian street food you won't get enough of. Roti canai comes in all kinds of flavours from plain to cheese to apple & cinnamon, chocolate & banana and so on. Try out it and have it with a cup of Teh Tarik, the Malaysian version of Indian Chai tea.
Warung Bunana
Address: Jl. Sunset Road No.28, Kerobokan Kelod, Seminyak, Bali, Indonesia
Contact: 0812-3993-425
Opening hours: daily 10 am – 10 pm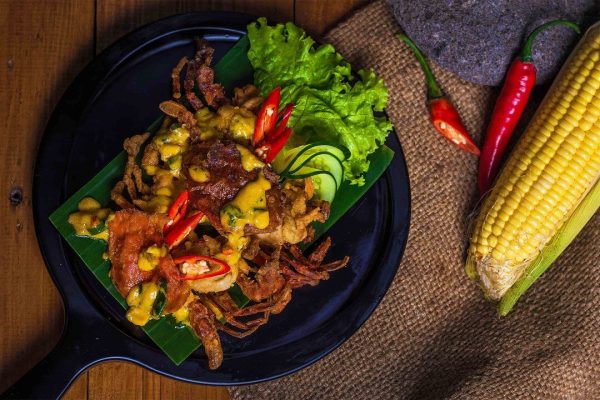 This restaurant is not located in Seminyak but on the other side of Sunset Road in Kuta. Yes, it takes a little bit of effort to get here, but you are rewarded with a lovely dining setting: private little dining bales with thatched rooftops situated around a large koi fish pond. The ambience is tropical and typical Indonesian – the food is halal and very tasty. Freshly caught fish, shrimp, sate and much more. Bale Udang Mang Engking is great for families to share a little bit of everything.
Bale Udang Mang Engking
Address: Nakula 88, Sunset Road, Kuta, Bali, Indonesia / Jl. Raya Goa Gajah, Ubud, Bali, Indonesia
Contact: +62 361 8822000 (Kuta) / +62 361 978 754 (Ubud)
Opening hours: daily 11 am – 10 pm
Tagine
Tagine brings authentic Mediterranean cuisine to Bali. How lucky are we! Traditional tagine, kebab, lamb shank, couscous and more. In fact, everyone is raving about the couscous, so it is a definite must-try! The interior design is very exotic and cosy with warm colours and curtains like you would expect in a place called 'tagine'.
Tagine
Address: 39 Jl Mertanadi, Badung, Bali, Indonesia
Contact: 0877-6314-8040
Opening hours: every day from 11 am to 11 pm
Bali Buda
Located in Kerobokan, just a short drive away from Seminyak, you will find Bali Buda, an iconic health food restaurant in Bali with outlets in Canggu, Sanur and Ubud. Locally sourced products, organic meat, free range eggs, halal and healthy, Bali Buda makes a great spot for breakfast, lunch and dinner. Indonesian dishes, pizza, sandwiches, homemade soup, pasta, tacos, earth bowls – the menu is extensive and everything on it is halal.
Bali Buda
Address: Jalan Banjar Anyar No. 24, Kerobokan, Mengwi, Kerobokan, Kuta Utara, Kabupaten Badung, Bali 80351
Contact: (0361) 8445935
Opening hours: every day from 7 am – 10 pm
Not sure where to stay? Here's our guide to Understanding Seminyak: From Double Six to Oberoi & Petitenget
---
Did you eat at any of these halal restaurants in Seminyak? Would love to hear about your experiences!
Please follow and like us: