Most probably, you've already heard about the pristine Gili Islands when planning your trip to Indonesia. They are just as famous as Bali, and for good reason! Close your eyes and imagine idyllic white-sand beaches, turquoise and blue waters, encounters with sea turtles, amazing diving sites, gorgeous villas – it's paradise-like here on the gorgeous Gili Islands. But, what makes these islands all even more unique, idyllic and peaceful is that all 3 of them are free from motorized traffic. The only means of transport you'll find are bicycles and… horse carts! On top of that, you can easily circle the islands on foot, catching the sunrise and the sunset all on the same day on a different part of the island. Perfect.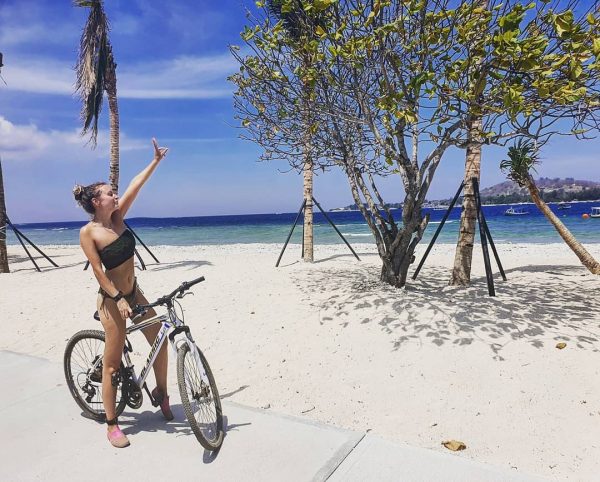 Nicknamed as 'the Maldives of Southeast Asia' the Gili Islands are 3 islands and each of them has their own charm, attraction points, and unique appeal. Whether you are a family with kids, a romantic couple on their honeymoon or a group of friends looking for an awesome place to chill out and have fun, The Gilis Islands have something to offer for everyone! Let's take a closer look at each of these lovely little islands, located in the Lombok Strait, just a 3-hour boat ride from Bali: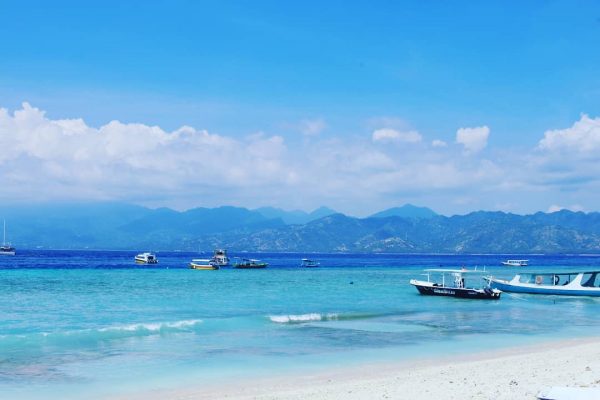 Gili Trawangan (the famous Gili T 'party' island!)
Gili Trawangan is the largest and most popular island of the 3 Gili Islands, also known as 'Gili T' and referred to as 'the party island'. Trawangan is laid-back yet booming at the same time from chill-out reggae bars to all-night clubs and party boats. There is the 'party' side of the island on the eastern coast which is full of beach clubs, restaurants, bars and clubs and there is the relaxed side where you can go snorkelling and spot turtles from the shore, sip sunset drinks and take some amazing Insta-photos sitting on the ocean swings. Whether you came to party or you came for a family holiday – you will find what you are looking for on Gili T!
Things to do on Gili Trawangan
Diving & snorkelling
swimming with turtles (just from shore)

Upscale beachfront dining

Sunrise and sunset

Night Market (food!)

Explore the 'party street' on Gili T (shisha bars, clubs, party boats, reggae bars – you pick!)

Surfing
Stand-up paddleboard
Beach cinema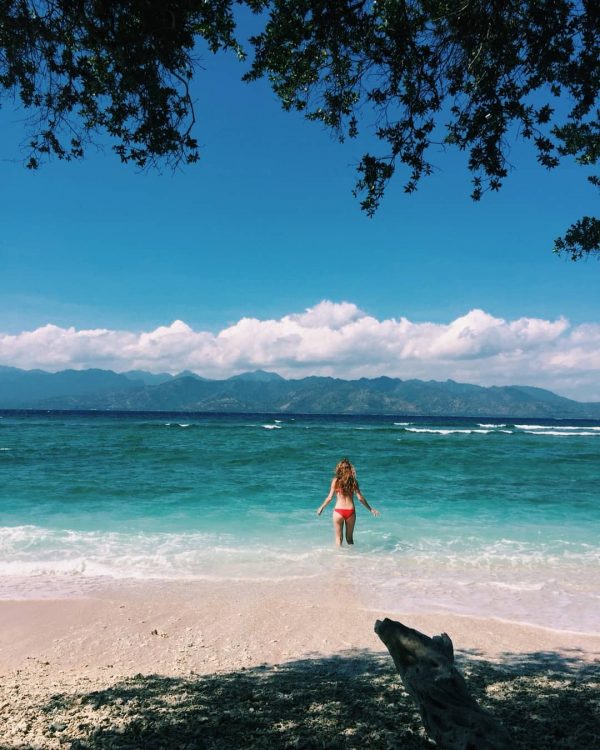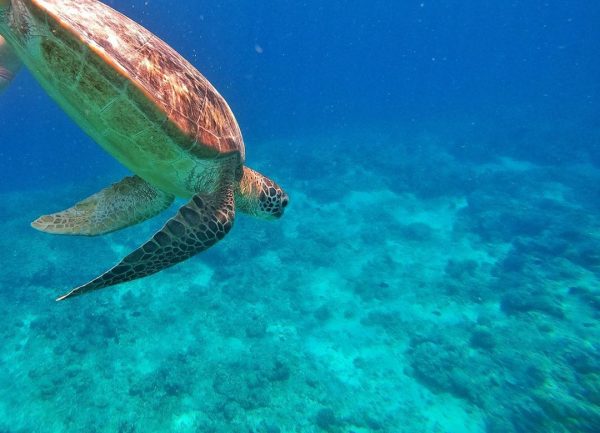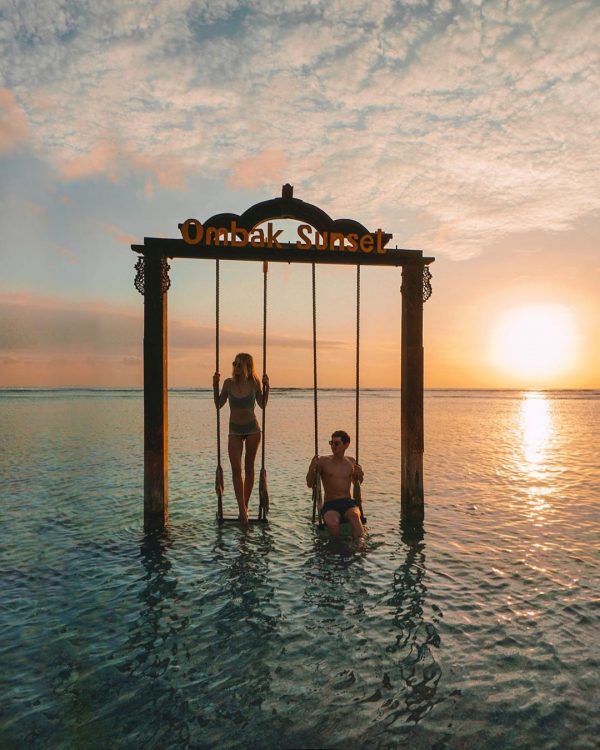 Gili Meno – The ultimate honeymoon island
Gili Meno is sandwiched between the Gili T and Gili Air and it is the most 'local' one – a great little island for romantic couples and honeymooners to take refuge, escaping everyone and everything for a little while. The island of Meno has got fabulous luxury resorts and honeymoon villas designed for lovers to enjoy privacy, completely undisturbed by the outside world. Mesmerizing ocean views, starry night skies, romantic dinners, flower baths, this island is all about love, romance, tranquillity and tropical bliss. No wonder it's also a popular choice for intimate beach weddings. Gili Meno is also a popular choice for families on a peaceful tropical getaway. The kids will love the turtle sanctuary on the island!
Things to do on Gili Meno
Fall in love all over 🙂
Swimming, snorkelling, diving
sunset dinner on the beach
sunrises to blow you away
exploring dessert beaches

Visit the turtle sanctuary and release baby turtles into the great open sea

See the stunning salt lake on the island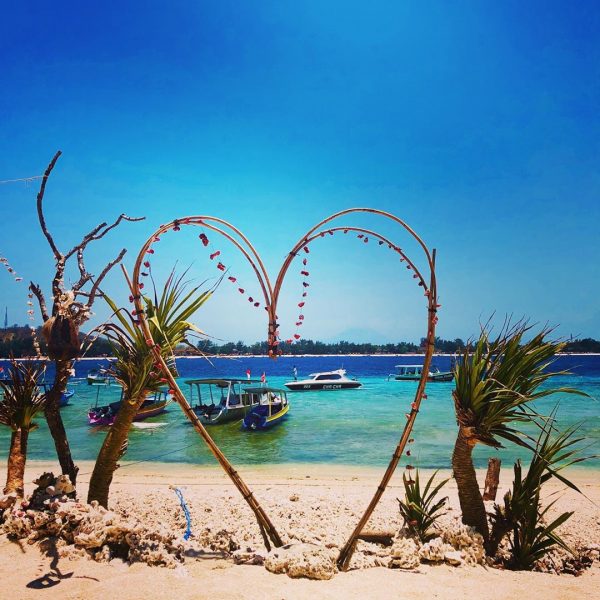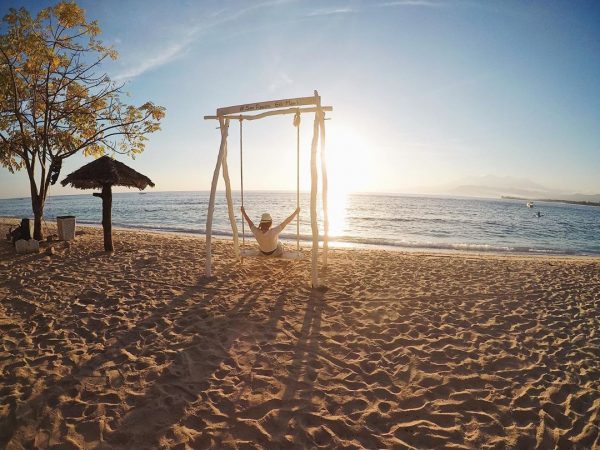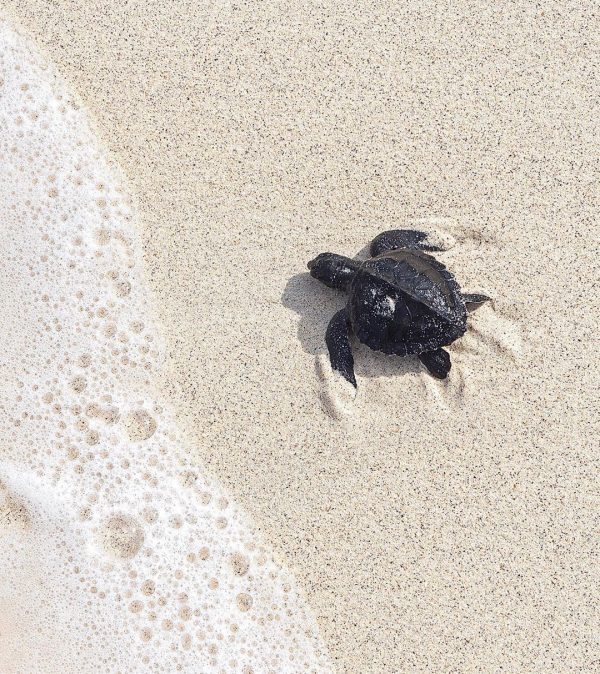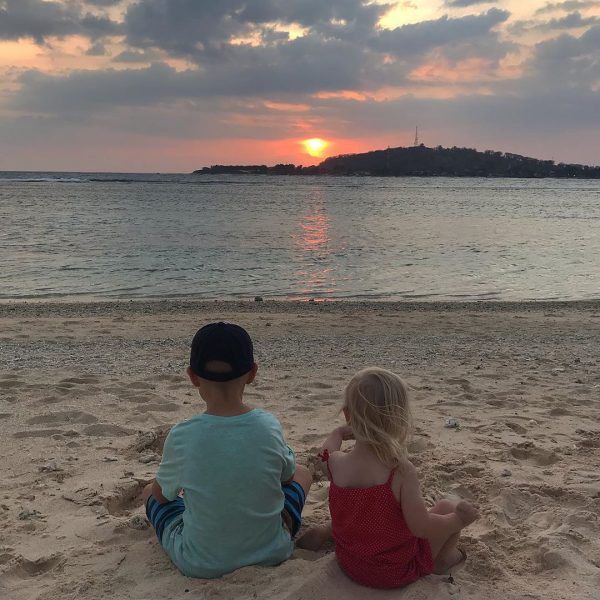 Gili Air – Yogis and Yoginis
Gili Air is the island closest to Lombok and it is perfectly tranquil and tropical. Did you come to the Gilis for yoga and meditation on the beach? You'll probably love Gili Air. Everything is even more relaxed and laid- back than Gili T and there are no all-night party scenes just some chill out live bands in the evening. Nothing too loud or lasting until after midnight. After all, we want to be up to catch the sunrise and do our daily sun salute! Snorkelling, diving, horse riding on the beach, it's all part of the Gili Air experience! 
Things to do on Gili Air
swimming, chilling out, snorkelling
diving
sunrise & sunset meditation

Yoga (on the beach!)

horse riding on the beach
Beachfront dining
bars with live music but nothing passed midnight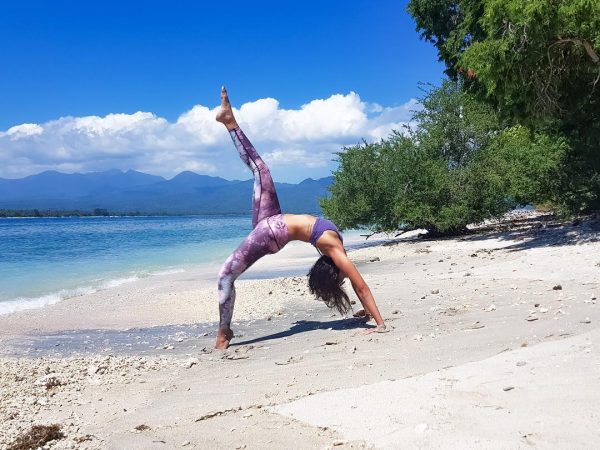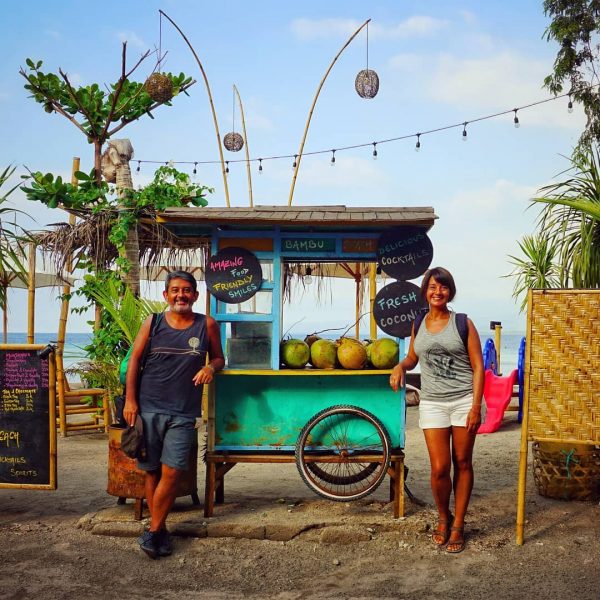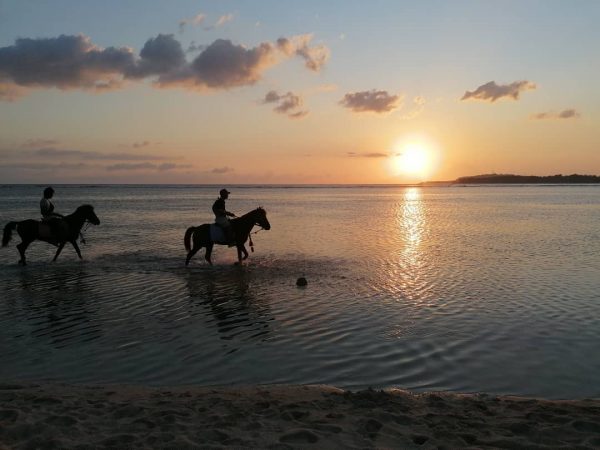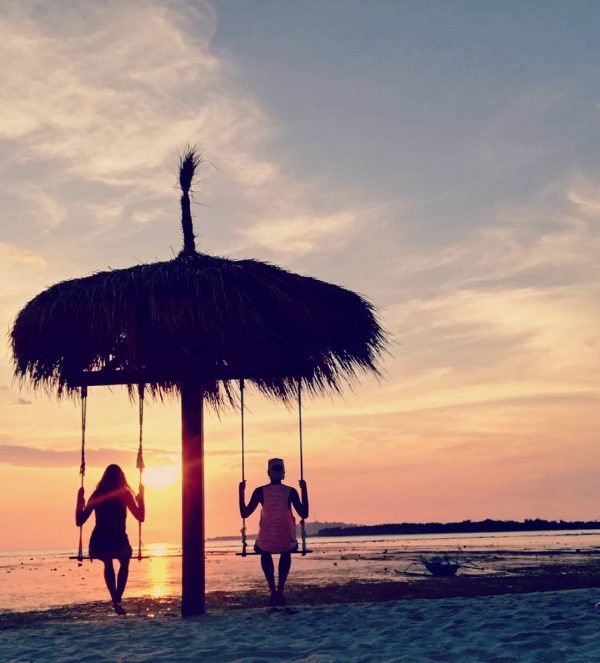 Getting there
There are 2 options: plane or boat.
You can fly to the international airport of Lombok from Bali (+-45 minutes) or even from Australia (there are direct flights from Sydney, Melbourne and Perth these days!). From there, you can drive to Bangsal Harbor (2 hours by car) to reach the Gili islands by boat in 10 minutes. 
The second option is to take the speed boat from Padang Bai, Amed or Sanur on the island of Bali. The crossing takes around 3 hours on average. Usually, a pick-up from your private villa in Bali is included when you buy tickets to the Gili Islands.
What to pack
As little as you can – you don't need much on a tropical island now do you?!
Sunblock, sunhat, sunglasses – pretty important stuff!)
Your bathers (not to forget!)
(Underwater) camera
Motion sickness pills (just in case you're taking the boat and the water is rough – you can thank us later)
Cash money (always handy in case the ATM machine doesn't work)
Where to stay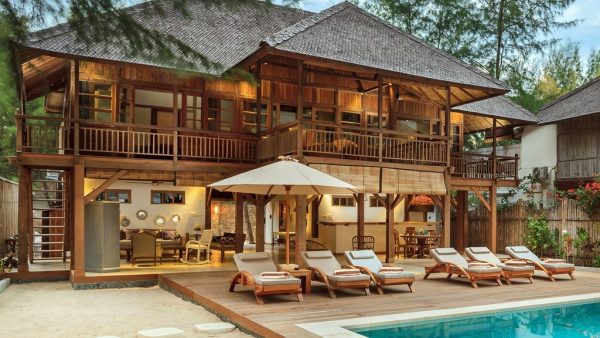 We love the Gilis just as much as we love Bali. We did our best to find the best, most tropical and wonderful villas on the Gili Islands and we are proud of the humble yet fabulous villa collection we have on offer! Sleep to the sounds of the sea, plunge into your private pool and live your tropical island dream at one of our Gili Islands Villas. You can see them here…
See you there?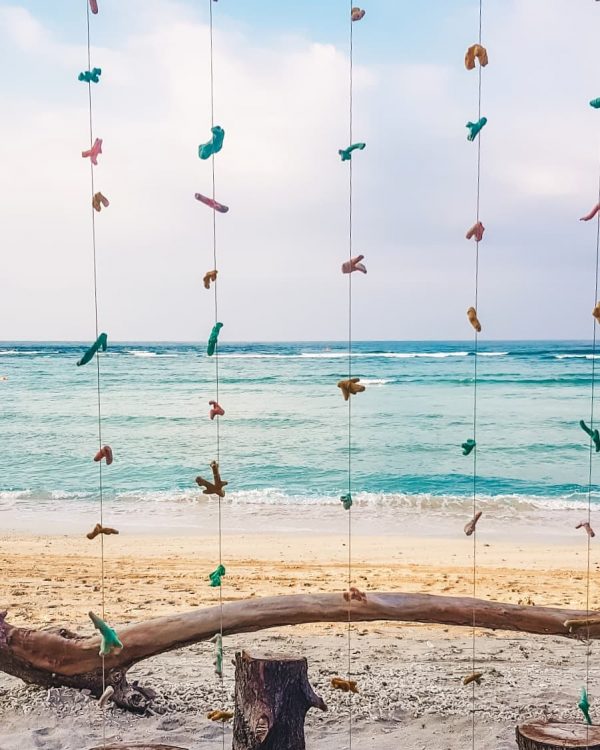 ---
See our villa collection in Bali & Lombok. Selected and inspected by Villa Finder
Please follow and like us: