Since 2012, our contribution in helping the global reforestation efforts started with a simple idea; for every villa booking made, we plant a tree.

Our founders envisioned a process where Villa Finder guests would contribute to a tree planting project that didn't involve any extra costs (to guests) and without lifting a finger. Enter ReforestAction and NGO Project Yagasu, Villa Finder's partners in the Mangrove Reforestation Project.
8 years and counting, we have worked with our partners to plant mangrove trees in Sumatra, Indonesia. To date, 6,800 trees have been planted and are slowly but surely taking root and reaching deep into the forest soil to help to restore healthy ecosystems. Over the years, our small forest has made an impact in:
Providing clean water
Replanting mangrove trees helps prevent saline water intrusion and keeps underground water sources remain clean and free of seawater. This is especially prevalent for coastal regions.
Protecting local communities
Deforestation is particularly harmful for islands and coastal areas; with a direct impact on ocean acidification and rising ocean temperatures, we wanted to support fishing communities by trying to reverse some of the effects of deforestation.
Reducing damage caused by natural disasters
According to a study by ecologist Finn Danielsen, areas with a significant number of mangrove trees were less affected by the 2004 Indian Ocean tsunami. We therefore replant trees to both reduce the impact of the energy and height of the waves.
Carbon sequestration capacity
It takes fifty square kilometres of natural forest to match a single square kilometre of mangroves in terms of carbon sequestration capacity.
Our recent visit to our Mangrove forest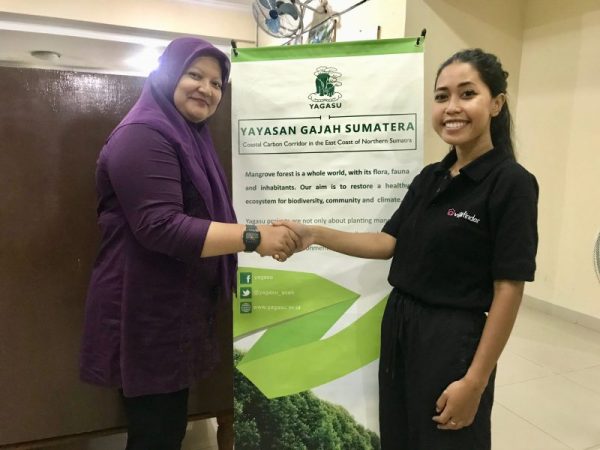 Late last year, one of our own ventured to Yagasu's forest land located north of Sumatra.
Deasy, one of our Travel Consultants wanted to see and learn for herself the nitty, gritty cycle of Mangrove tree planting. About 2 sweaty hours and mud-caked boots later, Deasy had done something none of us had- she had planted a tree and learned first-hand how a small propagule would grow into a fully mature Mangrove tree.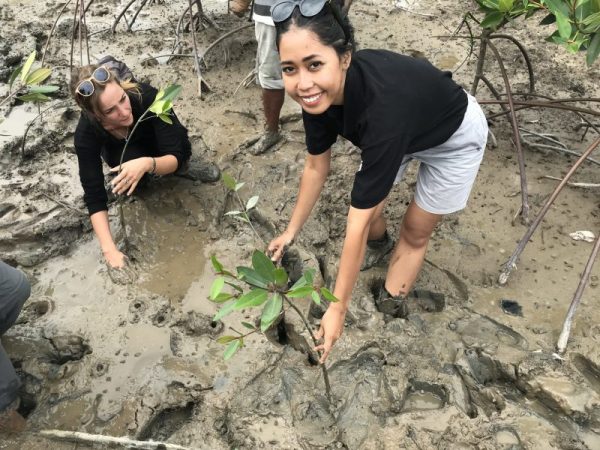 Some facts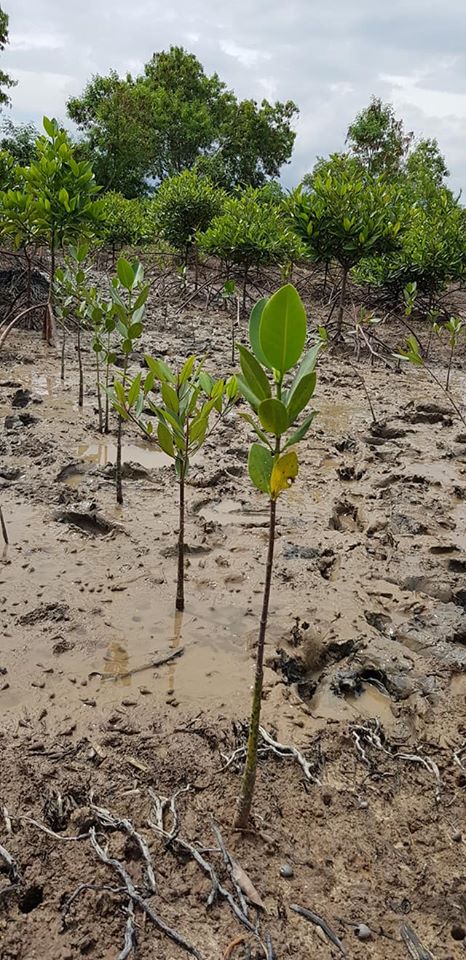 A mangrove tree may take up to three years to grow, by which point it is considered ready to bear fruits!
The distance between two propagules in the mud has to be 2 m apart
In order to breathe, a mangrove tree's roots send up spikes that rise into the air above the level of the mud. When the tide is out, these spikes exchange oxygen and expel carbon dioxide into the air.
By replanting mangrove trees, we're not only fighting against deforestation but also creating nurseries for many species of fish and coral reefs
After the Acheh tsunami claimed 220,000 lives, Yagasu started an intense sensitization campaign to educate communities about the importance of mangrove reforestation, with particular emphasis on how these plants can minimize damage caused by natural disasters
Sustaining a domino effect
Our mangrove forest may be made up of an impressive growing number of trees, but as with all long term projects, it is only made possible with the continuous support of a team responsible for planting the mangroves; locals have not only benefited from the creation of jobs at the plantation but have responded positively to the return of a wide variety of marine and terrestrial life that ultimately serve as nurseries for many coral reef and commercially important fish species.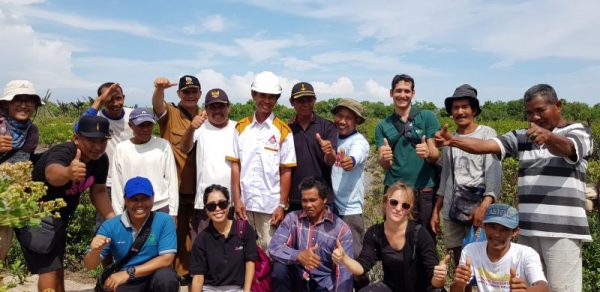 For the residents in Lubuk Kertang especially- who generally work as fishermen- the warning to fish within reasonable limits have been cautiously heeded as they become better at understanding the positive impact in protecting the ecosystems of mangrove forests and oceans, not only as their present food sources but also for the future benefit of their children as well as the earth.
A bird's eye view of the forest
Please follow and like us: