'Nyaman' means cozy or comfortable in Indonesian. Art just doesn't happen, you never know when the muse will strike. Therefore, artists needs to feel 'nyaman' and not racing against time in order to get their creative juices flowing. And French owner of Nyaman Gallery, Melvine Amar, embraces this idea when she opened the gallery back in 2015 on Valentine's day. Before arriving in Bali, Melvine managed exhibitions in France and New York, but she was never fond of all the pomp and ceremony surrounding these galleries. So when she opened Nyaman Gallery, she brought with it a clear sense of humility, a trait she shares with her artists. "The gallery is not commercial," says Melvine. "I want to allow artists to follow their inspiration". And the result is quite unique. Nyaman Gallery features an eclectic range of artworks, from street art and urban photography, to traditional sculptures, and enchanting glass works to homemade silver jewelries.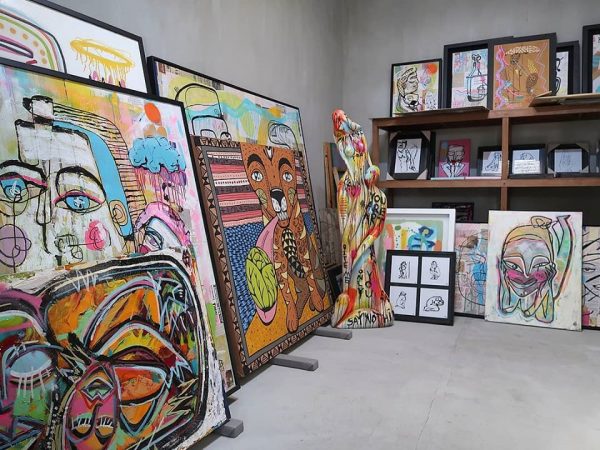 Among the featured artists is Sydney-bred YOKII, aka Craig Woodruff. YOKII was the first artist Melvin approached when she was still tossing around the idea of opening a Gallery. Many of his mixed media artworks are centered around Balinese faces.
Jakarta-raised Bianca Timmerman, aka Bunny Bone, studied fashion in Jakarta before moving to Bali. Her work is overtly flirty and feminine with a hint of strangeness.
After designing accessories and handbags for over 10 years, Sabbatha has recently taken up origami. Sabbatha's intricate 3D origami folded papers combine rich colors and patterns. The pieces are both playful and mathematical.
Stephane Sensey's love of photography started when he was 18, inspired by photographers such as Helmut Newton, Jean Dieuzaide and Sebastiao Salgado. His black and white portraits capture the beauty and strength of the indigenous Dani tribe of the Baliem Valley in Papua.
Location: Jl. Raya Basangkasa No.88, Seminyak, Bali
Hours: Daily 9:00am – 9:00pm
Contact: +62 361 736226
Please follow and like us: