Sometimes, it's pure bliss to sleep in and wake up without an alarm clock. Then, spend a moment or two in silence to appreciate life and everything around you. Take it slow and start your day completely relaxed. Well, at least that's how your life is when you are at our Bali villas. And when you are ready to head out, it's almost brrrrrunch time! Bali has some AMAZING places to fill your stomach, you just need to know where to look. The following cafes are some of our favourites for the best brunch in Bali!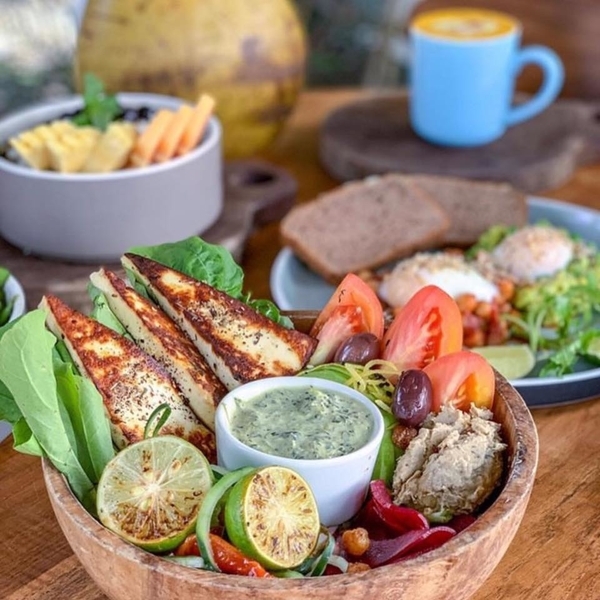 Pay a visit to the Shady shack and you will find yourself sitting nestled amongst palms overlooking Canggu's beautiful rice-fields as you eat. The fantastic jungle feel is only enhanced by the mouth-watering, vegetarian menu. Expect a number of vegetarian, vegan and raw-food options, start your meal with a turmeric shot, followed by one of the cafes AH-MAZING smoothie options.  Then, move onto one of the many delicious options on the menu – my favourite? The Nori Bowl which contains veggie nori rolls, shitake mushrooms, pickled ginger, edamame, snowpeas, wakame, gresh greens and cucumber with miso dressing and Japanese fried rice!
Villa Finder's recommendation: The Nori Bowl – yum!
Location: Jalan Tanah Barak no. 57, Canggu, Bali
Open: 7.30am – 11pm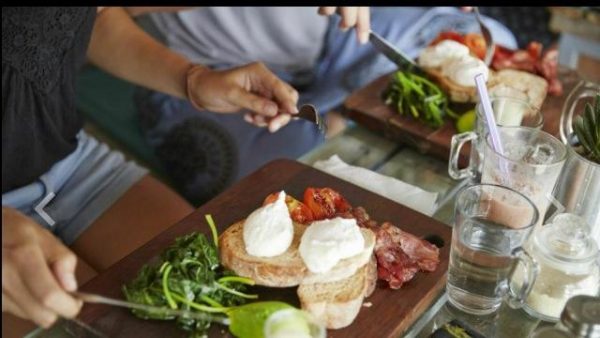 Crate is a trendy, concrete-style warehouse turned café operated by the owners of Pretty Poison (one of Canggu's incredible bars). At one end of the 'shed' you'll find an awesome little clothing store run by the owner's kids (Crate Concept Store), the middle, stylish couches to lounge, eat and socialize and the far side, some more tables and the counter. The huge menu is written up on the wall in rustic paint and just about EVERYTHING is 50,000Rp! It's definitely my 'go-to' for a hangover cure. Don't be mistaken by it's size though, this place fills up… and fast! Get in early to avoid the lines!
Villa Finder's recommendation: The Veto or the Melville!
Location: Jalan Padang Linjong, Canggu, Bali
Open: 6am – 5pm
Check out our Canggu villas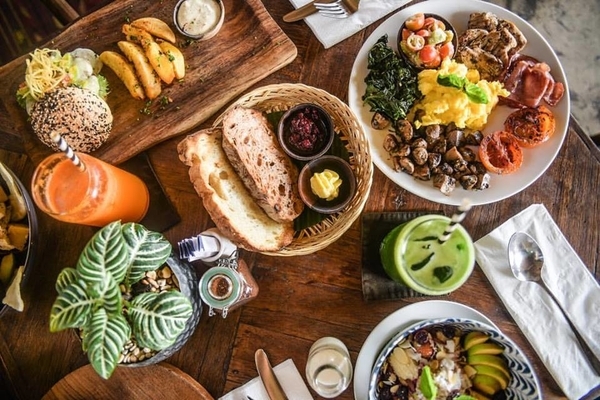 At first glance, Shelter café looks like a small smoothie bowl stall – however, make your way up the stairs and you are greeted with a bustling café filled with wooden furnishings, painted walls and plants and palms in every direction – a veritable jungle! Every item on the menu at Shelter will make your mouth water. Picture purple chia bowls, pulled pork buns, Mediterranean dips, Vietnamese rice paper rolls… the list goes on. Downstairs you will find Nalu bowls – a separate organization that runs in conjunction with Shelter. Nalu has absolutely nailed the smoothie bowl, both delicious and Instagram-worthy!
Villa Finder's recommendation: The smashed avocado with poached eggs.
Location: Jalan Drupadi no. 2A, Seminyak, Bali
Open: 7.30am – 6pm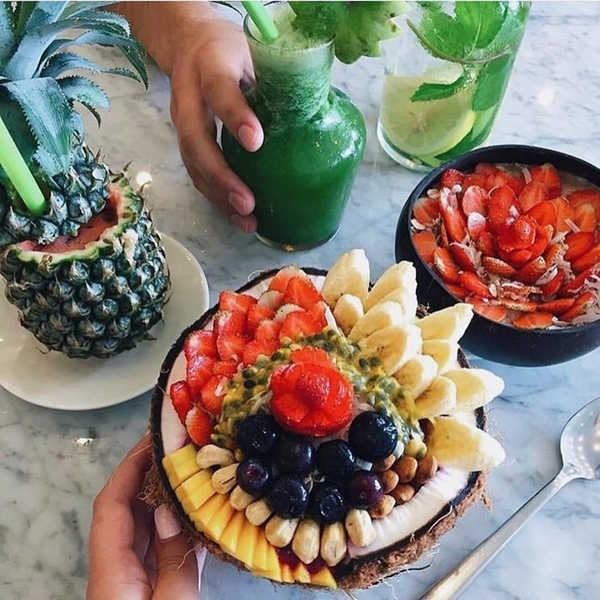 Café Organic is EXACTLY what I'd like my house to look like (and my cooking to taste like)! The gorgeous minimalist interiors make dining at this café a treat. Café Organic is definitely my go-to when I'm feeling a little bit like a taste of home.  It's also a fantastic café to work from or have a meeting at with good air-conditioning, comfortable seating and good coffee.
Villa Finder's recommendation: Nagga Dragon (Dragonfruit smoothie bowl!)
Location Seminyak: Jalan Petitenget no. 99X, Seminyak, Bali
Location Canggu:  Jalan Pantai Batu Bolong no .58, Canggu, Bali
Open: 7am – 10pm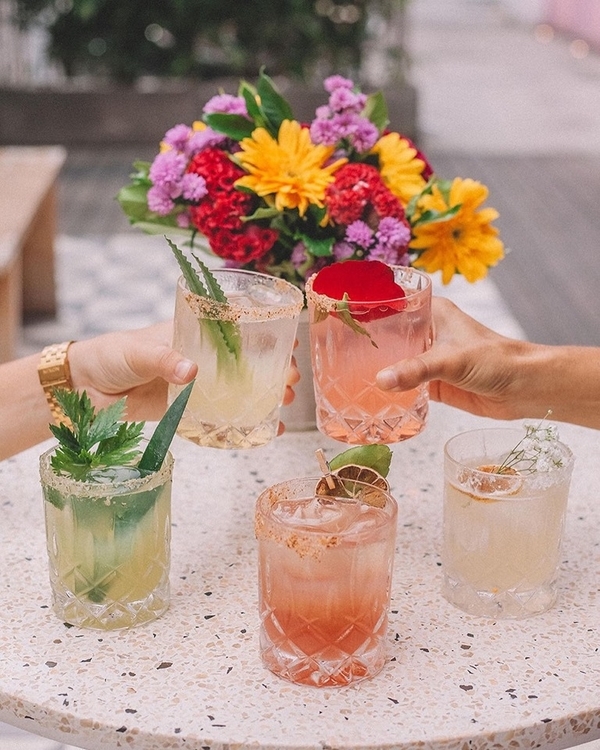 Similar to Café Organic, Kynd Community has awesome food and interiors.
With an entirely vegan menu, you will be shown by the amazing team at Kynd just how good a plant-based diet can be! The entire ethos and vibe of Kynd are one to be admired. If you're a little bit sick of the Indonesian deep fried-style everything, this is definitely the place to come! Oh, and you'll get a great Instagram shot in front of the Kynd wall! Found this little excerpt on their website that nails them down to a tee:
"We are your morning coffee ritual. We are your mid-day juice & smoothie hang out. We are your go-to healthy salad bar. We are your post work out pit stop. We are your sneaky afternoon treat & throughout all of this – we are kynd." 
Villa Finder's recommendation: The Kynd Crumble
Location: Jalan Petitenget no. 12X, Kerobokan, Bali
Open: 6am – 5pm
Related: Bali Best Cafes: Places to fix that morning coffee in Bali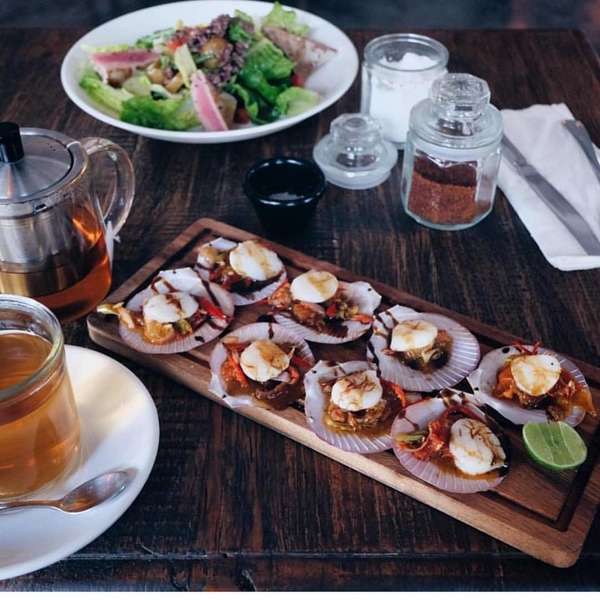 The corner house is the ultimate work-and-eat café perfect for your brunch in Bali. It is a huge space with both upstairs and downstairs seating options and is open for breakfast, lunch and dinner. The staff are all very friendly and the coffee is fantastic (coming from a Melbourne coffee drinker). My tip: Get there at around 7.30am for a coconut milk latte just as they have finished making the fresh coconut milk! De-lish!
Villa Finder's recommendation: Eggs benedict with bacon and a coconut milk latte.
Location: Jalan Kaya Ayu no.10A, Seminyak, Bali
Open: 7am – 11pm
Check out our Seminyak villas!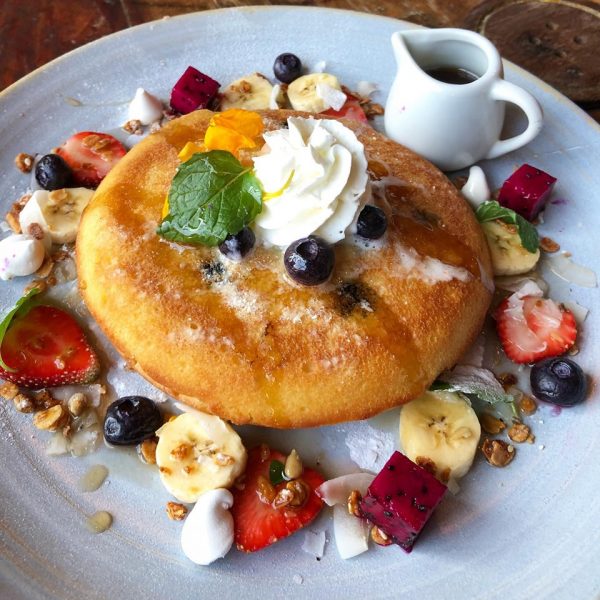 Located in the heart of Seminyak, Dusty café is my little go-to, my local and my ol' faithful. Whilst it's not filled with famous bloggers and the interiors and a little quirky, Dusty Café is great for those wanting a yummy, reasonably priced meal in a good location and extremely friendly and efficient staff! It's never too full meaning to food is fast and you can often nab one of the comfy couches at the front of the café to do some people watching while you eat.
Villa Finder's recommendation: The Machine (burger)
Location: Jalan Camplung Tanduk no.4, Seminyak, Bali
Open: 9am – 10.30pm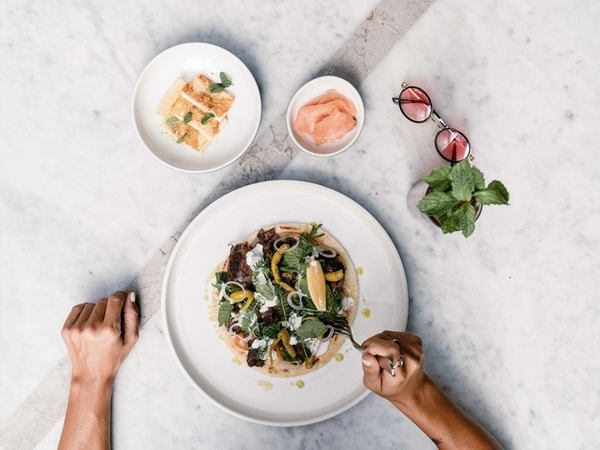 Sisterfields is a bustling café with an awesome menu and even better coffee. The interiors will be sure to amaze, fitted out by an award-winning Melbourne based design firm. All the sauces, ice-cream, nut milk, and preserves are made from scratch in-house and the staff even prepare their own buttermilk, ricotta and cultured butter from the milk that is delivered fresh daily. Make sure you get in early on your visit to Sisterfields 'cause this home away from home is BUSY!
Villa Finder's recommendation: Pulled Pork Charcoal Roll
Location: Jalan Kayu Cendana no. 7, Seminyak, Bali
Open: 7am – 10pm
Please follow and like us: