Hakuba is spread out; the ski resorts and facilities aren't located or easily accessible by walking, and there isn't a main gondola where you can base yourself at. Getting around the village requires some planning, if you don't want to spend ages waiting for the shuttle bus or a ride during the winter months. Here's where our Hakuba transport guide comes into the picture. We'll provide an overview of the different transport options for getting around Hakuba, along with links to the shuttle service timetables and route details.
Taxi
We recommend making bookings in advance, particularly if you're travelling during the peak season. Tip: opt for restaurants that run their own shuttles so that access won't be an issue.
Taxi companies in Hakuba:
Alps Taxi – p. +81 261-72-2221.
Hakuba Kanko Taxi – p. +81 261-72-2144.
Omachi Meitetsu Taxi – p. +81 261-72-2236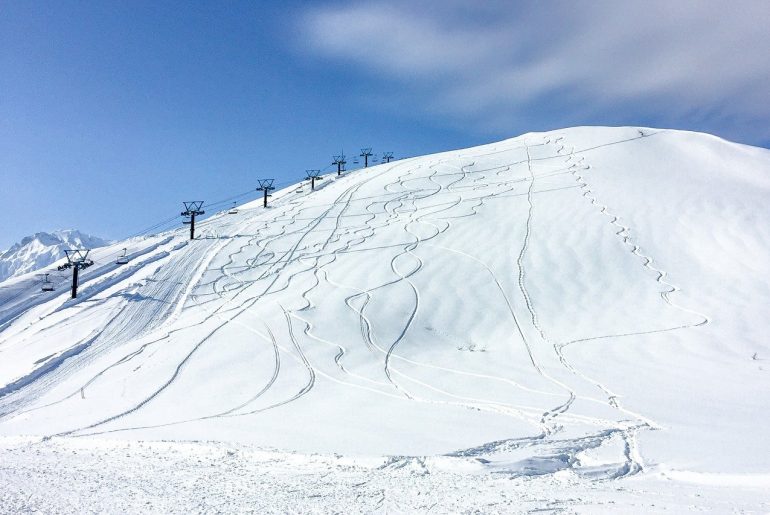 Car rental
If you're travelling with family or a large group, or are staying away from the shuttle bus routes, renting a car will be your best option for getting around in Hakuba. We recommend booking well ahead in advance, as the car rental companies may not have sufficient cars to go around – particularly during the peak season. Tip: Make sure to check your car rental insurance for a stress-free holiday in Japan.
Planning for a full day of skiing? You'll need to rent your car a day earlier, as it's unlikely that you'll be able to get the car in time to get the first lifts of the morning.
Car rental companies in Hakuba:
Shuttle bus service
The Hakuba Valley Shuttle Bus connects all of the resorts in the Hakuba Valley group. It runs along four different routes: Alpen Resort Line, Sanosaka Escal Plaza Iimori 47 Line, Omachi Line and Konayuki Line. Rides are priced at ¥500 for adults and ¥250 for kids aged six and above. The rides are free for passengers with a valid Hakuba Valley lift ticket.
Genki Go Bus
The Genki Go night shuttle bus is a cheap and convenient way of transportation during the evenings. It runs during the winter season, and typically starts operating from late December till end-February or March (do check the timetable for the exact dates). Fares are priced at ¥300 per ride, although rides are free for children under six years old. Tip: make sure you hand over the exact amount, as change won't be provided.
Related:
Check out our Hakuba ski chalets
Please follow and like us: