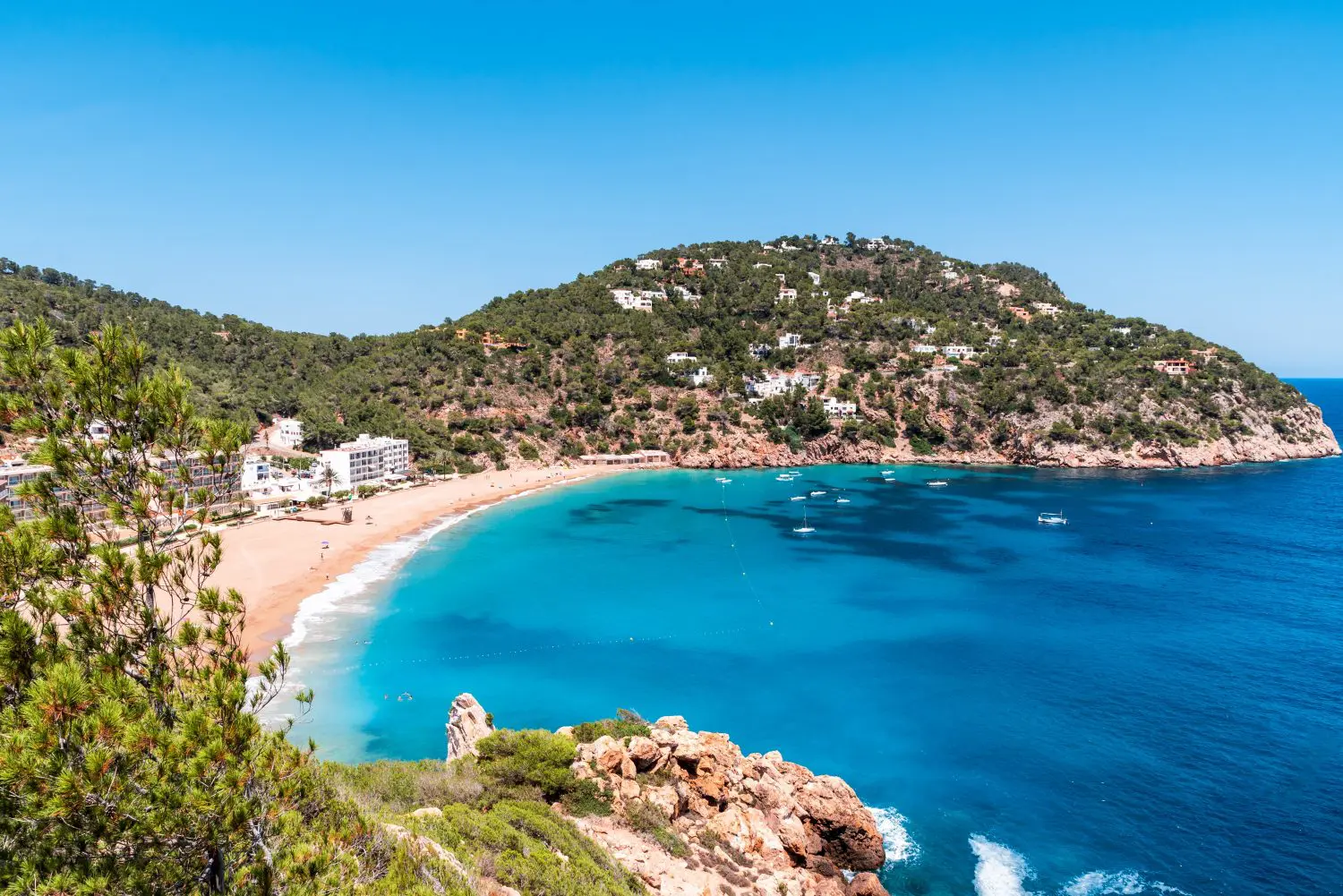 Why not take the kids to Ibiza this year for a wonderful and unforgettable family holiday? This beautiful Balearic island of Spain is a great family destination. For those of you who thought Ibiza is just for partying, you're forgiven, but you're wrong! Yes, if you want to you can party hard at epic, world-famous beach clubs but that is just one small part of this fantastic island. There are also beautiful, tranquil beaches, hiking trails and fun activities for young and old. This blog is all about holidaying on Ibiza Island with the family. Keep reading if you're planning a holiday with kids to Ibiza.
Getting to Ibiza
There are 2 ways to reach the island, either by plane or by boat. The airport in Ibiza is located just 7 km southwest of the capital city La Palma and it is well-connected to most cities in Europe. You can also take the ferry from the mainland of Spain. The ferry leaves either from Denia (2-3 hours) or Valencia (5-7 hours).
Best Way to Get Around Ibiza
The easiest way of getting around in Ibiza is by car or Vespa. You can rent one and just drive, free like a bird. However, the island also has a great public bus system. Buses go frequently and it's inexpensive to travel by bus. Another is to make use of taxi services. There are metered taxis you can recognize by the green/red light on top of the car.
Best time to go to Ibiza
If you love beaches and swimming, the best time to go is in the summertime. You may want to skip the peak season and visit in early June or September but most families are tied to school holidays. Not to worry, those busy months in the summer, July and August, are also wonderful. Expect hot temperatures of around 30 degrees and high humidity. May and October are perfect for sightseeing with a pleasant temperature of around 25 degrees. Ibiza is also a really nice destination during the winter. Although some restaurants and clubs are closed, the island is beautiful, it's not too cold at all and there are fewer tourists.
Things to do: Ibiza for Families
The island is full of natural beauty and lots of entertainment for all ages. Here's what we recommend doing on your Ibiza Family Holiday:
1. Beach fun with the family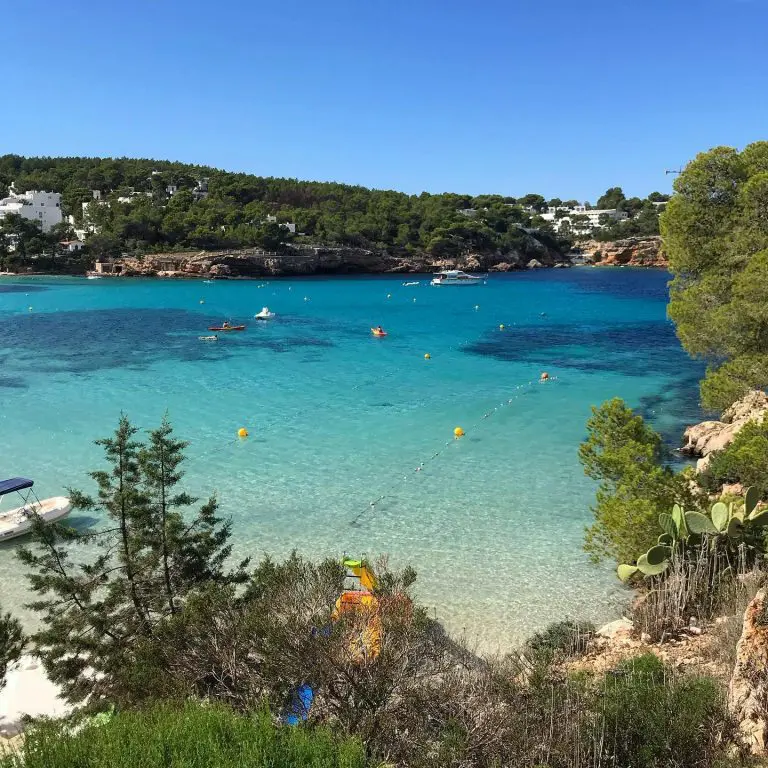 What more do you need than sand, sun and sea? There are many perfect family beaches on the island. We love Santa Eulalia with her shallow water and lively promenade. Portinax is also a popular destination for families with calm turquoise waters and beachfront dining places. Talamanca is the closest beach to the sprawling city La Palma and it's perfectly family-friendly. Las Salinas is one of the most famous beaches in Ibiza and there are lots of fun watersports you can do. Cala Llonga is very lovable with a wide stretch of sand, perfect shallow water and watersport activities. Cala Llenga is a quieter beach nearby shaded by pine trees. Perfect for waterside picnics and beach volleyball. Lots of options!
2. Get your adrenaline pumping at Acrobosc Adventure Park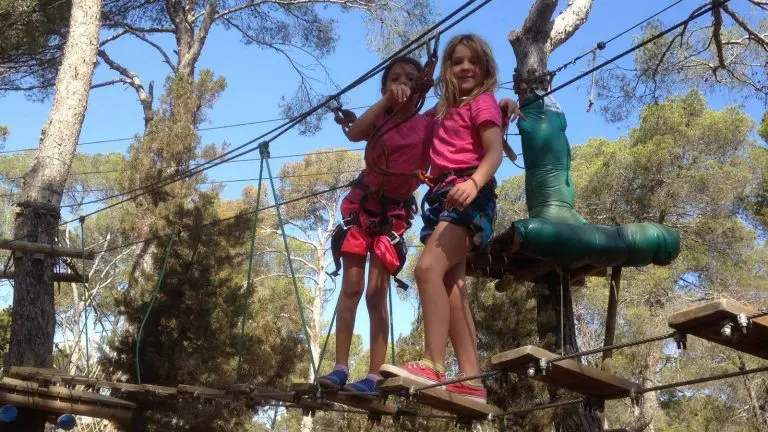 Overcome fears and do awesome things at Acrobosc Adventure Park. There are 3 circuits available for kids 3 years old and above. Which circuit you can take depends on your age and your height. The adventure park has 39 platforms ranging from 2 to 6 metres high. There are 49 obstacles and lots of trampolines and zip lines. Families can easily spend 2-3 hours here. It's extremely fun!
3. Experience Ibiza on horseback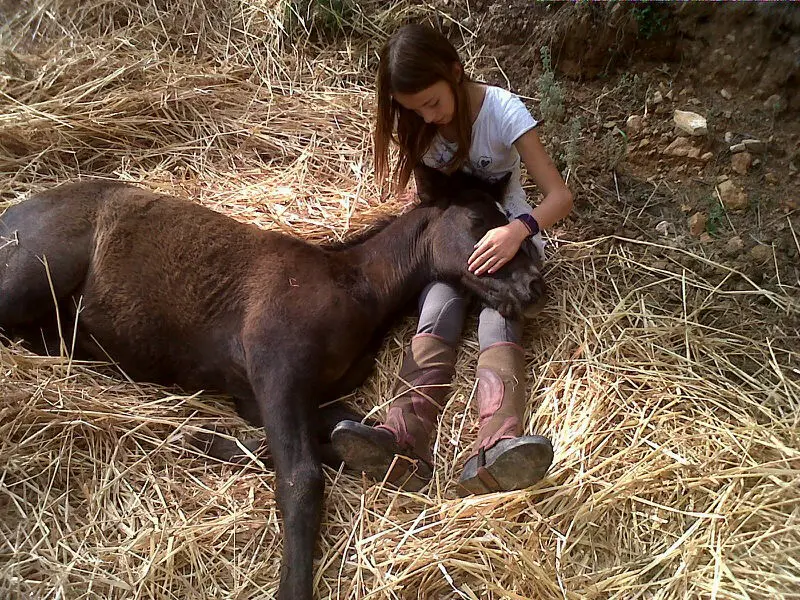 If your kids are above 14 years old, why not take them horse riding in the wild through the beautiful nature Ibiza has to offer. Ibiza Horse Valley is located in the north of the island and you can go on fun trips to see forests, mountains and beaches. Ibiza Horse Valley started out as a rehabilitation centre for abandoned and mistreated horses. Now it is a true sanctuary for horses, parents and kids.
4. Take a boatride to the island of Formentera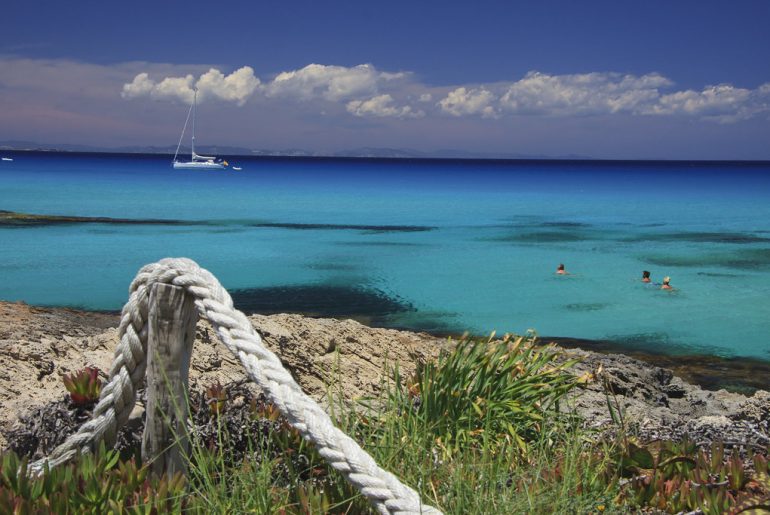 Formentera is the smallest of the Balearic Islands in Spain. A short ferry ride from Ibiza will take you there. Not only is the island stunning and peaceful, but it's easy to get there with ferries departing every hour from the port in Ibiza. Once on the island, you can go swimming at stunning beaches with waters as clear as in the tropics. You can go hiking or biking around the coastline and you can see the lighthouse. It's a perfect day trip from Ibiza!
5. Waterparks!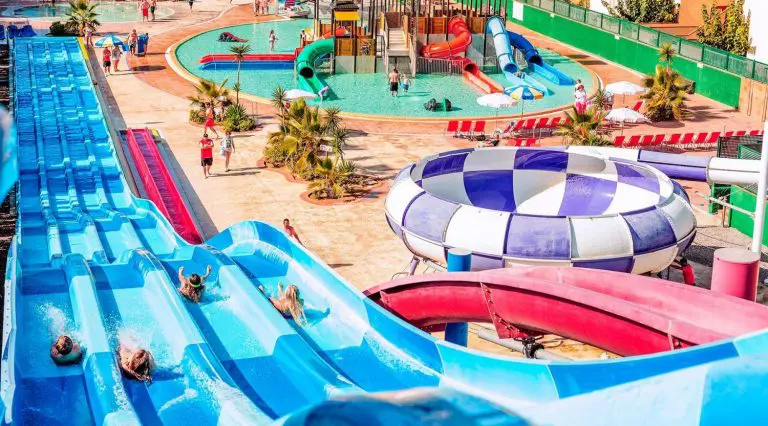 Spending the day at one of Ibiza's waterparks is a must! Waterparks guarantee hours of family fun with waterslides and multiple pools for kids and adults. The little ones will be super excited and partens can unleash their inner child. The biggest and most famous waterpark in Ibiza is Aguamar located in Playa den Bossa. There are waterslides and pools for kids of all ages and the picnic area is lovely with dedicated picnic tables shaded by pine trees. Sirenis Aquagames in Port des Torrent is the best choice if you are travelling with young kids. Happy splashing!
6. Adventure awaits with a Jeep safari in Ibiza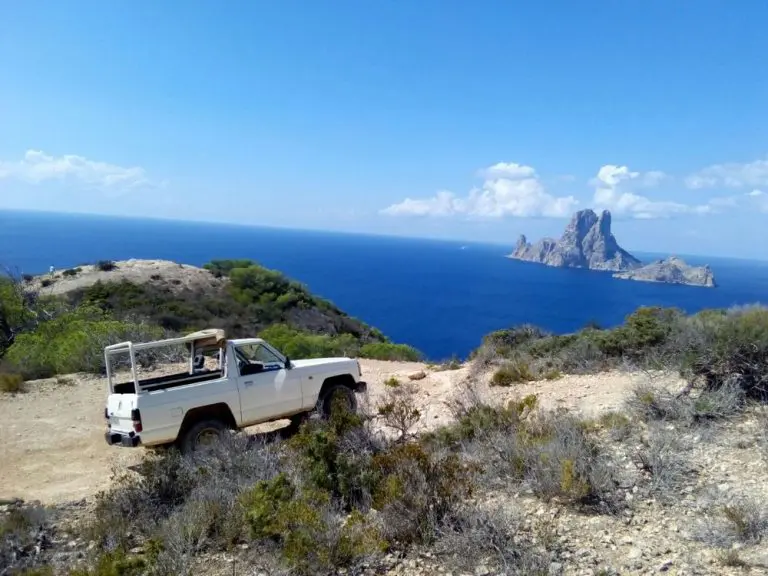 Spot birds and wildlife on a jeep safari in Ibiza. The jeep will take you to explore remote and rough areas in the north. Places you would otherwise never get to see as they are inaccessible by car. You will also discover hidden beaches and stop at amazing viewpoints. You will be picked up at your private villa in the morning for this lovely day trip in the north. Lunch is usually included. Do note, kids must be over 6 years old to partake in this little island adventure. It's a wonderful experience!
7. Las Dalias Hippy Market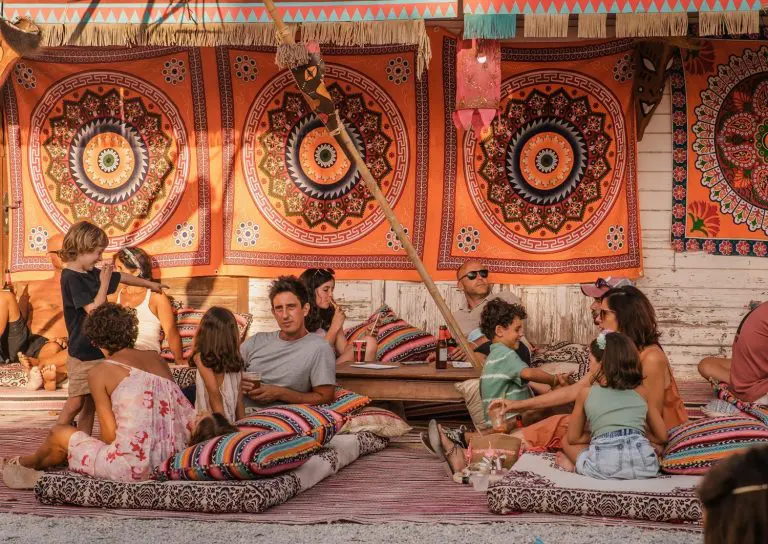 Las Dalias Market is a lively place where you can the family can go hunting for island treasures. Beautiful fabrics, jewellery, musical instruments and so much more. Strolling around the popular Saturday market or an evening market is fun for everyone. The ambience is relaxed and peaceful and on Saturdays, there are activities for kids such as dancing, music and face painting. It's a market bursting with colours, liveliness and exotic smells. A great place to meet people and you get to try delicious local food, too.
8. Yoga with the kids at PranaSol
If you came to Ibiza to relax and dive into the local yoga & healthy lifestyle scene, you may want to visit PranaSol. You can just bring the kids along. PranaSol offers not only yoga for kids but also for mother and baby. There are yoga classes especially for families and there is Kids' Aqua Yoga. How fun!
9. Visit the aquarium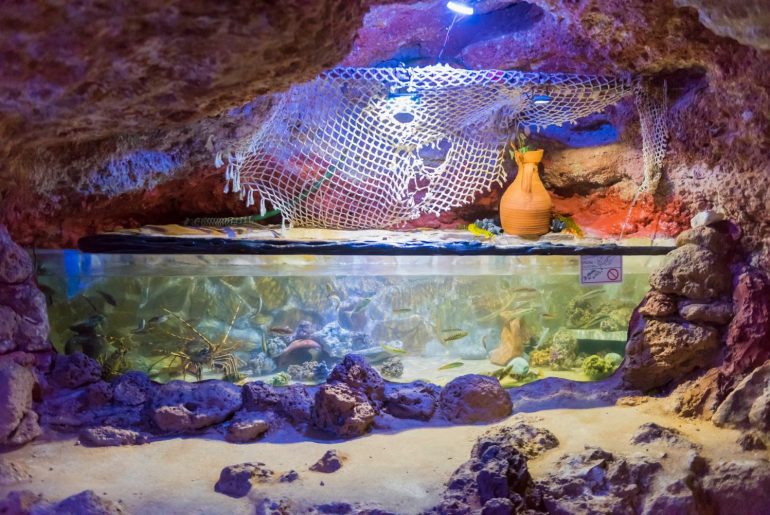 This is a very special aquarium as it is located inside a natural cave. It is also known as 'the lobster cave' as it used to be a nursery for lobsters. Kids can spot cool Mediterranean marine life such as lobsters, octopuses, turtles and exotic fishes and learn more about them. The cafe features wonderful sea views for a lovely little break after a visit to this natural cave aquarium. This fun family attraction is located in San Antonio.
10. Fun workshops for the little ones at Minibiza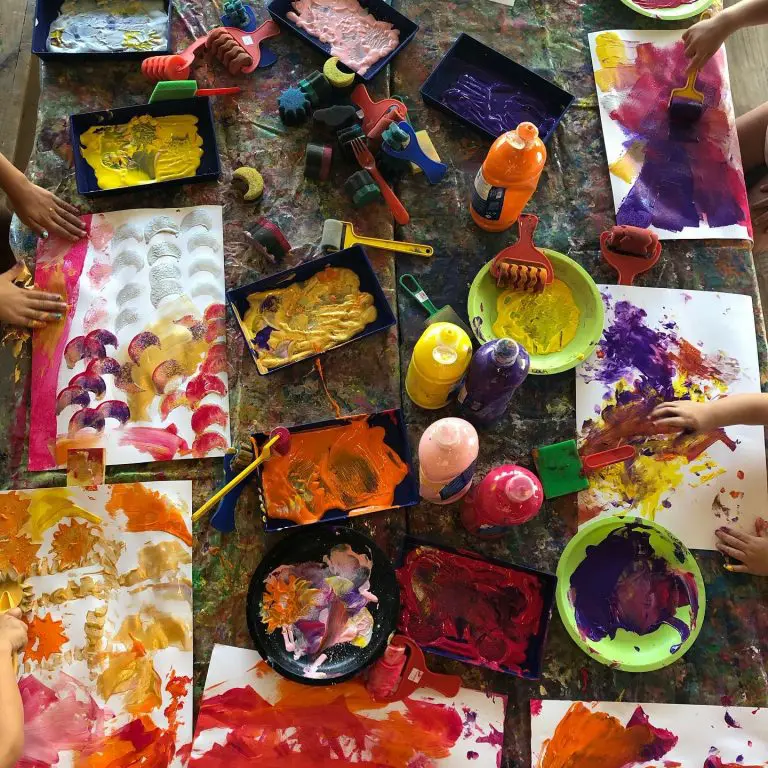 If you need a couple of hours to spend alone or with your loved one, Minibiza is where your kids will have a fantastic time. Not only does Minibiza offers loving babysitting services but there are also lots of workshops for them to part in. Cooking classes, art, gardening, yoga, you name it. Kids from 0 to 12 years old are welcome and you can also join workshops with the whole family. Minibiza is run by two moms. There are indoor playrooms and there is a big garden where kids can play and partake in workshops and activities.
11. Kayaking with the family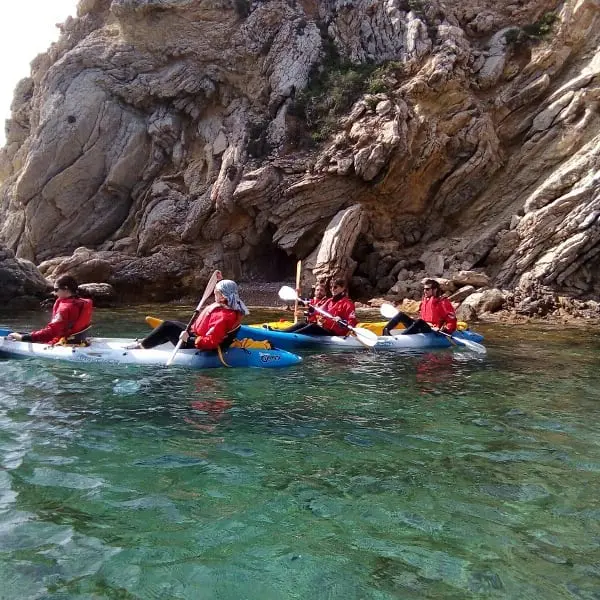 Beach fun, waterparks, boat trips – lots of activities are involving water in Ibiza. Sea kayaking should be on your list of water activities! It is so much fun and you get to see beautiful places. Make it a day trip and combine it with snorkelling!
Where to stay in Ibiza?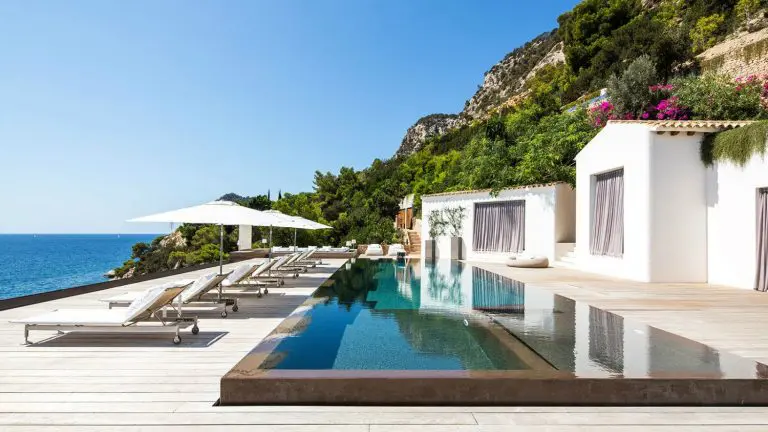 There are some beautiful private family villas on the island. Whether you want to stay near Palma, in San Antonio or in the north of the island or perhaps a mix of two areas, we have villas everywhere and we can help you to make a customized plan for your upcoming Ibiza Family Holiday. Scroll around on our website or contact us directly. We are happy to give personal advice.
HAPPY HOLIDAYS!
Related articles:
Please follow and like us: