Family vacations can go very, very wrong. With little ones in tow, you have a lot more to plan for, and a lot more to consider. And with all that planning, things may go astray as well, as you may read later in this article. We've reached out to the best people to share about family travel tips – moms who travel frequently with their children. Join us for a little bit of giggle, some "awww" moments and a lot of good vibes when they share about the best tips for travelling with kids and memorable experiences!
Top family travel tips from moms who travel
1. Don't be put off by travelling – Karen from Missing Sleep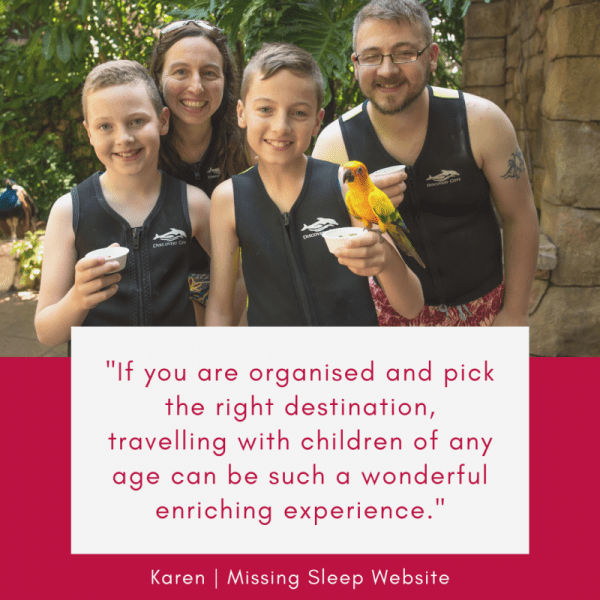 "I would say my top family travel tip is not to be put off travelling. When our kids are little it's tempting to delay travelling because you worry how difficult it might be on the plane. The thought of dealing with the tantrums or juggling their sleep routines might be a concern. But if you are organised and pick the right destination, travelling with children of any age can be such a wonderful enriching experience. Broaden their horizons and travel from when they are tiny."
A memorable experience: "When we were in Discovery Cove in Orlando this year, my husband had a laughing kookaburra land on his shoulder. The bird only lands on the people it really likes, which I thought was a nice compliment! But it was a funny experience because then a member of staff said for him to keep his mouth closed! Otherwise, he could have ended up being fed the mouse he was carrying! My poor husband's face and we were all just laughing hysterically."
Our favourite article on the blog: her family experience in Orlando
2. Research, plan and prepare – Colette from Going On An Adventure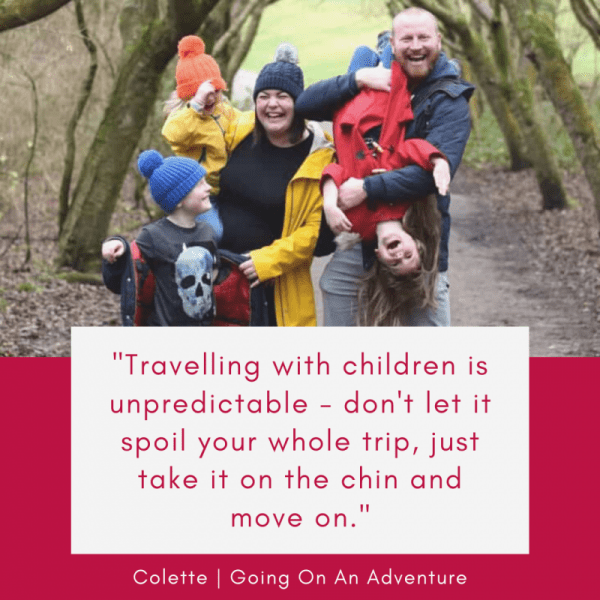 "The most important thing to remember when you are travelling as a family is to research, plan and prepare – but then to also be flexible when things go wrong and don't let it ruin your trip! Travelling with children is unpredictable, things take longer than you expected, kids get poorly or overtired and days out don't go as you'd hoped – don't let it spoil your whole trip, just take it on the chin and move on."
Bonus tip: Start researching for the trip as early as possible. You don't want to wait until the last minute and figure out there are more things you need to prepare, like who will take care of the plants and feed the pets when you are overseas.
A memorable experience: "We had a bit of a nightmare when we arrived in Tenerife a few years ago – it was the first time we'd flown as a family and the kids were understandably really excited. When we landed in Tenerife (quite late at night) and went to get our transfer, we weren't on the list. It took ages to get everything sorted and eventually the rep put us in a taxi – to the wrong hotel. We didn't realise we were at the wrong hotel till we had waited to check in for half an hour. By this time it's after midnight and we were all exhausted. Eventually, we got to our hotel, checked in and went straight to bed. The kids were absolute heroes through it all but it just proves the need to be flexible and relaxed when things don't go to plan – just make it all part of the adventure!"
Our favourite article on the blog: How to sneak reading into your child's day
3. Get the kids involved in the planning – Rebecca from All About U Blog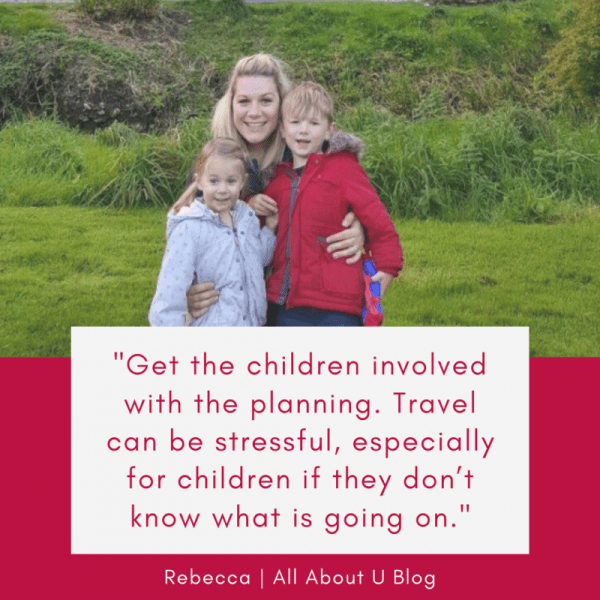 "Get the children involved with the planning. Travel can be stressful, especially for children if they don't know what is going on. Go get them involved, and keep talking about what will happen at the airport, where you're staying, what you'll do tomorrow, etc."
Bonus tip: Role play different scenarios so the kids have an idea of what to do if they are separated from you. Write your name & contact info on a card and make sure the kids know where to find it.
A memorable experience: "We once missed our flight back from Thailand, because it was scheduled for just after midnight. We thought we left on Friday, but it was actually the Thursday. Calling to rearrange and not get the bulk-head seats on a long haul trip was hard with little ones!"
Our favourite article on the blog: Their family trip to Cornwall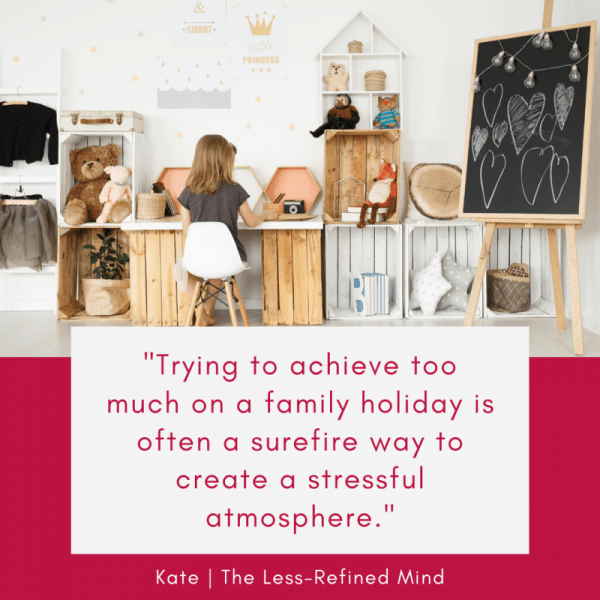 "My top tip is to keep it simple. Trying to achieve too much on a family holiday is often a surefire way to create a stressful atmosphere. In my experience, it's best to be flexible and build in lots of downtimes, especially when children are still quite young.
Speaking of which, a big margin for error is helpful too, for situations like a 5-hour traffic jam! It wasn't fun, but thankfully we'd planned ahead and were able to keep the children entertained with games and snacks."
Our favourite article on the blog: Kate's letter to her daughter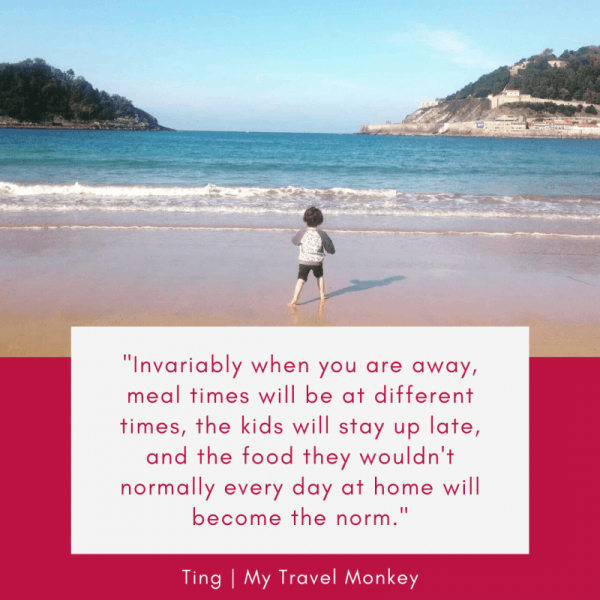 "Having travelled extensively with my young sons, I've learned many things, including you can never have enough snacks! However, if there was one piece of advice I would give to any parents who are worried about travelling with kids, whatever age, then it is to be flexible. If you try to stick to rigid routines then it will be stressful. Invariably when you are away, meal times will be at different times, the kids will stay up late, and the food they wouldn't normally every day at home will become the norm. Go with it, everyone will be much more relaxed and you can always get back to the rule book when you get home."
A memorable experience: "I do remember feeling rather bad for the kids when we went on safari in South Africa. It was blistering sunshine when we got in our trucks for a three-hour game drive. Dressed in shorts and t-shirts we soon realised that under the canopy of the shade and the wind that was blowing in as we sped around, we were underdressed. At one point we were all shivering and the driver had to make a stop and get us blankets!"
Our favourite article on the blog: Their holiday in Hua Hin
6. Accept things outside of your control – Francesca from The Working Mom's Travels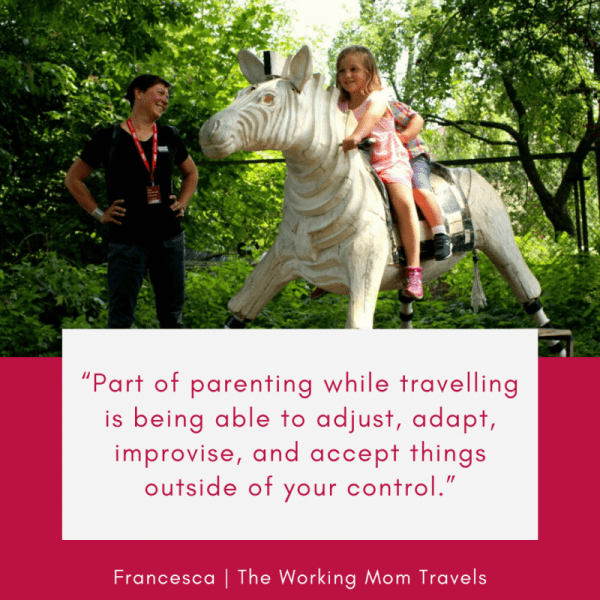 "Leave wiggle room for toddler meltdowns (or teenage mood swings), bad weather, delays, etc. Just like at home, part of parenting while travelling is being able to adjust, adapt, improvise, and accept things outside of your control."
A memorable experience: "A few years ago, we were due to fly from Vilnius, Lithuania, to Warsaw, Poland, to connect with a flight home to Chicago. LOT Polish Airlines cancelled our flight from Vilnius (for no apparent reason), so we missed our connecting flight home from Warsaw. My kids were 3 and 7 at the time. We were stuck in the Vilnius airport for about 7 hours. If you've never been to that airport, it's small and there's not a lot to do. But my kids were superstars! They were calm and well-behaved with their dad while I waited in line after line to talk to airline reps trying to get home. Two days later, we finally were on our way home to Chicago, which turned out to be another near-disaster, and again the kids were amazing. I like to think they were so good during the whole ordeal because we had them travelling at such early ages. They were already accustomed to the ups and downs and took it like champs!"
Our favourite article: Her trip to Naples
7. Plan a lot of extra time – Christy from Welsh Mum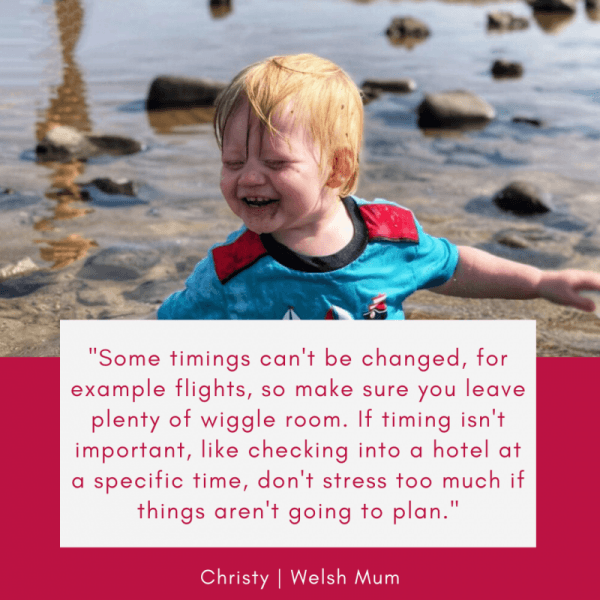 "I think the most useful tip I can share for travelling with family is to make a plan allowing a lot of extra time at every stage so you're not worrying about timings. Some timings can't be changed, for example, flights, so make sure you leave plenty of wiggle room. If timing isn't important, like checking into a hotel at a specific time, don't stress too much if things aren't going to plan – timing with kids can be incredibly difficult, especially when there's a lot of other things to manage."
Bonus tip: Fly direct when you can, but if you need to transit, plan a long stopover so the kids can have enough time to rest rather than rushing to catch the next flight.
A memorable experience: "Embrace being together even when things go wrong – On our 10th wedding anniversary my husband and I took our dream vacation to the Scottish Highlands with our son, who was 15 months old. On the day of our anniversary, we had planned a romantic day out at a special activity. On the way, we got a flat tire and didn't have a spare in the car. We called the car company but were told the quickest someone could come out was 4 hours due to our remote location!
We ended up hiking along the side of a Loch for 40 minutes to find a cafe that had something to drink and toilets and waiting there. It ended up being a very memorable trip with beautiful scenery and we had a lovely day together even though our original plans were all thrown out the window. Although I was very stressed at the start, by the end of the day I realized that what was important is we embraced being together, enjoyed what was around us and learning to make the most of any situation."
Our favourite post on the blog: Positive Parenting Tips for Babies
8. Double the amount of time you expected – Claire from Tin Box Traveller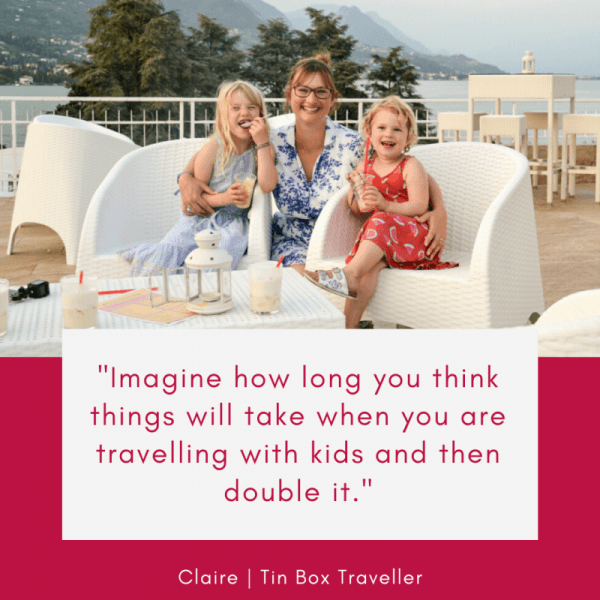 "Imagine how long you think things will take when you are travelling with kids and then double it. When we became parents we realised that slow travel was the only way to continue enjoying adventures – allowing the extra time you need when doing it with babies and toddlers in tow. There's no point in setting your expectations too high and getting stressed. You're on holiday after all!"
A memorable experience: "One of my most recent experiences of something going wrong when we were travelling was during a multi-generational trip to Lake Garda in Italy with my kids and my parents. We had a hire car to drive from the airport to our campsite. We landed in Verona just as a storm broke. The rain was the worst I've ever driven in – absolutely torrential.
What should have been a one hour journey turned into a two and a half-hour drive taking wrong turns off flooded autostradas. Then, when we finally arrived at our campsite well past the time reception closed, the bedding that had been booked for our mobile home was nowhere to be seen. We all spent the night on bare mattresses under wool blankets. Thankfully, the next day we woke to blue skies and warm sun on our faces. It was like we were on a different planet. It was a crazy way to start what turned out to be an awesome holiday that my girls still chatter about."
Our favourite article on the blog: Florence with kids
9. Go out in the morning and relax in the afternoon – Liz from It's a Drama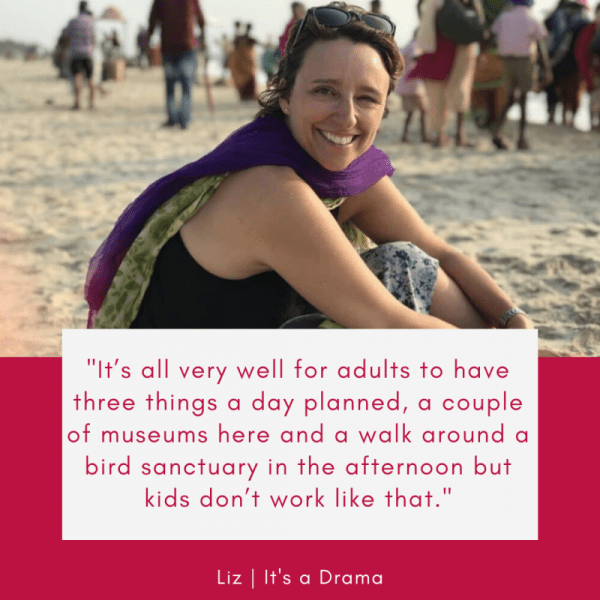 "It's all very well for adults to have three things a day planned, a couple of museums here and a walk around a bird sanctuary in the afternoon but kids don't work like that.
At least mine don't.
They can get through until around lunchtime (as long as there is the bribe of ice cream) but after that, they are done. I would say choose your activities wisely or you will end up frustrated. Use the mornings for the cultural stuff and the afternoons to relax."
A memorable family experience: When we were in Italy we were couch surfing as a family. This is something that we have done many times in order to meet new friends and to save money on accommodation. We turned up to this guy's house in Florence, Italy and he showed my daughter to her 'room'. It was a large outside rabbit hutch with a mattress in it. My daughter is fourteen. You can imagine her utter horror. Needless to say, she slept in our bed for three nights.
Our favourite article on the blog: Her honest opinions about moving to New Zealand
Check out our New Zealand Travel Guide and holiday rentals
10. Make sure the children are comfortable – Fiona from Dolly Dowsie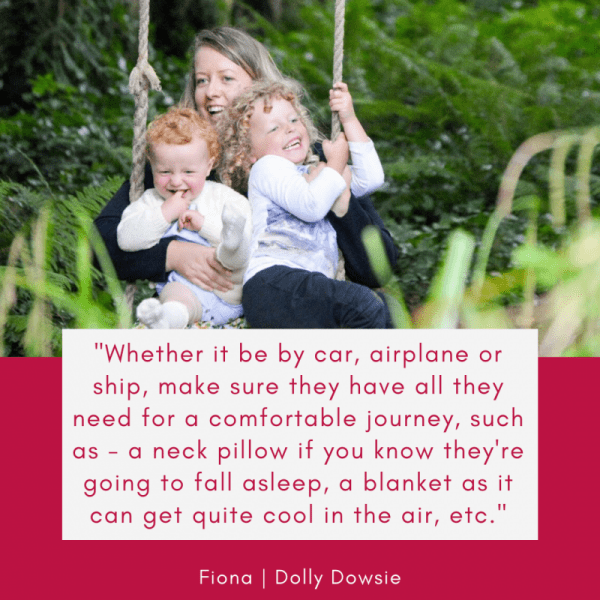 "The best tip I can give is making sure that the children are as comfortable and entertained as can be when travelling. Whether it be by car, aeroplane or ship, make sure they have all they need for a comfortable journey, such as – a neck pillow if you know they're going to fall asleep, a blanket as it can get quite cool in the air, etc. If they have a favourite cuddly toy let it travel with them for comfort and remember to pack lots of snacks and a drink for them too!
To keep children entertained while travelling, make sure to bring along their tablet/iPad and have it stocked with their favourite cartoons, etc. before setting off on your journey. For some screen-free entertainment, you can make a travel pack for kids with things such as a colouring book, stickers, markers, etc. inside to keep them busy and happy as they travel."
Bonus tip: A new toy can keep the kids curious and entertained on the journey and don't forget the kids' headphones. The ones on the plane might not fit.

A memorable family experience: We were on a very long bus journey along the Algarve with our eldest son when he was just a toddler. It was taking such a long time to get to our hotel and we couldn't wait to get off the bus! In our haste, we left behind one of his sandals – the only footwear we had brought with him for our holiday! Cue a mad dash to find a children's clothing/footwear shop so that he didn't have to walk around Portugal with only one sandal! Thankfully we found somewhere nearby and stocked up with three pairs of other sandals for him. I now never travel anywhere with at least three pairs of shoes/sandals for the kids! At least we'll never forget that holiday!
Our favourite article on the blog: The best things about childhood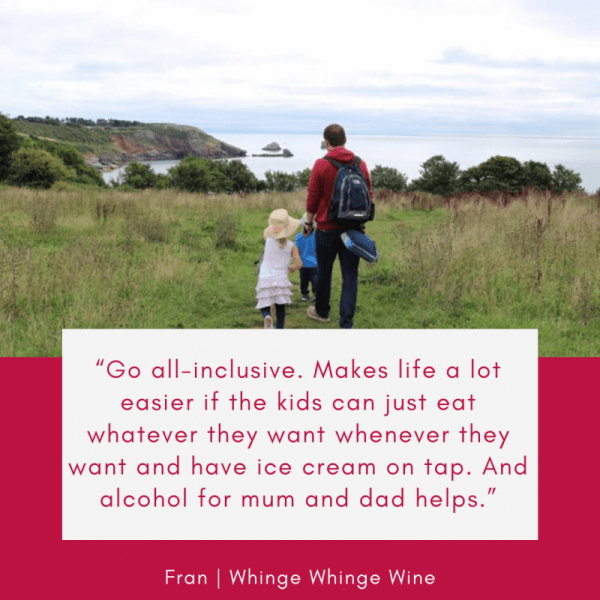 "Go all-inclusive. Makes life a lot easier if the kids can just eat whatever they want whenever they want and have ice cream on tap. And alcohol for mum and dad helps."
Our favourite article on the blog: Six things my little girl has done in her sixth year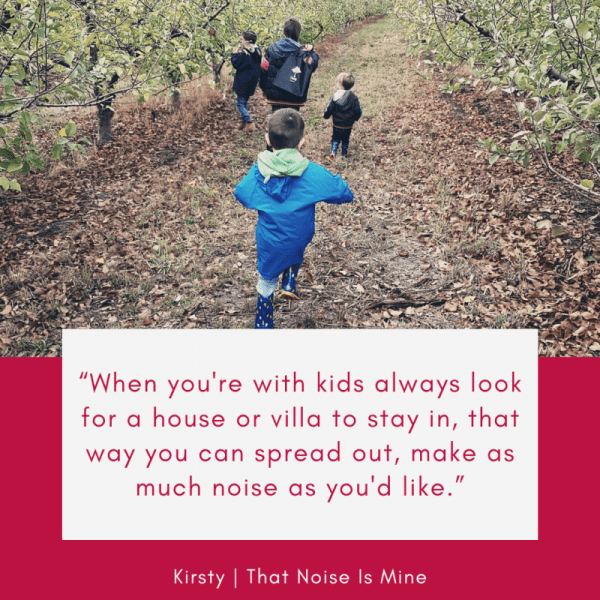 "The most useful travel tip I have for families is to give hotels a miss.
Yes, it might be nice to have someone make up your room each day or bring you room service but in my opinion, it's best to save this for alone travel or travel with your partner.
When you're with kids always look for a house or villa to stay in, that way you can spread out, make as much noise as you'd like, enjoy comforts such as multiple rooms, full-sized bathrooms and sometimes even a laundry or backyard and save money by preparing your own meals in a full-sized kitchen."
A memorable experience: "I wanted my first holiday as a single parent with my 4 kids to be perfect but of course, it was full of disasters, I could share many funny moments and stories from that trip but the most memorable moment was sitting on the front deck of our villa on our final night where we discovered another family had just booked the villa next to us. My kids were the same age as their kids, I remember sitting on the deck, having a few glasses of wine with the parents of the other kids while all our kids played together like they'd known each other forever. It was one of those magical unplanned moments, after a series of disasters, where I discovered that the best holiday memories are not necessarily those jammed packed with activities, sometimes just sitting back and relaxing with new friends you meet along the way can be just as relaxing."
Our favourite article on the blog: How to teach kids about money
13. Pack the entertainment in a backpack – Sonia from Mummy Constant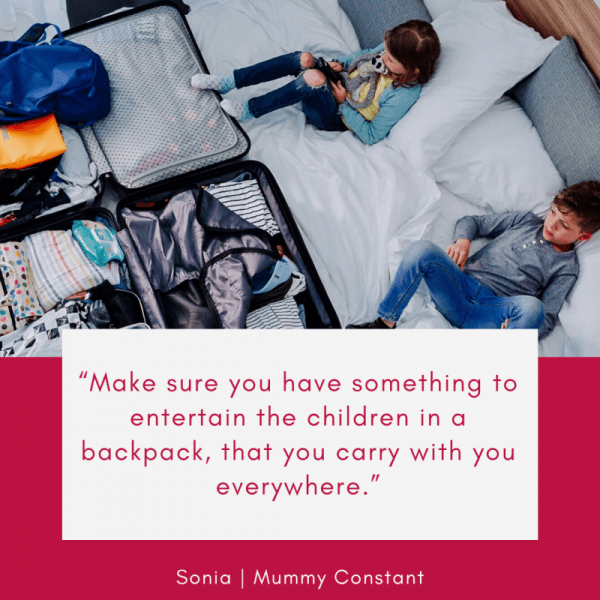 "Make sure you have something to entertain the children in a backpack, that you carry with you everywhere. Including games, activities. You may also want to consider wipes, plasters and headbands too!"
A memorable experience: "Noah had chickenpox beforehand, Isla got chickenpox during the holiday. I had to stay in Kos for an extra few days as she wasn't allowed to fly home when originally planned. Very stressful at the time but funny looking back at it now. blog post on my blog of this."
Our favourite article on the blog: Entertaining children at the airport
14. Always pack the kids' medicines – Clare from Emmy's Mummy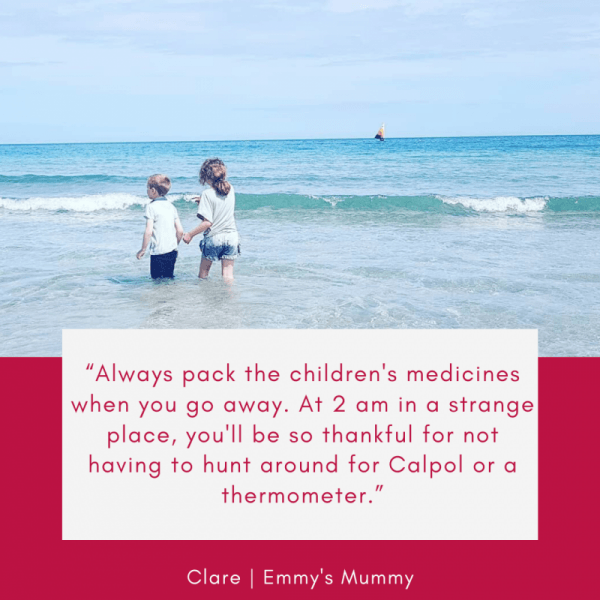 "Always pack the children's medicines when you go away. They take up very little space, but at 2 am in a strange place, you'll be so thankful for not having to hunt around for Calpol or a thermometer. You can always take Calpol sachets which are even smaller, and if your child has eczema remember that chlorine and seawater make it worse during your holiday so take enough cream (I ended up paying the equivalent to £22 for a tiny tube of cream last year when we ran out in Mallorca, the same tube cost £3.50 at home)"
A memorable experience: "We had booked into a chain hotel for a family wedding, only I didn't realise there were 2 within a short distance from each other so booked the wrong one. Top tip, double-check before booking. Thankfully I was able to change the booking when I arrived."
Our favourite article on the blog: Looking back on 2019 – The Good, The Bad and The In-Between
15. Keep your hand luggage to a minimum – Penny from Itchy Feet Family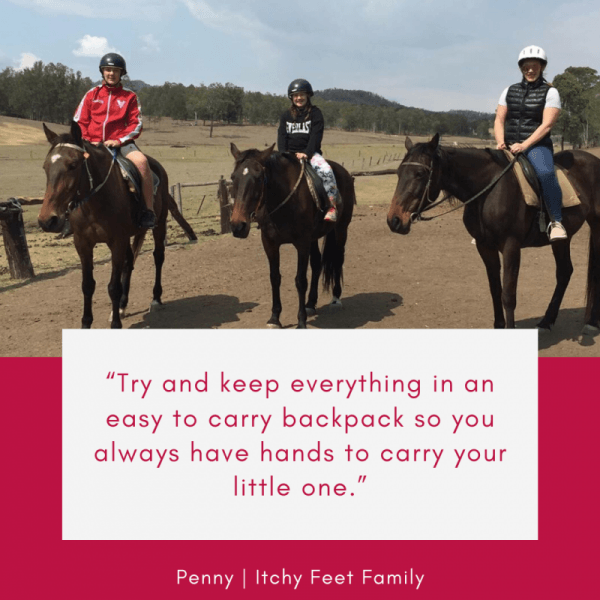 "When you have toddlers, keep your hand luggage to a minimum when flying. Don't get sucked into buying the cute Spiderman or Disney Princess trolley case for your toddle because you will only end up carrying it yourself – along with your toddler! Try and keep everything in an easy to carry backpack so you always have hands to carry your little one."
Bonus tip: If your children are old enough, let them pack their own bag and learn to be responsible for it.
A memorable experience: "Beware of jet lag in your little ones. One of our funniest moments was when our then 7-year-old was sitting eating a burger at a high table and stool after a long international flight. She dropped her napkin on the floor and slid off her chair to pick up the napkin however had forgotten she was sitting on a high stool – not a chair. She fell flat on the ground and the whole family burst into laughter – tears of laughter. Thankfully she was fine but we just could not believe that she had done it!"
Our favourite article on the blog: Cycling in Bali
16. Get the correct insurance & bring the documents – Kara from Chelsea Mamma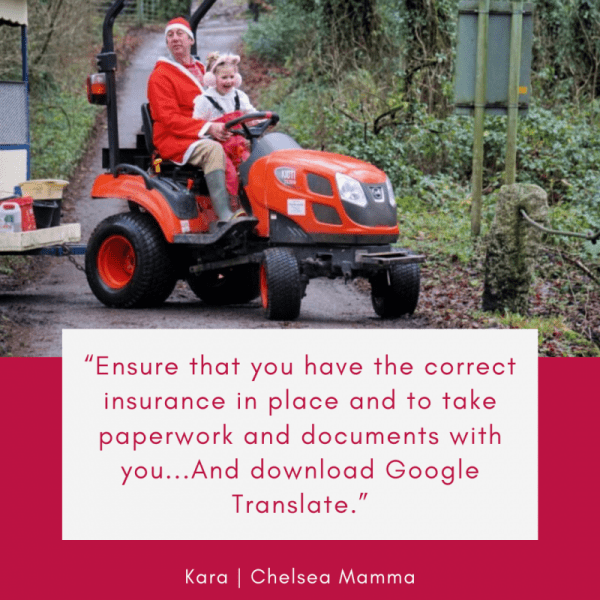 "Ensure that you have the correct insurance in place and to take paperwork and documents with you, plus your EHIC cards if travelling in Europe and download Google Translate"
A memorable experience: "This Feb half term we visited Spain and my 6-year-old was admitted to hospital with pneumonia for 5 days. Hospital in Spain was a challenge as they spoke no English and I don't speak much Spanish, so google translate was our friend. It wasn't the best time but their care was excellent and Sebby enjoyed their hospital classroom as they taught him some Spanish words and he taught them English."
Our favourite article on the blog: The one she shared in detail about the experience above!
17. Going with an extended family – Sarah from Run Jump Scrap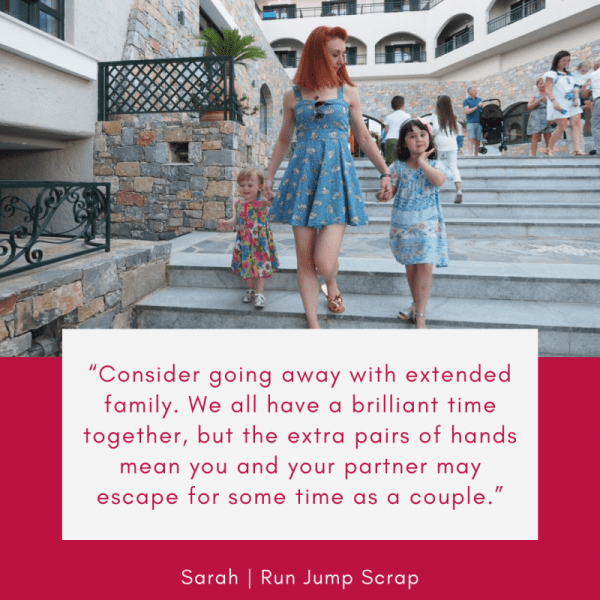 "My most useful family travel tip would be to consider going away with extended family. We have done this for many years with my parents and it really means you have a break. We all have a brilliant time together but the extra pairs of hands mean you and your partner may escape for some time as a couple. You can rest and read and still enjoy your kids!"
A memorable experience: "We had a bit of a disaster when on a holiday to Rhodes when my eldest was 2, as she came down with chickenpox! She couldn't swim or go near anyone for a few days but luckily she was fine! Didn't suffer and they had all scabbed over before we were due to fly home. At least we were off work when it happened!"
Our favourite article on the blog: Holiday items I pack but NEVER use
18. Keep it fun for the whole family – Genevieve from It's a Necessity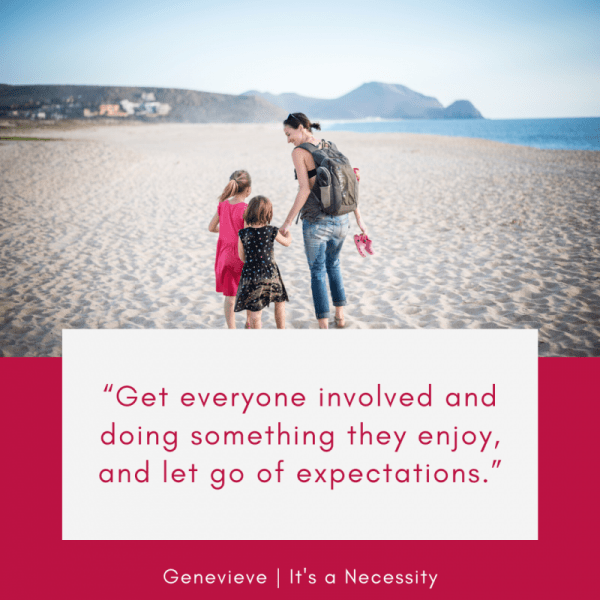 "Keep family travel fun for the entire family. Get everyone involved and doing something they enjoy, and let go of expectations, that way you can be pleasantly surprised." More details here.
A memorable experience: "Our girls are pro travellers. When we fly we make sure that they are well-fed (by bringing some of our own snacks), have slept enough, stick to their naptime routine, and they get the added bonus of unlimited screen time on flights. Because of all of that they are very happy flyers. On one flight, the flight attendant was so impressed with how well-behaved our girls were, and how they always used manners when speaking to people, that she gave our girls all the snacks they wanted…and gave Eben and I free drinks."
Our favourite article on the blog: Family Travel Accommodations For Every Style
More tips on travelling with kids – from Villa Finder team
Bring lots of wet wipes!
Hand sanitisers are helpful as you may not have access to clean water all the time.
Choose self-catering accommodation like villas or apartments for more space and privacy.
Make sure that your travel documents are up-to-date.
Keep a copy of your documents on the phone.
Prepare special needs (allergy, eg.) in local languages.
Travel off-season to enjoy cheaper rates and less crowded attractions.
Give kids a camera to capture whatever they want.
If you are flying with kids, choose seats that are closer to the toilet.
Wondering about baby car seats, prams and cots? Here's a good article about to bring it or not, and each airline's policy.
Ask for a bassinet if you travel with an infant. Check out this article for more.
Create a folder on the computer where you save all booking confirmations and documents related to the trip to keep things organised.
Download Villa Finder Holiday Family Planner – a handy tool to plan your trip.
Please follow and like us: