With Valentine's day coming up, its time for an overview of romantic hot spots in Bali's most fashionable and sophisticated beach town: Seminyak. You are on a sweet tropical island getaway with your lover and you are wondering what to do and where to stay for this romantic holiday in Seminyak, Bali. We made it our mission to find the most romantic spots and places in town. Read all about it below, in our couples' guide to Seminyak:
Romantic couple's activities in Seminyak
The tropical sun, the sea, excellent beachfront dining venues, the sunset sky, beach clubs, private villas, spas, you just can't go wrong here – love it in the air! Seminyak is a romantic haven for couples in love. Wondering what to do? Inspiration is here…
1. Sunset gazing & sunset cocktails on Seminyak Beach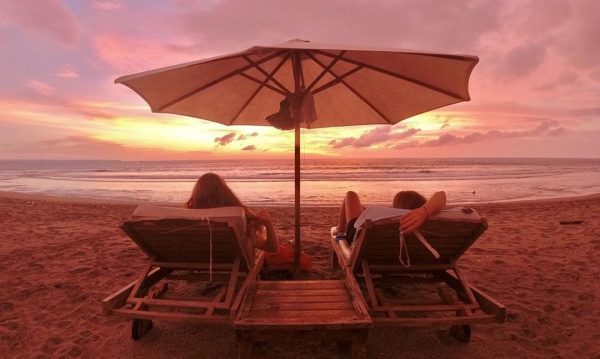 When the sun sets over the island, everything and everyone gets an enchanting honey-coloured glow. It is the perfect time to hold hands, kiss and be in the moment together alone with your sweetheart. The best thing to do is hit the beach… Seminyak Beach, to be precise. While you're at it, order and sip some delicious, tropical sunset cocktails. The presence of other romantic couples and happy holidayers will only add to the magical vibe that hangs in the air. Get comfy on the beanbags of charming beach bars at Double Six and stick around for the live music or head towards KU DE TA or Potato Head in Petitenget to lounge stylishly under the sunset sky.
2. Stroll around Oberoi Road and eat ice cream
While holding hands and strolling along the famous Oberoi Road, you can stop at many places to shop, have coffee and eat out. Another must-stop along the way is at Gelato Factory to get your fix of homemade Italian ice cream. Chocolate, strawberry, pistachio, caramel, it'll make your sweetheart even sweeter and if your baby has a sweet tooth, he or she will be forever thankful! We recommend Gelato Factory and Gaya Gelato!
3. See a romantic movie
Whether it's an escape from the heat at daytime or an evening out with popcorn and drinks, a trip to the cinema can't be missing during your Seminyak love trip. Going to the cinema is a classic 'first date hit' and here in Bali, you can relive the romance all over again. Pick out a romantic movie, cuddle up close and sit back holding hands. Check out the cinema's near Seminyak and movie schedules here.
4. Take a flower bath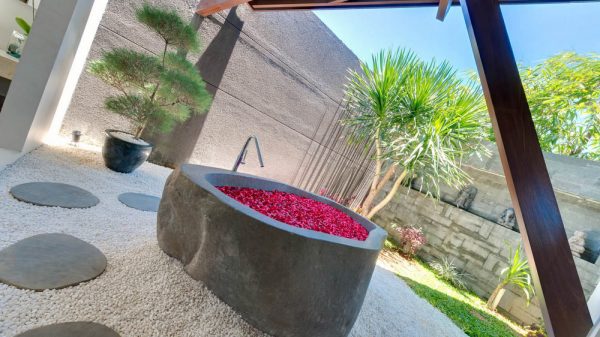 Refuge in one of Seminyak's luxury spas and go all the way with a full-blown couples' spa experience where you get to soak together in a warm, scenting flower bath. It is romantic and it is blissful! For those couples, not wanting to leave the sacred grounds of their private villa, ask the staff to get professional spa therapists to come over for some in-villa spa pampering ending with a flower bath in your private en-suite bathroom.
4. Feast on a high tea @ Biku Tea House
Surprise your loved one with a sophisticated high tea at Seminyak's one and only 'tea house': Biku. Scones with creme fraiche and strawberry jam, homemade chocolates, cakes and tarts, harty sandwiches and tea or cappuccino, it is one sweet feast to share, just the two of you. Feeling a tiny notch adventurous? Choose the Asian high-tea instead of the classic one, tasting traditional sweets and fried delights.
5. Make each other a silver ring
This may sound too romantic to be true but wouldn't it be amazing to wear each other's handcrafted silver rings, made in Bali? Book yourselves in for a workshop at a local silversmith in Sanur or Ubud and you will not only be learning these ancient trades but you will craft your own silver ring. You can make your own design or romantically engrave the rings with your names. Everyone can do it and you will be surprised by the end result.  At Sanur Jewelry Studio, there is a special workshop for couples and it includes a bottle of bubbles to share during or at the end of this inspiring day.
6. Take the craziest photos at Dream Museum Zone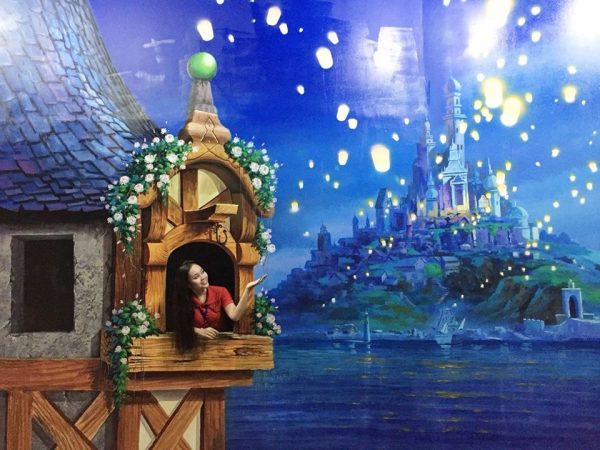 Run from a giant gorilla, escape a shark attack and travel from Venice, to fairytale lands, to the deep jungle of Borneo. All is possible at the DMZ Trick Art Museum. Where else can you take such crazy photos or save your sweetheart from life-threatening situations? It'll make an impression for sure!
Romantic dinners in Seminyak
Seminyak is celebrated because of its excellent dining venues. Here's our pick of most romantic restaurants in town:
Romance and sophistication @ Metis
On top the super tasty French Gourmet kitchen, Metis blows you away with their utterly romantic setting. Featuring a huge garden with ponds and comfy lounge corners as well as a chic and sophisticated restaurant with candlelit tables, you can spend a whole day here, soaking up the ambience and feasting on delightful food. Start with their exquisite high tea in the garden and come back after sunset as the restaurant lights up beneath Bali's starry night sky, with hundreds of candles. The perfect setting for a romantic dinner, indeed!
Authentic Italian cuisine and live Jazz music @ Zibiru
Zibiru is an authentic Italian restaurant, hidden away on Jalan Drupadi, just off of the famous Eat Street in Oberoi. This restaurant is truly charming, featuring a rooftop garden, live music and exquisite Italian home-cooked food. Zibiru practices an inspiring 'farm to table' concept, cooking with organic, local produce according to traditional family recipes from Italy. The head chef is an Italian native, so you can be sure you'll be munching on authentic Italian food. For a romantic dinner with live music, candlelight, wine and a starlit sky above you, this is the place to be! Want to know the secrets to their recipes? Sign up for their cooking class and relive the romance once again when you are back home doing some Italian magic in your own kitchen.
Traditional Indonesian home-cooking and a spectacular setting @ Bambu Restaurant
Always wanting to dine on water? This is your chance! The setting of Bambu Restaurant in Petitenget is unique and utterly romantic. Sitting in traditional Javanese Joglo-inspired pavilion, resting in a peaceful pond, you are in for an outstanding authentic Indonesian dinner. Delicious satays, spicy sambal, local deserts you have never heard of before. It is a foodie adventure with a spectacular setting to float the evening away in the presence of your love. Don't miss out on this!
Romantic stay in Seminyak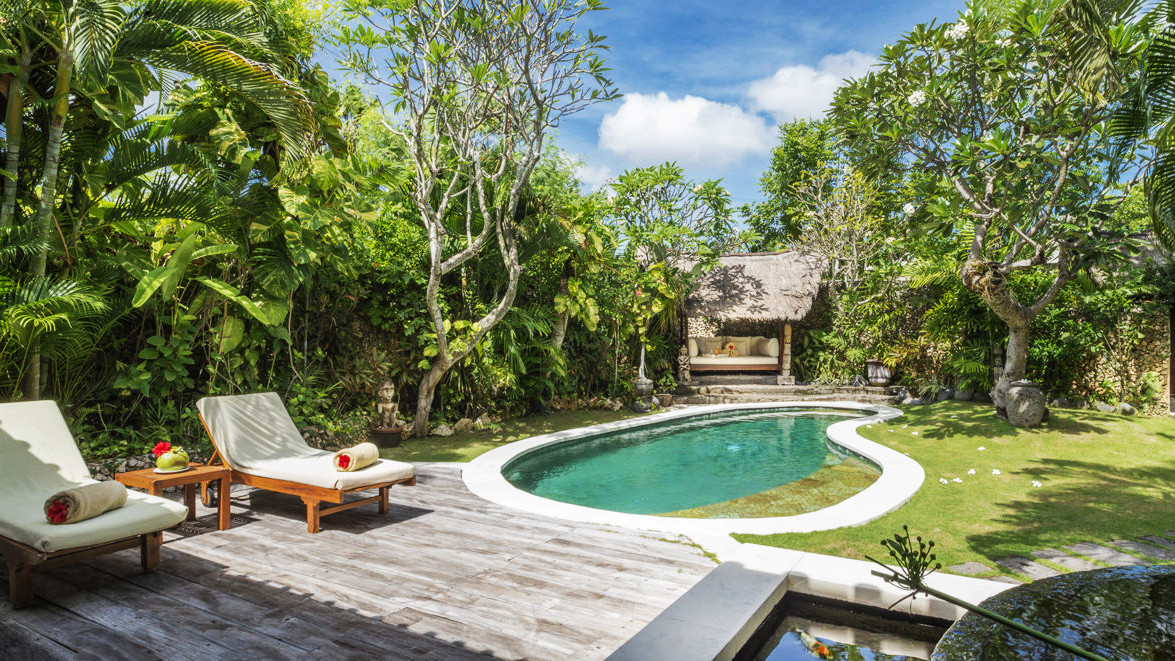 Seminyak is home to an abundance of intimate and luxurious 1-bedroom villas. Romantic private stays with swimming pools glistening in private gardens. There are villas available for all couples on every budget. Villas near the beach, villas near the famous Oberoi Road or villas just outside of the buzzing city center, hidden away in the rice paddies of nearby Umalas and Kerobokan. There is something for everyone! Check out our top 10 of most romantic villas in Seminyak.
Please follow and like us: