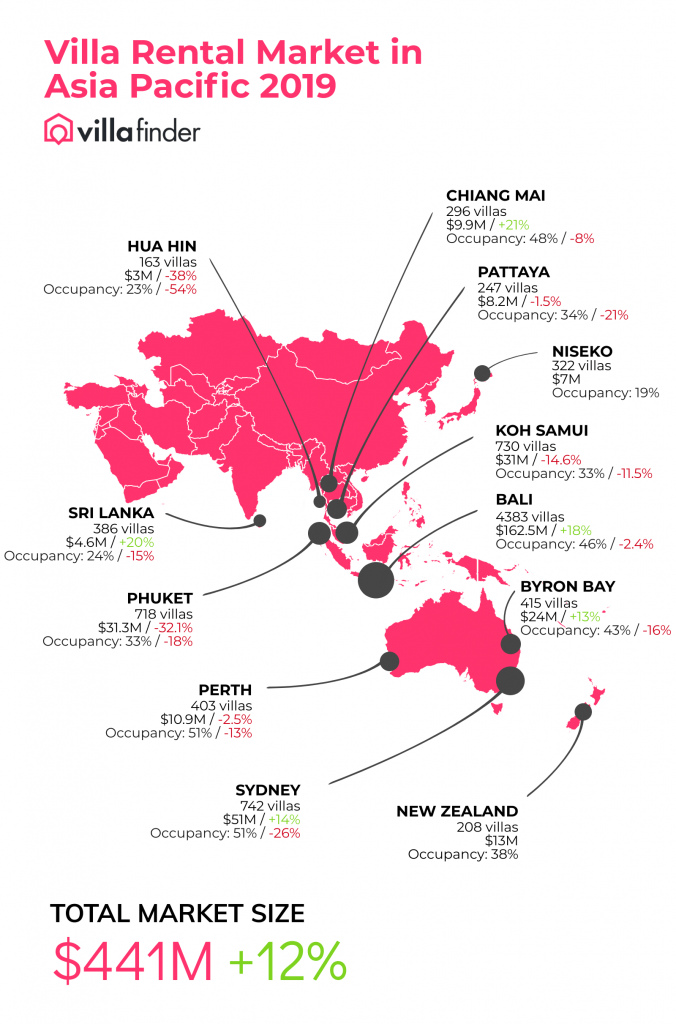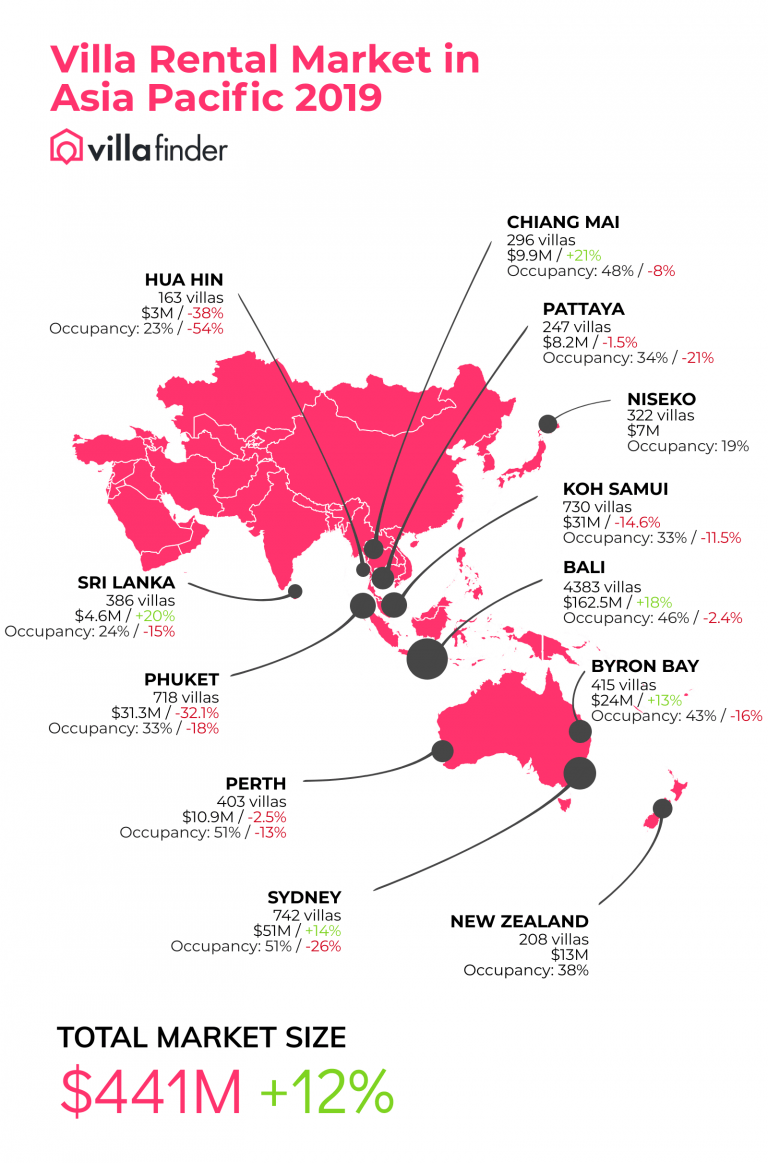 In our first Asia Pacific Villa Rental Market Research 2017, we focused on how the villa rental market was picking up fast and growing with an annual rate of 18.3%. The market at the time accounted for $390 million of the global $120 billion vacation rental market. Two years on, we aim to re-evaluate the market and chart the growth of new destinations for villa rentals, as well as deep dive into the markets struggling to stay competitive.
This study will also touch on how travellers are affected overall, as well as what villa owners and investors must double down on to successfully capture demand in the Asia Pacific.
Market trends
The overall Asia Pacific market grew by

12%

in the past 2 years, reaching

US$440m

. There's an increase in villa supply across various destinations. Bali is still the biggest market with over 4,000 villas. It is interesting to note that every single market in our study has more villas than 2 years ago as more investors want to tap into the ever-growing vacation rental market.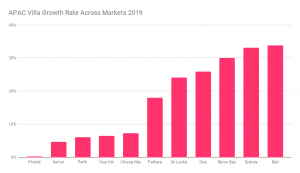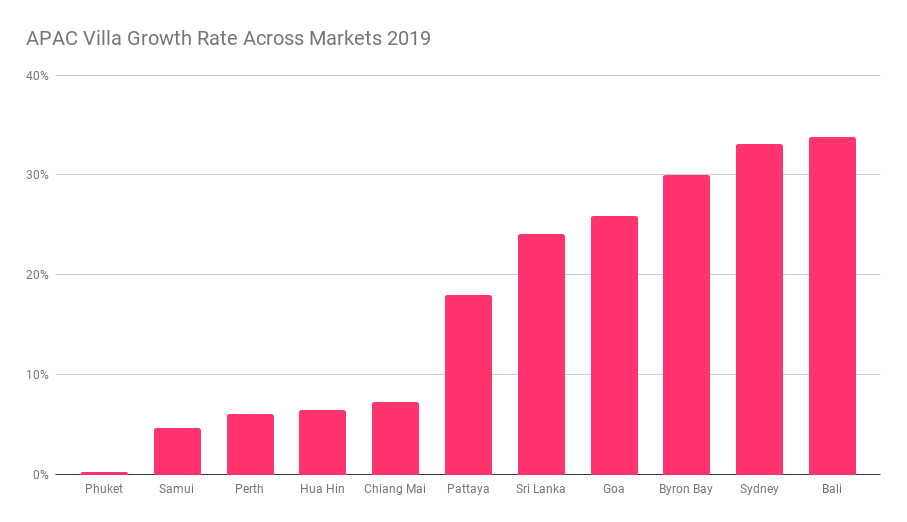 Markets that are growing
Bali, the largest market, is still growing

. As compared to 2017, the market has grown by 18%, reaching US$162.5m. The Bali market is getting more competitive than ever as there are more villas being built: +34% in a market that was already oversupplied 2 years ago. Consequently, the average price decreased by 10% to US$220/night. In terms of visitors to Bali, China overtook Australia as the top inbound market, accounting for 23% of the market while Australia fell to 19%. It is also important to note that the weak Australian dollar and the property market crisis in Australia have both pushed Australians to cut on their travel expenses and delay their international travel decisions. Other main markets for vacation villas are Europe, Singapore and Hong Kong.

Goa

sees the strongest growth: +23%. According to Aakash Kochar, Sales Director of

Luxurystays.in

, 2015-2017 were the prime years for villa rentals in Goa. The demand exceeded the supply. Fast forward to 2019, there are more villas in the market, so the competition is higher. The occupancy is at 60-70%, much higher than in other markets. The main customers for villas are families and groups, mostly Europeans and Americans. He predicted that the market in Goa will continue to grow in early 2020 and will slow down in the latter part of 2020.

Australia

is also

developing

. The number of villas in Byron Bay and Sydney went up by 30% and 33% respectively. "A few years ago, popular regions like Byron only had a few professional property managers promoting villas and holiday homes. With the increase in villa supply and demand in this region, there are now dozens of new players compared to only two years ago," shared Mat Lewis, Co-Founder & CEO of

View Retreats

. While villa renters are mostly families, View Retreats saw an increase in Gen Z customers (aged 18-24) who are spending a lot of money celebrating special occasions as well as corporate clients considering villas for functions, meetings and events. Investors should take note that the average occupancy went down in those destinations, a clear early sign of an oversupplied market and we expect rates to follow.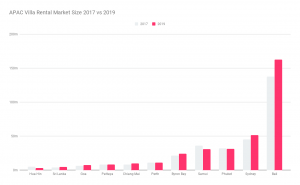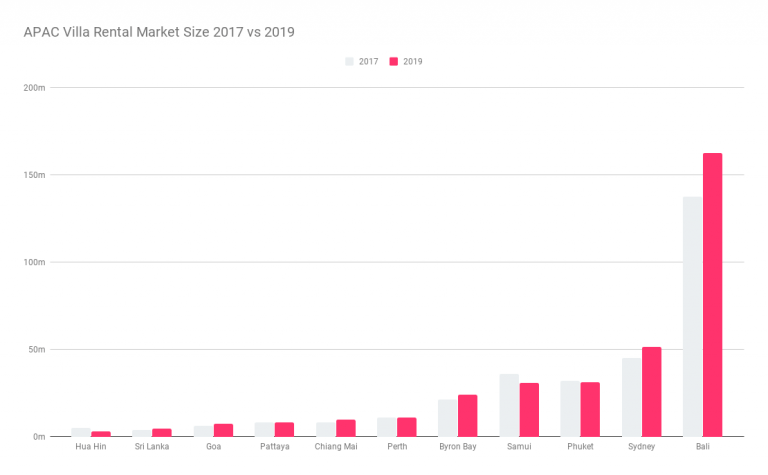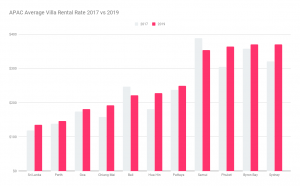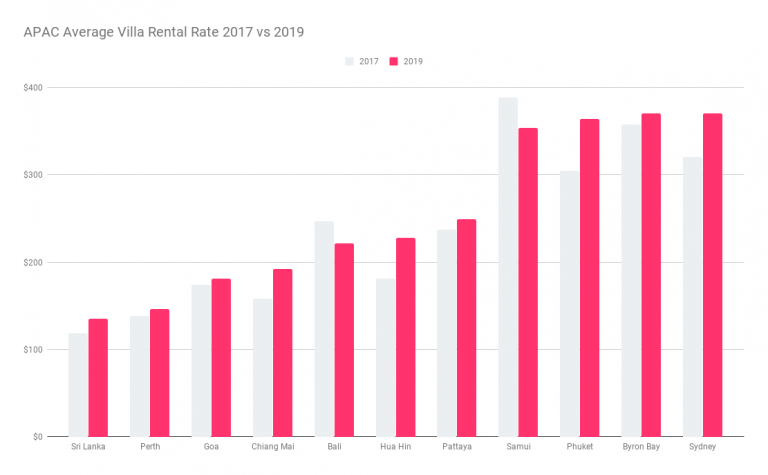 The number of villas in

Sri Lanka increased

by 25%, and the market grew by 20%, reaching US$4.6m. Similarly, in other destinations, the occupancy went down. Heralded as "destination of the year" by multiple publications in early 2019, the nation's tourism was brought to a halt after the terrorist attacks in April. However, the impact isn't long-lasting, as travellers are starting to come back. In July, there were 115,000 tourists in Sri Lanka, a decline of 40% compared to the same period last year. In August, there were 140,000 visitors, and the decline was 28.3%. The drop was 27.2% in September (

source

).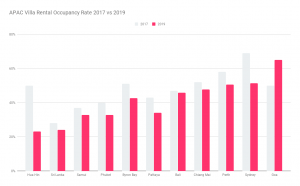 Markets that are struggling
Thailand

markets have gone down as compared to two years ago although the supply continued to grow.  "The number of villas being built for rent has saturated the market, the choice is now endless but demand is down." – shared Stuart Burt, Property Manager at

Sunshine Samui Villas

, a fast-growing management company in Koh Samui. The villa occupancy rate went down across various destinations (Hua Hin: -54%, Pattaya: – 21%, Phuket: -18%, Samui: -11.5%). The lack of Chinese tourists is due to the Phuket boat accident in July 2018, in which the Thai government blamed Chinese tour operators for the tragedy; the weak exchange rate against a strong baht and the impending world recession have contributed to the shrinking of the tourism market. The villa market in Hua Hin went down by 38%, Samui by 15%, Pattaya by 1.5% and Phuket by 2%.

Besides Goa, Australia, and Sri Lanka, other

up and coming markets

are Japan, New Zealand, Vietnam, and Malaysia.

According to David Compton, Managing Director of

Twizel Holiday Homes

, a Property Manager in

New Zealand

, there are more villas for short-term rental in the market, and the demand is going up. The main source of customers is domestic travellers and Australians. He also noted that popular tourist destinations are becoming too expensive, so many are looking for more off-the-beaten-path locations.

In

Japan

, there are over 500 villas and chalets for rent. While we did not include this market in our study 2 years ago, our conversations with experts clearly confirm that the destination is booming. While Niseko is the most established ski destination in Japan, Hakuba & Nozawa Onsen are following in its trail. The big challenge for these chalets will be to attract tourists during the summer season. 

Vietnam

and

Malaysia

both have over 100 holiday villas in the market. We are monitoring these markets closely and expect them to be among the fastest-growing in our 2020 market update. There are plenty of new developments in these markets such as NovaBeach Cam Ranh Resort & Villas, Sonasea Villas Resort, Ha Tien Venice Villas (Vietnam), Forest Estate in Langkawi and Forest City Coastal Villas in Johor Bahru.  
What this means for travellers
Markets with the cheapest rates are Perth, Chiang Mail, Goa and Sri Lanka with less than US$200/night. If you are looking for a villa bargain, these destinations get our pick.

Now is the time to travel to Australia as the currency exchange rate is favourable for travellers. Perth properties are 60% cheaper than Byron Bay's and Sydney's. According to Mr. Lewis, the quality of the villas continue to increase and customers are expecting more from accommodation providers (in terms of services, inclusions and quality) while wanting to pay less.

Villas in Thailand are generally more expensive than in other destinations in Asia. While the tourism industry took a hit from recent events, we believe that the impact is only short-term as the Thai government is working hard to mend the relationship with China.

Bali is still a great villa destination. Due to increased competition, villa providers have to compete with each other to bring more value to attract customers, affecting villa prices and bringing it down by 10%. This means good news for travellers, as they have plenty of options to choose from, and there's always room for negotiation.
What this means for villa owners
Increased supply brings more competition. However, we have seen that the market continues to grow with still more room for newcomers.

While the occupancy rate has gone down across markets, properties with a unique selling point are still doing very well. Villa owners need to excel at better

marketing, villa management and distribution strategy

to stand out.

Customer expectations are ever-increasing. They demand better service, more inclusions and lower prices, so the need for professionally trained staff, proper maintenance and value-added services, while meeting your business goals must work hand in hand. 
Download charts and map
Villa Finder Press Kit
Related: Building the best investment villa in Bali: A step-by-step guide
Sources:
Please follow and like us: