Are you curious to know why famous artists, literary marvels, and musical celebrities have chosen Deia as their home and vacation spot?
Out of all the beautiful spots you can find on this planet, Deia is like a magnet for famous figures like Princess Diana, Robert Graves, Richard Branson, Michael Douglas, Chopin, Charlie Chaplin, David Bowie and many more. Deia's seduction power has many factors involved like the fact that everyone is treated with the same warm hospitality by the locals and the stars can enjoy anonymity.
Adding to that is the natural environment as Deia is situated in a spectacular setting in a green ravine with gorgeous views out to the glistening, azure Mediterranean Sea. The area has been dug out with irrigated terraces to plant stunning olive, citrus, and orange trees by the Moors 10 centuries ago and their work is still intact. Sprinkled around this magical environment there are honey-colored stone fincas with terracotta tiled roofs and emerald-green shutters. Arriving in Deia is like entering another world where time stands still and all you have to do is just be with the beauty of the area in bliss.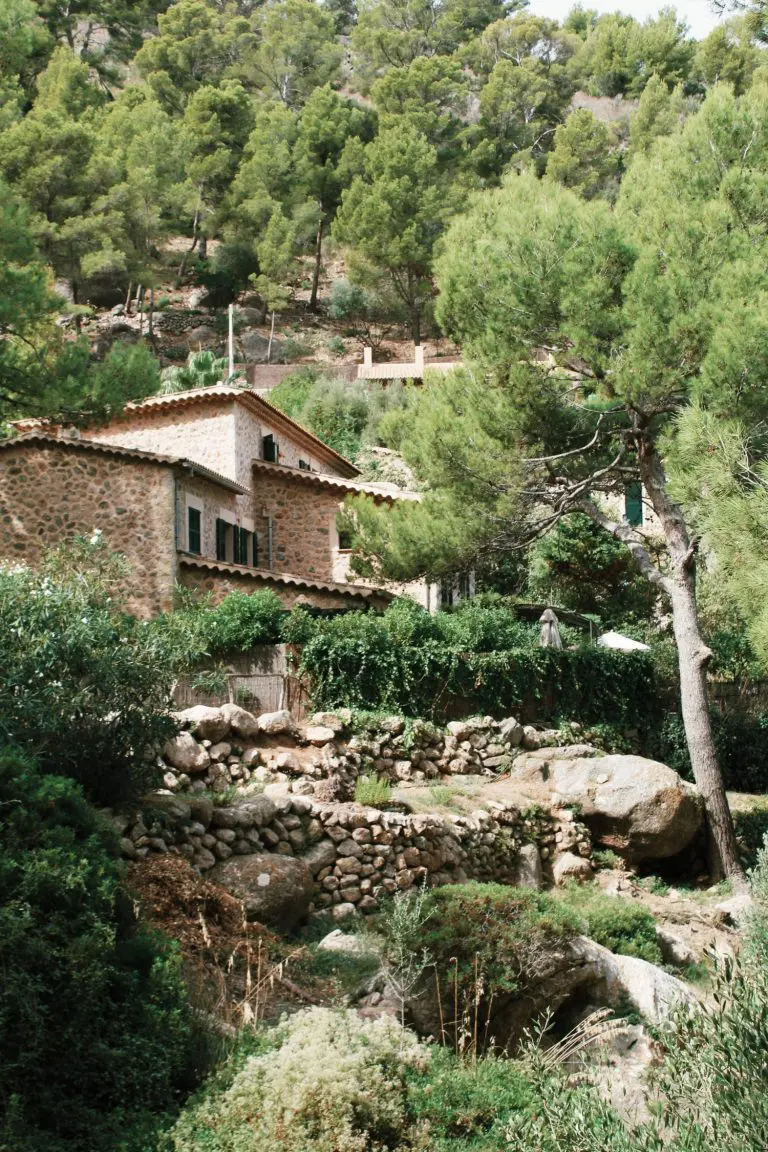 Even though the village is known for its tranquility and peace, there are still a great number of things to do in Deia. Its 700 locals—of which half are affluent foreigners—enjoy the following:
A wonderful selection of restaurants with exceptional cuisine
An abundance of art made by local and foreign artists
Charming local boutiques with handicrafts and delicacies
Several museums and historical landmarks
The iconic pebble beach, Cala Deia with its two restaurants
Nature activities like hiking, cycling, and swimming
For your convenience, renting a small car is recommended to get around easily. There are also plenty of gorgeous fincas for rent where you can enjoy complete privacy and mesmerizing surroundings. With the airport in Palma only 45 minutes away, you can start your holiday immediately.
Sports and Nature Activities
Visit The Cala Deia Beach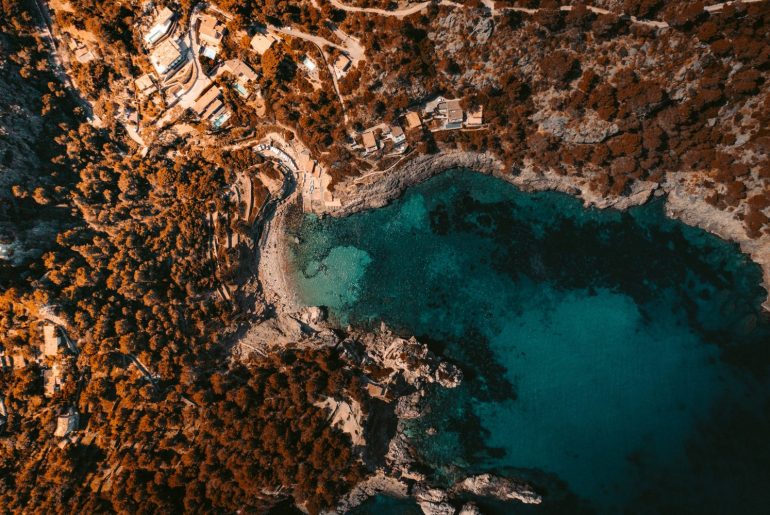 Nestled between steep hills, you can find the pebble beach of Cala Deia with its glistening, azure waters. Throughout history, this cove has been the stage for late evening gatherings of artists skinny-dipping in the mild waters. Yet, most of the time it's a place for rejuvenation and relaxation. Robert Grave's son, William Graves, has fond memories from his childhood here depicted in his book "Wild Olives". You can swim, go snorkeling, sunbathe, and eat fresh fish in one of the two restaurants with views overlooking the beach. There are also beautiful coves to discover if you have a boat.
Explore the Hiking Trails
The area is a hiker's paradise with ancient trails that historically lead people from village to village in the Serra de Tramuntana Mountains. Some trails and lookout points were created by the Archduke Lluis Salvador in the 19th century and others by charcoal workers. The green and expansive landscapes provide hikes of all levels, from scenic strolls to challenging uphill hikes with extraordinary views. Follow hiking routes to the Miramar Monastery or Sa Forada, a magnificent peninsula with a perfectly placed lookout point. For a map of the trails, head to the tourism office.
Discover the Area by Bike
You can easily rent a bike so that you can discover the surrounding area. There are calmer rides along the coast, or you can go for a more adventurous ride through the mountains. Here you can find weaving roads with descending gradients of 6% and steep cliffs on the sides. You can visit the neighboring town of Valldemossa or visit other sites like the Lluc Monastery or Port de sa Calobra.
Culinary Delights and Drinks
Please Your Palate at Michelin-Starred Es Racó D'Es Tei
Get ready for an unforgettable culinary voyage with German chef, Josef Sauerschell, at the helm. Working his magic with the finest local ingredients, your tastebuds will beg for more after each course. Choose between an à la carte menu, a 3-course menu at lunch, or the spectacular tasting menu at night. The name of the restaurant translates to "mountain nook", which describes its idyllic hillside setting well with gorgeous, green nature views from the romantic terrace.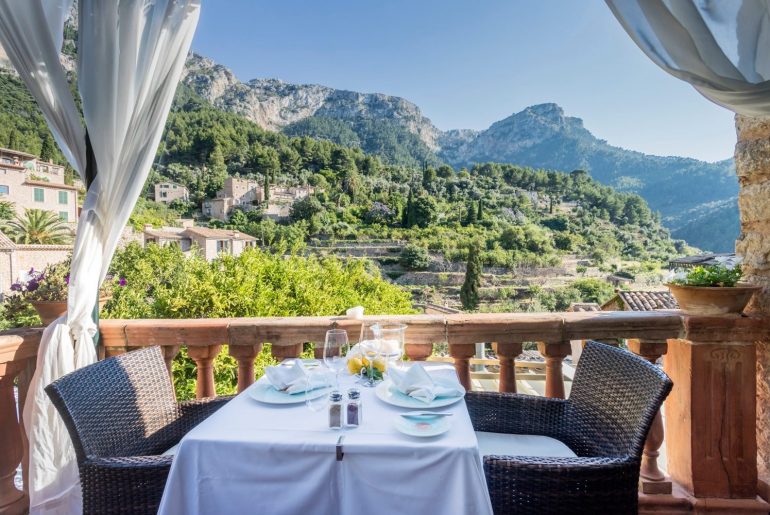 Satisfy Your Sweet Tooth at Son Mico
Alfresco dining is very popular in Mallorca, and at Son Mico your palate will be spoiled while dining underneath the open sky by two French sisters, Isabelle and Ines. The idyllic farmhouse-style restaurant serves homemade cakes, tarts, pie, and quiche. You can enjoy an aromatic coffee and fresh juice in natural surroundings in the hills of the Serra de Tramuntana. If you decide to hike the trail to get here, you can meet sheep, chickens, and donkeys on the way. But you can also arrive by car and park nearby.
Book your dinner right before the magical golden hour to see an explosion of colors from your dinner table over the crystal blue sea. Enjoy perfectly crafted dishes with seasonal produce on carefully decorated plates in this fine, 3-generation old, family-run restaurant. You can choose between two refined tasting menus or an à la carte option.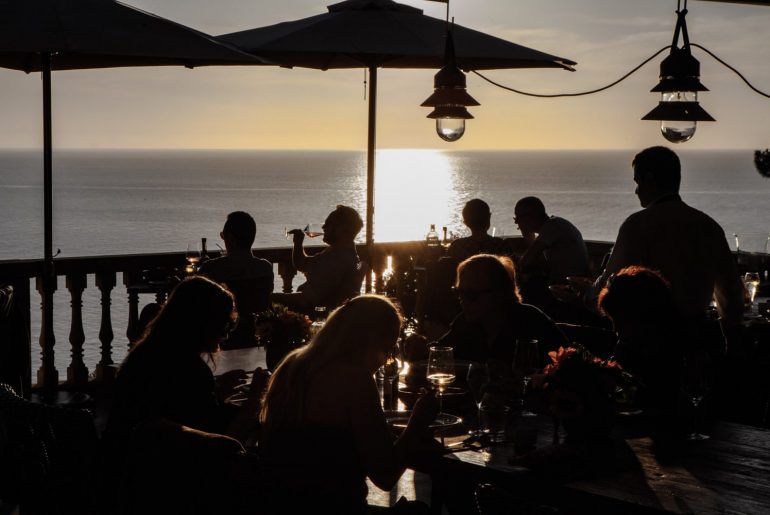 Hit the Dance floor at Sa Fonda
Despite the informal vibe of this bar, you'd be surprised at its chic clientele. Both Kate Moss and Beyoncé have rocked the dance floor here and Andrew Lloyd-Webber has also paid the venue a visit. Still known as a cult bar, this is where legendary musicians danced with Hollywood stars. Enjoy a great vibe and music that makes you want to dance the night away as well as good cocktails and jam sessions.
Nestled in the cove of the Cala Deia Beach, you can lunch or dine in the same spot as a scene from the mini-series "The Night Manager" starring Tom Hiddleston was shot. It's a popular seaside restaurant where you can easily find yourself lunching next to someone famous. Indulge in the fresh seafood with a lovely selection of fresh fish and shellfish. Try the gigantic lobster with fried onions that can feed more than two if you are up for a treat. It's recommended to book ahead and watch the weather forecast as the roof will not protect you against a heavy rain shower. Also remember to bring cash as credit cards are not accepted.
Historical and Cultural Points of Interest
Discover renowned poet and novelist Robert Graves' private haven where he came to stay for the first time in 1929. Here, him and his mistress, English poet Laura Riding, lived together until 1936 at the outbreak of the Spanish civil war. They hosted actors, artists and writers like Ava Gardner, Sir Alec Guinness, James Reeves, John Aldridge, Len Lye, and many more. His home is today a museum preserved like a time capsule so you can enter his world surrounded by his personal belongings. This creative space gave birth to masterpieces such as "I, Claudius" and "The White Goddess" amongst others.
This house used to belong to the Archduke Lluis Salvador who had a great influence on Deia. He originally came by steamboat while working on an encyclopedia of the Balearic Islands but ended up falling in love with Deia and buying a good selection of real estate. The house is now a museum that contains his personal belongings and furniture. Outside, there is a beautiful garden to enjoy, and you can admire mesmerizing views from the marble pavilion in front.
Dive Into the Flourishing Art World
It's of no surprise that the exceptionally striking beauty of Deia has inspired many artists throughout history. That's why Deia is called the "Village of Artists" as you can see an abundance of art in a several galleries including Gres Gallery, Sa Tafona, and Holló Manuella Andrada. In addition to this, you can find a large selection of 30 original artworks by Joan Miró in the Belmond La Residencia. In the neighboring village Valldemossa, you can find even more galleries to satisfy your senses.
Hunt For Treasures in Hidden Shops
Deia doesn't have a market street like many towns. Here, the shops are scattered around so you'll have to stroll around to find them. The tourist office will surely be helpful if you ask them, but you can also just walk around the pretty cobblestone streets to hunt for hidden gems. You can find locally crafted artworks, souvenirs, ceramics, local delicacies, and fresh produce to cook if you've rented a home.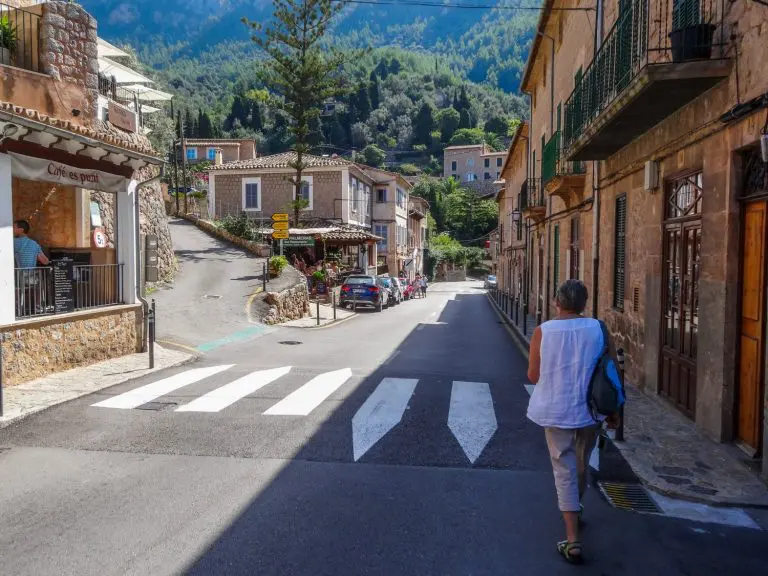 There is much to discover in this museum founded in the sixties by the American archaeologist and painter, William Waldren. Here you can learn about the prehistory of the Balearics and discover historical points of interest. The Archeological Museum and Research Center can be found in one of the most ancient buildings in the village which is an old mill. In the exhibitions you can see findings from historical sites on the island such as the Son Mullet Caves. The remains of the extinct mountain goat "myotragus" is also on display.
Before you pack your bags and hop on a flight to Mallorca, we recommend the following:
Rent a car early as small automatic cars may be sparse during high season
Withdraw or exchange euros at the airport as you can't pay by card everywhere in Deia
Book a lovely finca to get a true Majorcan experience in gorgeous natural surroundings
Although you will always find a place to eat, we recommend booking restaurants before arrival
Bring the book "Wild Olives: Life in Majorca With Robert Graves", written by his son William Graves, for a literary journey into the life in Deia
Now that you're all set, we wish you a bon voyage to the magical beauty of Deia and its surrounding mesmerizing landscapes and azure sea.
Related articles:
Please follow and like us: