Also known as 'the rose of the north', Chiang Mai is a beautiful walled city in the northern part of Thailand, surrounded by hill tribes, rainforest and mountains. This sprawling city was founded 7 centuries ago and for a long time, Chiang Mai was the capital of the Lanna Kingdom, home to 300 temples. Today, Chiang Mai still is the cultural centre in all of Thailand. The ambience is laid-back and easy-going and the surrounding nature is stunningly beautiful! The temperature is pleasant, much cooler than in the south of Thailand and there are plenty of things to experience, see and do in and around Chiang Mai. Is your trip leading you up to the north of Thailand? Good on you! Check out these amazing things to do in Chiang Mai:
1. Cafe scenes: Find out what everybody loves about Chiang Mai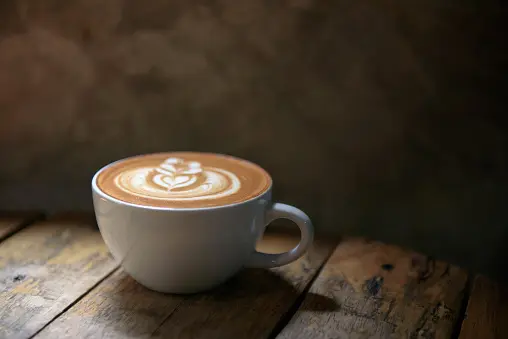 Chiang Mai has got a real friendly atmosphere – it is a city that will charm you instantly with its lively, cultural city centre, the night markets, beautiful temples and above all, the wide range of quirky cafes and restaurants to try out and meet other travellers alike. Yes, the cafes and restaurants in Chiang Mai are one reason alone to head over there. Excellent coffee, cool interiors, great music, good people, yummy food – Chiang Mai has got a real buzzing (yet laid back) restaurant and cafe scene going on and you should definitely stick around town for a couple of nights to soak up the local vibes, eat amazing food and drink excellent coffee. It's pretty hard not to fall in love with this town that is also known as the 'coffee capital of Thailand'. Must-visits: The Akha Ama coffee shop and Graph Cafe (think local beans, sustainable farming methods, organic, manual brew – sublime!).
2. Visit the Elephant Sanctuary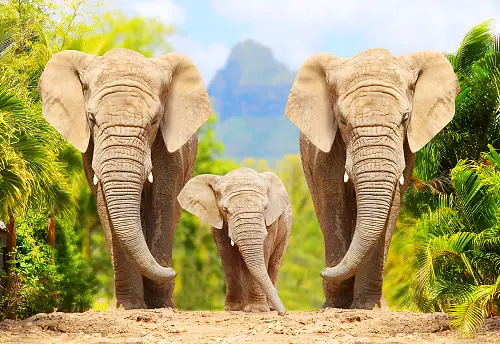 No, this is not one of those places where animals are being abused for the entertainment of tourist purposes. There is no animal cruelty at this elephant sanctuary and if you love wildlife – elephants in particular – you will absolutely adore this place! You can get close to these amazingly beautiful and intelligent creatures. You won't be riding them (!!!) but you can wash them, feed them and learn how you can communicate with them. This Elephant Sanctuary was founded by amazing people who really care for animals. These people came to the rescue of abused elephants and are helping them to rehabilitate. It is not one of the cheapest things to do in Chiang Mai but it will be an unforgettable experience!
3. Explore the stunning Buddhist temples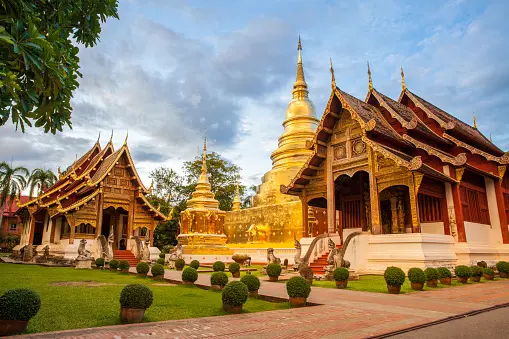 Another well-suited nickname for Chiang Mai is 'the cultural capital of Thailand'. In and around the city, there are 300 gorgeous Buddhist temples to be admired with golden rooftops, thousands of Buddha statues, serpent stairs and more. Some of them are located right in town and you can easily walk there from your private villa (after that amazingly delicious coffee at one of the charming coffee cafes, that is!). You can also meet monks and have a "monk chat". The most beautiful temple lies out of town, Wat Phra That Doi Suthep. Needless to say, this is the most famous temple in Chiang Mai perched on the slopes of a mountain. The views are breathtaking and so is the temple with its glittering gold. This temple dates back to 1383 AD and it is one of the most sacred temples in all of Thailand. Other must-visit temples are Wat Pan Tao, Wat Chedi Luang and Wat Umong.
4. Sunday Market Walking Street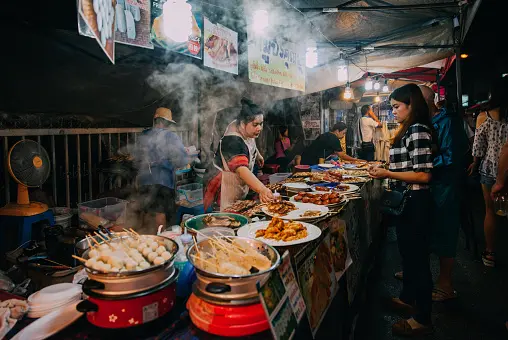 What do we love most about Thailand? Of course, those amazing weekend markets! Thailand has got the best markets, not just for souvenirs but more importantly the food is amazing! So much choice, bursting with flavours, colours, liveliness, it is just wonderful to stroll around from late afternoon until midnight. Make sure you are hungry and bear in mind to take it slow and not eat too much in one go – what you want to do is snack a little bit everywhere! In the meantime, you can buy handicrafts, learn to bargain, get a foot massage and enjoy the almost magical ambience of a city alive at night. Yes, we love the Sunday Market Walking Street in Chiang Mai held on Ratchadamnoen Road but The Saturday Night Market is also wonderful, taking place on Wua Lai Road. Not around for the weekend? It's a pity but take comfort in the thought there is a night market going on every evening in Chiang Mai and they make great alternatives.
5. Cliff jump at Hang Dong Rock Quarry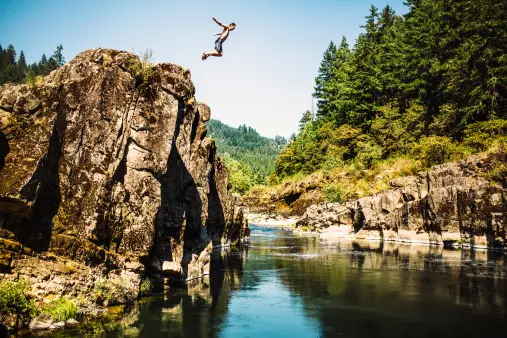 Are you up for an adrenaline experience in the wild nature around Chiang Mai? Go cliff diving at Hang Dong Rock Quarry with jumping cliffs up to 12 meters. You'll be jumping into stunning turquoise waters and for those who don't dare to make the jump can still enjoy a swim in these cool, super refreshing waters. A great getaway from the city it is!
6. Hill Tribe Trekking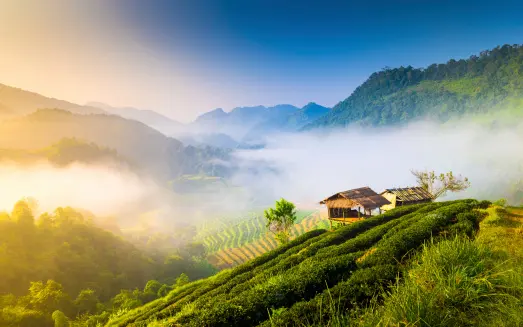 Want to get even further away from civilization? Go on a full-day or overnight hill tribe trekking. You will stop at waterfalls, valleys and mountains. There will be mind-blowing sceneries along the way and you can meet some local hill tribes such as the Karen long neck tribe. Chiang Mai is a true trekkers paradise!
7. Get a Sak Yant tattoo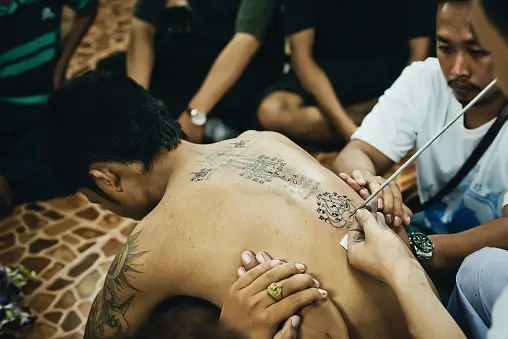 Want to go home with a unique souvenir? How about a Sak Yant Tattoo engraved in your skin by one of the monks? Traditionally, the monk would decide what tattoo you would get and where on the body it would be placed. These modern days you can choose the figure you like, the size and the spot. Sak Yant is a form of art in Thailand, engraving beautiful patterns into the skin with a metal rod (or bamboo in the old days). The tattoos are believed to work like a charm for good fortune, luck, healthy, protection, etc. This is not for everyone and you should be careful where you get your magical tattoo to be sure it is safe. Recommended is Lana Ink, using clean and sterile steel tip rods.
8. Learn the skills of authentic Thai home cooking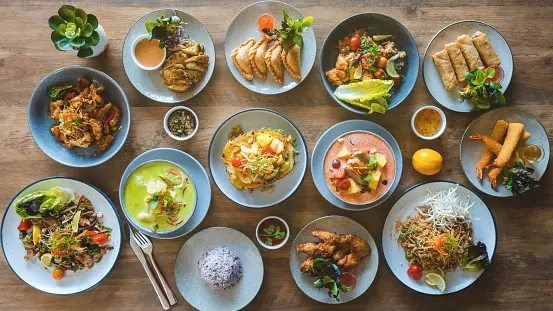 Want to master the skills of authentic Thai home cooking? There is no better place for it than in peaceful and cultural Chiang Mai! Attending a Thai cooking class is not wasting your time! It is not only a fun, local experience – you actually get to take something of great value home with you: secrets from the Thai kitchen. Learn all about the spices and herbs and how to use it. Once back home, you can cook up a perfect Thum Yum soup or a flavoursome red curry. Oh yes, you can bring the scents and flavours of Thailand back right there in your kitchen and much on delicious Thai food at your very own dining table. Most cooking classes will take you to the local market to buy fresh produce. From there, the chopping and cooking start. It ends with a delightful homecooked meal to enjoy with your fellow cooking class students. Sammy's Organic Thai Cooking School is recommended. Who doesn't like to cook with a view?
9. Tuktuk around town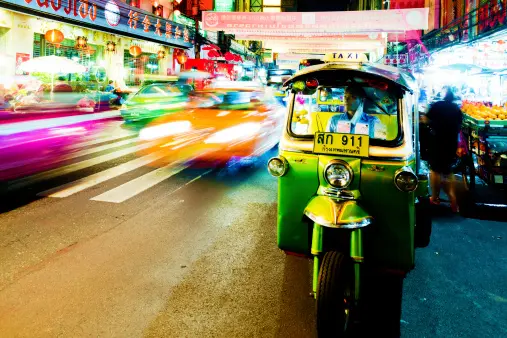 You won't get around it, TukTuks are awesome and they are a great way to get yourself around town! You may need to bargain about the price a bit – it is part of the game. Then, hop in and enjoy the ride!
10. Got get your Thai massage!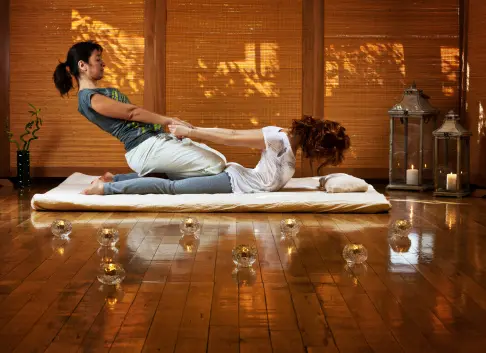 We all love a good massage every once in a while but in Thailand, getting a massage is something everyone can afford and oh wow, how it does wonders to your body. You'll be all relaxed and stretched once these skilled massage ladies are done with you! The Thai massage is a strong massage, usually without oil and don't be surprised if one of the ladies is standing on your back to get that tension out. It can really do miracles!
11. Cuddle with furry animals at Catmosphere
Missing your pet? In for some cat cuddles in between the sightseeing, temple visits and outdoor adventures? Go to Catmosphere. This cute little cat cafe in the centre of Chiang Mai will get you that dose of cuddles you need to enjoy the rest of your holiday without missing your cat at home. It's also a great place to visit with kids! Do note, kids have to be at least 6 years old to enter Catmosphere. Order a coffee and enjoy!
12. Go zip lining in the jungle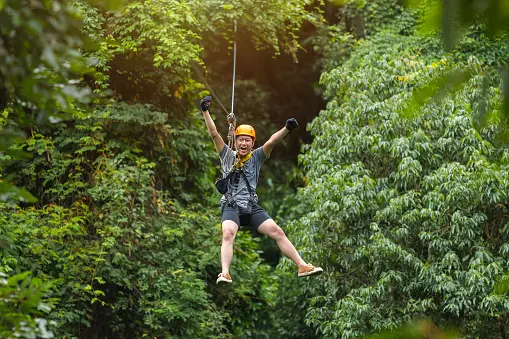 A treetop adventure is always great fun – especially you can experience it in the tropical jungle of northern Thailand. A great company is Flight of the Gibbon, not the cheapest but very safe, and that is really priority #1 when you are ziplining from one treetop to the other high above rivers and valleys. Conquer your fears and get blown away by the beauty of Thailand from above. This is an incredible experience to remember forever!
13. See the ancient city of Wiang Kum Kam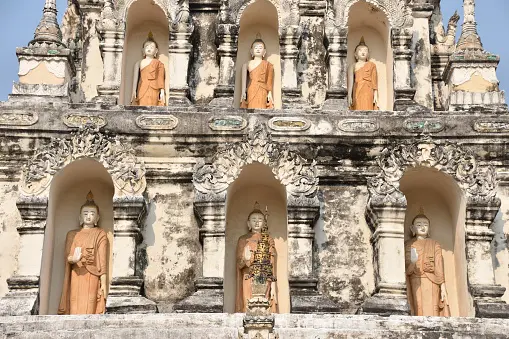 This enchanting ancient city from the Haripunchai Kingdom is located just 5 kilometres out of town from Chiang Mai City and it dates back to the 8th century. Wiang Kum Kam was the capital city of the Lana Kingdom before they changed it to Chiang Mai in 1296. Walk around to see the ruins of temples, the ancient stone tablets and the many Buddha sculptures. Wiang Kum Kam is a magical place of great history and beauty!
Related articles:
Please follow and like us: