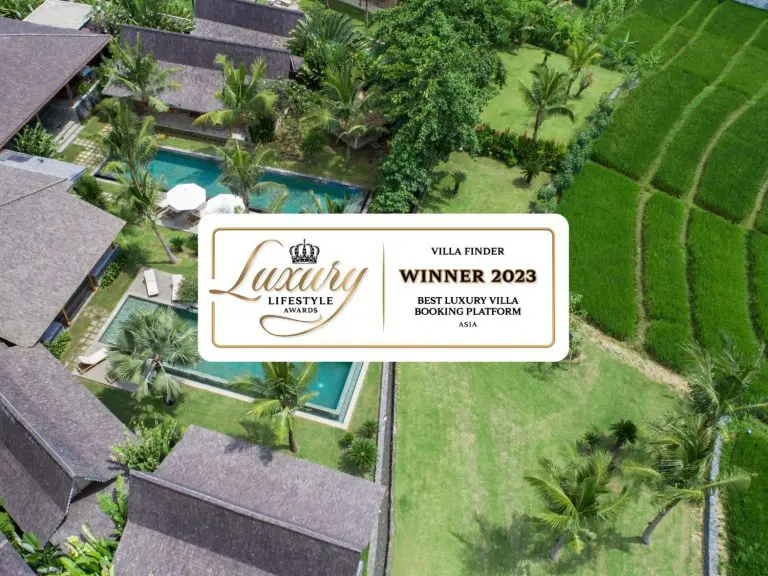 We are thrilled to announce that we have been honoured with the prestigious title of "Best Luxury Villa Booking Platform in Asia" by Luxury Lifestyle Awards. This recognition is a testament to Villa Finder's unwavering commitment to providing exceptional villa experiences.
Luxury Lifestyle Awards
Luxury Lifestyle Awards is an internationally renowned organisation that, since 2009, has recognised and celebrated excellence in luxury across various industries. They have evaluated more than 5,000 goods and services in 400 categories from 120 regions.
5-star service
Our success can be attributed to a commitment to excellent customer service, attention to detail, and a deep understanding of what today's discerning travelers seek in luxury accommodations. With a portfolio of handpicked villas in some of the most breathtaking destinations in Asia, combined with a dedicated concierge team to assist during your holiday, Villa Finder has consistently delivered exceptional service and unforgettable experiences to its guests.
"We are truly honoured to receive the 'Best Luxury Villa Booking Platform in Asia' award from Luxury Lifestyle Awards," said Daniel Rouquette, CEO at Villa Finder. "This recognition reflects the hard work and dedication of our entire team and wonderful guests, without whom we wouldn't be able to achieve this. We are committed to maintaining the highest standards of hospitality and will continue to innovate and exceed expectations in the future."
Villa Finder
Since 2012, our goal has been to curate the perfect holiday, in the perfect villa in Asia, and beyond. With a commitment to transparency, a rigorous vetting process for villa selection, in-house built software, a 45-strong team, 7-day-a-week customer support in 7 different languages, plus a dedicated concierge team to arrange the finishing touches to your dream itinerary, Villa Finder has become the go-to for travelers, families and groups looking for a special villa experience.
We are excited to continue a journey of excellence and strive to provide even more remarkable and unforgettable luxury villa experiences to travelers exploring the beauty and culture of Asia.
Please follow and like us: