India with kids? Really? Yes, really!!! India is a magical and beautiful country bursting with colours, diversity, people, wildlife and breathtaking nature. Kerala is located in the south of India and it is an amazing family destination! How so? Pristine beaches, lush backwater canals with the famous traditional houseboats, lush green tea plantations as far as the eye can see, Kerala is the greenest area in all of India and it is easily accessible via several airports including the Goa Airport, Bangalore and Cochin Airport. It is true, India is not the easiest choice for a family holiday compared to popular Bali or Phuket but it is very rewarding! Kerala is the area that is more relaxed and the most family-friendly in all of India and it is still as exotic and enchanting. With the right preparation and planning, you are in for a fantastic, unforgettable holiday with the family to Kerala in southern India!
Getting to Kerala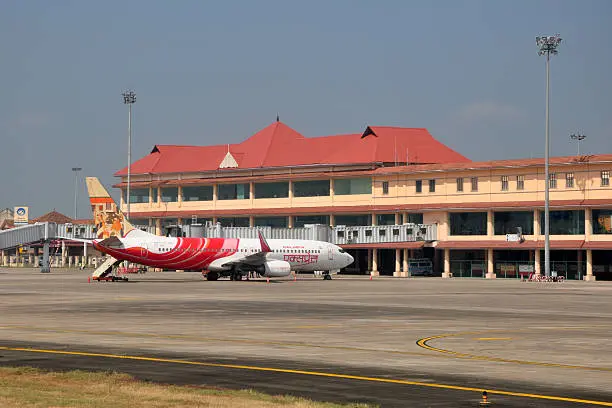 By Air: Cochin International Airport is well connected to all major cities such as Delhi and Goa. You can take a taxi from the airport to the city centre and start your Kerala adventure from there.
Getting around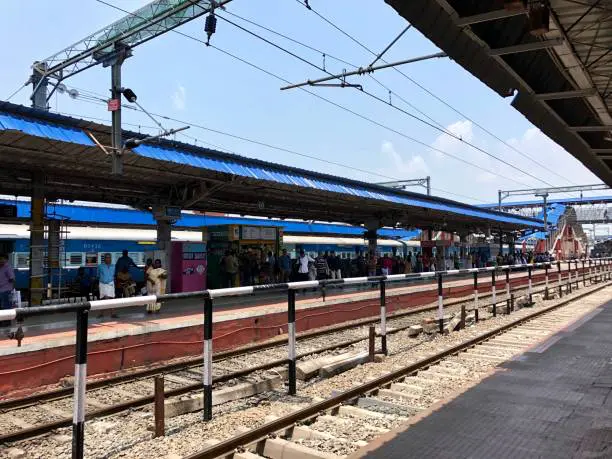 For families, probably the best way of getting around by car (with a private driver). You can hire a private car and driver inexpensively. It is safe, convenient and affordable and a lot of the times, it is cheaper and more convenient than renting a car and driving it yourself. Another option is to take the train. India has a well-working railway network and it is a wonderful way to see more of the country. Kerala has 81 railway stations and if you have the time- try to catch at least one of these scenic train rides! Your children will love it just as much as you! Another option is to make use of the buses. It is cheap but not very convenient, especially with kids. The best thing to do: get a driver! In the towns, you can get around on foot or make use of the local three-wheelers, it is fun and local and fast (tell them to slow down if they're driving too fast for your likings!).
The best time to go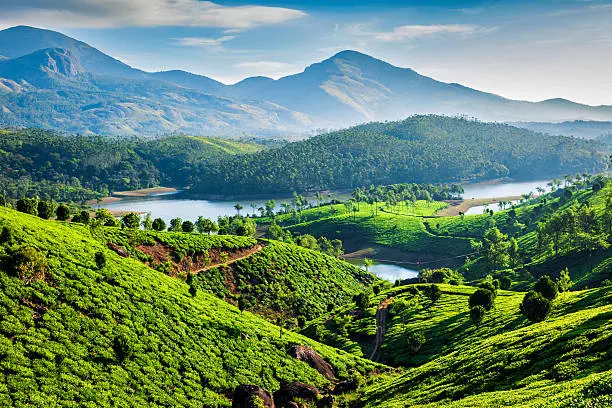 We are dealing with the dry and rainy season here in Kerala and the best time to go is between November and March when there is very little to no rainfall and it isn't too hot either. April and May are still dry but you need to be prepared for the heat! From June to November, Kerala gets hit by 2 monsoons with a calmer area in between in the August and September.
Packing essentials
Battery-powered torch (just in case of power cuts)
First aid kit with Mosquito repellent and O.R.S
Pack clothes for warmer and colder weather (depending on your travel plans)
Wet wipes/toilet paper (you never know what state you'll find a public toilet in!)
Diapers (if applicable) – you may not find them outside of major cities.
Things to do in Kerala with kids
Kerala is a wonderful family destination. Here are some great things to do with your kids while on holiday in Kerala:
1) Exploring the backwaters: go for an overnight lake cruise on a traditional Keralan houseboat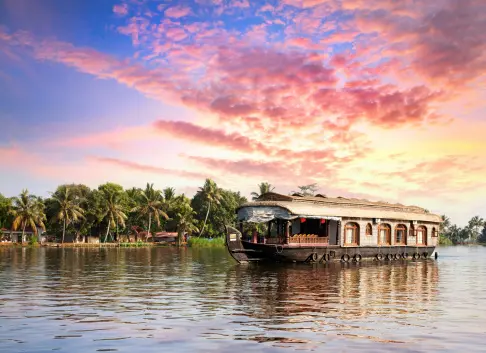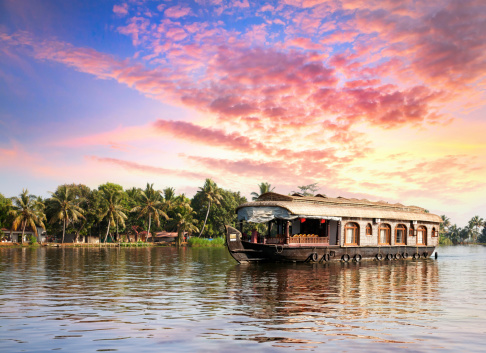 Kerala is famous for the overnight lake cruises on traditional 'houseboats' – it is one of the main attraction points in the south of India. Well, who wouldn't want to sleep in a house that is actually a boat and float down the Alleppey river in India? The Keralan houseboats are large and very beautiful to see and for the kids, it'll be an amazing adventure! One houseboat is big enough to accommodate a large family. All-day and evening long, you can enjoy the gorgeous lake views, play games and spent undisturbed quality time. The houseboat comes with a private chef to prepare breakfast, lunch and dinner. It is a great and unique experience to remember forever!
2) Munnar Tea Plantations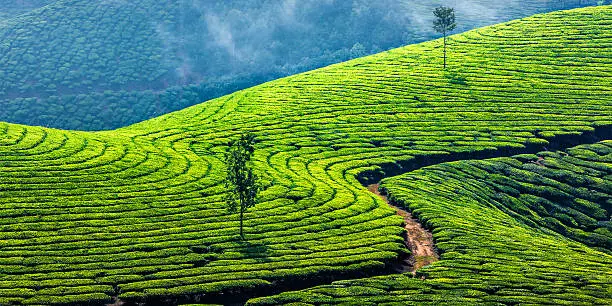 There is almost nothing more breathtaking than the view of endless tea plantation as far as the eye can see. At Munnar, you'll get completely stunned by the tea plantation sceneries all around. Also known as the "tea country", this hilly area is a great place to 'beat the heat' for a little while, breathe in the fresh air, watch the stars and enjoy the tranquil, serene atmosphere. Munar is an amazingly picturesque hill station in Kerala and in these cool mountains, you can do tea plantation trekkings and along the way, you can stop at tea shacks, pluck you own tea leaves and visit streams and waterfalls. A trip to the Tea Museum in Munnar is also very nice.
3) Explore Periyar National Park by raft and spot amazing wildlife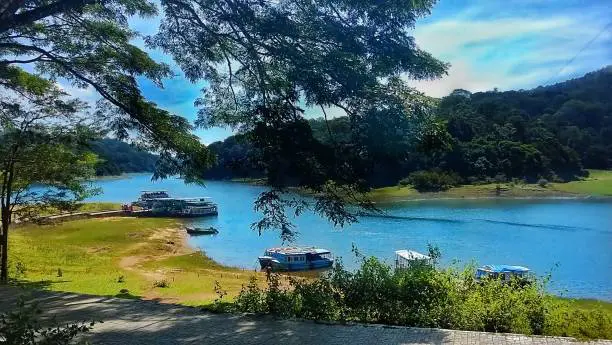 Do you want to spot elephants in the wild? Of course, you do! How about tigers? Your kids will be absolutely thrilled! Periyar National Park is a wonderous wildlife reserve with grasslands, cardamom hills, forests, rivers and lakes, located in Thekkady, Kerala, and the park is home to abundant wildlife. Hop in a jeep or float down the river on a raft and perhaps you will see wild animals drink or bathe in the river. We have to be honest with you here, tigers are very, very rarely spotted but you will most definitely see elephants and for sure, you'll be having a marvellous 'into the wild' experience with the family! Do note, a lot of the excursions exclude kids below 12 years old.
4) Explore historic Fort Kochi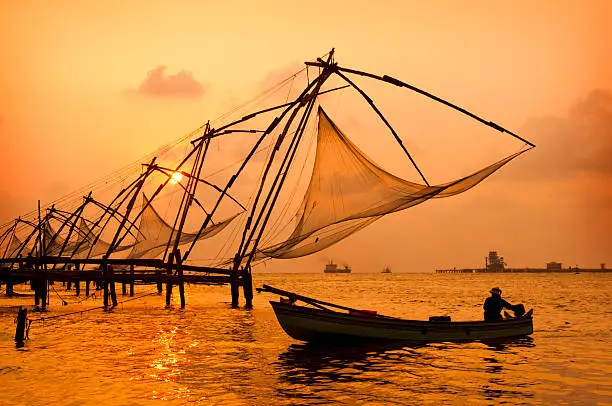 Fort Kochi is a picturesque and historic town, a treasure of art, history and culture and an important trading port in the old days. You will see trades of the British, Dutch and Portuguese colonial Eras and it's quite wonderful to just stroll around here or drive from here to there in the local Rickshaw three-wheelers. The most famous attraction in town are the Chinese fishing nets on Mahatma Gandhi Beach. Other must-see places are the Dutch Palace, the Paradesi Synagogue and cathedral Santa Cruz Basilica. Fort Kochi is fun, colourful and energetic – the entire family will fall for this city's charm!
5) Go see a traditional Kathakali performance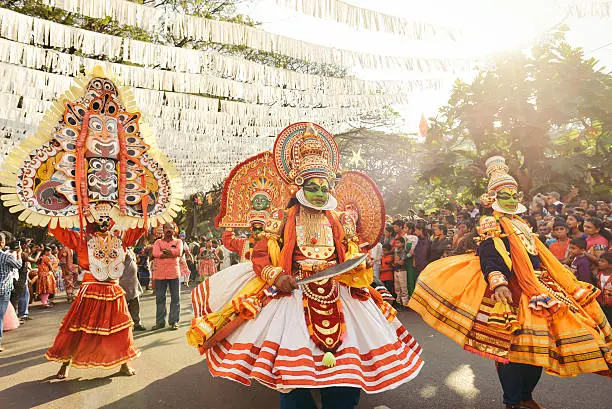 You must take the kids to see a traditional Kathakali theatre/dance/music performance (and a great place to see it is at Fort Kochi!). Beautiful costumes, handmade masks, mystical music and dance – the kids will love it and it gives a great insight into the local culture. Kathakali originated in Kerala somewhere in the 17th century and it is a storytelling, somewhat dramatic kind of art form on Unesco's list of Intangible Cultural Heritage. This classic Indian dance performance includes dancers with prominent facial expressions, make-up and movements. Ancient sagas from the Mahabharata and Ramayana are told and it is a feast for the senses! Kathakali originated in Kerala somewhere about the 17th century.
6) Beach time!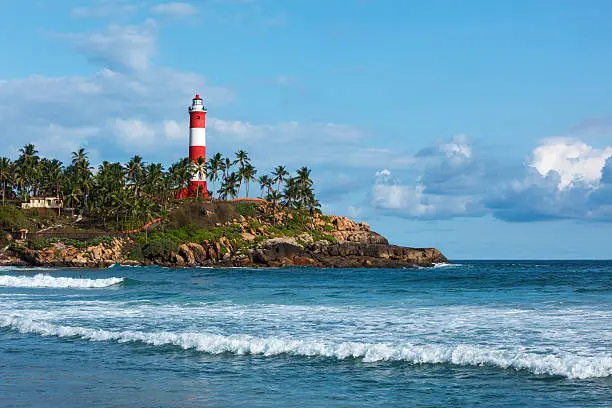 Ahh, those beaches in India, they are beautiful and they're great for families with kids, too! You just can't miss out on some well-deserved beach time! Book a lovely family villa near the beach and relax for a couple of days! It is mandatory for a relaxed family holiday if you ask us! Kovalam is great and Varkala is more laidback and hippyish with pleasant swimming water and spectacular sunsets.
7) Get your taste of authentic South Indian food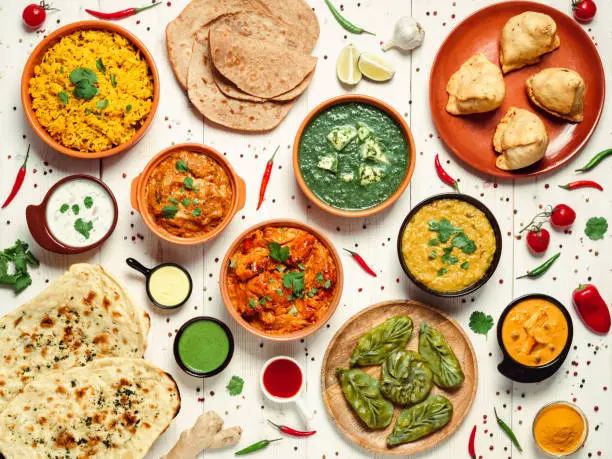 Coconut, cardamom, cinnamon, fruits, seafood – the south Indian kitchen is just incredible! Sweet, smooth, rich and exotic. Biriyani, chai tea, curries, dosas and samosas – there are plenty of new things to try and everything is delicious! Children may not be so easy with new tastes and unknown flavours but not to worry, the bigger towns do have Western dishes on the menu and the benefit of staying in private villas is, they always come with a kitchen to cook up something familiar for your little ones.
8) Experience Ayurveda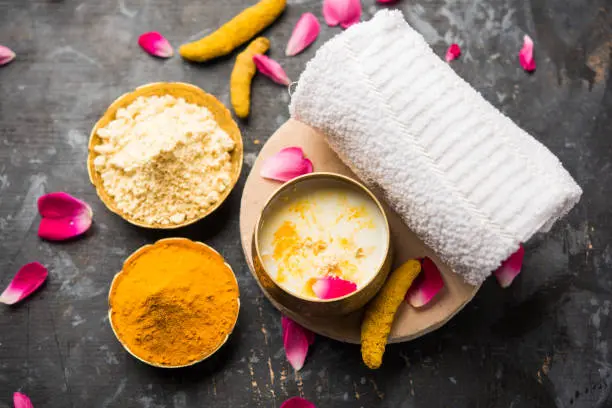 The best place to experience the healing possibilities of Ayurveda is in the land of Origin: India! Kerala has got wonderful spas where you can learn more about this Indian healing tradition that goes back centuries. Get an ayurvedic massage to feel reborn again. The kids may also want to give it a go? If not, get a spa therapist over to the villa and you're good to go and relax for an hour or so. Pure bliss!
Where to stay in Kerala?
From humble homestays to hotels and private villas – there are plenty of options for accommodation in Kerala, from cheap to high-end. However, for families with kids, we recommend booking a private villa for the stay. Why? You will get a 'home' – a place where you and your children can really take a rest, unwind and take in the impressions of the day. You get a living area with a dining table, sofa and a kitchen (super convenient!). On top of that – there is a private garden with a pool where you can swim and relax and everyone has their own bedroom to get a good rest at the end of the day – this is just what makes the holiday perfect!
Please follow and like us: