The First of its Kind; Villa Finder to Host a "Villa Investment in Asia" Event in Singapore
Singapore, 11th September 2019– In the 1st edition of Villa Finder's event series, a "Villa Investment in Asia" talk will be held on the 8th of October 2019 in Singapore. Scheduled for Tuesday morning at 8:30 am – 10:00 am, this event will bring together two of Bali's best industry experts in Villa Investment. 
Location: Villa Finder Singapore Office, 35B Pagoda Street, 059194
Closest MRT: Chinatown, Exit A
Closest carpark: Chinatown Carpark Park Cres, behind People's Park Complex
Taxi drop-off point: Sri Mariamman Temple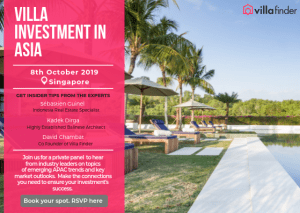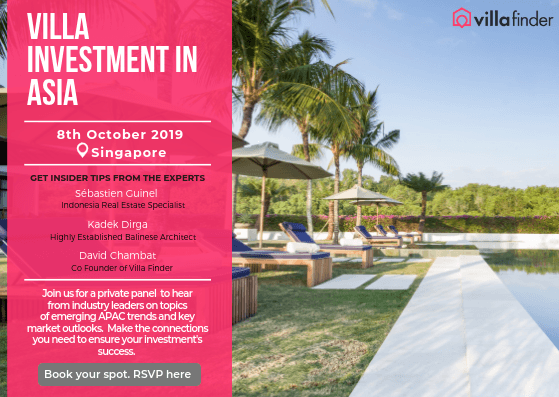 On the back of interests from property investors and business owners, "Villa Investment in Asia" will be the start of Villa Finder's knowledge sharing sessions for topics like Villa Investment, Villa Rental Market and beyond. With 7 years of experience in the industry, Villa Finder's events will be dedicated to arming potential investors with valuable insights into the realities, challenges, and profitability of investing in a villa.
The "Villa Investment In Asia" talk will host Sebastian Guinel, an Indonesia Real Estate Specialist, Kadek Dirga, a highly established Balinese Architect, and David Chambat, Co-Founder of Villa Finder, on a private panel to share insights on emerging APAC trends and key market outlooks. Together, they will cover a focused range of topics:
Villa trends and insights (Thailand, Bali, Sri Lanka)

How to start, scale and grow a villa investment

Villa architecture and design expertise 
In such a niche market, Villa Finder's event series presents an opportunity for interested business owners to gain valuable introductions and connections to seasoned and experienced villa owners in a private and productive setting, as well as the promise of these sessions to educate, inform and inspire.
The "Villa Investment in Asia" talk is currently on an invite-only basis. Please RSVP in this link to secure your spot for the event
The Villa Finder Press Kit can also be found here
Media Contact

Event email: edoria@villa-finder.com | bookings@villa-finder.com
Digital marketing and communications manager
Email: edoria@villa-finder.com | Edoria Ridzmann
Please follow and like us: