Being in the villa rental business for the past 9 years teaches us one thing: Families have very different travel needs than any other types of travellers. Whenever we expand to another destination or add a new villa into our portfolio, we always have a checklist for its kid-friendly properties. When our mom clients ask us about Niseko, we can happily say that the destination is a great choice. In this Niseko family guide, we have asked our Japan experts to share their best tips on how to travel to Niseko with kids. We will be providing some options and inspirations for you to plan your trip.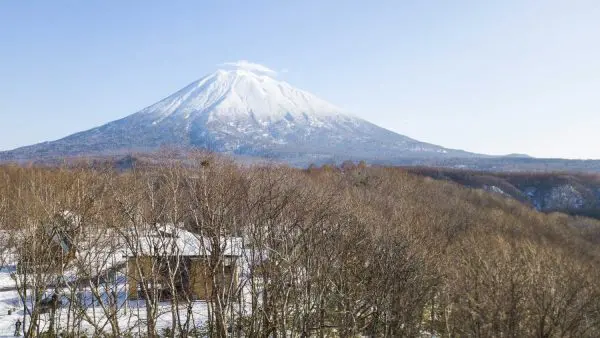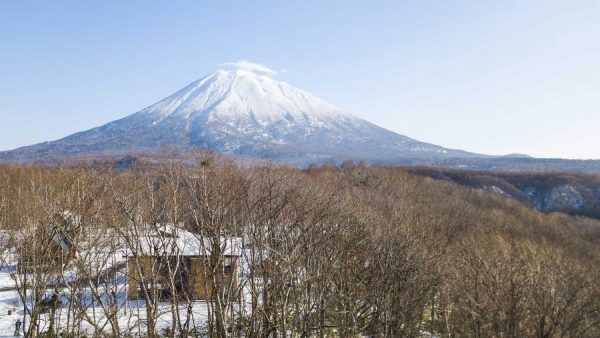 Is Niseko family-friendly?
The short answer: absolutely yes.
We have seen enough kids in Niseko to confidently say that the destination is very family-friendly. Skiing aside, there are plenty of other things for families to do, although most of our clients come to Niseko for the snow.
When to go to Niseko with kids
If you plan to arrange a Niseko ski trip for your family, the seasons are as follows:
Late November – Early December: this is the start of the season. The snow has just started falling, and there are not many holidayers during this time. Restaurants and shops start opening at the beginning of December. If you are travelling during this time, you can expect short lift lines and pretty quiet nightlife.
Mid-December: Early season. During this season, the snow is thicker (around 300+ cm) and night skiing is available. The lift lines are still short despite having more travellers. Restaurants are fully open. Evenings are also livelier with more nightlife and events.
Late December: this is the peak of the season with thick, powdery snow, excellent skiing conditions from day to night. It's the busiest period of the year, so expect to find lots of tourists, vibrant nightlife with plenty of events and activities.
Mid-February – Late March: the number of tourists has dropped by this time, but the shoulder season still offers favourable skiing conditions and lively evening activities. The lift lines will still be busy until the beginning of March. Most restaurants are still open, but they will begin to shut down by the end of the month.
April – May: there will be few tourists. Skiing, dining options and activities will also be limited.
Niseko summer: Niseko is not exactly known internationally for its summer, not because it's not beautiful. If you are a fan of quiet nature, majestic mountains and colourful flower fields and local markets, then you might one to bring the kids to Niseko during summer. However, note that public transportation is not as frequent as winter, so do plan your time carefully. You can download the bus timetable here.
Check out our Niseko Ski Seasons Guide for more details about the best skiing periods as well as our experts' tips.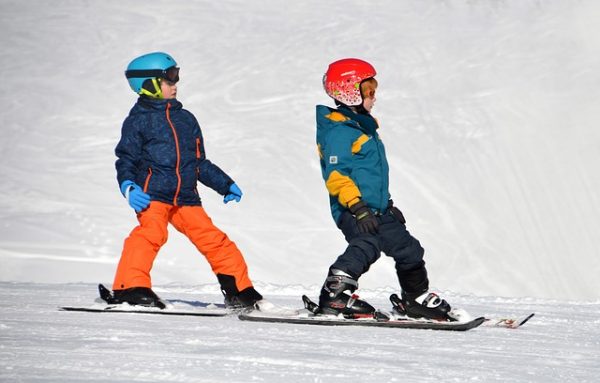 Villa Finder's Niseko Family Guide to What to do in Niseko
1. The obvious activity: Skiing
Niseko is known the world over for its thick white snow and perfect skiing conditions. If your family consists of experienced ski enthusiasts, this will be the perfect holiday for all.
But if it's your first time skiing or the little ones are not able to ski down Niseko's slopes yet, fret not. There are still plenty of winter activities that suit all ages and skiing experience.
Check out our Niseko Ski Guide
2. Visit Niseko Village
Niseko Village is a holiday resort that offers plenty of kid-friendly activities. In winter, the kids can have fun with reindeer sledging, snowshoeing, snowmobiling while summer is a good time for some hiking experiences, ziplining across Hokkaido's stunning nature, horse-back riding or tree trekking (traversing amongst the treetops). These are all very exciting activities, you can be sure that your kids will never be bored here.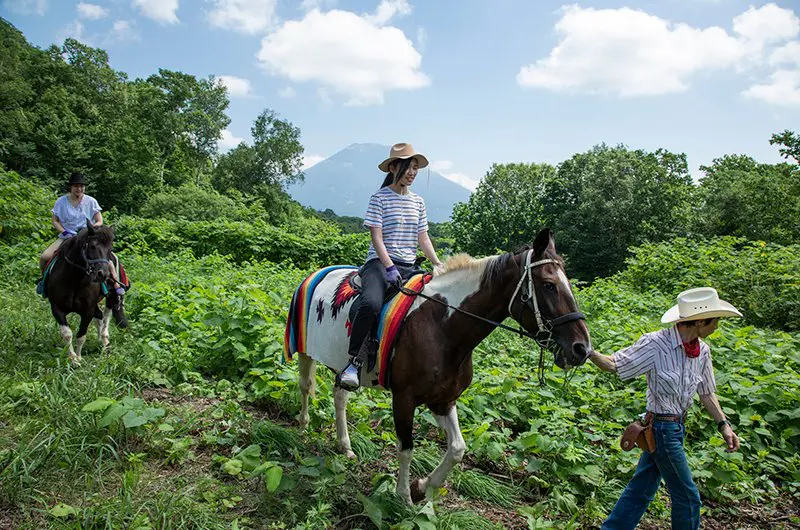 3. Check out Niseko Grand Hirafu Kids Park
Niseko Grand Hirafu Kids Park is another place your little ones will be thrilled to visit. The place is well equipped with family-friendly amenities, plus a wide range of fun activities like strider bikes, sledging or tubing – not something you usually do in your own backyard! Take note that for children ages 3 to 9, they will need to be accompanied by an adult.
4. Family time at Jo Jo's
Jo Jo's is where you can find a three-storey indoor playground, rock climbing and cosy dining space. It's no wonder this is a favourite family hangout for both locals and tourists alike. As the grownups enjoy their favourite burgers, the kids will want to test their skills at the climbing wall. Perfect for all ages, indeed.
5. Relax in a Japanese onsen
Snow or no snow, it's always a good time to soak in a hot bath after an active day. The onsens in Japan are said to have healing properties thanks to the minerals in the water. While holidaying with your family in Niseko, you must check out some of the incredible natural hot springs here. Places like Yukichichibu boasts unique women-only mud onsens with views out to Niseko's mountains. Alternatively, Hilton Niseko Village gives you an experience like you are taking a soak in the middle of the forest.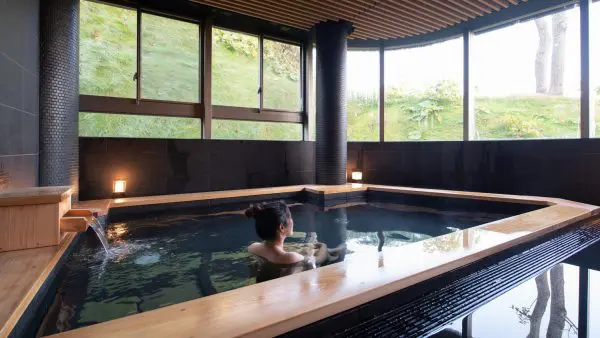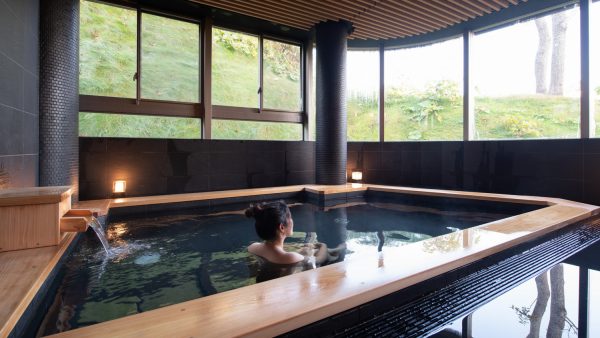 There are more for you to choose from, which we have included in this article. Check them out!
6. Farm-to-table lunch in summer
There is no shortage of kid-friendly activities in Niseko during the summer. As the white blanket of snow melts away, revealing Niseko lush nature, the town celebrates summer joy with activities and offers you can't really find during the cold months. Many farmers offer all-you-can-eat tours where you can pick local fruits and vegetables. Kids will be delighted to try their hands at selecting and picking the best seasonal produce, trying the freshest cow milk and collecting eggs from the farm. After all those fun "labour", they will be rewarded with a fresh-from-the-farm lunch.
7. Hiking and biking with kids- enjoy Niseko's nature
While the destination is coloured with a monotonous white sheet in winter, summer boasts plenty of scening hiking and biking trails where you can luxuriate in scenic nature with majestic mountains, vast summer fields and colourful flowers. Mount Yotei, Mount Annupuri are wonderful places to spend some time with nature.
Family-friendly ski chalets in Niseko
Located in Hirafu, Miyuki is an excellent Niseko chalet for families. With 5 bedrooms, this holiday home can accommodate up to 11 guests. The reasons while we like to recommend Miyuki for our family groups are plenty. First, it's only 300 metres away from the ski lifts. Second, you can easily find good restaurants in the surrounding area. Third, the facilities are top-notch extremely well-maintained, and the decor is tasteful. So whether you are out on the slope or resting indoor, you are guaranteed to have a great time at Miyuko chalet.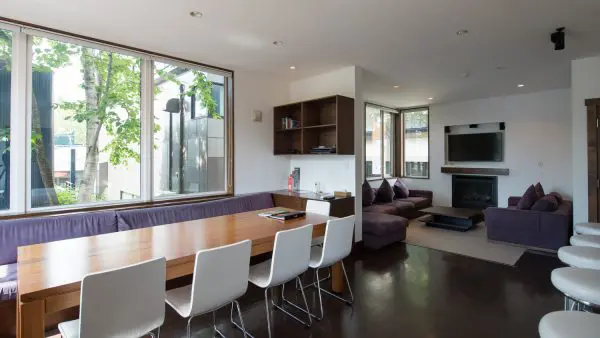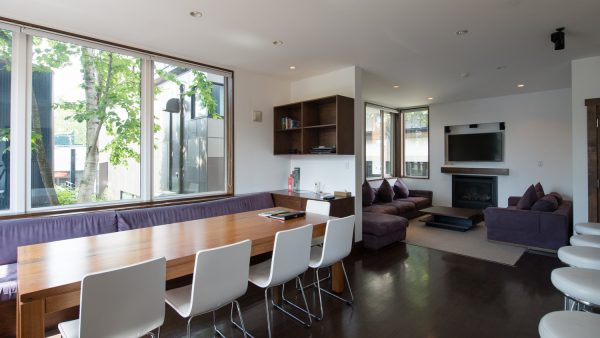 We love the wooden tones and the glorious views of Konaya. This 3-bedroom Niseko chalet is the perfect choice for families or groups of six. You will have the forest as your backyard and views of Mount Yotei and Mount Annupuri. Fully equipped with modern amenities such as kitchen, washer and dryer, plush, comfortable beds and sofas, Konaya promises a relaxing stay for the whole family. Want to hit the slopes? You will be happy to know that there's a complimentary winter shuttle that runs from 8 am to 7.30 pm.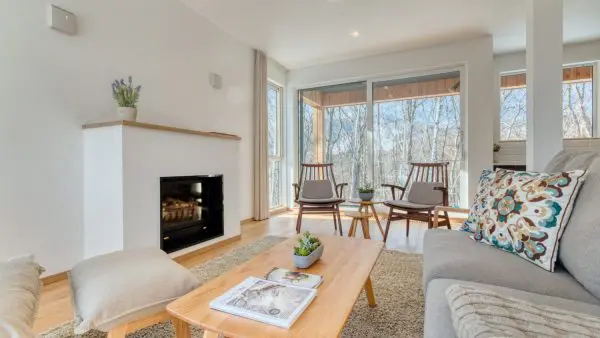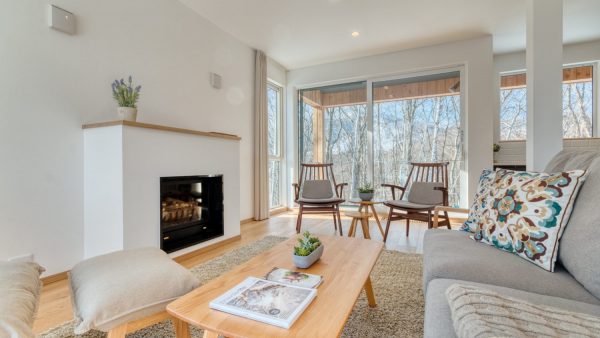 Winter or summer, Yotei South Penthouse is always a delight to reside in during your family holiday in Niseko. The accommodation is utterly luxurious and stylish with warm wood tones, luxe amenities and unobstructed views of Niseko. As you are winding down on the plush sofa, you will be treated to the incredible mountain vista. On top of that, Yotei South complex goes all out to make sure you have the most indulgent stay on the premises. Expect to find delectable daily breakfast, private onsens, onsite spa and a wide array of extra services like mountain guide, equipment rental and lift ticket. Need to baby-proof your stay? You've got it.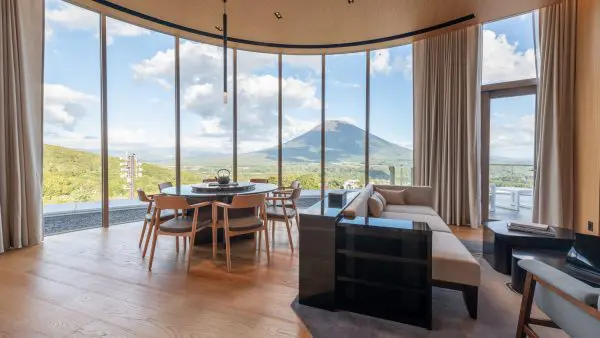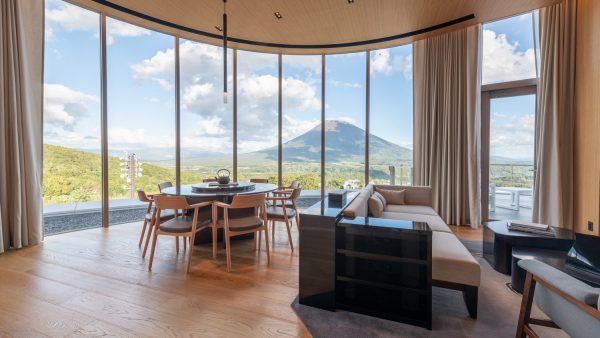 Where to find kid-friendly equipment in Niseko
Skis, helmets, snow boots and anything you may need, you can rent everything you need for your family ski trip here. In summer, the place offers a wide array of outdoor hiking and biking tours. You can also rent a mountain bike here. Rhythm has two outlets in Niseko.
This is one of our favourite places to get our winter gears sorted. The shop has a line up of most popular brands and a huge selection of equipment. If you prefer to own your gear instead of renting, this is the place for you.
Where to eat in Niseko with kids
Looking for some dining options? We have written an extensive guide on Niseko restaurants here. Check it out!
Please follow and like us: