The best villas in Tuscany are those with extraordinary views! Are you looking for paradise on earth? Tuscany comes pretty close to a stay in paradise if you ask us. Let go of all of your everyday thoughts and worries and just gaze at the rolling hills all around you. Feel the warm sunshine on your skin, plunge into your private swimming pool and get blown away by gorgeous sunsets over the fields of Tuscany. We fell in love with this beautiful and peaceful region in Italy and this article is all about the best villas in Tuscany.
Dream away in our best villas in Tuscany Italy
It was not an easy task to come up with a list of the best villas in Tuscany. The reason is simple: almost all of our Tuscany villas come with breathtaking views. Here's the best of the best: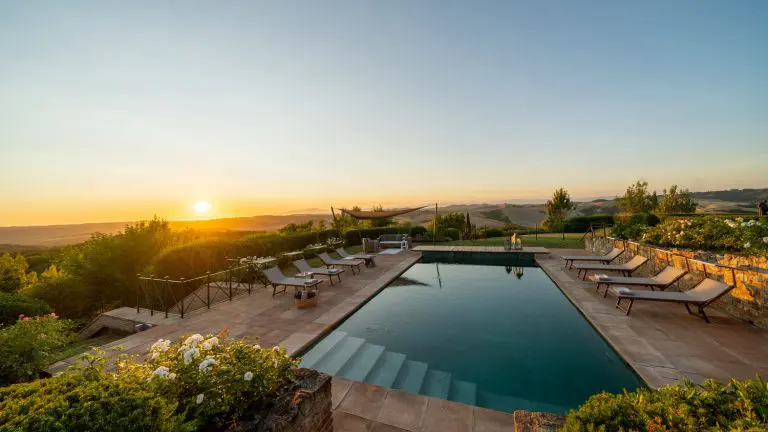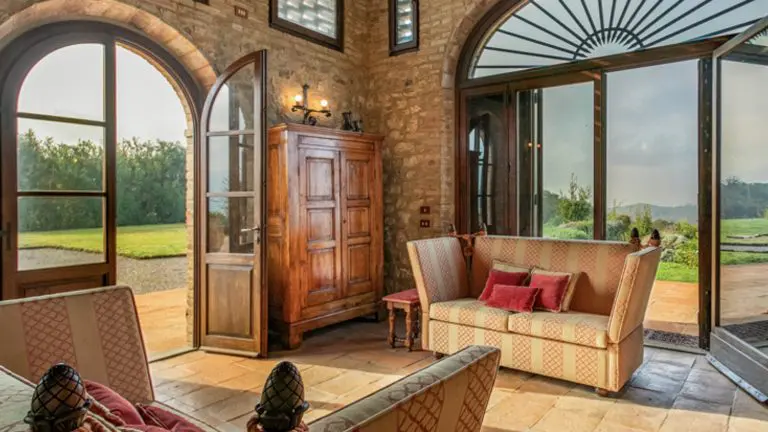 Villa Fonte Rinaldi is a rustic 3 bedroom holiday retreat perched on a hill. You can only imagine the epic 360-degrees view of the Tuscan countryside. It's just mind-blowing. The expansive garden of the villa blends in seamlessly with the surroundings. It's as if you are staying in nature with a private swimming pool at your feet. There are multiple living spaces at the villa, all furnished with antiques and decorated with handpicked artefacts. Outdoors, there are more options for relaxation en dining with your loved ones. Throw a lavish afternoon BBQ with the family and enjoy this villa's amazing modern amenities such as underfloor heating, AC and the convenience of having a dishwasher. Villa Fonte Rinaldi can accommodate groups of up to 10 guests when making use of the sofabeds. The perfect family retreat in the dreamy Tuscan countryside.
Why you'll love this villa
Indoor & outdoor living areas with a view
Rustic & sophisticated
1950 Italian kitchen
big pool (12 x 6 metres)
Induction hob, underfloor heating, AC & dishwasher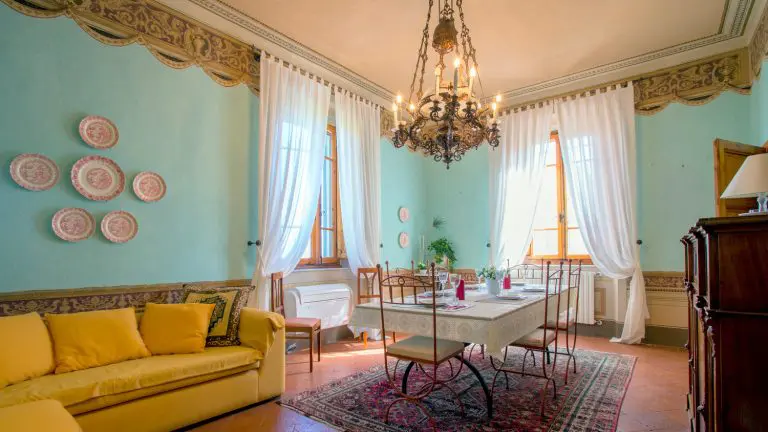 Villa Angelica is a restored 19th-century luxury home spread over 2 floors. Big enough for groups of up to 13 guests, Villa Angelica has 5 bedrooms. This quaint holiday retreat in Tuscany is quite a stunner with magnificent views of olive groves, vineyards and the city of Volterra. Retro and chic, Villa Angelica has its own style and character. On top of that, the villa has splendid facilities including a jacuzzi and a private swimming pool with a fabulous pool deck where you can lounge, sunbathe and have sip cocktails from morning till sundown. Villa Angelica also has a children's playground on-site, making it ideal for young families.
Things to love about Villa Angelica
Quaint 19-century villa
12-metre pool with hydromassage area
Outdoor Jacuzzi
Alfresco dining area
Children's playground
Stunning views of the city of Volterra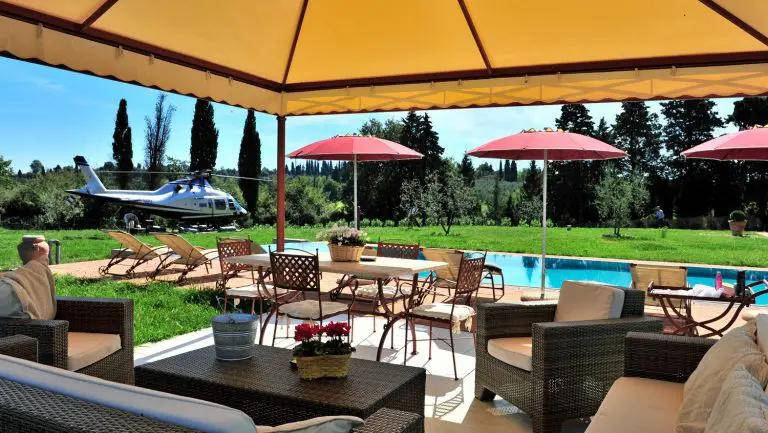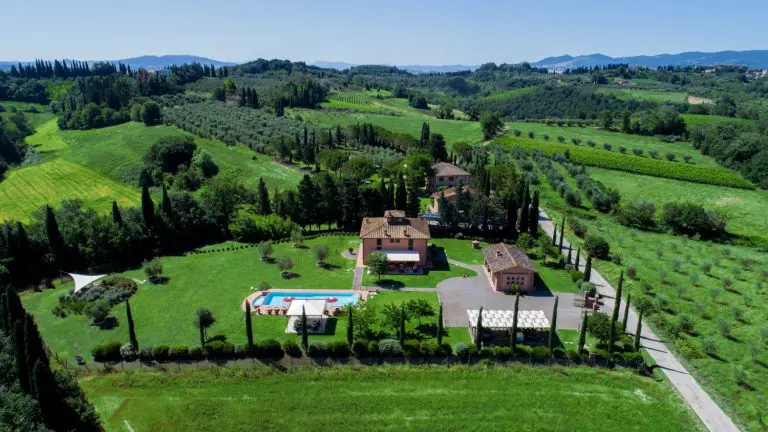 This 19th century–restored farmhouse has 4 bedrooms and a big private swimming pool. While keeping its rustic charm intact (think wood ceiling beams and terracotta floors), the villa did have a massive upgrade to include luxury features such as underfloor heating, AC and a car park. Villa La Lestra has a BBQ and alfresco dining area and it even boasts a private Roman Spa. When staying at Villa La Lestra, you get to enjoy magnificent valley views to stun you each morning and afternoon again during your stay. The location is also great, nestled in the intersection of Florence, Siena and Pisa.
Why you'll love this villa
Traditional style & modern luxuries
Private Roman Spa
BBQ & alfresco dining area
Underfloor heating
Private car park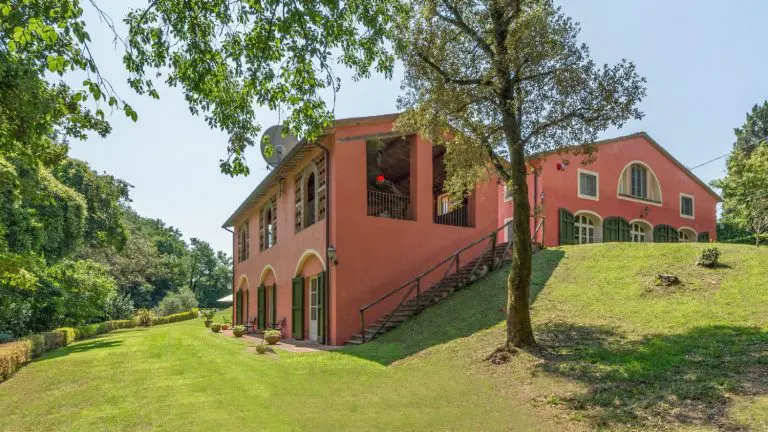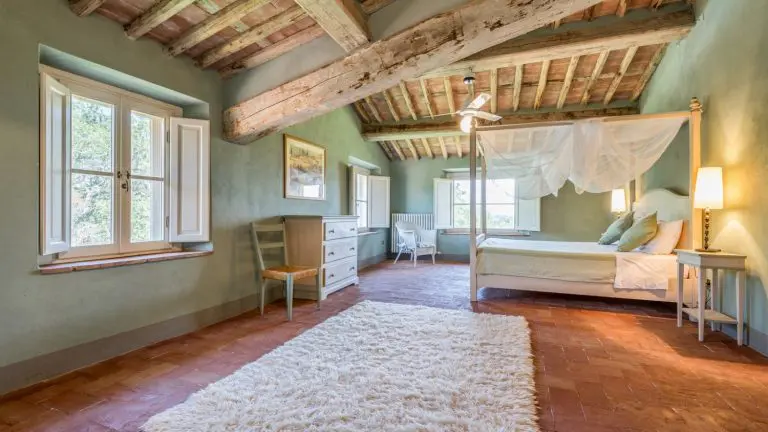 Villa Novedieci is a luxurious vacation retreat located on the outskirts of Lucca in Tuscany. The villa has 10 super spacious bedrooms with elegant furnishings and multiple living and dining areas. The villa even has 2 kitchens and there is a media room with plush red sofas to chill out on. You will also get a private gym and a private tennis court. To enjoy quality time with friends and family you never even have to leave the property. There is just so much to do!f However, the town of Lucca is utmost charming and the Renaissance city of Florence is legendary. Villa Novedieci makes a wonderful holiday home where you can relax, entertain yourself and experience the magic of this enchanting region in Italy.
Things to adore about Villa Novedieci
Tennis court on-site
Private gym & swimming pool
Media room
Great location near the town of Lucca
10 bedrooms for big groups
Multiple living and dining rooms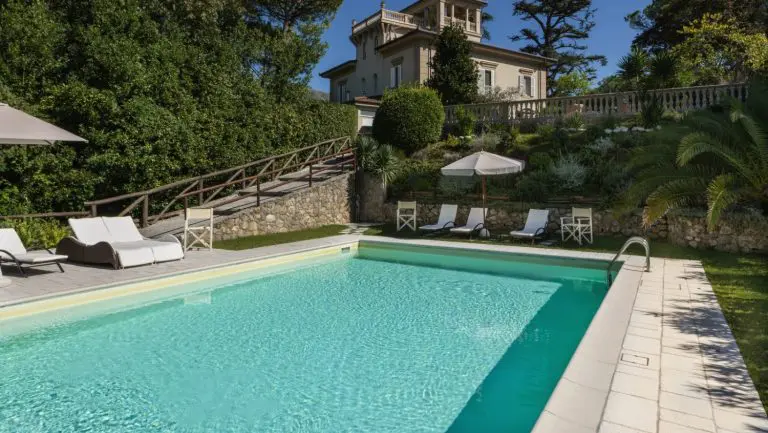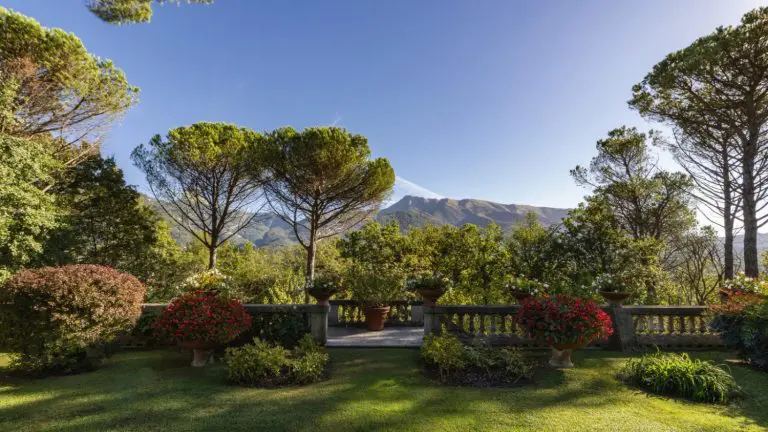 The ultimate family home, Villa Zacconi is a 3-level holiday home in Tuscany overlooking hills, fields and trees. The villa is designed with a mix of contemporary and Art Deco furnishings. In the garden glistens a big private swimming pool and there is more fun time to be had, playing ping pong or throwing a BBQ. Villa Zacconi has 5 air-conditioned bedrooms + an apartment with a private balcony. On the top level, there is a large terrace with amazing 360-degrees views of Camaoire Valley. Strong Wifi is available throughout the property.
Why you'll love this villa
Roof terrace overlooking Camaoire Valley
Nespresso machine
Home theatre
Private pool
BBQ
Ping Pong table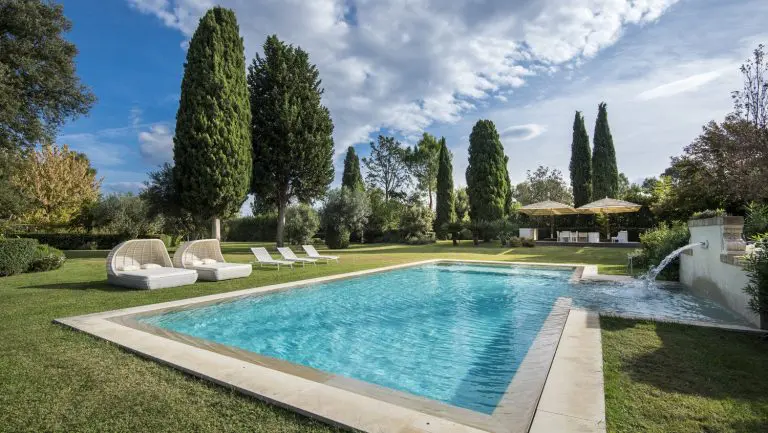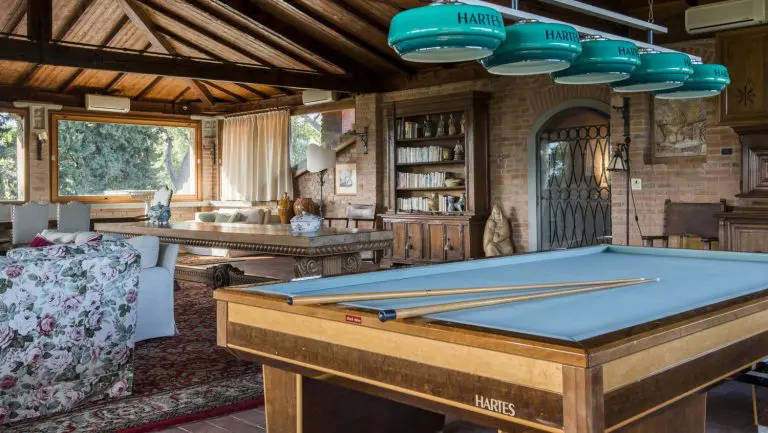 For a wonderful summer holiday with the family, this 6 bedroom villa might be a perfect choice. Villa San Lorenzo features a big heated swimming pool with a waterfall feature and jacuzzi. There are several living spaces and all are designed with Persian rugs, teak furniture and art. There is a big library of books available in one of the lounge rooms and there is a billiard table for many hours of entertainment. Located near the town of Grosetto, you have the beach close by as well as Maremma National Park.
Highlights of this best villa in Tuscany
Authentic Tuscan Style
Private heated swimming pool
Jacuzzi
multiple living rooms
Billard room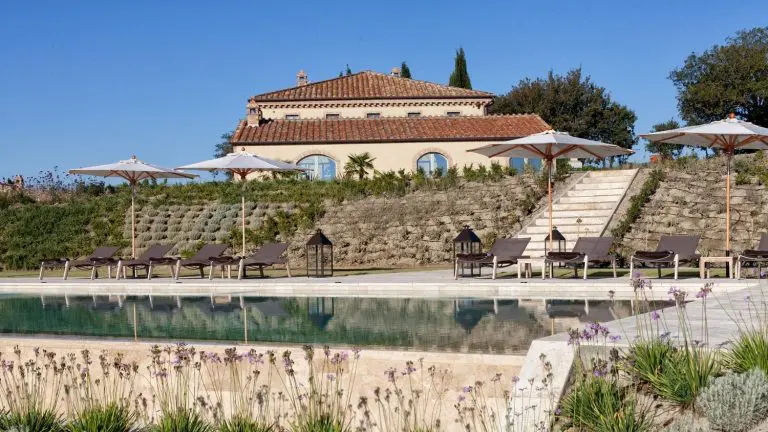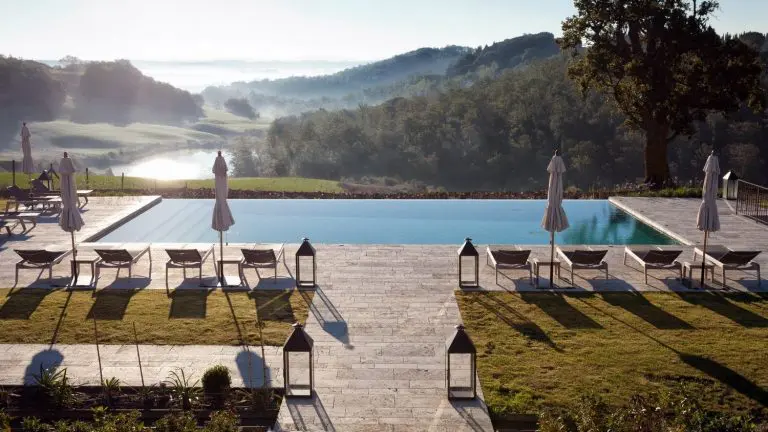 Villa San Luigi Country Estate features tall ceilings with arched windows and doorways, a splendid infinity swimming pool and views that are simply jaw-droppingly beautiful. The villa has 7 bedrooms and there are more than a few amazing facilities including a fitness room, helipad, billiard table and a large terrace for sunbathing, lounging and alfresco dining. Enough ingredients for a splendid, unforgettable stay in this hills of Tuscany.
Why you'll love this villa
Magnificent hilltop location
Stunning infinity swimming pool
Spacious pool deck overlooking hills and more hills
Billard table
Fitness room
Helipad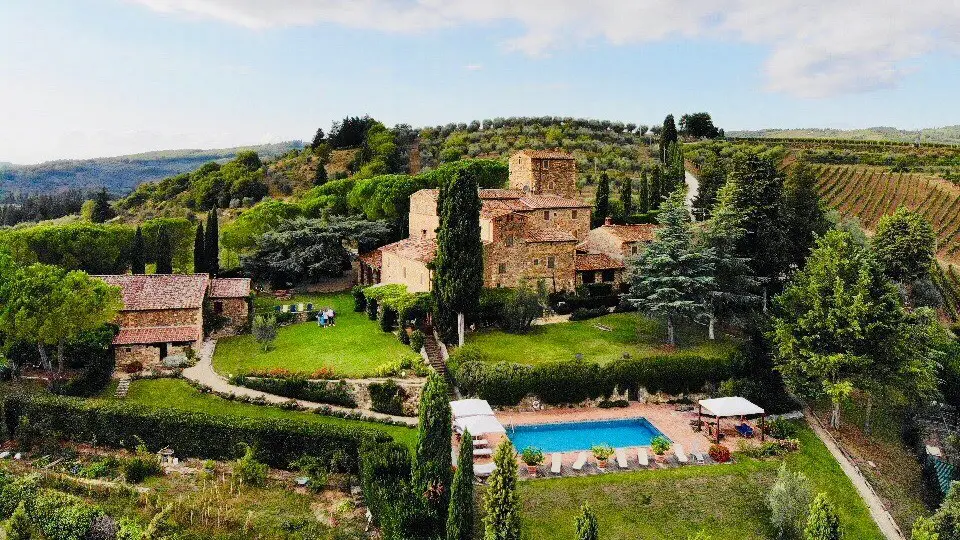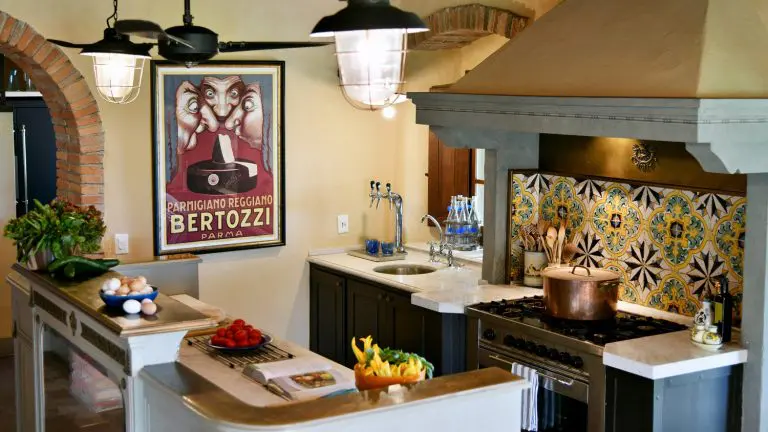 Villa Ca 'Di Pesa is majestic! Housing no less than 11 bedrooms, you can bring the entire family for a stay at this luxurious mansion. The villa is located in the heart of Chianti – the famous wine region in Tuscany. This beautiful villa features a traditional style and typical Italian architecture. The villa has a private surround-sound home theatre room with a projector and screen. There are several beautifully decorated living rooms. The garden has multiple layers and there is a big pool as well as a bocce lawn and a pergola-shaded area to play ping pong. You can dine inside in the formal dining room or enjoy an alfresco dining feast under the stars. It's all up to you.
Why you'll love this villa
perfect villa for big groups
Cinema room
Bocce lawn & ping pong area
Private swimming pool
Traditional Italian style
Located in the Chianti region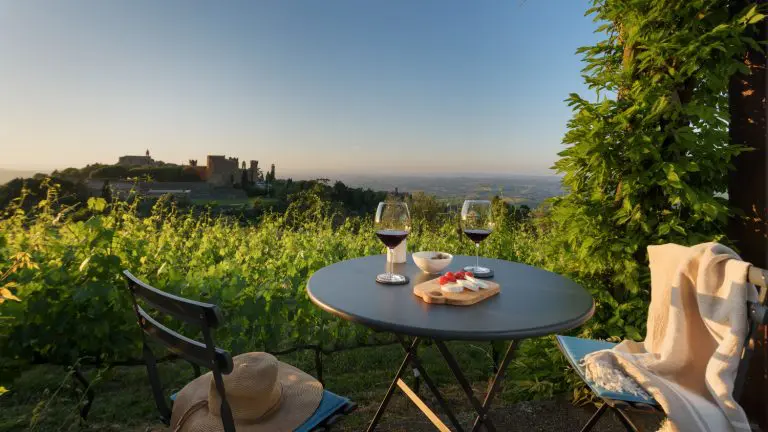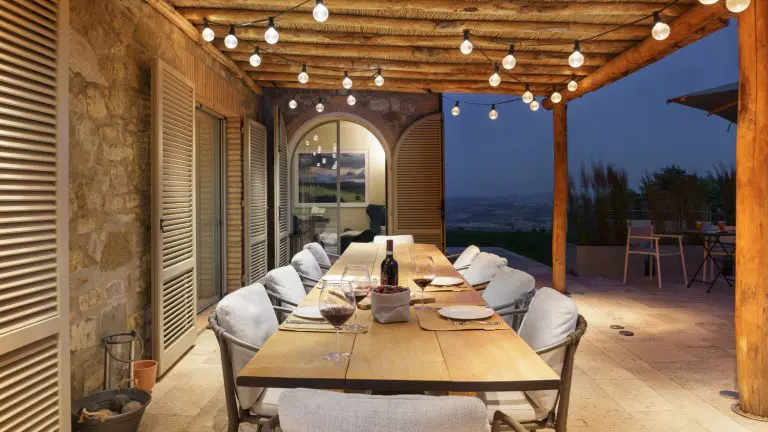 Share a bottle of wine on the veranda of Villa Palazzetta and allow yourself to get enchanted by the beauty of Tuscany. This rustic and traditional 4-bedroom villa sits on top of a hill near the quaint town of Montalcino. The views of Val d'Orcia are magnificent. Villa Palazzetta dates back to the 1600s but it's fully restored to meet modern comforts and a luxury holiday. the villa has 4 bedrooms with contemporary Italian furnishings. There is a private solar-heated swimming pool, a bocce court and private vineyards and olive orchards.
Why this is one of the best villas in Tuscany
Fully-restored property from 1600s
Solar-heated swimming pool
Lighted Bocce overlooking Montalcino
7-minute walk to the historical city of Montalcino
Elevated position on top of a hill
indoor and outdoor dining possibilities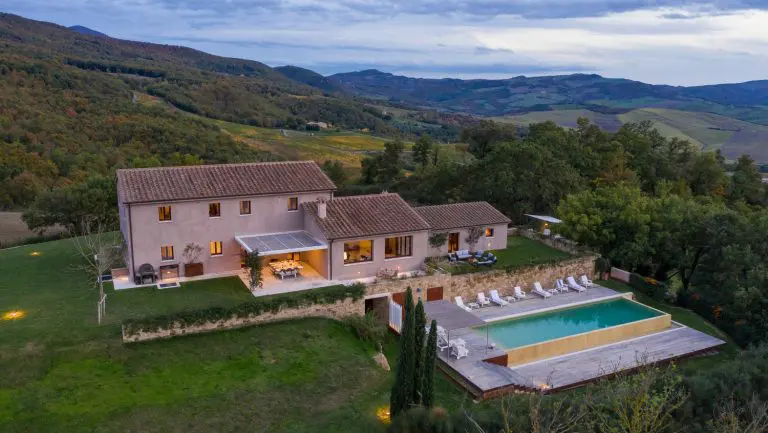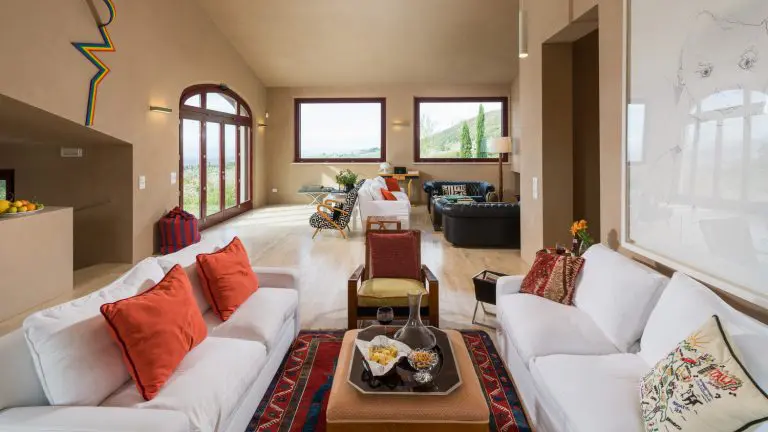 This villa is a 3-storey farmhouse with 2 hectares of garden and a big private pool. There are 6 bedrooms for up to 12 guests. Apart from the beautiful views all around Villa Monticelli, there are great facilities, too. What do you think of a private gym to keep you in shape during your holiday stay? Or how about an outdoor grill and pizza oven? Great for dinner parties that start in the afternoon and go on until late. Villa Monticelli has 2 large living spaces with elegant furnishings and luxurious details. Plenty of space for everyone to enjoy quiet time and entertainment.
Highlights
Traditional villa
Outdoor grill and pizza oven
17-metre lap pool
Private gym
fireplace
Gorgeous views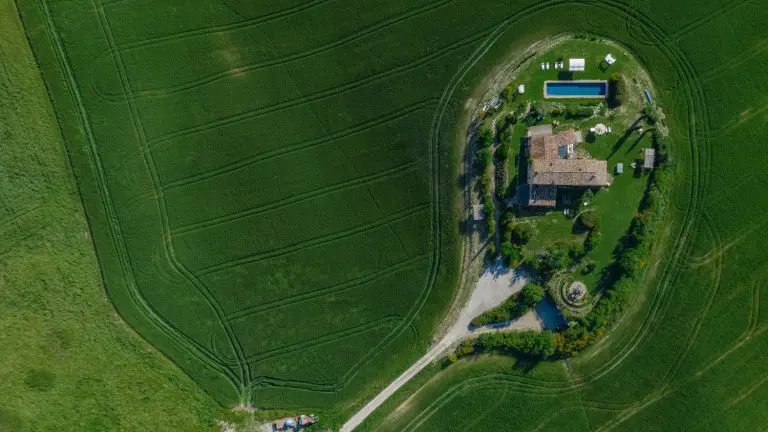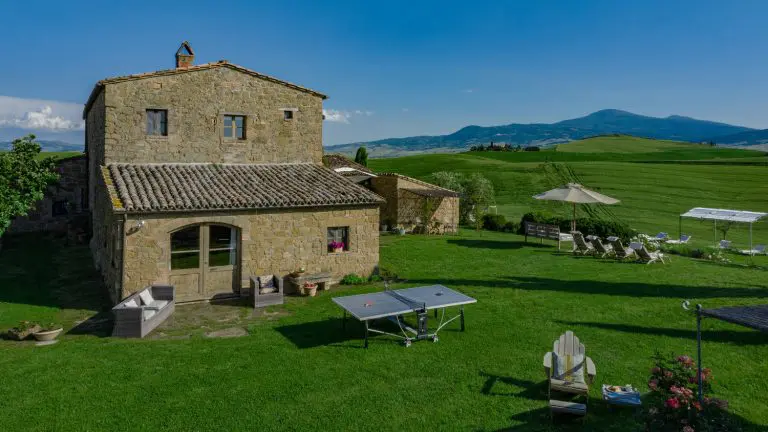 Villa Pienza, also referred to as 'the happy house' is a beautiful country home surrounded by nothing but hills and greenery on the outskirts of Pienza. The villa has 6 bedrooms and fantastic facilities including a private gym, billiard room and a salt-water lap pool with crystal clear water. The garden is huge and there are lots of lounge beds, sofas and places to have fun playing ping pong or having sunset drinks. The entire property is air-conditioned. One of the bedrooms has a huge round hydrojet massage tub. Pure bliss!
Why you'll love staying here
Countryhome with modern luxurious
Fully air-conditioned
Private gym
18-metre salt-water swimming pool
Billard & ping pong
On-site vegetable garden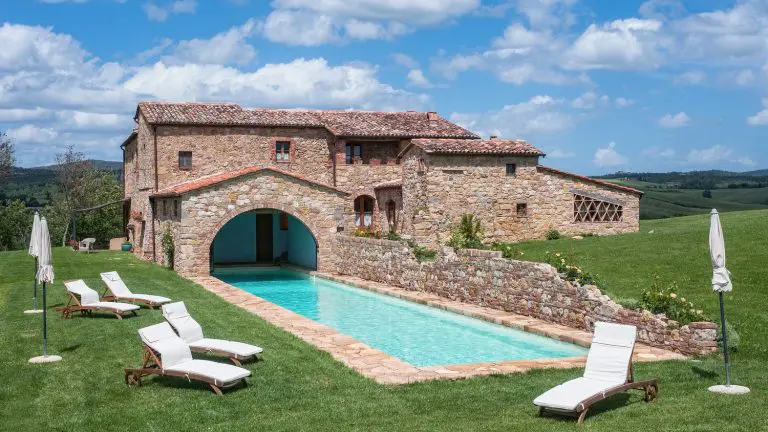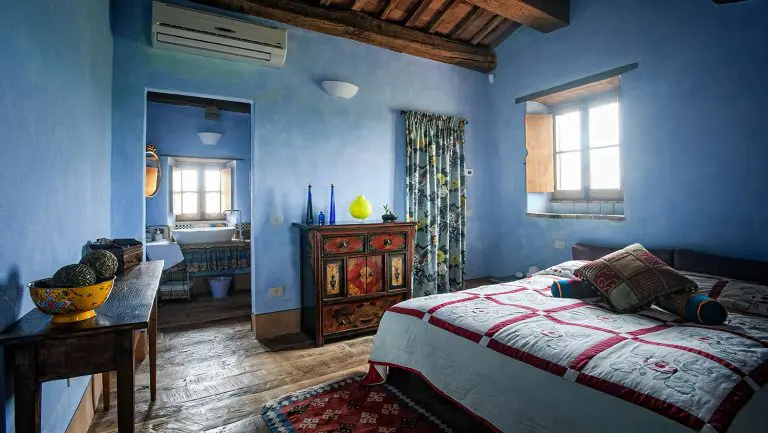 Villa Privata is a stone farmhouse featuring 5 hectares of gardens and a big 24-metre swimming pool. Hidden away in the dreamy Val d'Orcia countryside in Tuscany, Villa Privata has traditional terracotta floors and wood teak ceiling beams. The dining terrace is equipped with a BBQ for memorable afternoons with great food and wines. There is a ping pong table and there are lots of comfortable sunbeds. Villa Privata is perfect for families.
Highlights
Huge garden
Massive 24-metre swimming pool
Extraordinary views of Val d'Orcia
Traditional exteriors and interiors
Ping Pong table
BBQ
Let's explore Tuscany!
Are you ready for your Tuscany Villa Holiday? Did you find your perfect villa? You can always contact us for personalized advice. You can also read more about things to do in Tuscany here. Enjoy your stay!
Please follow and like us: