If you are looking for a great place to eat in Sydney, you won't be disappointed! Sydney has a huge variety of amazing restaurants, pubs, and cafes in different areas all around the city. From the busy CBD area in the middle of the city, to the peaceful seaside suburb of Manly on the northern beaches, read on to find out more about the best places to eat in Sydney!
1. Potts Point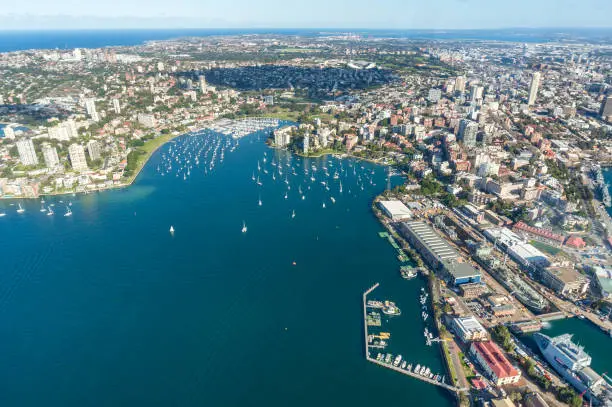 Located 3 kilometers east of the Sydney central business district, Potts Point is home to some of the best restaurants Sydney has to offer. From BYO dumpling houses, to fine-dining experiences, Potts Point has a huge variety of restaurants and delectable cuisine for you to choose from.
Top Suggestion: Paper Bird Restaurant (permanently closed)
Paper Bird restaurant is an all-day cafe-diner, serving a casual East Asian cuisine — based on Korean, Chinese and Japanese influences. In the morning, try the royal Korean-style congee breakfast; stewed with milk and served with crab, doughnut sticks, mushrooms and fried eggs on potato bread. In the evenings, we recommend trying the Chongqing-style caramelized spicy popcorn with peanuts and xi'an cumin lamb sausage rolls.
2. Darling Harbour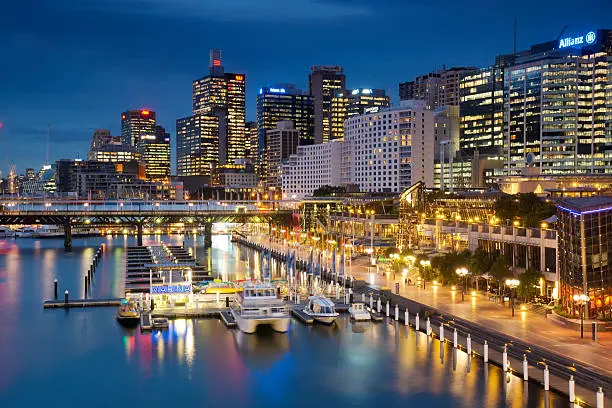 Darling Harbour is a large recreational and pedestrian precinct down by Sydney Harbour, with over 40 different restaurants, cafes, and bars for you to choose from. Darling Harbour consists of three main locations – Harbourside, Cockle Bay and King Street Wharf. Many of the restaurants in this area are conveniently situated on the water's edge at Sydney Harbour and provides picturesque waterfront views for diners.
Top Suggestion: Chinta Ria
Chinta Ria is a Malaysian inspired restaurant, located in Cockle Bay at Darling Harbour. The restaurant's third story rooftop terrace offers diners spectacular view of the bustling Sydney Harbour below. And it's private courtyard tucked away beyond hedges of trees, ferns and shrubs provide a peaceful ambience for you to enjoy your meals. We recommend trying the Ikan Melody, a lightly spiced fresh fish of the day; pan-tossed with onions, curry leaves, lemongrass then simmered in a coconut broth of eggplant, green beans & tomatoes.
3. The Rocks District

The Rocks District is an historic area of Sydney, with cobble stone lane ways, iconic buildings, an endless variety of pubs and plenty of amazing restaurants to dine in. The Rocks is conveniently located next to the main public transport hub of Circular Quay in Sydney Harbour, so getting there is very easy by either bus, train, ferry or taxi.
Top Suggestion: The Australian Hotel (temporaly closed)
The Australian Hotel is one of the oldest pubs in the City of Sydney, set in a well-preserved Edwardian style building. This iconic Sydney eating establishment is know for it's menu of classic Australian dishes, such as their hearty cottage meat pies, served with a side of homemade french fries, salad and a schooner of ice-cold Australian beer. Our recommendation is to try the Kangaroo Pizza, a unique Australian dish you won't find anywhere else in the world.
4. Sydney's Chinatown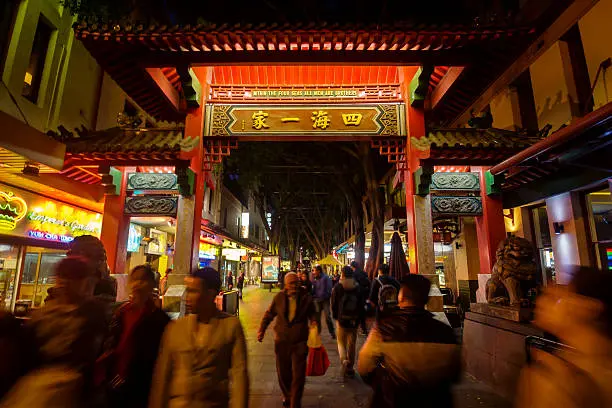 If you love authentic Asian food and value for money, a visit to Sydney's Chinatown is an absolute must. This is Australia's largest 'Chinatwon' and is located in the busy area of Haymarket, near Sydney's CBD. From Yum Cha sit down lunches, to tasty spring rolls you can eat on-the-go, you are guaranteed to find a number of yummy food options down in Chinatown.
Top Suggestion: Dixon Street Food Court
The best venue in Sydney's Chinatown is the Dixon Street Food Court, found in the center of Chinatown above the main shopping markets. Here you will find a huge variety of dishes at very reasonable prices, from almost every Asian cuisine you can imagine; Chinese, Thai, Malaysian, Cambodian, and Vietnamese. We recommend taking a walk around the entire food court to see everything on offer, before you go ahead and make your choice.
5. Surry Hills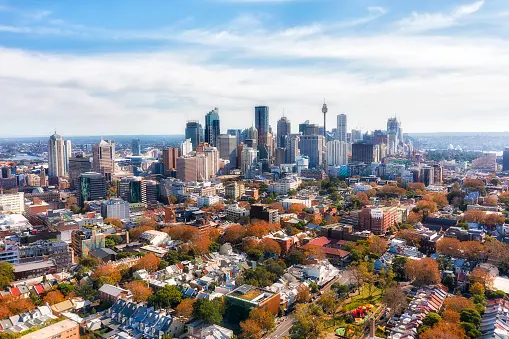 Surry Hills is a trendy inner-city suburb, near the popular party and nightclub area of Kings Cross. Crown Street is the main heart of the Surry Hills community, featuring one of the highest concentrations of restaurants in Australia. Here you will find a great selection of cafes and restaurants, serving a wide variety of cuisine from different cultures.
Top Suggestion: Ampersand Cafe & Bookstore
The Ampersand Cafe & Bookstore is a relaxing dining experience, where you can take your time eating and read any of the books from the cafe's well-stocked bookshelves. This is a great place to come for breakfast so you can enjoy a good read with your morning coffee, so we recommend arriving early and trying anything from the breakfast menu. Ampersand Cafe & Bookstore is open from 7am onwards.
6. Bondi Beach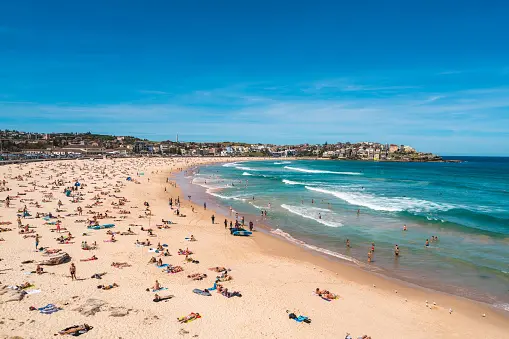 Bondi Beach is Australia's most famous beach and you will find no shortage of great places to eat in this area. The main street (or promenade) along Bondi Beach is packed with a huge selection of cafe's, restaurants and bars — all serving a variety of different food to suit your preference. From gourmet hamburgers to five-star seafood platters, you will find exactly what you want to eat at Bondi Beach.
Top Suggestion: Bondi Icebergs (temporali closed)
Bondi Icebergs restaurant is perched high on top of the cliffs at South Bondi, overlooking the famous swimming club of the same name. The view of Bondi Beach from Icebergs restaurant is absolutely amazing! And the Italian inspired cuisine is some of the best Italian food in Sydney. Our recommendation is to try their delicious signature Orecchiette pasta dish — homemade pasta w/ broccoli, garlic, chilli and anchovy sauce.
7. Sydney CBD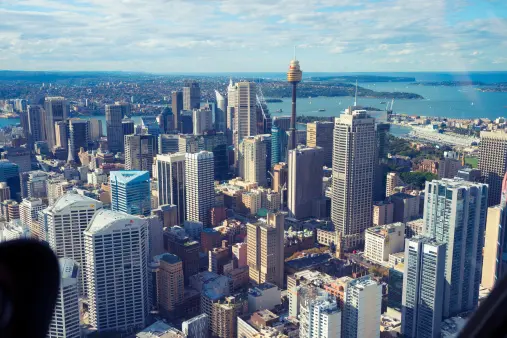 Sydney's central business district is typically known for its high-rise office buildings and busy sidewalks filled with ordinary working people going about their day. But if you look close enough, you will also find a great selection of restaurants, bars and clubs tucked away in different areas of the Sydney CBD.
Top Suggestion: Hubert Restaurant
Hubert is a French inspired restaurant, located in the heart of downtown Sydney. They are open for dinner and late night supper from Monday to Saturday; and lunch on Thursday and Friday only. Hubert is an elegant dining experience, with live musicians playing a selection of easy-going music while you eat. We recommend trying the Le Petit Aioli — Seasonal vegetables and Clarence River prawns, served with a special homemade garlic aioli sauce.
8. Manly Beach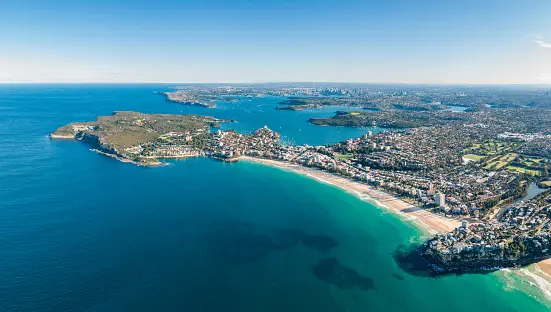 Located only a short 40 minute ferry ride across the harbour from Sydney city, Manly is a beautiful Australian seaside suburb you absolutely must visit! In recent years, Manly Beach has become a restaurant hot-spot, with plenty of amazing food options and restaurants for you to choose from.
Top Suggestion: Manly Wharf Hotel
The Manly Wharf Hotel is situated right on the waterfront at Manly harbour, and can be found as soon as you disembark from the City-to-Manly ferry service. The Manly Wharf Hotel provides excellent views of Sydney Harbour, and offers diners the opportunity to sit either indoors or outside on the alfresco dining deck. We recommend trying the mouth-watering AUSSIE BURGER — which consists of an angus beef patty, streaky bacon, cheddar cheese, beetroot, tomato, pickles, lettuce, mustard and mayonnaise.
Related articles:
Check out our villas in Australia
Please follow and like us: