Food is an important matter when holidaying in exotic Thailand. Why? Well, the local food is divine! The Thai Kitchen bursts with excitement, spiciness, rich flavours and colours. Nobody gets enough of it! Chiang Mai may be the cultural capital in Thailand, it has also got a fantastic restaurant scene going on. Wonder where to eat? Check out our picks for the best restaurants in Chiang Mai:
1. Khao Soi Khun Yai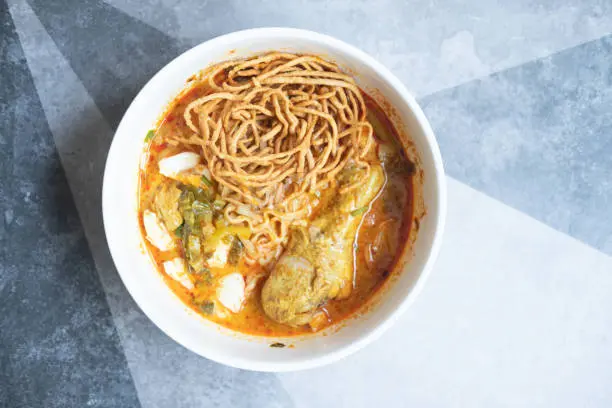 We have all heard about the traditional Tom Yum soup, green curries, red curries, masaman curries and pad thai but when travelling to the north of Thailand, you just have to try the local dish that goes by the following name: khao soi. It is a mix of crispy and soft boiled egg noodles with beef or chicken cooked in a creamy coconut curry. Where to get the best version of this local Northern Thailand dish? It's at Khao Soi Khun Yai, just outside of the northern gate to the left. Do note, this place is only open from 10 am to 2 pm so you're going to have to make it your lunch spot. You can be sure of freshness and yumminess here!
Khao Soi Khun Yai
Address: Tambon Si Phum, Amphoe Mueang Chiang Mai, Chang Wat Chiang Mai 50200, Thailand
Operating Hours: 10 AM-2 PM, Mon-Sat
Contact: +66 86 712 4314
2. Suwee Restaurant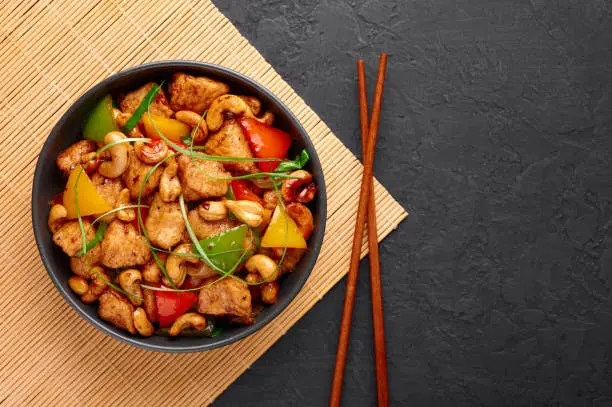 Nothing fancy but oh so delicious and really authentic Thai – you have to stop by at Suwee Restaurant in Chiang Mai to try the food! Before the owner started this humble restaurant in town, he was working as a chef and you can taste it! Dishes to try are the stir-fried veggies with chicken and cashew nuts but also the pork with sweet basil and the curry over rice are excellent! We put it on our list of best restaurants in Chiang Mai for a reason!
Address: Hang Dong, Hang Dong Chiang Mai, 50230, Thailand
Opening hours: every day from 10:00 am – 10:00 pm
Contact: +6653433391
3. La Fourchette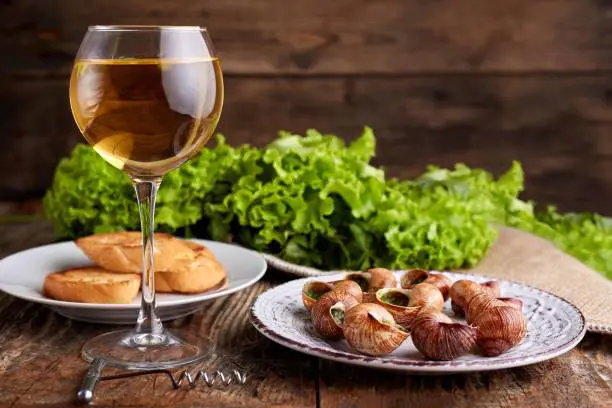 It's hard to imagine but it could happen – at some point of your holiday in our beloved Thailand, you may be craving for European food ( or authentic, exquisite French cuisine, to be more specific). La Fourchette is a very good French Restaurant with a sophisticated yet relaxed feel. Onion soup, escargots, steak, duck cooked in brandy – it'll be a welcome change from the yummy local food for some of us. La Fourchette only opens for dinner – make a reservation to prevent disappointment
La Fourchette
Address: 162/2 Prapokkloa Rd, Prasing, Amphoe Mueang Chiang Mai, Chang Wat Chiang Mai 50200, Thailand
Contact: +66 53 277 482
Opening hours: Monday to Saturday from 6 pm – 11 pm (temporarily closed)
4. Pink House Garden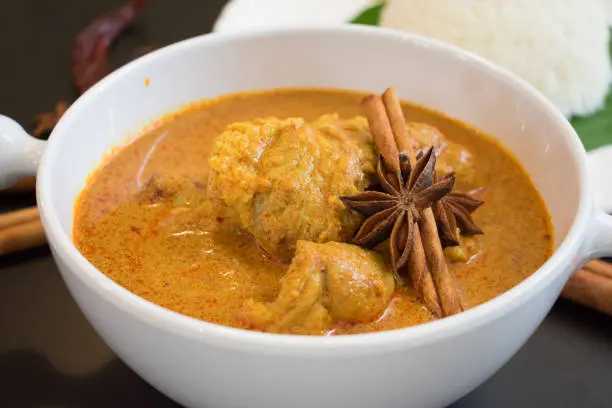 Are you a vegetarian or vegan traveller? Do you need your food to be gluten-free? You will love Pink House Garden! This charming restaurant, with a little courtyard garden to sit and enjoy your food, serves up delightful vegetarian Thai cuisine. Try the massaman curry, the mushroom coconut soup and don't leave without trying their vegan cakes – they are mouthwatering (especially for those with a sweet tooth, it is a must-try!).
Pink House Garden
Address: 19 Wua Lai 2 Alley, Hai Ya, Mueang Chiang Mai, 50100, Thailand
Opening hours: Monday to Saturday from 12:00 pm to 10:00 pm
Contact: +66932919361
5. Kiat Ocha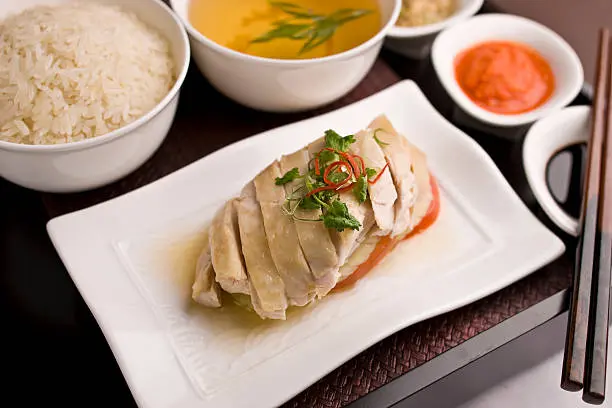 Up for some really tasty Hainan chicken? This is your restaurant! Open since 1957, Kiat Ocha specializes in south Chinese cuisine. This is yet another place to go for lunch for they close at 3 pm. For those of you who have never heard of Hainanese chicken, it is poached chicken served with delicious rice cooked in chicken broth, ginger and coriander. Furthermore, you can score a yummy plate of satay here, too, originally from Indonesia.

Kiat Ocha
Address: 42-43 Intawarorot Road, Amphoe Mueang, Chiang Mai, Thailand
Operating Hours: every day from 6 am to 3 pm
Contact: +66 53 327 263
6. David's Kitchen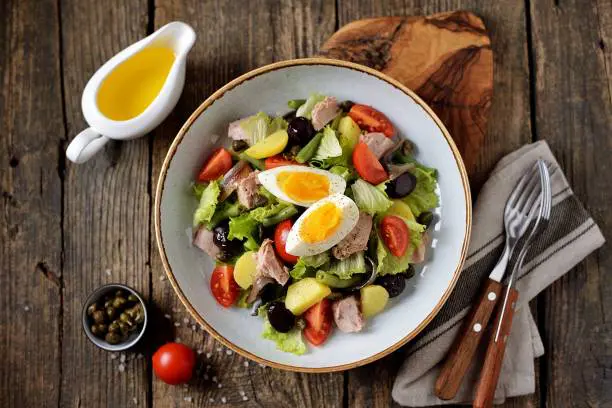 Yet another French restaurant in Chiang Mai – David's Kitchen is all about fine dining. It's expensive, exclusive, sophisticated and delicate. Save this place for a special evening out! Choose between lobster bisque, render duck, escargot, salad Nicoise or a traditional dish with a modern French twist. Nothing is boring on the menu and everything is cooked to perfection. They've got a pretty impressive wine list, too. You need to make a reservation for this one!
David's Kitchen
Address: Amphoe Mueang Chiang Mai, Chang Wat Chiang Mai 50000, Thailand
Opening hours: Monday to Saturday from 6 pm to 10 pm (temporarily closed)
Contact: +66 91 068 1744
7. Night market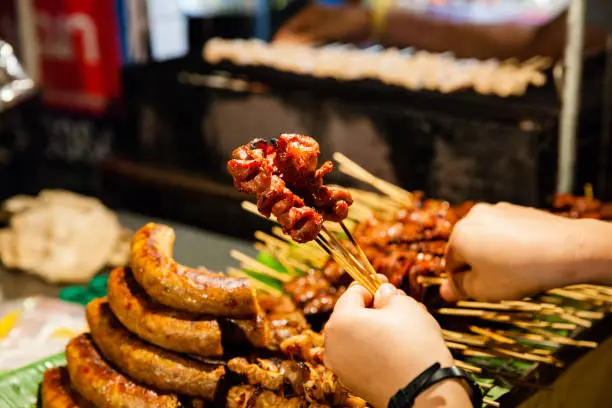 The night market is the best place to go to if you want to try a variety of local food. Skip lunch and go there in the late afternoon with a hungry belly – you can feast all evening hopping from one food stall to the next. Pad Thai, mango with sticky rice, grilled meat skewers, seafood – you'll find everything authentic and fresh at the night market and it is ridiculously cheap!
Chiang Mai Night Market
Address: 104/1 intersection of Tha Pae and Chang Klan Road | Chang Klang, Chiang Mai 50100, Thailand
8. SP Chicken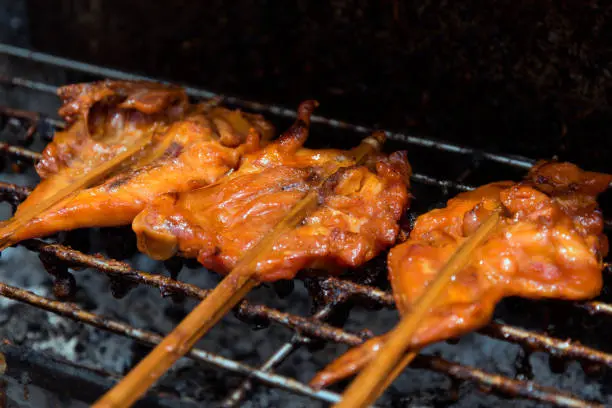 This restaurant is the best place in town for grilled chicken: kai yang. Roasted over a charcoal fire, these guys know what they're doing, alright! Tender, moist, slightly crispy – get ready to cue in line to get your taste of SP Chicken. SP Chicken closes at 5 pm – don't come for dinner!
Address: Amphoe Mueang Chiang Mai, Chang Wat Chiang Mai 50200, Thailand
Contact: +66 80 500 5035
Opening hours: 10 am – 5 pm
9. Tong Tem Toh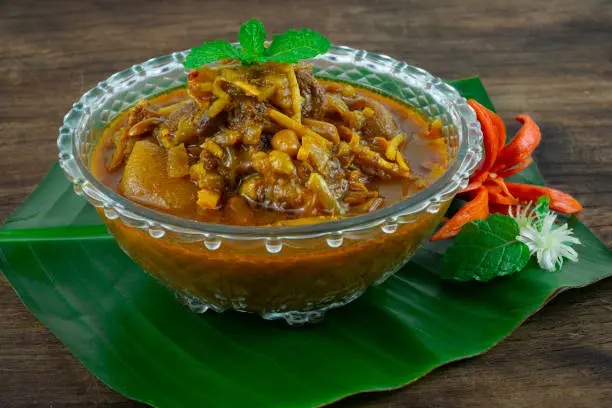 Want to learn more about the local North Thai cuisine? At Tong Tem Toh, you can taste all the dishes from the northern region in Thailand. The kitchen involves a lot of pork from roasted to fermented to cracklings to pork belly. This place is one of the best restaurants in Chiang Mai and it can get pretty packed. Try to avoid the peak hours!
Address: Su Thep, Mueang Chiang Mai District, Chiang Mai 50200, Thailand
Opening hours: every day from 7 am to 9 pm
Really, this article just lifts the tip of the veil. Chiang Mai has got so many amazing restaurants I can just keep writing. There are also excellent Italian and Mexican dining venues in town to try out if you are looking for more variety but do not skip on the local places for they are simply the best! Have you been to Chiang Mai and have did you discover amazing places to eat? We would love to hear all about it!
Related article:
Please follow and like us: