Explore the gorgeous Cote d'Azur, and see famous towns such as St. Tropez, Monaco and Nice… the south of France has a lot to offer! Not only are there gorgeous beaches – the private pool villas are equally breathing and impressive. For those of you looking for an extraordinary villa holiday, these are our best villas in the south of France.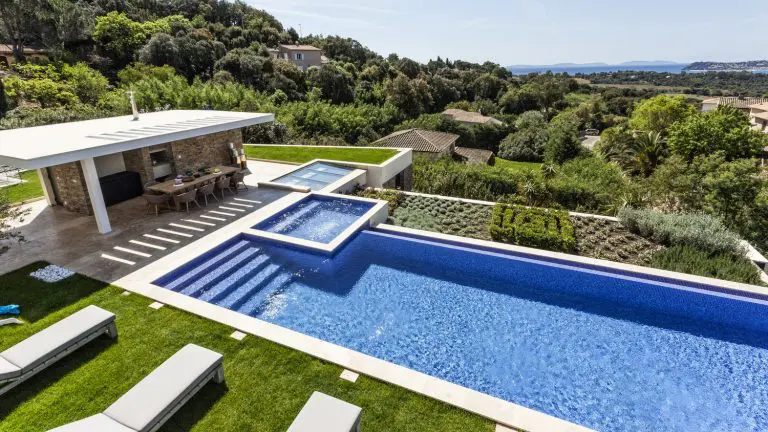 This is a massive 10-bedroom villa ideal for big groups wanting to spend quality time together in the south of France. The location is perfect just a short drive from the stunning beach in St. Tropez. Villa Colibri is stylish and modern featuring a big private infinity pool and jacuzzi in an expansive garden. It even has a dedicated pool for in-water sunbathing and on top of that, you get to enjoy mesmerizing ocean views while swimming and sunbathing in the crystal clear water. The villa also boasts an outdoor bar and dining area and a BBQ is available. Let the feast begin!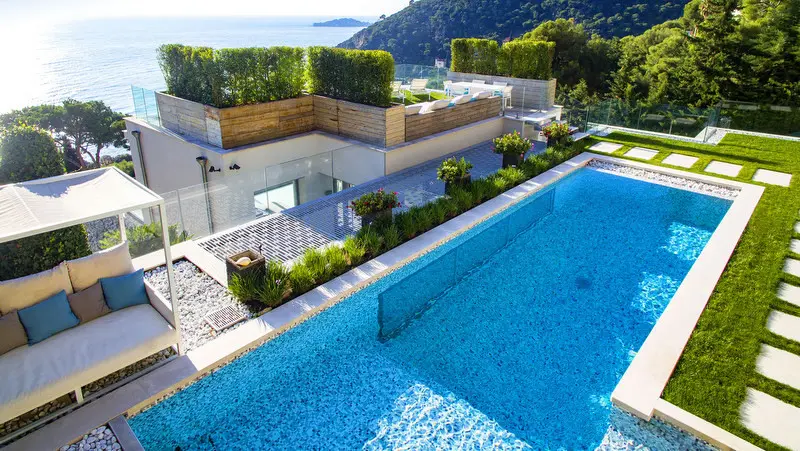 Villa M Eze is a high-end luxury villa captured between the mountain and the sea. The list of incredible features is just ongoing. How about a private sauna, gym and media room? Set across 5 floors, this villa boasts multiple terraces where you will get struck by the marvellous ocean views. The best spot for sunset drinks? The rooftop lounge!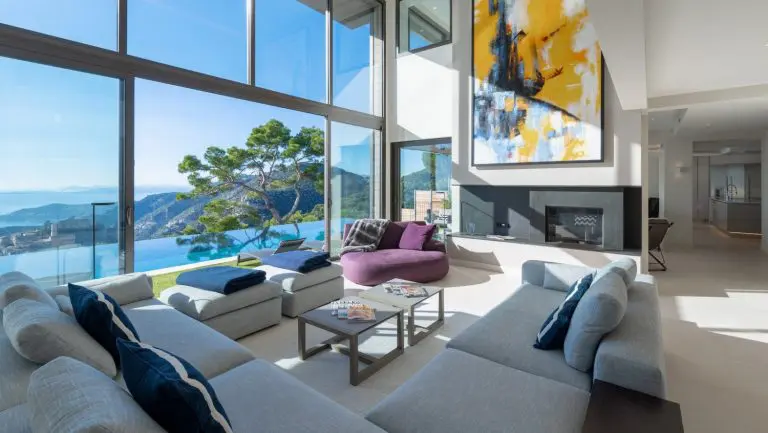 Villa Azura is a stunning contemporary holiday retreat with breathtaking views of the azure blue waters of the French Riviera. This villa features extra high ceilings with floor-to-ceiling glass walls to maximise the views of the pool and the ocean. There are 4 floors and there is a lift easily taking you up and down the villa. The interiors and stylish and sophisticated with impressive contemporary art and cutting-edge technology. The entire villa is air-conditioned. Outside you get to enjoy the ocean breeze while soaking in the infinity-edge swimming pool and gazing at the horizon. Villa Azure also boasts an outdoor jacuzzi (perfect for sunset downers!), a BBQ area and a private gym. It's just impossible to ever get bored or grow tired of those views.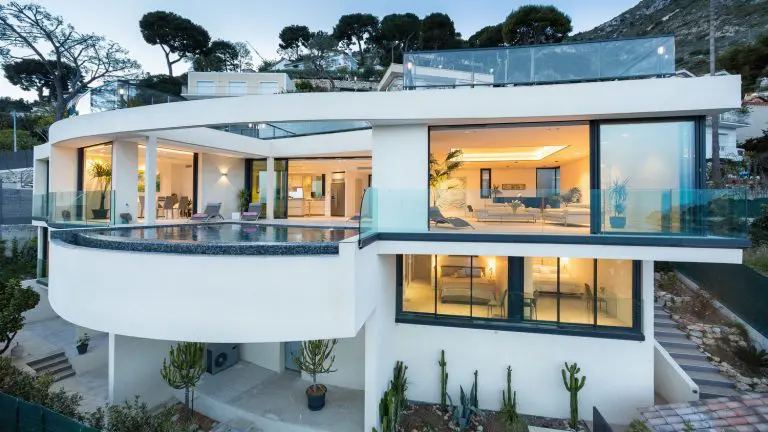 Ocean views from every room and a huge infinity-edge heated swimming pool, Villa Paradise is a paradise on earth indeed. Sleek en contemporary, this hillside luxury retreat has 5 bedrooms and lots of breeze terraces where you get to enjoy 180-degrees ocean views. The villa is located in Eze near Nice, Monte Carlo and Monaco. It takes just 5 minutes to walk to the nearest beach. The living spaces and bright and spacious with cutting-edge amenities. The villa is fully air-conditioned and top features include a fitness centre, tennis court and a grand piano.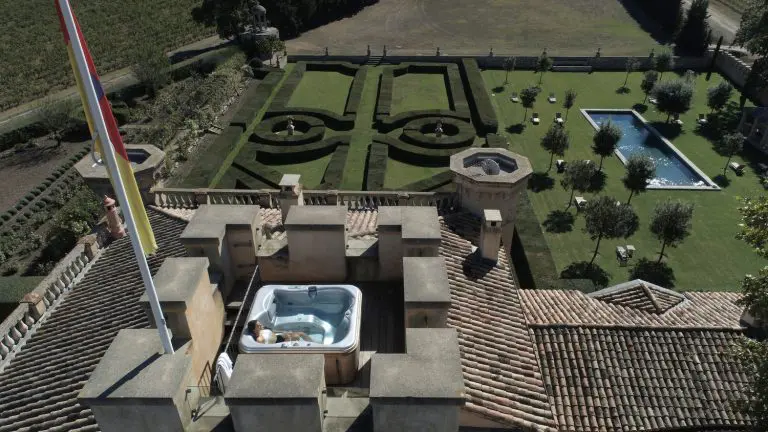 Villa Baulieu is an ancient castle exuding old-world charm and sophistication. As if transported back in time, you can feel like kings and queens living in an Era bygone surrounded by expansive gardens with fountains and vineyards. Breath in the fresh air, enjoy a massage or soak in a jacuzzi on the rooftop of the castle…. wait! what? Yep, this unique holiday retreat features a fabulous mix of old and new. Indeed it is a castle with antiques, chandeliers and original museum-quality paintings but it also boasts modern luxury facilities you'll adore. Villa Baulieu certainly is a special place to spend your holiday in the south of France, that is for sure!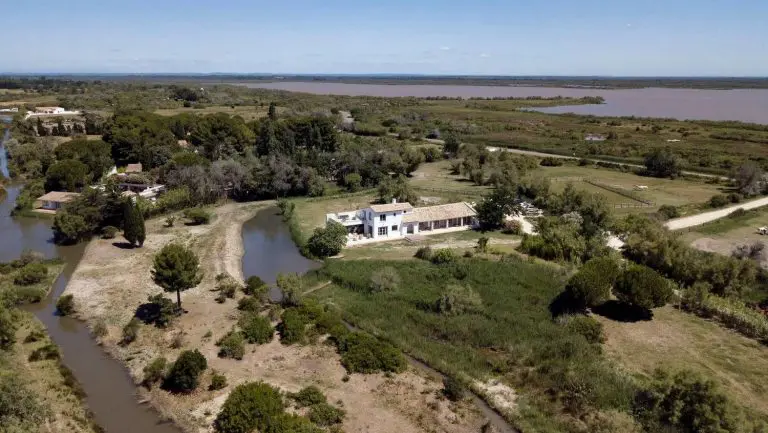 Villa Flamingo is located in the beautiful Camargue Regional National Park where you can spot wild flamingos and other birds. It's a magical place to go hiking, horseback riding and boating. The villa houses 5 decadent bedrooms for up to 10 guests. The living room is spacious and bright featuring stylish contemporary interiors with boho chic elements. There are comfortable sofas where you can lounge and watch TV. There is a large modern family kitchen with a bar and stools and a big dining table. You can also sit outside enjoying breakfast to the view of unspoiled nature. Yes indeed, this villa is the ultimate hide-out for nature lovers.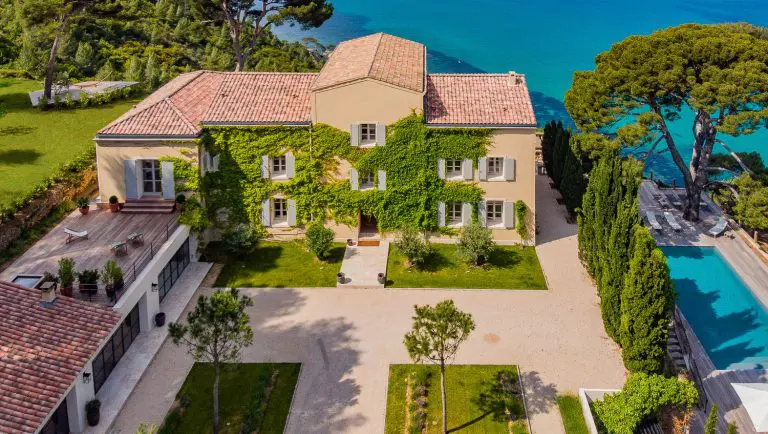 When staying at Villa Domaine de Canaille, you'll be staying somewhere historical. In fact, you'll be walking in the footsteps of Virginia Woolf. This unique holiday retreat was previously the famous Revestal Hotel and now it has been transformed into a stunning 12-bedroom private pool villa set on a huge plot of land by the sea on the Côte d'Azur. The villa features sprawling manicured gardens and a big lap pool with sunbeds shaded by ancient trees. There are plenty of places to lounge and sunbathe. The living areas are modern with a homey and relaxed atmosphere. Furthermore, the villa has its own cinema and there is a ping pong table. Families will have an amazing time at Villa Domane de Canaille.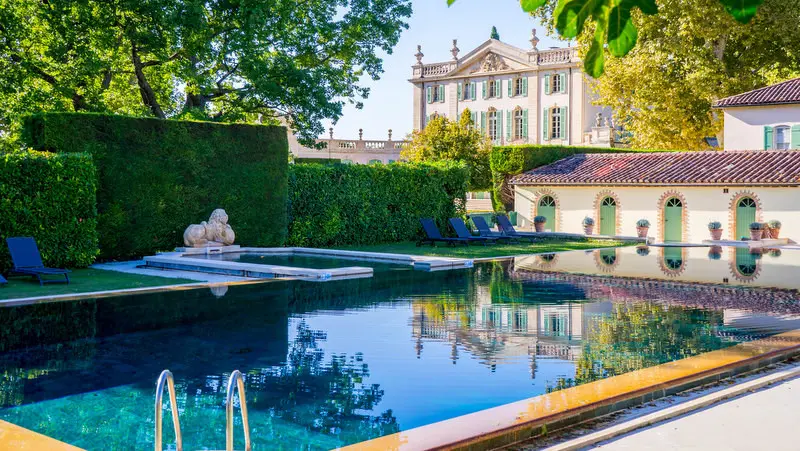 Like an oasis or some far-away fairytale-like place, Villa Tourreau Castel is a dreamy, elegant holiday retreat in Provence. This beautiful castle sits on 20 acres of land with ponds, fountains, statues, manicured gardens and big old trees. The villa has a private infinity pool and it has a private gym. There are 9 bedrooms and multiple living areas for relaxation, get-togethers and dining. The castle has kept its old-world charm, furnished with antiques and decorated with chandeliers, art and mirrors. This property is a dream venue for weddings and it's also great for big family getaways surrounded by nature in the south of France
Did you find the perfect villa for you and your travel group? Contact us now to get your dates booked.
Related articles:
Please follow and like us: