Planning to escape the cold winter and soak up some sun over in exotic Thailand? Can't blame you! Thailand is wonderful and tropical all-year-round and there are thousands of gorgeous white sandy beaches awaiting you down in the south. The only question that remains now: is it going to be Phuket in the deep-blue Andaman Sea or Koh Samui over in the Gulf of Thailand? Well, we can't make the decision for you but we can make it a tiny bit easier by digging up what we know!
This is Phuket vs Koh Samui
Phuket vs Koh Samui
Well, the best news is, no matter where you end up going for your (winter) getaway to Thailand, you can be sure of pristine white sand beaches (classic bounty sceneries), amazing snorkeling and diving spots and plenty of things to see and do! You'll have an amazing time, guaranteed! To determine which island is best for your upcoming trip, we would consider details such as the weather, the location of the islands, accessibility, prices and things to do. Let's kick off with some quick facts:
Some quick facts about Phuket
Phuket is the largest island in Thailand (48 km long and 21 km wide)

The island is located in the Andaman Sea (and it is nicknamed 'the jewel of the Andaman')

Phuket has a busy international airport, making it easily accessible from everywhere

The distance to Bangkok is 862 km

Phuket is famous for nightlife, entertainment and, of course, beaches

The main tourist hubs are Patong and Phuket Town

Most famous attraction points: Bangla Road in Patong and Old Phuket Town

High season is from November to April, peaking in December and January
Some quick facts about Koh Samui
Koh Samui is the third largest island in Thailand (21 km long and 21 km wide)

The island is located in the Gulf of Thailand

Distance to Bangkok is 800 km

Koh Samui is only accessible by air or by sea

Famous for beautiful paradise-like beaches and laid-back island vibes

Main tourist hubs: Chaweng, Lamai and Bophut

Most famous tourist attraction points: Ang Thong National Marine Park and the centre of Chaweng

High season is from December to March
The weather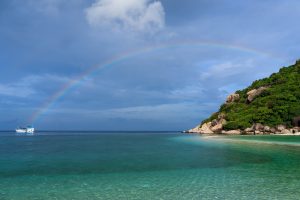 'Rain, rain, go away' is the motto for a beach getaway to Thailand! When to go to catch the most sunshine? Since Phuket and Koh Samui are both parts of Southern Thailand, you would expect the seasons to be the same but in fact, this is not true. In Phuket, the driest months are from November to March. The monsoon peaks in September and October. Over at Koh Samui Island, the dry season runs from December to February and the monsoon kicks in early September and it lasts until November. The rainy season in Koh Samui tends to be heavier and longer than Phuket and during the peak, snorkeling opportunities aren't great. So, if you did book your holiday for November, we'd go with the Phuket option but other than that, it doesn't really matter – it's all coconuts, bananas, mojitos and palm trees on both islands.
The best beaches
Beautiful beaches are what you came for, right?! Good news all around then –  there are countless paradise-like beaches on both islands (not that this glorious fact makes your decision any easier but all in all, it's a sunny fact to know). It really doesn't matter whether you pick Phuket or KohSamui – the beaches will be idyllic! 
Beaches in Phuket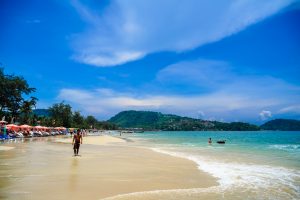 OK – so, here are the facts: Phuket is a lot busier than Koh Samui (twice the size and 10 times the people!) and there are a lot more beaches to explore than over at Koh Samui. The Beaches in Phuket also tend to be busier with lots of activities going on. If watersports and beach fun is your go-to, and meeting lots of people and strolling back and forth from your private villa to Patong Beach and then bar hopping (head to Bangla Road) paint the best picture, you'll love Phuket!
That being said, Phuket also has a quieter side with remote beaches and a tranquil atmosphere – great for families.
You may want to read this article about things to do in Phuket or 8 family activities in Phuket.
Koh Samui beaches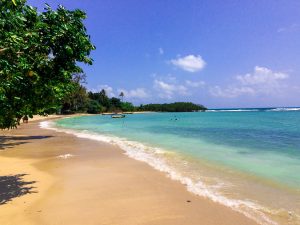 Koh Samui, on the other hand, has lots of peaceful, desolate beaches where it is just you and your coconut. On most beaches, modern beach facilities such as sunbeds or showers are hard to come by; unspoiled by tourism! In the main tourist areas, however, Koh Samui gets a little busier with beach clubs right on the beach but still, one of our favourite destinations for families and honeymooners.
You may want to read this article about Koh Samui with kids.
What beach type are you?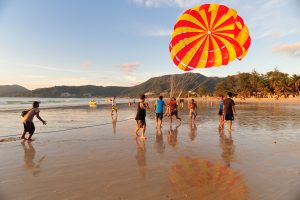 So, what kind of beach holiday are you after – what kind of beach lover are you? Do you love unspoiled quiet beaches where you can connect with nature or in some cases, sip cocktails at cool beach clubs by the water (Koh Samui)? Or does your heart beat faster when thinking of more energetic activities like banana boat rides, paragliding, water scooters and other water fun (Phuket)? 
Is surfing (Phuket) or snorkelling from shore (Koh Samui) in your itinerary? These are a few questions you can ask and tick off to find out which of the two destination suit your holiday needs best.
In Phuket, the coastline is dotted with tall buildings, unlike Koh Samui where development is slower due to more regulations for construction.  For buildings on the beach, there is a law that prevents them to be higher than 6 meters and the rooftops have to be peaked like traditional Thai buildings! In comparison, Phuket is alive with shopping arcades, restaurants, bars and hotels close to the beach, really changing the scenery and the entire atmosphere. One is not better than the other, it's just very different and depends on your cup of tea! 
Nightlife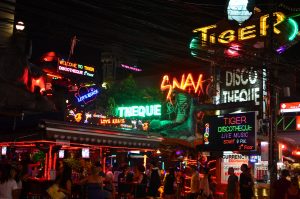 You might be able to guess the winner when it comes down to nightlife. The (in)famous Bangla Road in Patong, Phuket is a place that you will either love or hate, but one thing is for sure, it is buzzing, happening and bursting with colours, crowds, noise…and booze. From beautiful drag queens to alcohol buckets (yes, your drinks are actually served in buckets!), ping pong shows, neon billboards, discos – Patong has everything you can think of and more. You'll be feeling like Alice (or Al) in Wonderland! If you come to party, Phuket is the place to be!
If you're leaning more towards Koh Samui, you'll find some nightlife on offer in Chaweng and Lamai. You can also hop on a boat to neighbouring Koh Phangan to experience one of the legendary Full Moon Parties. This is one big party you won't forget 😉
The underwater world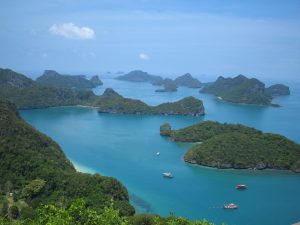 No matter how much we love those lagoon bays and white sandy shores, we love it, even more, when a whole different paradise reveals itself beneath the surface of the sea. Both Phuket and Koh Samui have great snorkelling and diving spots! Phuket is known as 'the pearl of the Andaman' and offers one of the best marine experiences in Phang Nga Bay or the Similan Islands.
Koh Samui is the main gateway to the world-famous Ang Thong National Marine Park, home to 42 pristine little islands with magnificent coral gardens, sea creatures and some of the most beautiful beaches you'll ever come across upon.
Cultural highlights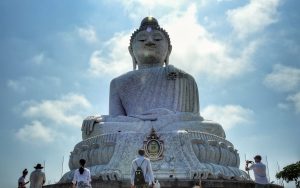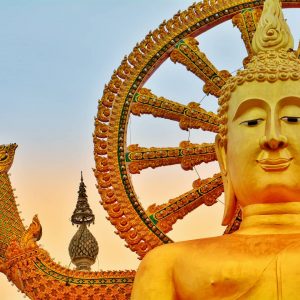 No matter where you travel in Thailand, golden temples and majestic Buddha statues await you and we promise you will be impressed! Phuket is home to the Big White Buddha (45 meters tall) and the golden Wat Chalong Temple. Old Phuket Town is also of great cultural significance with its colonial heritage buildings, temples, and markets.  The newer side of town has a trendy bohemian vibe to it, as well as cute coffee bars and trendy cafes.
For Koh Samui, their own version of the big Buddha is the 12-meter golden statue Wat Phra Yai glittering in the sun. 
Island accommodation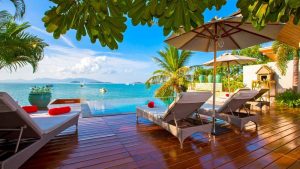 Villas, resorts, hotels – you'll find them all on both Phuket and Koh Samui, ranging from affordable to high-end and dipped in luxury. Koh Samui tends to be slightly more expensive in comparison to Phuket, but only because Phuket has a wider range of options with higher competition. Budget villas, luxury villas, family villas and luxury love nests for honeymooners – we're pretty sure there's a perfect villa for you; we'll find it 🙂
Related: 5 best villas in Koh Samui

Final verdict
Phuket vs Koh Samui… both island's are major tourist destinations in Thailand. We know for sure Phuket is larger, louder and more westernized than Koh Samui. You can expect better roads, modern beach facilities, lots of activities and ongoing nightlife. On the other hand, Phuket also has tranquil, unspoiled beaches for those who like to travel off-the-beaten-trail and yes, you can find a hidden paradise where there is nothing but coconut trees. Phuket Town is a highlight for culture seekers and history buffs, and comes alive with atmospheric night markets. 
Koh Samui is laid-back and while it is also westernized in some areas, Phuket walks miles ahead which, you could say, gives Koh Samui a more authentic feel. Local regulations have slowed down the island's process of becoming the next booming holiday destination. This is a great choice if you're looking for a tranquil and more eco-conscious holiday. You'll enjoy some nightlife in the main tourist hubs and beach clubs in places like Chaweng. When you do venture out and away from tourist towns however, you'll find one paradise beach after another.
So, which one will you pick? Koh Samui or Phuket?  Our villa consultants are happy to help! Contact us any time 🙂
Please follow and like us: