Wanaka is a big little heart stealer! Surrounded by majestic mountain ranges and snow-covered mountain peak, this area is also known as 'the Alps of New Zealand! Wanaka used to be a sleepy town but with her stunning beauty and all-year-round activities, the town is grabbing the attention of more and more travellers. Nature lovers, outdoor sports fanatics, families, couples, Wanaka has got something to thrill everyone. The natural beauty of Wanaka is overwhelming and the town itself is very charming and pedestrian-friendly. The list of things to do around the massive Wanaka Lake is endless. The location is superb with close proximity to Queenstown (just a 1-hour drive away). One note of warning: once you set foot in this charming mountain town, you will want to stay forever! Check out these 12 things to do in Wanaka:
1. #ThatWanakaTree
#ThatWanakaTree is one of the most iconic places to visit in Wanaka. It is one of the latest Instagram sensations on every traveller's bucket list. So, what's it all about? Well, it is a willow tree growing in the water of Wanaka Lake near the shore of Roys Bay. It is every photographer's dream to find such a place in the wild and raw nature of planet earth. With the growing hype growing around this particular willow tree, ThatWanakaTree is probably one of the most famous trees on the planet standing dramatically to the backdrop of the rugged mountains of Mount Aspiring National Park. So, no excuse not to stroll down there and take that photo – you haven't been to Wanaka if you haven't seen this tree and captured it on camera! It can get crowded around #ThatWanakaTree, especially during sunset time, so bring a picnic basket and make it a lovely day out in nature with loved ones while waiting for your turn.
Address: 59 Wanaka-Mount Aspiring Rd, Wanaka 9305, New Zealand
2. Ski adventure in Wanaka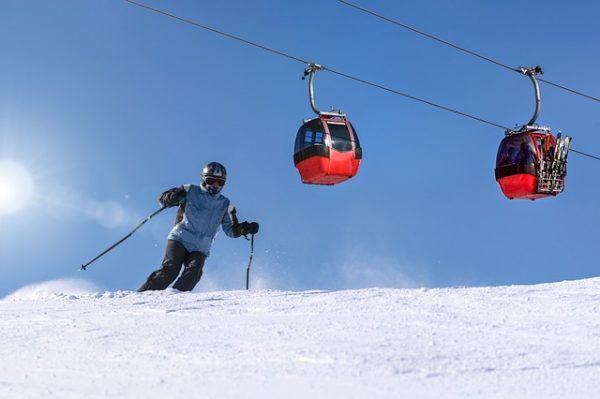 Photo by PhotoMIX Company via Pixabay
Apart from the stunning beauty of Wanaka Lake and the Southern Alps of New Zealand, skiing is one of the main reasons why travellers head over to Wanaka. The ski season in this area of New Zealand runs from early June to early October and there are several large ski resort areas near Wanaka. Treble Cone and Cardrona both feature beautiful ski fields for beginners and families as well as plenty of intermediate and advanced ski tracks. If you are coming with the family, we could recommend Cardrona as it has got a large terrain for beginners and an on-site kids playground and nursery. For the more experienced or highly advanced skiers, go to Treble Cone, boasting a huge terrain for the advanced ski fanatics. You are in for a blast in this snowy winter wonderland!
Cardrona
Address: Cardrona Valley Rd, Cardrona 9305, New Zealand
Contact: +64 3 443 8880
Treble Cone
Address: Mt Aspiring Road, Wanaka 9305, New Zealand
Contact: +64 3 443 1406
3. Hiking up Mount Roy
There are lots of amazing hiking trails in Wanaka. One of the most popular ones is the trek to the summit of Mount Roy, starting just out of town on the west side of the lake. The summit sits on a height of 1.578 meters above sea level and the 360-degrees view of Wanaka Lake, Mount Aspiring and the Matukituki Valley from up the summit are simply mind-blowing. Being the most famous viewpoint and most 'Instagrammable hike', it is indeed a beautiful one but also the most crowded trekking trail. To avoid the crowd, try forcing yourself to wake up in the middle of the night and make it a sunrise hike. You won't regret it! The track is challenging as it is almost all up-hill. You need to be an experienced hiker to get up the summit without feeling torn to pieces. Are you not all that sporty and looking for a less-challenging trek up Mount Roy? Try The Rob Roy Glacier Track.
An important note, this hiking trail to the summit of Mount Roy is closed from 1 October to 10 November to allow lambing.
4. Go on a cruise to explore the Lake Wanaka islands
Hard work like climbing to Roy's Peak needs to be rewarded with some lake-side relaxing. Why not go on a lake cruise? Exploring gorgeous little lake islands such as Ruby Island, Stevenson's Island and/or the bird sanctuary Mou Waho Island. The wind in your hair, a picnic onboard, a plunge in the lake – you can even make it an overnight camping trip to get the full-blown lake experience. You can spot the famous wekas – flightless birds endemic to New Zealand – and let the magical, fairytale-like nature of New Zealand enchant and inspire you inside out.
5. Bungy jump at incredible nature spots
Are you an adrenaline junky up for a new kick? Around Wanaka, you will find the most spectacular nature spots to go bungy jumping! Kawarau Bridge Bungy is the place where bungy jumping was invented by AJ Hackett (remember that guy that made a bungee jump from the Eifel Tower back in the 1980s? That was him!). The Kawarau Bridge Bungy is a 43-meter jump with mesmerizing views of Kawarau River. If you dare, do it! It is a once-in-a-lifetime chance to bungee jump at a place like this!
6. White Water Rafting at Landsborough River
Rafting on Landsborough River is an epic experience! Boasting stunning sceneries and exhilaration rapids, this is a true river adventure that we can call Indiana Jones-worthy! Forests, mountains, waterfalls, you will see all of it when rafting through the Landsborough Valley. Can't get enough the views and the adrenaline rushing through your veins? Make it a 2 or 3 days overnight camping trip! Landsborough River has got rapids up to grade 4, requiring good teamwork and some good old courage. This will be an adventure of a lifetime!
7. Rock climbing
From indoor rock climbing to canyoning, Wanaka is a great destination for all sorts of climbing of experiences and adventures. Basecamp Wanaka Climbing Centre is a great place to start, featuring large indoor climbing walls to get the hang of this awesome sport. Then, once you feel ready, it is time for climbing real rocks and cliffs outside in New Zealand's wild nature. Basecamp Adventures takes you to Matukituki Valley at the foot of Mt Aspiring National Park and with their professional guides, you will go climbing and abseiling and you will learn how to move on the rocks like a pro. They've got lessons for advanced climbers, too, challenging you physically and mentally in fun ways.
Wanaka Basecamp
Address: 50 Cardrona Valley Rd, Wanaka 9381, New Zealand
Contact: +64 3-443 1110
Opening hours: Monday to Friday from 12 pm 8 pm an Saturday & Sundays from 10 am – 6 pm
8. Go to the cinema!
Not just any cinema – go to Paradiso Cinema in Wanaka – it is the charm of the city! This iconic retro cinema in the centre of town gives back that special feeling we all used to have when going to the cinema. Comfy old-style chairs, leather sofas, the possibility to order homebaked cookies and handmade ice cream during the movie – it is old -school, it is utterly cool and it is pure bliss for any movie lover.
Cinema Paradiso
Address: 72 Brownston St, Wanaka 9434, New Zealand
Contact: +64 3-443 1505
Ticket prices: NZD$15/person
9. Cycling or walking around Wanaka Lake
The best way to take in the natural beauty of Wanaka is by simply strolling or cycling around the lake. You can rent a mountain bike in the city centre of this charming mountain town and off you go, riding the day away on the shores of Wanaka Lake. Wonder where to hire a bike? Try Good Rotations bike shop in Wanaka run by friendly people who can give advice on the best routes and the bike you need for your Wanaka Cycling Journey.
Good Rotations
Address: 34 Anderson Rd, Wanaka 9305, New Zealand
Contact: +64 3-443 4349
Opening hours: Monday to Friday from 10 am – 5.30 pm. Saturdays from 10 am – 4 pm & on Sundays, the shop is closed.
10. Visit the Farmers market
Every Thursday from 3 pm to 6 pm, you can walk around on the local Farmers Market in Wanaka. This lively Artisan market happens all-year-round and it is a great spot to score handmade, locally-sourced products and produce. You can get your hands on the yummiest home-baked sourdough bread, fresh fruits from local farms, scenting soap and organic skin care. Stayin in town? Spare some time on a Thursday afternoon and head over to Wanaka Farmers Market to shop a little and meet the local vendors.
Farmers Market
Address: 93 Ardmore St, Wanaka 9305, New Zealand
Opening hours: Every Thursday from 3 pm – 6 pm
11. Taste artisan spirits @ Cardrona Distillery
Care for a drink? After skiing, hiking, lakeside walks and other activities in Wanaka, visiting the family-owned Cardrona Distillery is a treat you can allow yourself. Cardrona Distillery makes their spirits from scratch with malted barley, water and yeast. Whiskey, gin, vodka and liqueurs of high handmade quality are to be found here at this distillery in Wanaka and you can learn all about the process, too. If you go for the tour, you will not only see how the spirits are made but you get to taste them. The tour costs only NZ$25/person and they are available every day from 10 am to 3 pm. You can book it here.
Cadrona Distillery
Address: 2125 Cardrona Valley Rd, Wanaka 9381, New Zealand
Contact: +64 3-443 1393
Opening hours: every day from 9.30 am – 5 pm
Fees: NZ$35/person
12. Puzzling world
Puzzling World is a unique place where you can actually find yourself lost in a massive, double-storey 3D maze. This attraction park in Wanaka also features the coolest illusion rooms, Roman toilets and tumbling towers to snap some unique photos. Puzzling World is a fun and intriguing place to visit. Wonderfully weird and one-of-a-kind in this world. You just can't skip it!
Puzzling World
Address: 188 Wanaka-Luggate Hwy, Wanaka 9382, New Zealand
Contact:+64 3-443 7489
Opening hours: every day from 8.30 am – 5.30 pm
Fees: NZD$22.69/adult (made & illusion rooms)
Going with kids instead? Check out Wanaka with kids: How to keep your kids happy in Wanaka
Please follow and like us: