Are you looking for the best things to do while visiting Byron Bay? The beautiful northern NSW suburb of Byron Bay on Australia's east coast, is a popular travel destination with plenty of things to do in the area. So whether you plan on relaxing at the beach, shopping at local artisan markets or participating in some fun outdoor activities, below are amazing experiences you should not miss during your next trip! Check out our recommendations for best things to do in Byron Bay: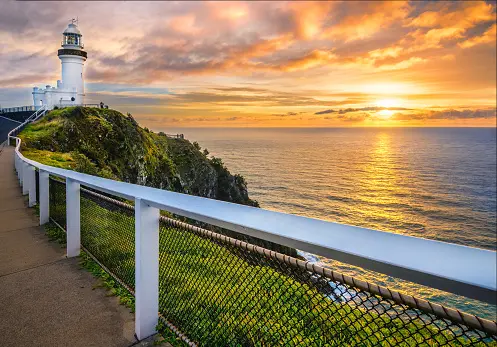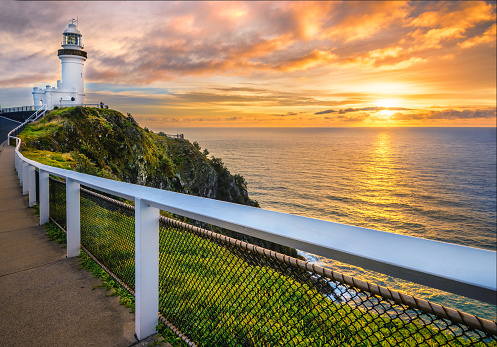 The Bryon Bay Lighthouse is perched high on top of a headland, towards the southern end of Byron's main beach. The lighthouse is located on Australia's most easterly point, which makes the views for sunrise absolutely amazing!
To get to Byron Bay Lighthouse, simply head to the main beach and walk south towards the popular surfing break The Pass, and up over the headland to Watergoes Beach. The next part of your journey will take you up a trail through dense Australian bushland, where you will more than likely bump into a few large (but friendly) water monitor lizards rustling in the bushes. When you reach the lighthouse after your leisurely 20 – 30 min walk, you will be greeted with a breath-taking sunrise over the Pacific Ocean.
You can see the whole township of Byron Bay from here, as well as nearby Broken Head and Lennox Head off into the distance. If you happen to be in this holiday destination during the winter, you will also have a good chance of spotting a whale or two in the ocean, as this is the time of year they migrate north along the coast to warmer waters. 
2. Take a Surfing Lesson
Byron Bay has some of the best waves in the world for surfing, and there is no shortage of places to rent yourself a surfboard and hire a surfing instructor. For the more experienced, there are also local tours which will take you up and down the coast in search of the best waves. To hire a surfboard or to book a surfing instructor, simply head down to the beach where you will find a number of different surfboard hire options to choose from.
Prices vary for surfboard hire and surfing lessons, with most beginning around $50 for a 3 hour group lesson. You can also choose to have private lessons for a premium price if you prefer. Surfing tours for the more experienced surfer are a great way to see the coastline and can last for several days. They also involve camping overnight in one of the many campgrounds around the town, which is a truly unique Australian experience in itself. 
3. Kayaking with Dolphins and Sea Turtles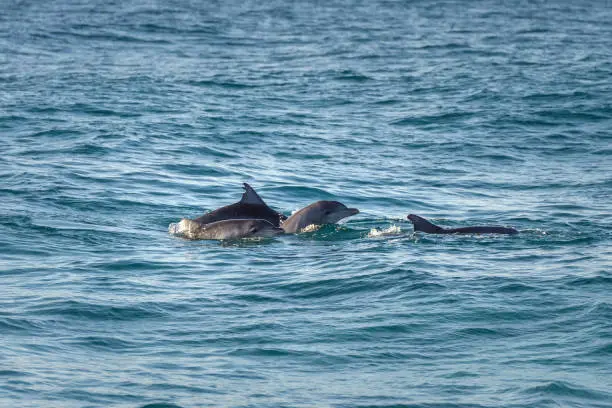 Byron Bay is a protected Australian marine park, which means there is no commercial fishing allowed in the area. It also means there is an abundance of amazing marine life such as dolphins and sea turtles living in the area. Go Sea Kayak will take you on an enjoyable 3 hour kayak tour through the Byron Bay marine park, where you are guaranteed to see pods of dolphins and sea turtles swimming in the shallows.
Children over the age of five years old are able to join the Byron Bay dolphin kayak tour, under parental supervision. The tour is also run by a local Australian lifeguard with a 100% safety record, so you are in good hands at all times out on the open water. The tour also provides you with healthy snacks and water throughout your journey, to make you sure you stay hydrated and have enough energy to complete the trip. They will also pick you up from your Byron Bay accommodation at no extra cost. 
You will need to bring your own swimwear, as you will be getting up close and personal with the dolphins and likely get wet. You will also need to bring your own hats, sunscreen and towels as they are not provided.
4. Byron Bay Local Markets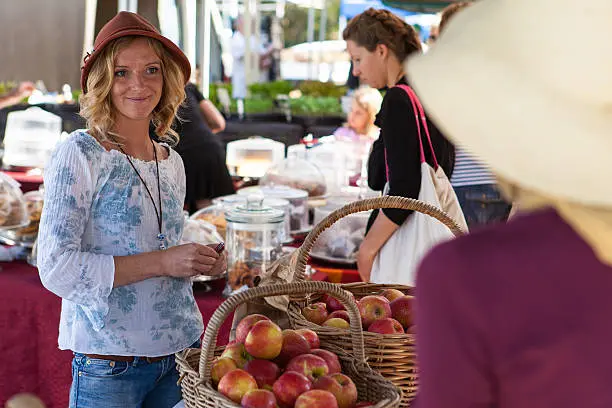 Byron Bay has become an extremely popular area for local markets. From farmers markets selling the freshest locally grown produce, to local community markets, filled with a huge range of unique items made by locals.
There are several different markets in Byron Bay, all happening at different times and places throughout the week. Below is a brief description of each market and where to find them:
Byron Bay Community Market: This market is probably the best known market in Byron Bay, and happens on the first Sunday of every month. Here you can buy some amazing gifts and souvenirs, such as artwork, hand-made jewellery, music from local musicians, and pretty much anything else you can think of.
The Artisan Market. The Artisan Market is smaller than the community market, and only held during the spring and summer time (September to February). Head down to Railway Park every Saturday night between 4pm and 9pm and you will see a bunch of locals selling similar items to those which you will find at the larger community market. You will also find lots of local food vendors, street performers and live musicians – making it a great Saturday night option if you happen to be in Byron over the weekend.
The Farmers Market. The Farmers Market is a famous market in Byron Bay, with many people traveling from surrounding areas to visit whenever it's on. The Farmers Market is held every Thursday from 8am till 11am, and is also located down at the Railway Park. Here you can get plenty of delicious fresh, organic, locally-grown produce for great prices. 
Byron Bay Surf Festival Market. This market is an annual Byron Bay event, which only happens one time per year in late October (exact dates and locations can vary). This unique Byron Bay market represents the local surfing culture, which is heavily ingrained in the Byron Bay lifestyle. Here you will find unique surf related products for sale, such as surf art by local painters, handmade surf boards from local shapers, swimwear from local designers and other types of surf related items.
5. A Day Trip to Nimbin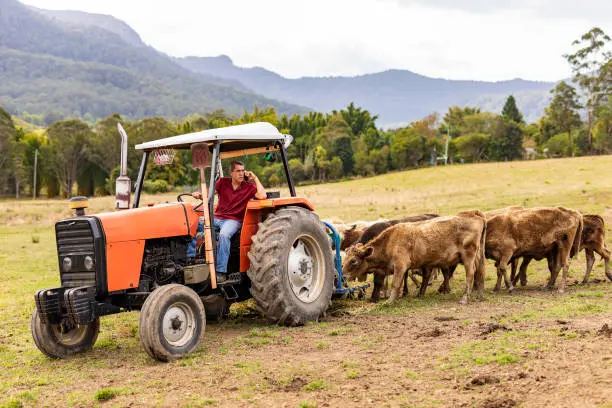 Nimbin is a truly unique suburb hidden in the marvelous mountain ranges near Byron Bay. Nimbin is a must visit if you happen to enjoy the quirkier things in life. The whole town of Nimbin is stuck in the '60s, with a nostalgic hippy vibe dominating the atmosphere. For many years, Nimbin has been Australia's main hub for counterculture ideologies, and is now at the forefront of such things as cannabis education, environmental initiatives, and arts advocacy.
You will simply enjoy wandering through the streets of this laid-back Australian town, and you can also do some shopping along the main street. Many of the shops in Nimbin are owned and operated by eccentric locals, all selling some pretty unique and artistic handmade items you definitely won't find anywhere else. There is also a great selection of cafes, bars and restaurants in Nimbin to enjoy a meal during your visit.
There are plenty of day-trip tours to Nimbin leaving Byron Bay, which all depart at different times and from different locations throughout the week. Or you can choose to hire a car and make the delightful 90 minute drive through the Byron Bay Hinterlands yourself.
6. Byron Bay Beaches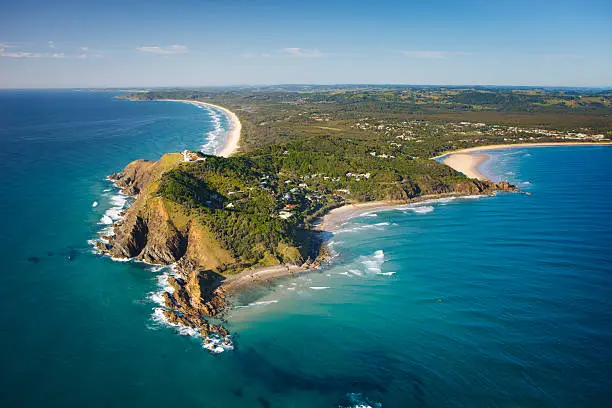 Byron Bay is well-known for it's amazing beach lifestyle, however most visitors only stick to the main beach when they come. You will also find some really great beaches in Byron Bay suitable for people of all ages, just outside the area of Byron Bay's main beach.
Belongil beach is the most northerly section of Byron Bay's main beach and is about a 1km walk north from the city center. 
The Wreck isn't technically a beach, but a popular section of the main beach about 200 meters north of the main area. 
Main Beach Byron Bay is the main stretch of sand found at the end of Johnson Street.
Clarke's Beach is located about 2.5kms south of the main beach and is more ideal for kids and children as there are less waves in this area.
Watergos Beach is located roughly 5kms south of the city center past Clarke's Beach, and is another ideal spot for children to go swimming. 
7. Explore Nightcap National Park at Night
The Nightcap National Park in Byron Bay is a UNESCO world heritage site full of unique Australian wildlife and fauna. The park consists of a collection of excellent hiking trails, one of which loops over Minyon Falls – a beautiful natural waterfall cascading 100 meters down a huge cliff face. You will also have the chance to spot a variety of endangered species which have now made the Nightcap National Park their home.
There is now a new option to take a guided nighttime tour of Nightcap national Park using military grade night vision goggles. During this tour you will journey on a 3hour expedition through the national park, with an expert guide who will help you spot a number of different rare and nocturnal Australian animals, such as Possums, Pademelons, Bandicoots, Tawny Frogmouths and Frogs. If you are extremely lucky, you may even spot a koala or Owl nesting in the trees.
Prices of this tour do vary and can be dependent on suitable weather conditions, so it's best to check their official Nightcap National Park website before making any plans.
8. Byron Bay Festivals
Byron Bay is known as one of the best locations in Australia for festivals. And no matter what time of year you happen to be visiting Byron Bay, you are likely to find some sort of event or festival happening somewhere in the area while you are there. From food festivals showcasing cuisine from the finest dining establishments in Byron bay, to film and music festivals held in the open paddocks of nearby farms, you are almost guaranteed to find a festival or event suitable for people of all ages.
One of the more noticeable festivals which happen every year in Byron Bay is Splendour In The Grass, a music festival held at Belongil Fields on the outskirts of Byron Bay. This event is considered to be Australia's biggest winter music festival (held in July), and has evolved into a three day extravaganza of big name music acts from around the world.
Click the following link to view a full list of events and festivals happening in Byron Bay this year.
Check out our holiday rentals in Australia
Please follow and like us: