Planning on heading to Bali this summer? Do I have some bucket-list items for you! There are endless things to do and see in Bali that it's important you tick off all of the best parts – including Bali's incredible beach clubs. Imagine famous DJs, instagram-worthy cocktails, lounges, hammocks, swings and superb swimming pools. That's where I come in – to ensure you're making all of your friends back home extremely jealous, I've put together a list of the do-not-miss poolside spots. Consider me your Bali-Beach-Bar-Expert ('cause yep, I've tried and tested them all) and trust me, you do not want to miss these ones! 
After all, is it really a Bali holiday if you don't spend most of your trip sprawled out with a cocktail in hand?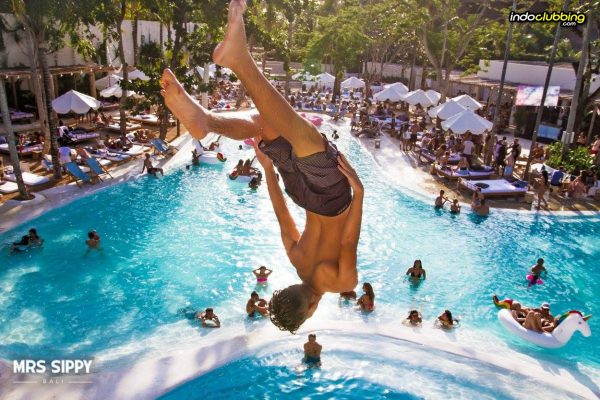 Enter Mrs Sippy and find yourself stepping out of the Seminyak madness and into a tropical oasis. This poolside bar promises an incredible day with floating bean bags, hammocks, three diving platforms, day beds, a pool bar and oh so much more. There are a number of huge events and pool parties throughout the year at this incredible spot, however head along on any given 'Thirsty Thursday' or 'Sippy Sunday' to make the most of their awesome 2 for 1 cocktails
Villa Finder's tip: Don't miss out Thirsty Thursday & Sippy Sunday = 2-for-1 cocktails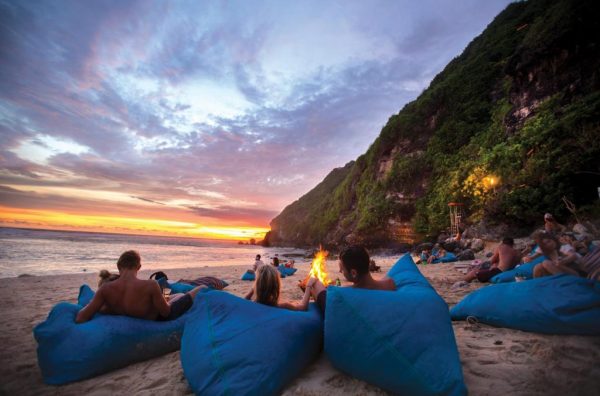 Sundays Beach Club in Uluwatu is one of Bali's hot-spots when it comes to a poolside cocktail. A glorious combo of sun, ocean and sand is only the beginning of your incredible Sunday's encounter. Purchase an all-day pass and stay in complete holiday mode as chill out on the Sundays beach, take part in some of their watersports on the reef in front of the bar including swimming, kayaking, SUP boarding and snorkelling. Sit ocean-side as you snack on a myriad of delectable meals including tempura lobster bao buns, charcoal-flamed broiled calamari and even classic steak sandwiches – all cooked by the acclaimed Australian gourmet specialist, James Viles. Hang around until the sun goes down and you will experience the magic of Sundays sunset beach bonfires – that's beanbags, beach blazes, marshmallows and live music– not a terrible way to close down a soothing Bali day!
Villa Finder's tip: every day from 5 – 6.30 pm, there are get-2-for-1 cocktails!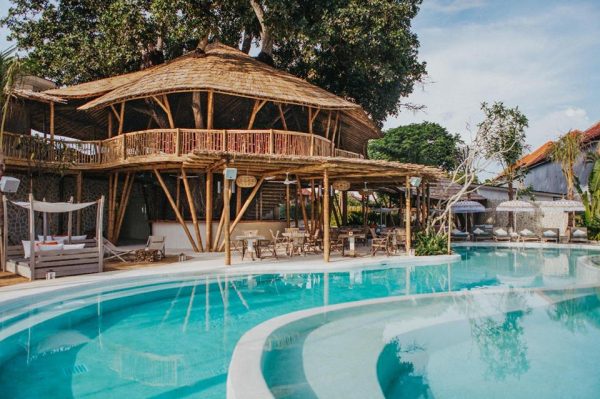 Artotel Beach Club has played a great role in developing Sanur's reputation with one of the most happening new beach clubs on the island. The 7,000 square meter space is well thought out and universally acclaimed. Crafted by the whiz engineers behind Nihiwatu and Finns Beach Club, it highlights a mammoth bamboo treehouse worked around a hundred-year-old Banyan Tree surrounded by a manicured garden and supreme beachfront views. Find yourself a lounging spot poolside with a mixed drink close by from one of four dazzling bars whilst listening to live music. If that's not enough, check out the kids' playground or the weekly Sunday markets for some extra entertainment.
Related: Bali with kids: 6 family activities for ultimate family fun time!
Villa Finder's tip: Everyday from 6 – 8pm get 50% off selected drinks.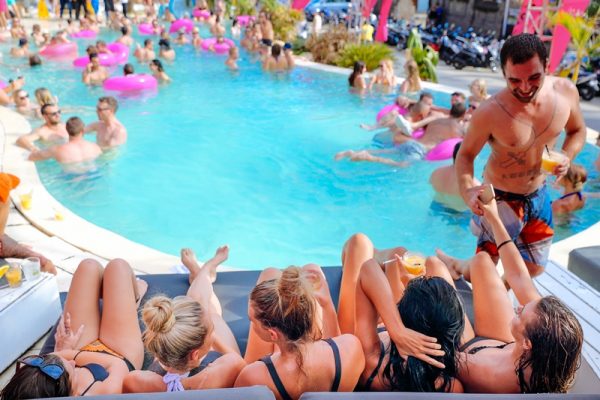 Fantastic for a good-ol' day drinking session – Cocoon Beach Club offers a blend of fine feasting, crazy music and delectable poolside cocktails. A multi-faceted day club, Cocoon offers something different each night of the week. It caters for everyone from the girls-trip group wanting some elegant cocktails to the boys watching their favourite sports game live from Australia. A casual, chilled bar during the day, Cocoon changes itself into a magical setting at night, with glinting candles that are complemented by the staggering Asian/Mediterranean style menu.
Villa Finder's tip: Everyday from 4-7 buy 2 cocktails and get 1 free!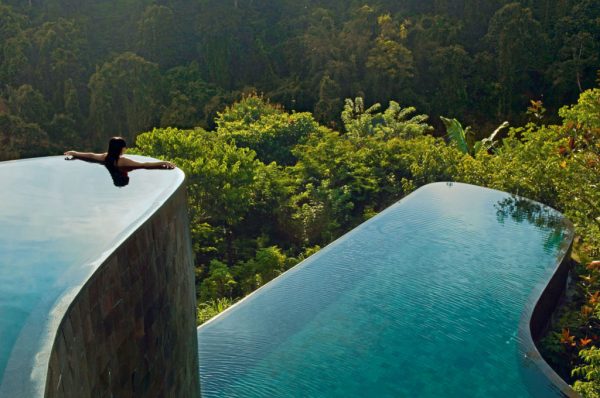 The Hanging Gardens of Bali truly are a sight for sore eyes. Located in the heart of Ubud, this photogenic bar is a standout amongst pool bars throughout the world. It sits precariously on a cliff's edge, overlooking this incredible rainforest of Ubud below. Choose from a number of day-beds and simply relax to your hearts content.
Whenever hunger or the craving for a drink strikes, staff will serve up whatever you favour poolside, even with the option of a poolside spa treatment if you've fallen too deep into a state of relaxation to move yourself. It's no big surprise this place beat the lofty Conde Nast Traveler's rundown of the best lodging swimming pools on the planet. It truly must be seen to be believed.
Villa Finder's tip: Book one of your treatments by Ayung River for the ultimate tranquil experience.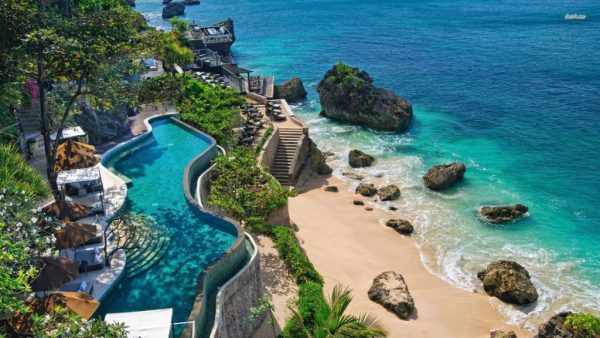 Ayana Resort is the place to go if you're looking for an elite experience. Located in a magnificent oceanfront spot on Jimbaran Bay, poolside hangs here mean surrounding tropical greenery, large sun loungers and views over the private white sand beach and sea beneath.
Relax by the stone 'stream sool' in the resorts main area, or get nearer to the sea when you take a plunge in the saltwater ocean beach pool. Beverages and snacks are accessible poolside, and on the off chance that you can tear yourself away, check out the resort's "Shake Bar", one of the island's most noteworthy bars roosted bewilderingly high on the bluff tops.
Villa Finder's tip: Reserve yourself a spot in Ayana's incredible cooking school to make a day of it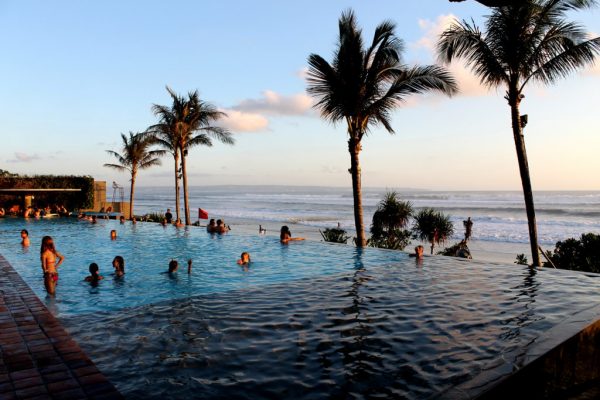 With exceptional architecture, food menu and cocktail options, Potato Head has glided its way into holidaymakers' hearts as one of Bali's best beachfront bars. Evade the evening hustle and bustle of Seminyak and nab yourself the best seat in the house for a day of luxury relaxing before the nightfall kicks in. I just adore the hand-drawn mixed drink list, healthy snacks and crazy tunes curated by the best rundown of neighbourhood and universal DJs. And for those missing their wines, the club has one of the best selections on the island
Villa Finder's tip: Time your visit with one of Potato Head's many music events.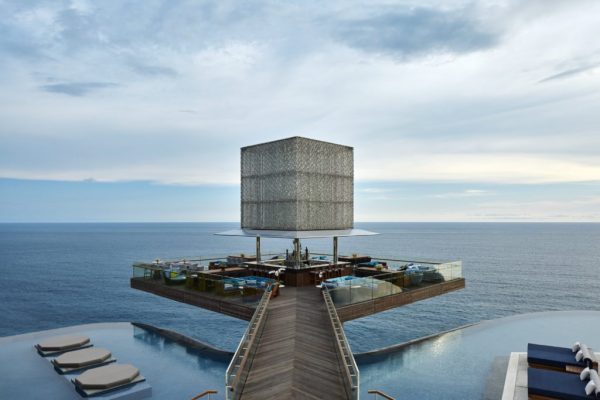 OMNIA Dayclub is one of Bali's best beach clubs. Another club that is sparking a worldwide light on Bali's lavish way of life scene, Omnia is packed with celeb-like relaxing spots, stunning views, an awe-inspiring cocktail list, and an incredible swimming pool. Its events are what is currently drawing people from all over to this incredible cliffside location, just check out their Instagram!
Villa Finder's tip: Don't make plans after your drink – check out Sake No Hana, Omnia's world-class Japanese restaurant for dinner.
Related: The best restaurants in Bali's 6 amazing places to go out for dinner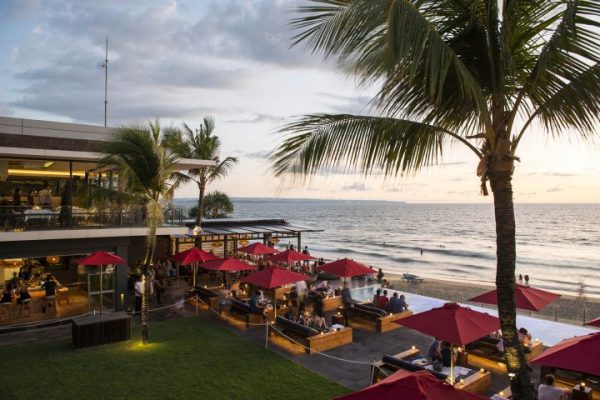 One of the true Bali originals, Kudeta has been continuing to wow its guests since 2000. Simple, tasteful and elegant, this famous beach club and restaurant are quite simply unmissable. Eat brunch like a boss by the beach, sit beside their oceanfront infinity pool sipping on a cocktail, or settle in for a romantic dinner at the swish downstairs decking restaurant. For one of the hottest tables in town, head upstairs to their cutting edge degustation kitchen, Mejekawi, for a next-level dining experience.
Villa Finder's tip: Grab a cocktail and watch the awe-inspiring sunset from upstairs
Please follow and like us: