A tropical vacation is never complete without the perfect villa. Best villas give out an unparalleled sense of privacy and independence, which no other hotels can provide. We've scoured through the corners of Sri Lanka to find the best of the best villas in the island. Here, we've curated all our favourite accommodations to give you an idea of what your next holiday vacation be like while living in these personal paradise homes.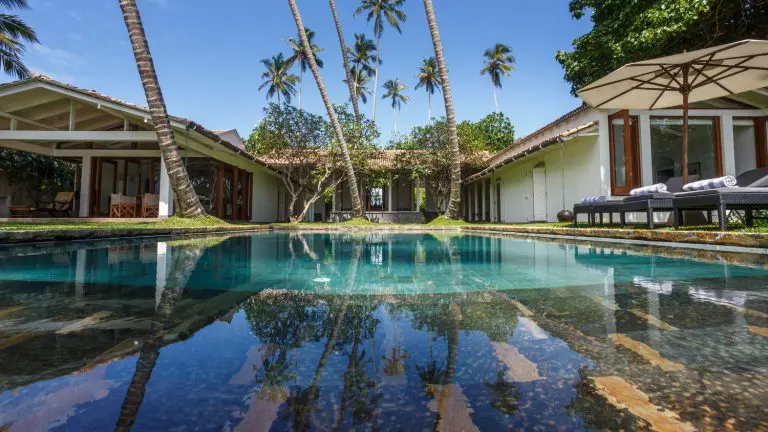 Spacious, contemporary, and elegant—three words that best describe Villa Victoria.
This villa is our best choice for guests who are planning to enjoy the UNESCO-acclaimed city of Galle, which is conveniently located just thirty minutes away from the accommodation. Its five large rooms can fit a maximum of 10 guests—perfect for couples, families, and friends who are seeking for an ultimate tropical getaway!
Villa Victoria is generously constructed with wide areas and airy garden, designed simply to give that laid-back yet luxurious touch. With its sparkling pool, manicured lounging area, and a setting alongside a prime beachfront location, we just wish our view can always look this good! 
Location: Ahangama
Attractions Nearby: Galle Fort, Koggala Lake, Yatagalla Temple, Japanese Peace Pagoda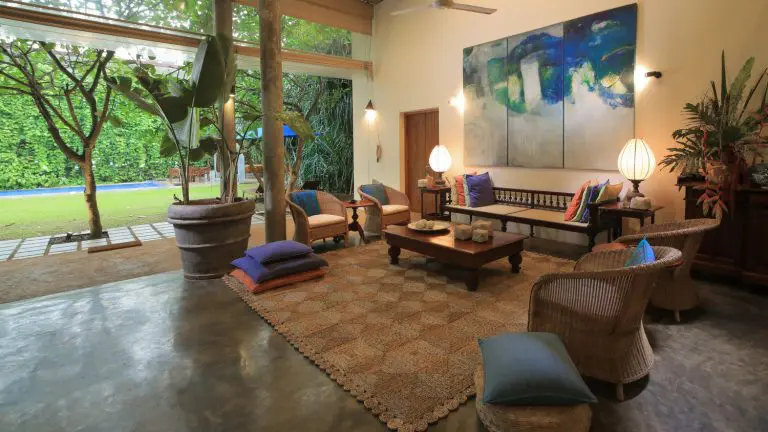 It was love at first sight with Saffron and Blue Villa. Who wouldn't fall head over heels with this rustic abode when it's all you could ever dream of for a tropical villa?
There's something for everyone at Saffron and Blue Villa. Whether you're planning to retreat in an inspired space, seeking to reconnect with nature, or finding a great venue to bond with families and friends, this 4-bedroom villa in Sri Lanka is exactly what you're looking for.
Saffron and Blue Villa is strategically located just a few steps from the beach, which gives you 24/7 access to a stunning view of Sri Lankan sunrise and sunset. And as if a huge blue swimming pool in the middle of a lush mini garden is not yet enough, two of the bedrooms inside the villa has its own outdoor jacuzzis, perfect for your self-love moments. There's even a media room available where everyone can bond over lazy nights and television. To cap it all off, Saffron and Blue Villa offers in-house chef service, so you can have your own intimate feast and BBQ out of your gardens.
What more can you ask for?
Location: Bentota
Attractions Nearby: Kosgoda Turtle Hatchery
3. Colonial Style Staycation: Skye House
Experience Sri Lankan vibe in its truest sense with Skye House's colonial inspired design and setting directly alongside a golden beach!
We highly recommend this lavishly designed colonial-style house for guests who are seeking to retreat in a more private dwelling and enjoy the solidarity at a tranquil beach spot. This 5-bedroom villa is great for groups of friends or families, accommodating a maximum of 14 people.
This huge 2-storey property is situated so close to the beach, of which the sound of waves and breeze of air you can enjoy from either the sprawling garden or the spacious balcony. Each bedroom speaks royalty, with its canopied beds, timeless fixtures, and stone bathrooms. But our favourite part of this palatial sanctuary would have to be the outdoor area. It's not every day that you get to live in a house fringed with palm trees. And it's not every day that you get to dine directly beside a huge swimming pool right outside your backyard. Indeed, this is luxury at its finest!
Location: Talpe
Attractions Nearby: Galle Fort, Dalawella Beach, Mihiripenna Beach, Yatagala Raja Maha Viharaya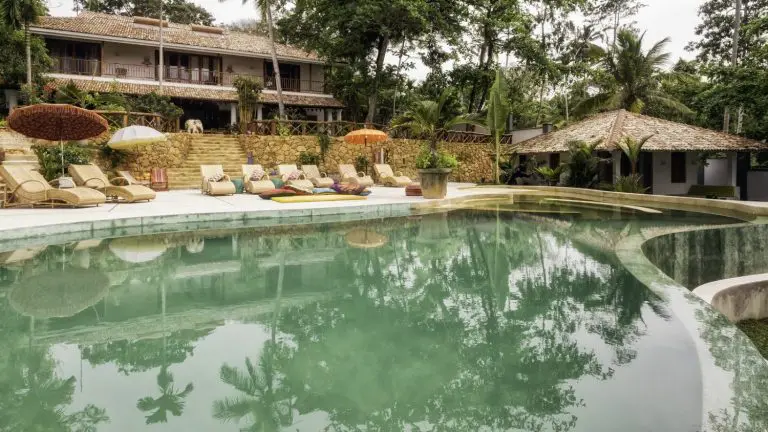 Villa Meda Gedara is your ultimate family holiday beach house. With its water slides, outdoor jacuzzis, and convenient access to the beach, there's nothing that you could ever ask for!
This lavish villa is our best choice for families travelling in packs, for Villa Media Gedara's 7-bedroom house can accommodate as much as 18 people. Indeed, anyone can come!
This is where you would want to stay if you're seeking a place to relax and unwind, but still give your kids the best memories of their childhood. While the children are enjoying their very own freeform pool and the waterslide that comes with it, you can do your yoga on the side, sip your favourite cocktail, or bask and have a tun under the sun. Alternatively, you can take your much-needed me-time in your private jacuzzi, while the kids watch television in the living room or play toys at the kids' room. And the best part is, Villa Meda Gedara takes the saying "The family that eats together, stays together." by heart. You have your very own 14-seater dining table, overlooking the beach and swimming pool. Each day spent here is a feast with the whole family!
Location: Dikwella
Attractions Nearby: Dondra Head Lighthouse, Weherahena Poorwarama Rajamaha Viharaya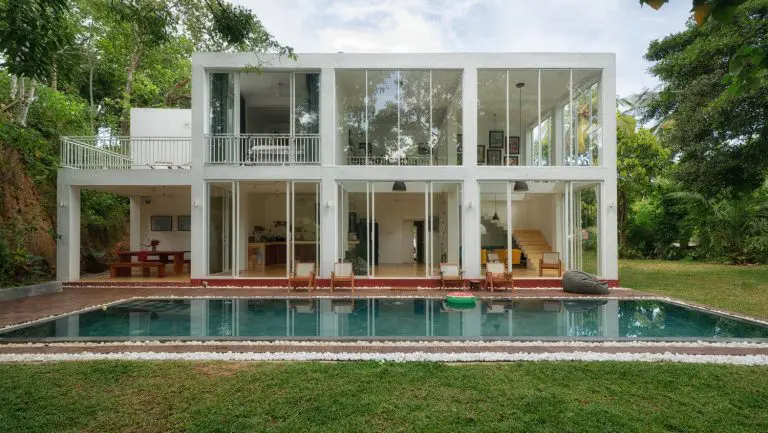 There's nothing more tropical than being surrounded by a sprawling lawn, palm trees, and lush greens. Villa Siriwimal is your home tucked conveniently away in the depths of southern Sri Lanka.
Villa Siriwimal is the kind of paradise you never knew you were craving—simple but luxe, the right mix between modern and nature, and a breeding ground for inspiration. This 3-bedroom Dutch-inspired era accommodation is perfect for guests seeking solidarity and independence.
Villa Siriwimal features spacious rooms, designed with a mix of modern and hipster touches. There's even a study desk with Apple iMac that you can use to your liking. Indeed, every corner is a surprising feast to the eye! One of our favourite parts of the villa is the outdoor bathrooms—one of the perks of having a private accommodation all to yourself. While guests particularly enjoy the outdoor swimming pool, canopied by tall trees of different kinds. This view, you can enjoy at every meal of the day, as the dining area is strategically located behind the glass walls, overlooking the pool area. Is it not dreamy or what?
Location: Weligama
Attractions Nearby: Weligama Bay, Pushparama Temple
Got anything you like in here? Check out here for more villa options in Sri Lanka!
Related:
Please follow and like us: