Everybody's heard of Seminyak – the most iconic, fashionable beach town on the island – but when booking yourself a private Seminyak villa in or just outside of the city centre, you need to know just a tiny more about the different areas in town. Although the centre is not very big, it is gradually expanding towards neighbouring Umalas and Kerobokan. Petitenget, for instance, used to be a different village but today, it is the chicest and trendiest area of Seminyak with famous restaurants and beach clubs such as Sarong, Bambu, Metis and Potato Head. Petitenget is not comparable with easy-going, laid-back Double Six nor with the party scenes going on at Dhyana Pura. Confusing? Let's sort things out and take a look at Seminyak from up-close so you get a better understanding. We'll highlight all the different areas in town and tell you where to have coffee, dinner, drinks and more.
Double Six Area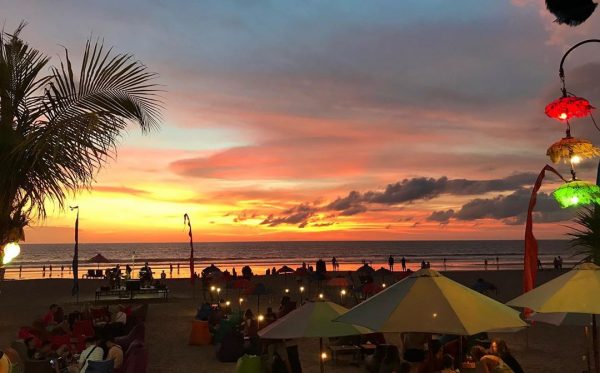 Double Six starts where Legian ends and this district of Seminyak includes Double Six Beach, Jalan Arjuna and Nakula. Double Six area has got a relaxed, easy-going atmosphere. This area is colourful, lively, friendly and not too chic and high-end like Oberoi and Petitenget. Double Six Beach is where you'll find all those charming beach bars such as Champlung and La Plancha. When they stall out those bean bags and Balinese parasols on the beach in the afternoon, you know you are having sunset cocktails in Seminyak, alright – it is an image truly iconic to Seminyak and Bali.
If you are into traditional Indonesian food, there are some great options you will love in this area of town! One of my personal favourites is Warung Melati, just off of Jalan Nakula. Another very good local eating place is Warung Murah, close to the beach. For dinner, sit down for a delicious Japanese meal at Ryoshi and stick around for the live music on Monday, Wednesday and Friday evening. More great live music happens at The Orchard Bar. This Irish Pub has got original live bands and Irish draft beers – the perfect combination for a really fun night out. In the mood for a fancy dinner with ocean views? Head over to The Plantation Grill at Double Six Rooftop.
Dhyana Pura Area
Dhyana Pura used to be the main party district of Seminyak. This lively area is home to famous gay clubs such as Bali Joe, featuring cabaret shows, go-go dancers and glamorous drag queens. The gay bar party scene might not be for everyone but it sure as hell is alive and kicking every night – these people know how to throw a party! If you follow Jalan Dhyana Pura to the beach, you will hit Gado Gado Beach. Here, you will find some amazing beachfront venues for sunset drinks and dinner under the stars; Chez Gado Gado and Moonlite Kitchen and Bar.
More about food? Zula is a vegetarian paradise to score a healthy meal, a bowl of hot steaming soup and delicious smoothies. Warung Ocha is a great Indonesian restaurant on the corner with a lovely garden to enjoy your food and Frankenstein Laboratory is a restaurant where you can meet and greet zombies and other scary creatures from horror movies – quite a unique dining setting!
Find the perfect villa near Gado Gado Beach area of Seminyak now.
Drupadi Area
This is the area of Seminyak that connects Dhyana Pura to Oberoi. Drupadi is home to lots and lots of villas (great location for that holiday home in Bali, indeed!) and there are plenty of cool coffee bars and restaurants. In fact, the best Italian on the island might be right here on Jalan Drupadi. Zibiru is an authentic Italian 'farm-to-table' restaurant with homemade pasta, live jazz music, a garden and a rooftop terrace. On the corner sits Laca Laca, serving yummy Mexican food at awesome margaritas. Stop by at The Koop Roaster & Cafe for organic coffee and freshly bakes goods or sit down at Uma Kopi for coffee and a smoothie bowl. On Drupadi, you will also find some great spas such as Spa Bali and there is an awesome yoga studio, too, Yoga 108 Bali.
We made a list of the best yoga studios in Seminyak and Yoga 108 is on it. Read more about it here.
Oberoi Area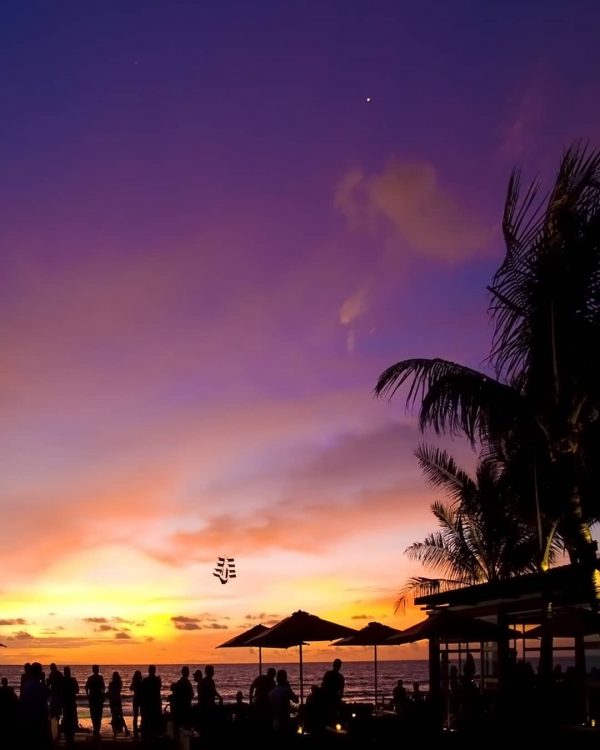 Oberoi Road aka 'Jalan Laksmana' aka 'Eat Street' is one of the most famous shopping and dining streets in all of Seminyak. This fashion street leads from The Corner House (yummy Revolver coffee!) and it goes all the way down to the KU DE TA Beach Club and further until it hits Petitenget. Staying in this area is just heavenly for those who love shopping, wining and dining, partying at gazing at the island sunset while lounging at famous beachfront clubs and restaurants.
On Oberoi Road, you will find branded fashion stores, designers boutiques, trendy coffee bars and sophisticated shopping malls. There is Seminyak Square and there is Seminyak Village located side by side on Oberoi Road. If you can't get your shopping done here, you can't anywhere! Coffee at Revolver Espresso is not to be missed! Brunch at Grocer & Grind is a must! Shopping at Magali Pascal, Bali Boat Shed, Kids a Go-Go and many more boutique shops is something to allow yourself and dinner at La Lucciola will never disappoint! The best spa? Bodyworks! In the mood for dancing? La Favela!
Petitenget Area
Many people think Seminyak's most famous restaurants such as Bambu, Sarong, Merah-Putih and Metis are located in Oberoi.  In reality, these iconic restaurants are found on Petitenget Walking Street. Petitenget is the trendiest and chicest district in buzzing Seminyak but it is easy to see why people get confused. The famous Oberoi Road extends to Jalan Petitenget and it is not really that clear where one ends and the other begins. Look for Pura Petitenget if you want to find the exact starting point :). Anyway, if your private villa is located in Petitenget – you are staying in the hottest and most happening part of town!
The Petitenget Walking Street is lined with famous cafes, shops and restaurants all the way until it hits Batu Belig. For breakfast or brunch, try KYND community, Cafe Organic or Biku (go for their high tea!). The list of amazing restaurants to go for dinner is just endless. Petitenget is also home to Rob Peetoom Spa and Yiwa Yoga Bali where you can go for a session of hot Bikram Yoga.
Can't get enough of those excellent restaurants and world-famous beach clubs? Look for a villa in Petitenget.
Batu Belig area
Batu Belig is one long walking street, starting at the end of Jalan Petitenget and it stops at Batu Belig Beach where you can have sunset cocktails at one of Bali's latest beach clubs Tropicola. From Batu Belig, you are finding yourself just a skip and jump away from the Berawa area of Canggu, allowing you to explore the best of Seminyak and trending Canggu. Jalan Batu Belig features cafes. restaurants, shops and more and the street is perfectly friendly for pedestrians and push strollers. Have a delicious and healthy salad at Watercress Cafe, sit down for sunset drinks at Tropicola and get a spa treatment at Bening Spa.
We've got some really charming private pool villas in Batu Belig here.
Please follow and like us: