The average Indonesian has rice for breakfast but for us island visitors, don't we love our bread in the morning? Bread, coffee, juice and we are all set for another day in paradise. Now, during your Bali stay, you should also definitely go indo-style on some days and have a bowl of 'bubur ayam' (rice porridge with chicken) or a plate of 'lontong sayur' (rice cake with vegetables in a spicy coconut curry) for breakfast, but on those days that you are longing for a taste from home. Here is an overview of Seminyak bakeries. There are quite a few excellent bakeries found in and around Seminyak, so you won't have to travel far from your private villa to get your hands on your favourite bread, cakes, and pastries.
1. Croissants made in heaven and more @ Monsieur Spoon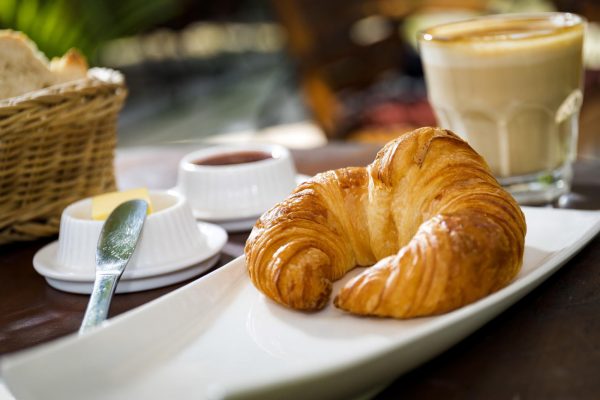 Hands down, this is the best place in all of Bali to get croissants! Let's face it, at most places in Bali, the croissants are just not as fluffy, crispy and soft as they should be. At Monsieur Spoon, the croissants are an example of perfection and you will find yourself coming back for more and more. In Seminyak, Monsieur Spoon has got 2 outlets, one near Seminyak Square in Oberoi and one in Petitenget, where you can sit in their spacious garden and gaze at the rice paddy view while having breakfast or coffee and cakes. Wonderful!
Monsieur Spoon, Jl. Petitenget No.112-A, Kerobokan, Bali. Contact: 0878-6280-8859. Opening every day from 7.30 am to 9.30 pm
2. Great value European-style breakfast @ Cafe Moka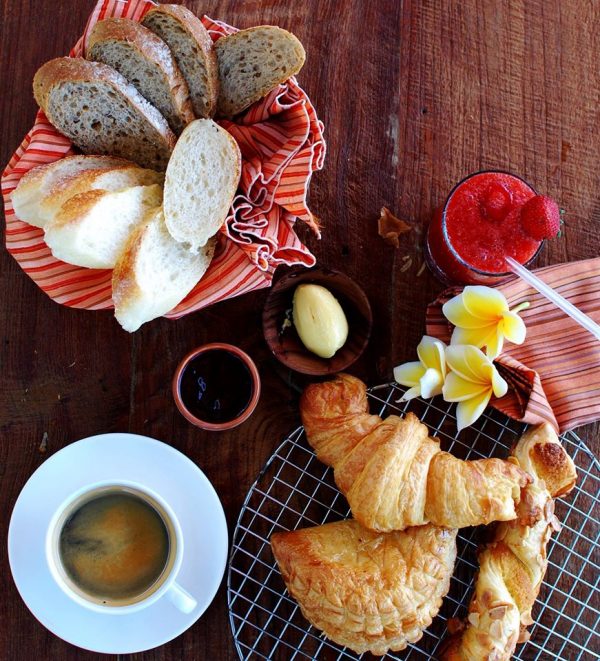 Cafe Moka first opened its doors back in 1997 and it was one of the first bakeries in Seminyak. This European-style cafe, bakery and pastry shop offers a great value breakfast (Served all day – yay!). For less than Rp. 100,000, you get the full shebang: Illy coffee, eggs, bacon, bread, fresh fruit and juice. Moka Cafe offers a wide selection of homebaked pastries and there is lots of bread to choose from so you can take some back to your Seminyak villa and enjoy it there.
Cafe Moka Bali, Jl. Raya Basangkasa, Seminyak. Contact:  0821-4411-1312. Open every day from 7 am – 9 pm
Related: Where to go for breakfast in Seminyak
3. Pastry paradise just outside of town @ Chef Cakes Bakery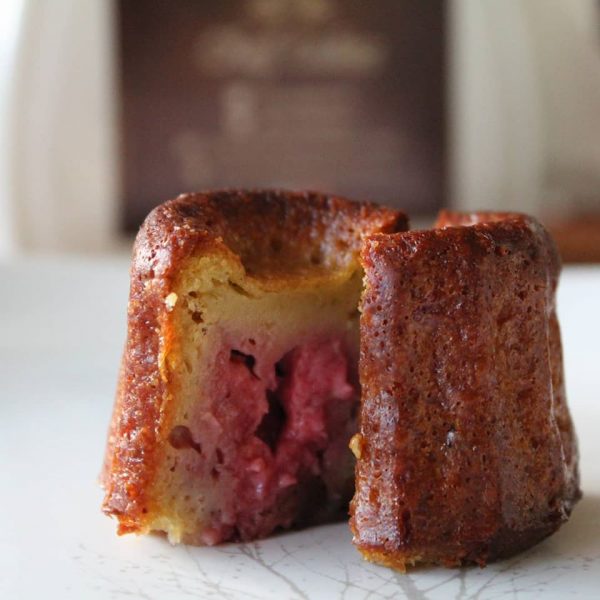 A little bit far out, but if you happen to stay in outer Seminyak, this might just be the best place to score your morning bread and the get a taste of some heavenly French-style cakes and pastries. This bakery is the closest bakery from where I stay, and every time I am there to buy bread, I have to be careful not to come home with a whole bunch of sweets instead. I love their brownie cookies and the caramel tart! Everything is baked fresh in the morning and you can smell it. Chef Cakes Bakery is French-owned and you only have to take one bite to be sure that these guys know how to bake, alright!
Chef Cakes Bakery, Jl. Gunung Salak No.4, Padangsambian Klod, Kerobokan, Bali. Contact:  0851-0048-2203. Opening hours: Monday to Saturday from 7.30 am to 7 pm. 
4. Awesome Aussie bake pies on Drupadi @ Buzz Bakehouse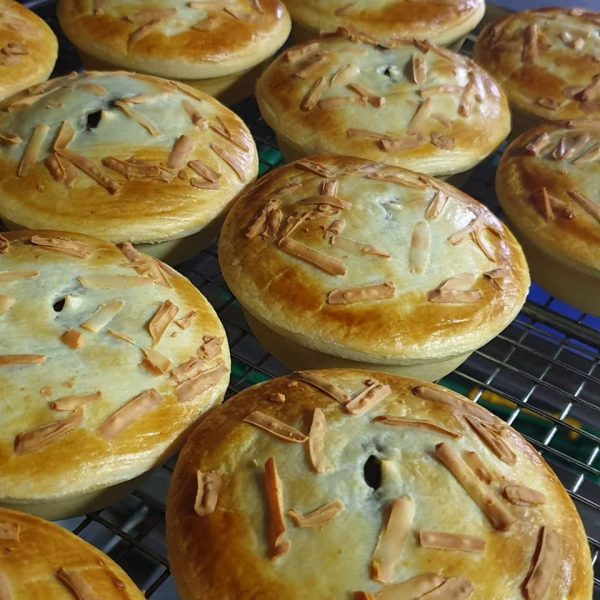 Located in the centre of Seminyak, Buzz Bakehouse not only bakes bread but they also make fresh Australian bite pies for you to munch on. There are traditional bake pies with minced meat but also pies with lamb and rosemary, bacon and cheese or vegetable bechamel and many more. They make artisan sandwiches, bagels as well as wood-fired homebaked pizzas. Any time of the day, from morning till' evening, you can get something yummy at Buzz Bakehouse on Drupadi, in the heart of town.
Buzz Bakehouse, Jl. Drupadi 88 Seminyak, Bali. Contact: +62 818-352-444. Open daily from 7.30 am to 10 pm
5. Macrons and cream puffs you won't get enough of @ Poule de Luxe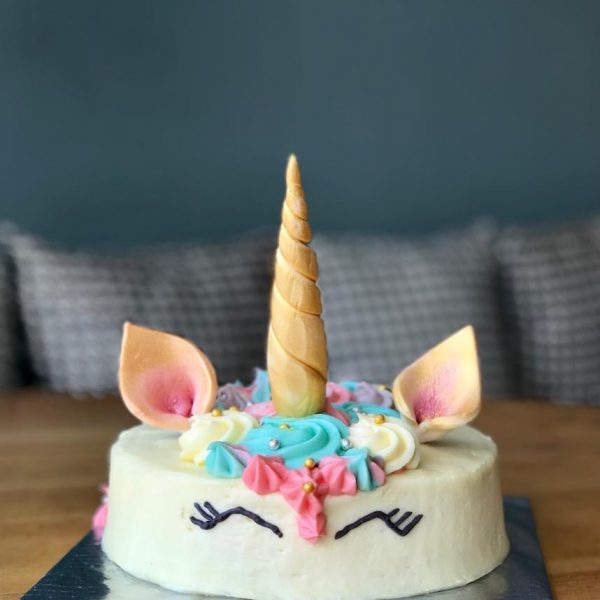 Staying in Batubelig on the border of Seminyak? Poule de Luxe is where to get your homemade French bread with some macarons and cream puffs on the side. This luxury patisserie and pastry also has gluten-free products and everything is made fresh every morning. Want to get a taste but is it too far out of your way? You can also find their cream puffs and macarons in the Bintang Supermarket in Seminyak, at Made's Warung in Seminyak and also at Canggu Station in Canggu (if you are staying in our Canggu villas, you can easily get them too!).
Poule de Luxe, Jalan Batu Belig No. 16D, Kerobokan, Bali. Contact:  (0361) 8475414. Open daily from 8 am to 11 pm.
6. Bagels and BLT sandwiches @ Bread Basket
Bread Basket is a French bakery located on Jalan Mertanadi in Kerobokan. A great place to get baguettes and bagels and they serve a great value all-day breakfast, too, complete with a basket of bread, fresh fruit, juice and tea or espresso. You can also choose to design your own sandwich – they make it fresh right there and then, super fresh and tasty. Bread Basket has outlets in Kerobokan, Sanur and Uluwatu.
Bread Basket, Mertanadi No.100, Kerobokan, Bali. Contact: (0361) 9342510. Open every day from 7 am – 5 pm.
7. Fresh bread @ the first bakery in Bali – Bali Bakery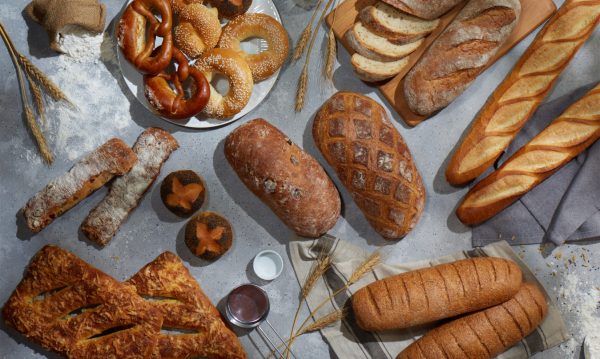 Bali Bakery was the first real bakery in Bali, founded in 1994 in Kuta and it sure is one of the most iconic bakeries on the island these days. In Seminyak, the Bali Bakery sits inside Seminyak Square shopping arcade. Bread, cakes, chocolates and a full-blown western and local menu, this Bakery is open from morning till late in the evening.
Bali Bakery, Seminyak Square. Jl. Kayu Aya No.8, Seminyak, Bali. Contact: (0361) 738033. Open every day from 7.30 am – 10.30 pm.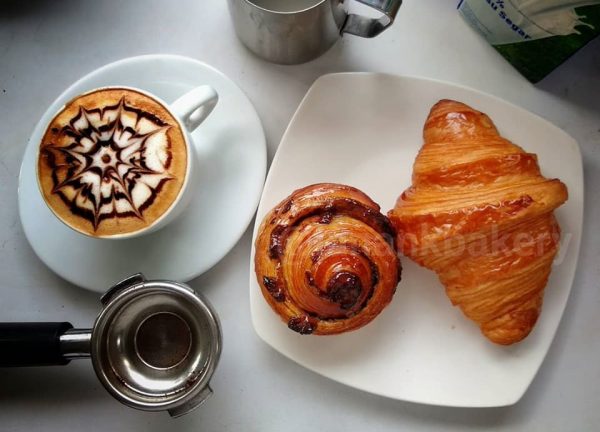 This cute little local bakery is not well-known at all but it's a super lovely place with tasty, cheap freshly baked bread and sweets and they also serve a nice coffee. Try their banana bread, brownies or surprise yourself with some local treats such as chocolate cakes topped off with cheese – it is a definite favourite among Indonesians.
Lanank Bakery, Jalan Cendrawasih No. 12, Kerobokan, Bali. Contact: 0812-3999-3242. Opening hours: Monday to Saturday from 7 am to 9 pm. Closed on Sundays.
9. Artisan handmade doughnuts @ Dough Darlings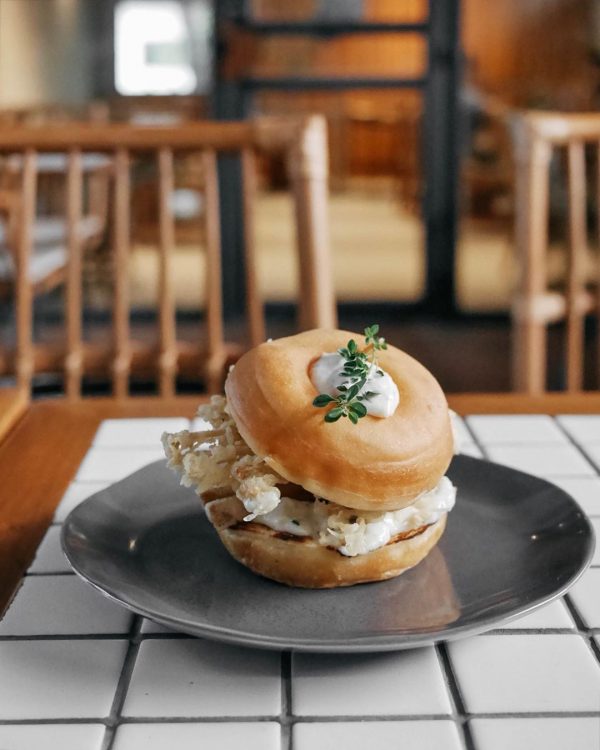 If you love doughnuts (and even if you don't) this artisan doughnut bakery is like a piece of heaven on the island of Bali. Located in trendy Petitenget, you just gotta come back, again and again, to try out all of the heavenly flavours (or you can have a box delivered to your villa). Triple Belgian chocolate, espresso brown sugar, New York cheesecake, strawberry mojito, cinnamon sugar, my oh my, I want it and I want it now! Breakfast, lunch or dinner, it doesn't matter what time of the day it is, there is always room for one of these babies!
Dough Darlings, Jalan Petitenget No.22, Seminyak, Bali. Contact:  0878-6279-0904. Open every day from 8 am to 9 pm.
Please follow and like us: