The morning sun kissed you gently, welcoming another wonderful day on paradise island and you are feeling hungry! Take a quick dive into the inviting swimming pool of your private villa in Seminyak, drink up your cup of coffee if you are one of those who just cannot move with a caffeine shot and head out for a delicious breakfast in Seminyak. We selected the best places to go for a yummy, happy tummy morning meal.
Shelter Cafe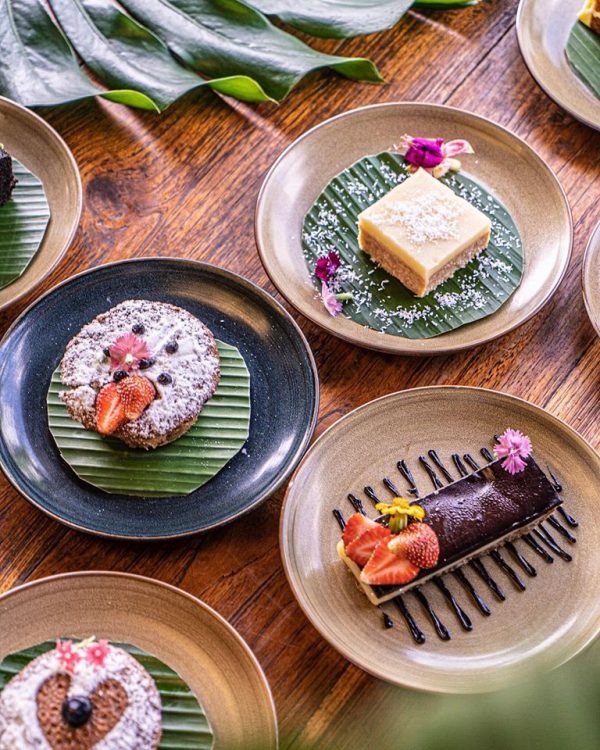 Shelter Cafe is a relatively new hang-out hub to get your daily caffeine shot or a healthy Nalu Bowl. Tucked away in a beautiful bamboo structure on a side road of Seminyak, is where this charming cafe is found. Downstairs you can sit at the Nalu Bowl Bar. The stairs leads to a surprisingly charming café, designed with cosy corners and comfy places surrounded by tropical greenery. The coffee is perfect, they got great choices for healthy juices and smoothies, an interesting menu and the ambience is great! A must try!
Shelter Cafe,  Jl. Drupadi, Seminyak, Bali. Open daily 8am – 6pm
The Koop Roaster & Cafe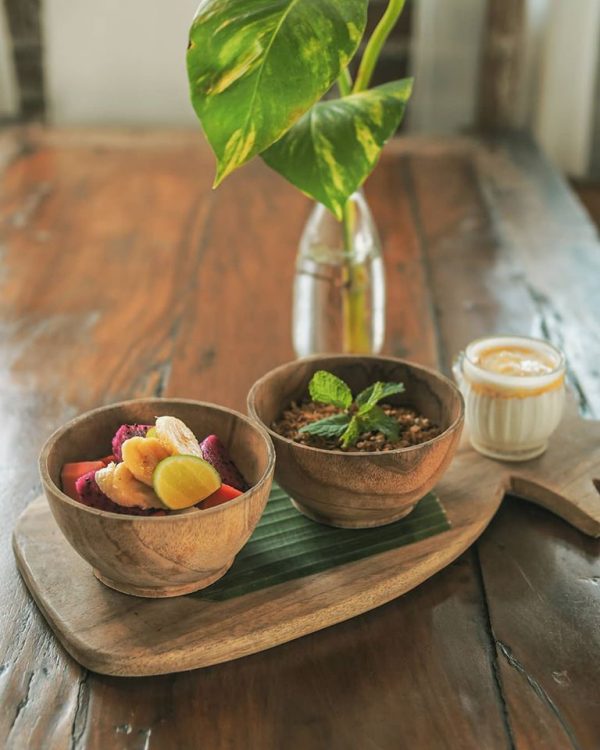 The Koop is another nice best kept secret cafe of Bali, located on Jalan Drupadi. With two levels, cafe The Koop makes a nice place to spend a bit more time after finishing your breakfast in Seminyak. On the second floor, you can comfortably sit with a nice cup of coffee, working a bit on your laptop or playing a board game with friends. The breakfast menu is really good! How about french toast with fresh fruit or Munti Gunung granola topped with yoghurt and honey? The coffee beans are locally sourced from organic farms around Bali and home-roasted within The Koop Cafe itself. Their home baked cookies and cakes are pretty good too!
The Koop Roaster & Cafe, Jalan Drupadi no 66, Seminyak, Bali. Open Monday to Saturday 9am – 4pm
Nook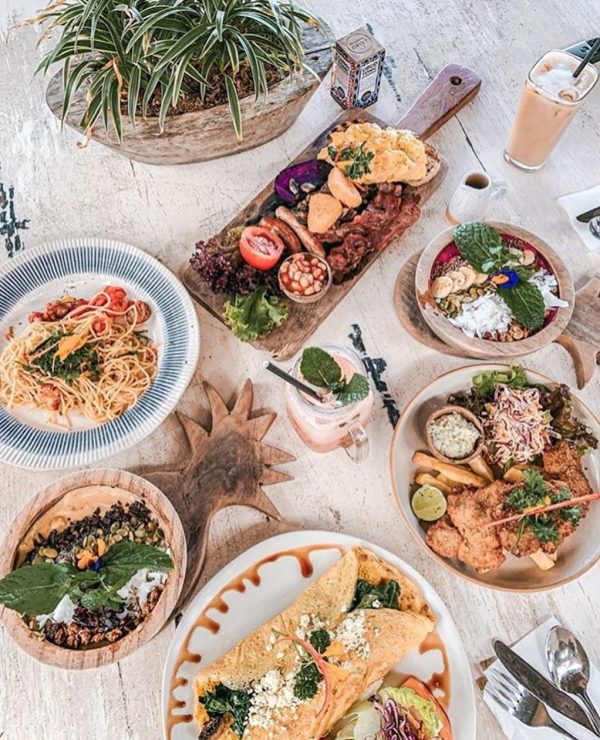 If you like to sit somewhere with a good view while munching your breakfast, Nook is the place to go! This cafe is nestled in the rice paddies of Umalas, just off of Jalan Batu Belig in the Petitenget area of Seminyak. It may be a longer walk or drive, but it is worth it! Sitting beneath leafy trees and gazing at the emerald rice paddies of Bali truly is a delightful experience as the staff prepares you a healthy smoothie bowl or a richly filled sandwich.
Nook, Jalan Umalas 1, Gg Nook Nr. 1, Umalas, Bali. Open daily 8am – 11pm
Wanna have brunch instead? Check out where to have brunch in Seminyak here.
Revolver Espresso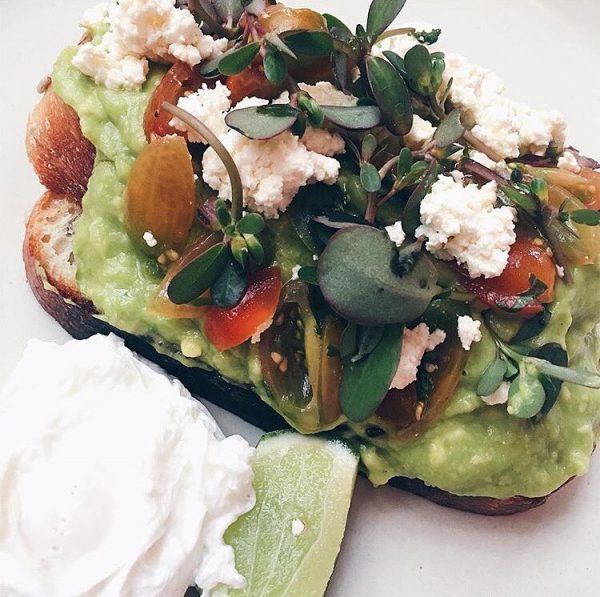 Revolver coffee is definitely the most famous coffee around and it is claimed to be the best by more than just a few. The setting of the two Revolver café's in Seminyak is truly charming. Revolver has the feel of an old style coffee café with teak interiors, the soothing smell of coffee and like-minded travelling souls and caffeine addicts. They serve great salads, healthy smoothies and the avocado smashed on bread is delicious too! Don't forget to try the coffee! a superb venue for breakfast in Seminyak!
Revolver Espresso, Jl. Kayu Aya, Gang 51, Seminyak, Bali. Open daily 7am – 6pm
Warung Souvlaki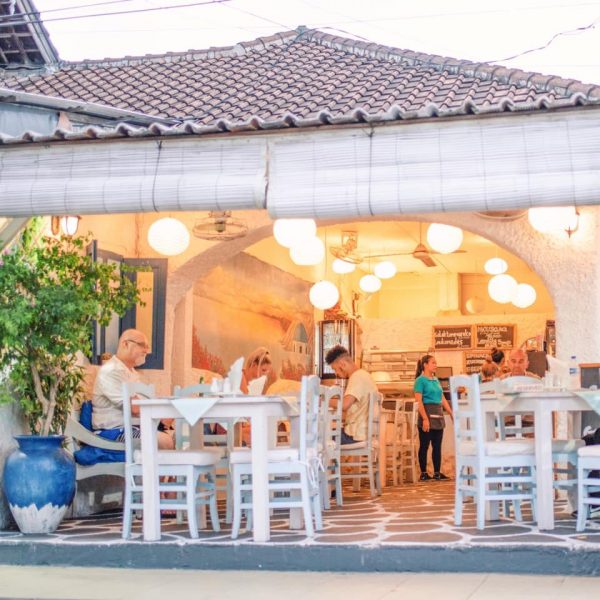 Something different and easy on your pocket money. This greek warung located on Jalan Dhyana Pura in Seminyak, offering a full breakfast set that is great value for money! Warung Souvlaki may not serve Revolver Quality but the breakfast is yummy and healthy! Expect a delicious omelette with feta and tomato on toasted bread, served with Bali or Nescafe coffee, a fresh juice and a big bowl of fresh fruits topped with greek yoghurt and honey. All of this costs you less than Rp 45.000. Now that is a good, good deal!
Warung Souvlaki, Jl. Arjuna ( Double Six Street ), Seminyak, Bali. Open daily 9am – 11pm
Do what the locals do
Why not start some or at least one of your days on Bali island as the locals do with a filling Asian-style breakfast in Seminyak? Go to one of the many street stalls (warungs) and get a nice plate of rice with veggies, chicken and why not, add some sambal too. It may take some time to get used to but after a while, you may be craving for it in the early morning like I do these days. Some nice warung for local food in Seminyak are Warung Murah (Balinese food stall Dhyana Pura) and Warung Eny (Petitenget).
Please follow and like us: