Where to Eat in Siem Reap
Authentic and local Cambodian food is unlike anything in SouthEast Asia and if you consider yourself a bit of a foodie, you'll have more than a few choices to fall in love with! Siam Reap is packed with many great restaurants and quaint cafes in every corner that it's close to impossible to fit everything into your itinerary. To help you prioritise which ones to try out first, check out our list of 10 delicious restaurants to try in Siem Reap.
Malis Restaurant
With the aim of showcasing Cambodian cuisine in its glory days, Chef Luu Meng opened Malis Restaurant. The first branch in Phnom Penh is already a huge success, with the one in Siem Reap growing in popularity. Start here to kick off your Southeast Asian adventure with a taste of authentic Khmer cuisine! Malis has an extensive menu and is renowned for its delicate traditional recipes with contemporary twists. We highly recommend getting a table at their al fresco garden where you can enjoy your meal with a great view of their water pond and regular Apsara dance performance.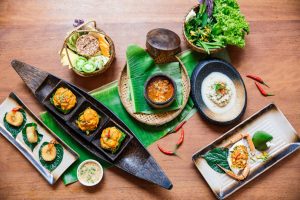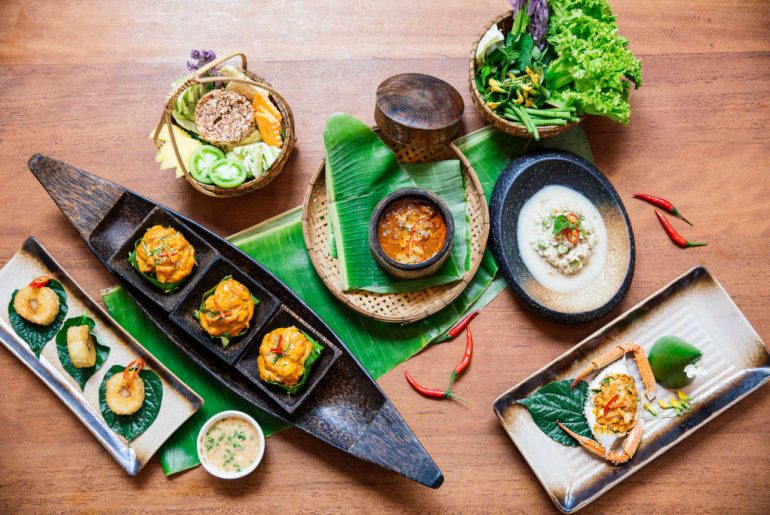 Where to Find: Pokambor Highway Mondul 1 Village
When to Visit: Every day (6:30 am – 10:30 pm)
What to Order: Fish amok, prahok ktis, kampot crab fried rice

The Little Red Fox Espresso
This small but charming cafe is located along the trendy neighbourhood of Kendal Village. It's one of our favourite places to hang out at after going boutique store hopping around the area. The Little Red Fox Espresso serves some of the best long blacks and flat whites in the city. You'll love the shop's indie vibe and classic Cambodian rock music too!
Where to Find: #593 Huabang Street Mondul 1 Village
When to Visit: Thursday – Tuesday (7:00 am – 5:00 pm)
What to Order: Any cup of coffee
Khmer Kitchen
If you're looking for authentic Cambodian food at an affordable price, this is the place to be. Khmer Kitchen offers a menu featuring a wide variety of local dishes. Their recipes are rooted in family tradition and strongly recommended for bigger groups as the restaurant offers generous portions of their dishes. If you're visiting Siem Reap with families and friends, make sure to add this top eatery to your list!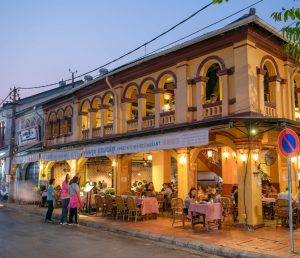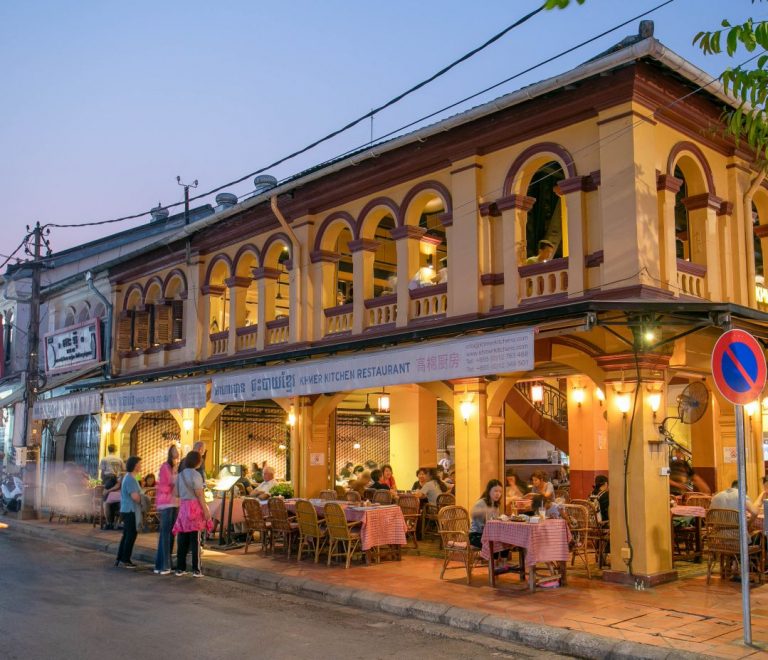 Where to Find: Corner of 2 Thnou Street and Street 9, Old Market
When to Visit: Every day (9:00 am – 11:00 pm)
What to Order: Amok (fish, chicken, or pork), prahok
The Hive
Head to the hip streets of Kandal Village and you'll find another hidden gem "The Hive" This cute spot is one of the best choices for a hangover cure after a fun night at Pub Street or brunch after going on an early temple tour. This is an Australian-owned cafe so expect to be served sumptuous Western breakfast and vegan items, perfect for the hungry foodie! One more thing that we like about The Hive is its fast Internet connection. If you need a place to get some quick work done, this is a good spot!
Where to Find: 631 Psar Kandal Street
When to Visit: Every day (7:30 am – 6:00 pm)
What to Order: Biggest breakfast, coffee, fresh juice
Marum
There are so many reasons why this restaurant made it to our top food places in Siem Reap. For one, Marum is set in a stunning two-storey wooden house that also features a garden seating area. This is a great choice for a romantic dinner or to celebrate an occasion. We also love that the restaurant offers an impressive variety of tapas-style Cambodian dishes. Here at Marum, guests can sample an array of Khmer cuisine in just one seating. Finally, we love that as a member of the Tree Alliance restaurants, they educate, train, and employ disadvantaged youths.
Dining at Marum gives you the opportunity to support their advocacy of caring and supporting their youth.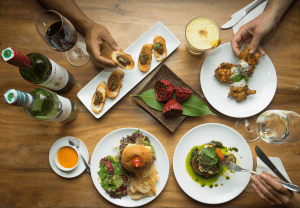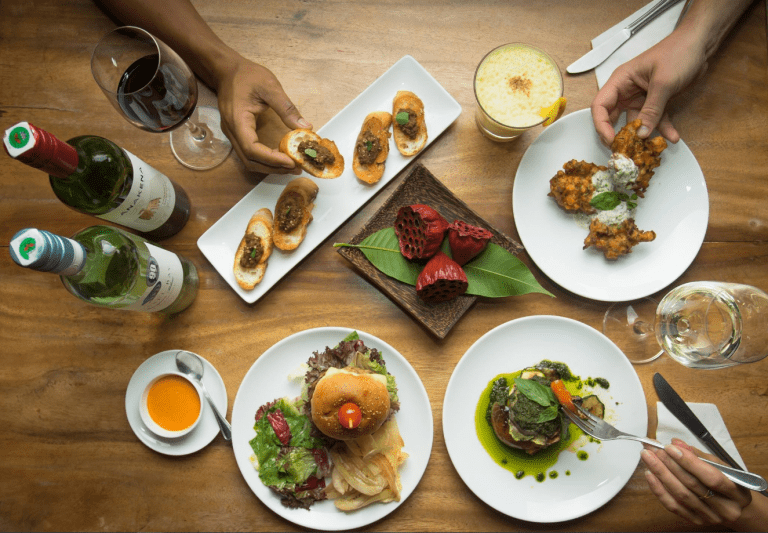 Where to Find: Por Trach Village, Sangkat Slor Kram
When to Visit: Every day (11 am – 11 pm)
What to Order: Stir-fried red tree ants with beef, Siem Reap fish soup
Cuisine Wat Damnak
Being the first-ever local restaurant to be included in Asia's 50 Best Restaurants list already says a lot about Cuisine Wat Damnak. Set in a wooden Cambodian home, this fine dining restaurant is a must-visit if you enjoy the finer things in life. Cuisine Wat Damnak features a 5 to 6-course menu prepared by celebrity French chef Joannes Riviere. What's unique about this place is that traditional Khmer recipes are prepared in French haute-cuisine style, with items changing fortnightly to make use of seasonal ingredients around Southeast Asia. Remember to make a call at the restaurant in advance as a booking is required to dine at Cuisine Wat Damnak.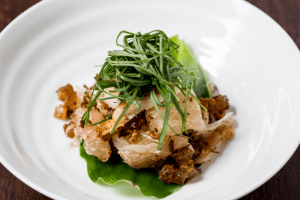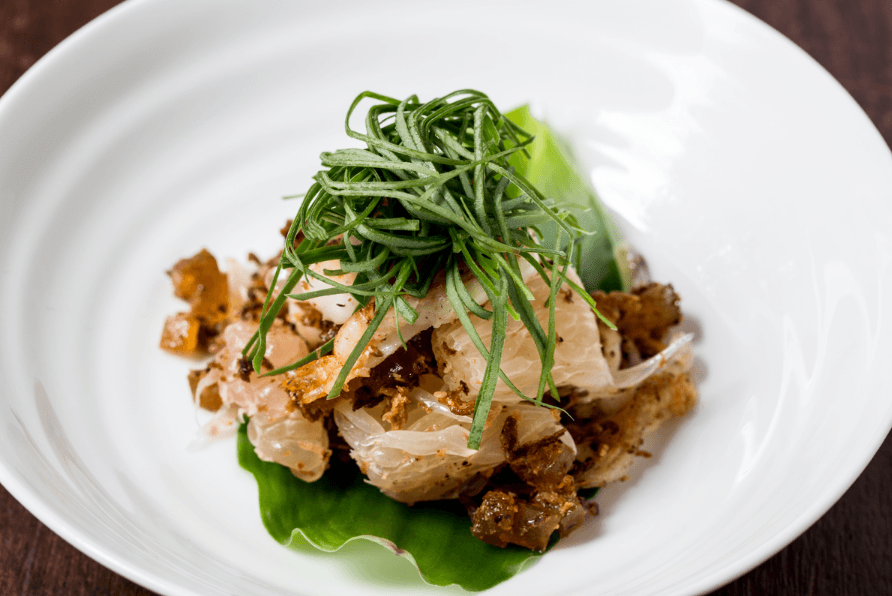 Where to Find: Street 7 Makara, Wat Damnak Village Krong
When to Visit: Tuesday – Saturday (6:30 pm – 11:00 pm)
What to Order: Menu courses changes fortnightly
Genevieve's Restaurant
Genevieve's is a foreign-owned restaurant in Siem Reap that serves surprisingly really great local food. They also offer Western dishes too making this is a perfect place for groups travelling with varying tastes. Aside from serving delicious food, what keeps us coming back to Genevieve's is the heartwarming story behind the restaurant. Genevieve's was named after the owner's late wife who battled cancer. While she was still around, Genevieve did a lot to help the locals and in honour to her, Phil, her husband started the restaurant as a social enterprise to help unprivileged locals.
Where to Find: Bamboo street, Krong
When to Visit: Monday – Saturday (12:00 pm – 9:30 pm)
What to Order: Beef Lok Lak, fish or chicken amok
Blue Pumpkin
If variety is the name of the game, this next restaurant is in a league of its own. Blue Pumpkin is a local favourite in town, with a few branches available throughout the city. Can't decide between Cambodian or a Western dish? Or not sure whether to dig into a wholesome meal or skip it and go straight to dessert? Head over here with different cravings and you're sure to find something that satisfies. We love that the meals are made with fresh and local products.
Where to Find: 563, Mondul 1, Svay Donkum
When to Visit: Every day (6:00 am – 11:00 pm)
What to Order: Cambodian kathew, pasta, ice cream
Sister Srey Cafe
Yet another social enterprise made it to our list! Sister Srey is a great cafe by the Siem Reap river. On offer are delicious pastries, coffee, juices, smoothies, and a variety of breakfast goodies. As a social enterprise, they have advocated and supported many causes through the operation of their business. One of the many is educating and empowering the unprivileged youth of Cambodia. By employing Khmer students, Sister Srey Cafe helps youngsters strike a balance between studying and earning an income as the breadwinner of their families. They are taught valuable skills to thrive in the hospitality industry, including the English language, personal development, health and hygiene standards, as well as banking.
We always love good food with a good cause!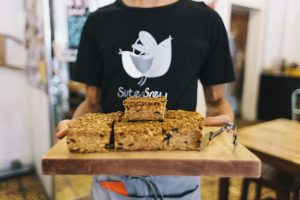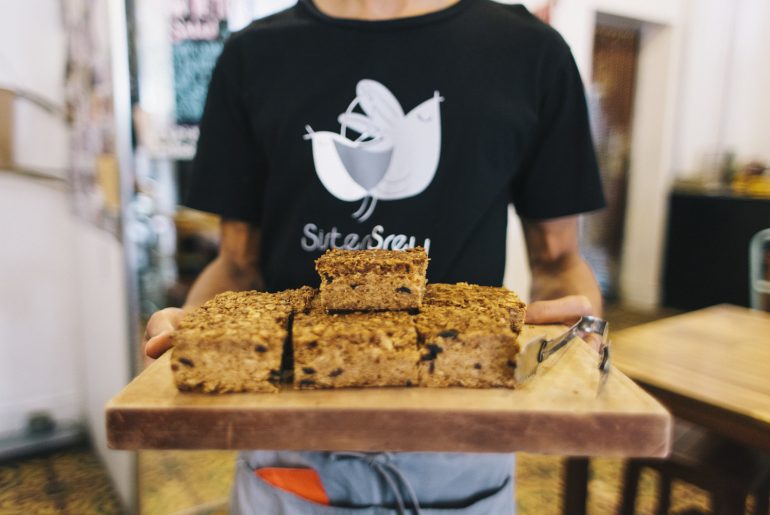 Where to Find: Sangkat, # 9, Street of Religious, Old Market Bridge, Mongkol Borey
When to Visit: Every day (7:00 am – 6:00 pm)
What to Order: Coffee, smoothie bowl
Gelato Lab
We always say, save the best for last…cause' there's always room for dessert!
There's no better way to cool off from Cambodia's heat than by indulging in a creamy ice cream cone. Find your way to the famous Pub Street and you'll discover a piece of Italy in this authentic gelato shop. They make so many unique flavours (tasting allowed and encouraged!) at Gelato Lab that you'll surely come back for more. We take no responsibility in your consumption of more than two ice creams 😉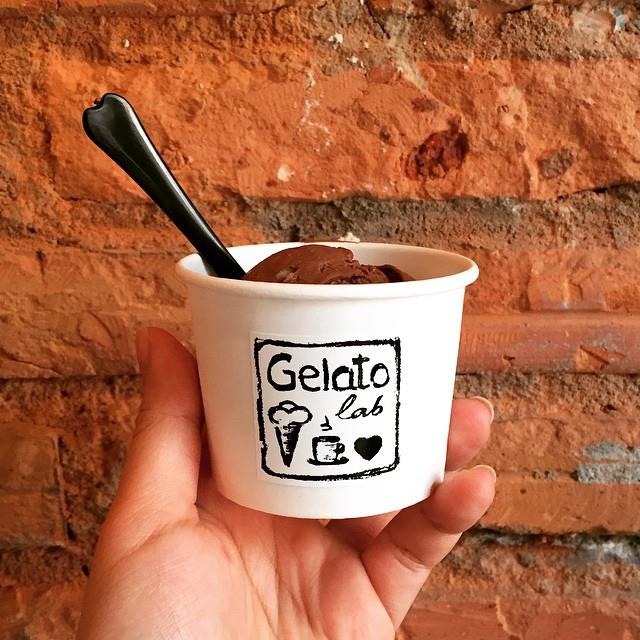 Where to Find: House # 11, Mondol 1 Village
When to Visit: Every day (9:00 am – 11:30 pm)
What to Order: Cioccolato al pepe di Kampot
Check out our guide on where to visit and what to do in Siem Reap!
Please follow and like us: