Villa Finder were lucky enough to get a hold of the incredible Frederique Lessard, founder of the wonderful Les Basics boutique store in Canggu. Here's a little bit about her life and work!
Villa Finder: Could you give us a short intro about yourself?
Frederique: I am a 27 year-old French Canadian girl passionate about life and fashion living in Bali. I love simplicity and taking time to enjoy life. I always wanted to discover different ways of living, I am thrilled to discover different cultures and countries.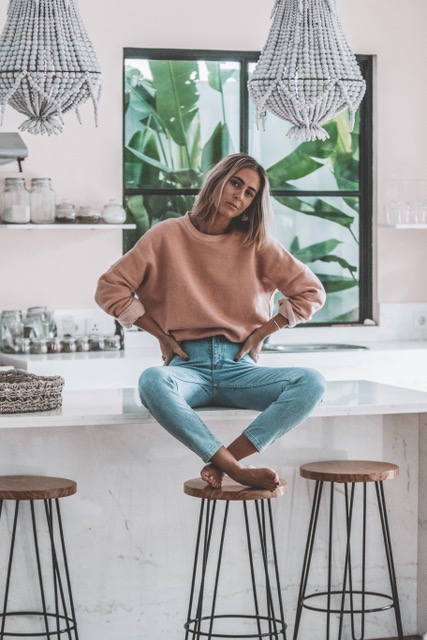 Villa Finder: What brought you to Bali? Frederique: Many things but mostly when I came on vacation I fell in love with Canggu. 5 years ago it was still raw and not busy at all…there were very few restaurants and only 2 stores…. I was in love with the lifestyle and how I felt being there. So I came a few months after to spend some more time over there with my boyfriend and his family that are also Canadian.
Villa Finder: What are your favourite places on the island?
Frederique: I would say Canggu as there is so many cool places to eat and for sunset. But when I need to get out of the action my most favourite place is Bingin. I feel like a beach bum when in Bingin (yet it's only few hours from Canggu). I can truly disconnect from reality/work, enjoy the crystal blue waters, eat lunch by the beach and watch my boyfriend surf.
Villa Finder: Has Bali changed since you first moved here?
Frederique: A LOT yes. I am part of that big change as I opened a shop but I think its how you do it that makes a difference. I think we should collectively make an effort to preserve some of the environment around us that brought us here as expats. I think also the government should protect the land and we should all contribute to help with that as well. The last 3 years has been crazy in the Canggu area. Lots of shops and restaurants have, and are continuing to open their doors… I think it's also nice to see all those people bringing their own piece of culture to Bali – but I feel we need to do it with respect for the people and their island.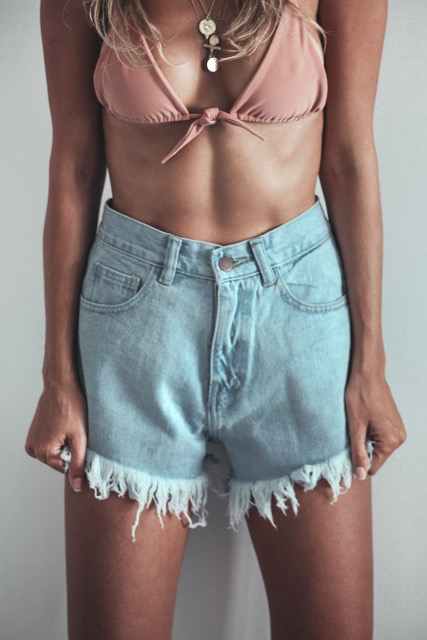 Villa Finder How and when did Les Basics get started?
Frederique: I would call it a crazy plan of mine but that turn into a great life passion and a successful project. I started the store 2 and a half years ago almost! I wanted to create clothes that make me happy and could benefit others. I wanted to create a community of people who inspire each other to be better and live life to the fullest…I wanted to live and inspire people to make their own 'The Sunday Life'. Our clothing is made for and worn by travellers who want timeless and comfy clothes.
Villa Finder: Tell us a little about the store today.
Frederique: The store today is a place that people come to bring back a souvenir for themselves of for loved ones. It's a place that people can find their travel basics and find good quality denim pieces. We truly believe that feeling good in your clothes should be the priority. We take care of making people feel good!
Villa Finder: Tell us about your relationship with the brand and production team.
Frederique: My relationship with my local workers and staff are all about mutual respect. I have a really special team! They are the true color of my company and they reflect what I believe in life and aspire to share with others. My team is more than 'staff', they have a love for life, for fun and for happiness. They dream big, they want to travel, they want to explore the world, play music, dance, laugh, surf… My local families who I work with to make our clothing are amazing too! They teach me a lot about the job, and we grow together. I want to respect my workers and give them the opportunity to grow as we grow too. It's a big, yet small team that we have, and we are one big happy family.
Villa Finder: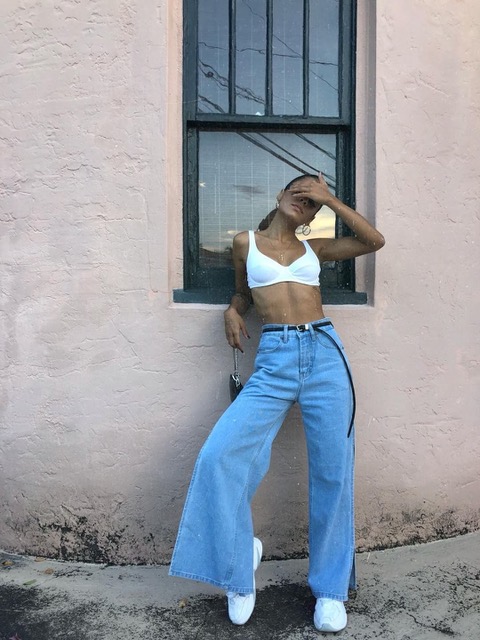 What defines the Les Basics style? Where do you find your inspiration?
Frederique: Simple. It's basics. We create pieces that are basics. Timeless pieces. Everyone needs the perfect white tee, or the perfect high waist denim short in their wardrobe. We bring style, comfort and timelessness in all of our pieces.
Villa Finder: What products and pieces does Les Basics stock?
Frederique: We have a wide range of basic tees, tank tops and numerous denim items from mom jeans to denim shorts and jackets. We also have some basic sweatshirts. Finally, we stock some linen goodies, bikinis, sarongs and bags from a good friend of ours.
Villa Finder: Give us a rundown of an average day of living and working in Bali.
Frederique: / Get up early with the sun! / Reading few pages of my book and a swim. / A quick breakfast and up to the warehouse/office to start the day. / At the warehouse there are a lot of jobs to organise and making sure all the products are all made well. / I usually have few meetings during the day. / Come night, I try to catch the sunset whilst having a relaxing dinner. / Then it's either sleeping early, going out or watching a movie. There is not a day like the another here in Bali. There are always new and unexpected things happening every day.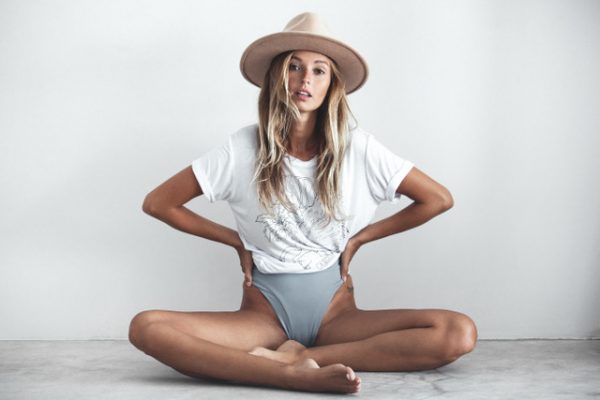 Villa Finder: Do you have any words of advice for budding entrepreneurs hoping to make it in Bali?
Frederique: Go slowly and simply. Take time to visual your self and understand all the pro and cons of having a business. That includes a lot of things; moving far from your loved ones, starting a whole new life in a different country, finding new friends, finding a balance and so on. Starting a business can have it's up and downs and a lot of challenges will arise (as all entrepreneurs will agree), but nothing is permanent; don't try to control things you can't. When we work with a different culture than our own, it's all about adaptation and learning to work together in harmony. I think the best lessons I've learned so far in Bali: let it go sometimes. It can be hard, yes, of course, but if everything were easy, everyone would do it! I recommend listening to your little inner voice and follow it wherever it leads you. Nothing can go wrong because at least you tried.
Villa Finder: Any words you live by/ your favourite quote?
Frederique: Oh that's a hard question! People that know me I am a big fan of quotes (you can see in my denim branding for example haha). 'If everything were easy, everyone would do it!' and 'There is a beauty in simplicity.'
Related: An interview with Feminist & Stowe Swim Founder Hayley Ferguson