Living on the incredible island of Bali means different things to different people, perhaps endless poolside cocktails for some, living the expat life for others. But for me, the excitement lays in the homewares shopping. What once was endless window shopping has now turned into an ever-growing obsession with the amazing interior design stores that the island has on offer! For those of you who are just visiting and may not have as much of a chance to explore Bali's many meandering streets and alleys (after all only so much time can be taken away from the pool and cocktail bar – oh the stresses of holiday time management!), here is a quick guide to some of best Bali homeware stores that you simply must visit.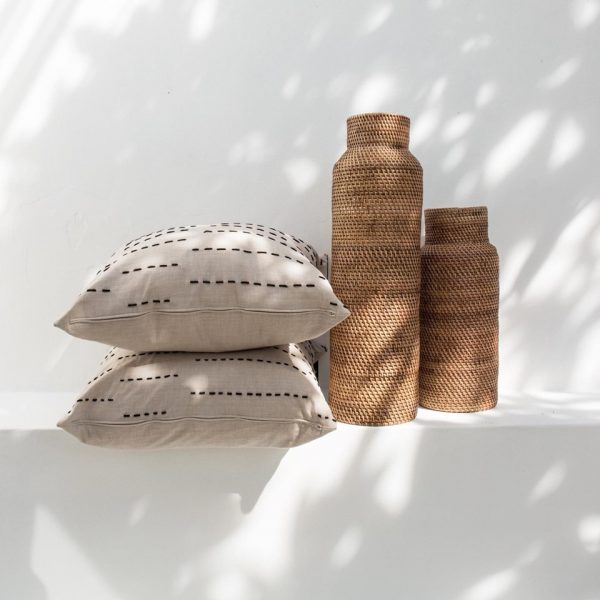 Kim Soo (@kimsoohome) is one of Bali's most dreamy interiors and homeware stores. The entire shop is extremely photogenic, in fact, you'll feel more as though you are in a modern villa than in a commercial space. The back of the store boasts a pool, which provides the perfect backdrop against which to display some of their outdoor products and adds to the overall homely feel.
Kim Soo's products are sourced from throughout Indonesia and reflect a mixture of traditional and contemporary design which will keep you lingering as you discover everything from wooden chopping boards and marble coasters to knitted blankets and woven rugs. On top of the home-wares, you'll even find a few fashion items including ready-to-wear Gertrude silk, handbags and hats.
Oh, and if you find yourself overcome by the sheer amazingness of Kim Soo's homewares, they have an in-store cafe at which you can recover over a light meal, or, even better, a coffee and a slice of one their delicious homemade cakes.
Location: Jl. Kayu Aya No.21, Kerobokan | Open: 9am – 10pm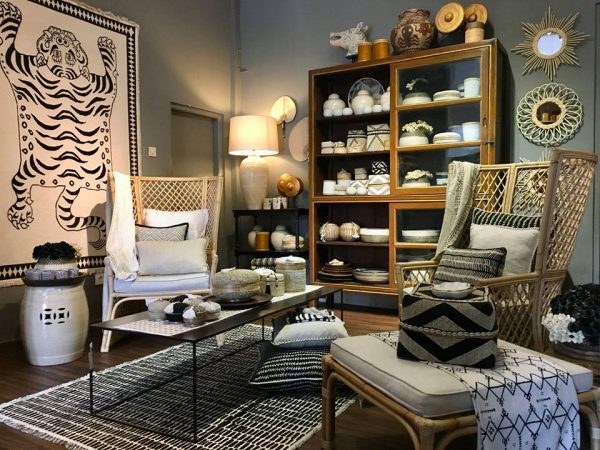 Mecredi adds a hint of French style and touch of colonial grandeur to Bali's homeware scene. If you are looking for hand-stitched bedding, luxurious throws, botanical prints, woven rattan chairs or exquisite ceramics, then this is the place to come. Although the collection is colourful (taking inspiration from Bali, how could it be anything else?), the overall style remains chic and sophisticated.
Location: Jalan Raya Taman, Seminyak | Open: 9am – 9pm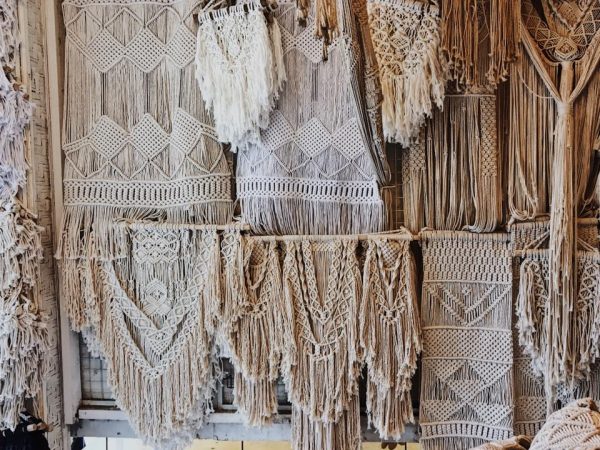 Abang is located on one of Seminyak's busiest streets, Jalan Raya, and busy is the perfect way to describe this store. The moment you walk inside you won't know where to look: there are things hanging from the walls, things dangling from the roof and things piled high around you – in short, there are things, wonderful things, in every single nook and cranny. Abang specialises in macrame and crocheted goods, and, inside you will find pretty much every possible variation of these available, from cushion covers to hammocks.
Location: Jl. Raya Seminyak No.19, Seminyak | Open: 9am – 10pm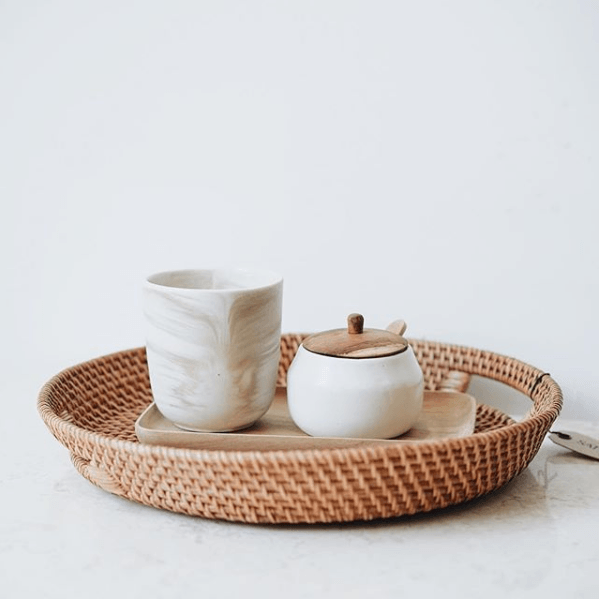 Located in downtown Seminyak, Satunama is a homeware store whose eco-friendly products are made from only natural materials. When the store first opened it had only a small range of beautiful wooden trays and bowls (as well as a few other items) usually highly lacquered and vibrantly coloured, and, whilst these are still key to the collection, the stop has expanded into a stylish concept store selling a variety of creations from international designers. If you can leave without buying at least one printed cushion cover or a fragranced candle, then you are stronger person than most!
Location: Jl Kayu Aya , Seminyak | Open: daily 8am-10pm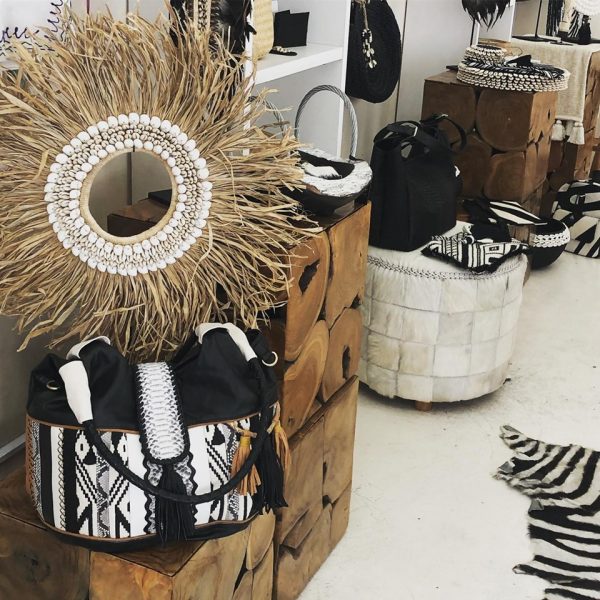 Eclectic is the word that comes to mind when attempting to describe the collection of goods you will find upon entering the Toko Emporium (@tokoemporium). Vibrant, funky and bohemian are a few others that also work, although I'm not sure that any of them really do it justice. There is something here for everyone, from pineapple shaped mirrors to shell encrusted dog collars. My particular favourites are their perfect little rattan baskets, resplendent with stars and brightly coloured pom poms.
Location: Jl. Oberoi No 1, Seminyak | Open: 9am – 10pm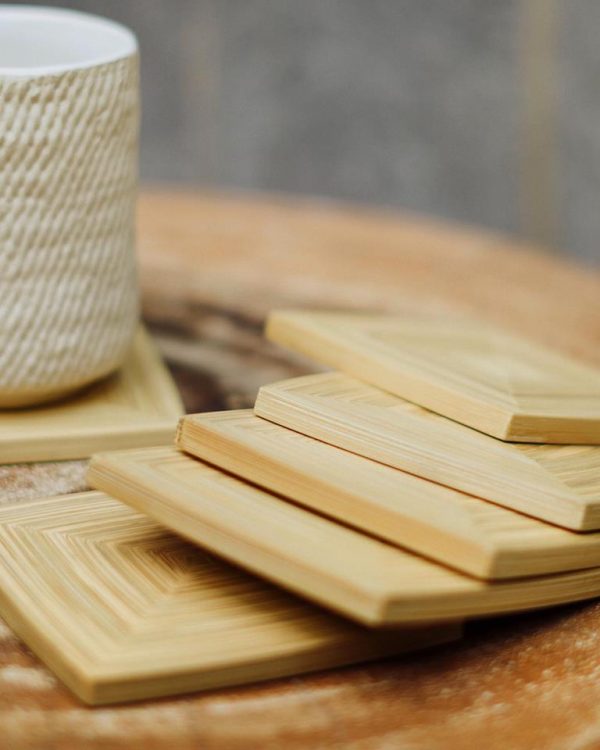 Considered by some to be the best homewares shop in Bali and conveniently located right in the heart of Seminyak, Carga (@cargabali) is the perfect place to pick up a few gifts for friends and family or spoil yourself with a few choice pieces for your own home. Their collection runs from exotically fragranced candles and greeting cards to ikat handbags and colourful kid's furniture. Their beautifully carved wooden bowls are not to be missed and they also carry a range of ceramics by local designers, Kavala (if you have ever stared admiringly at any of the crockery you have encountered in a restaurant or hotel in Bali, there is a good chance it came from Kavala).
Location: Jl. Petitenget No.886, Kerobokan | Open: 9am – 9pm
You may not have realised that you need some neon coloured iron work in your life, but this funky little shop will show you the error of your ways. They sell everything from table top lanterns and ornate candelabras to furniture and decorative sculptures all with the added benefit of giving you a closer understanding of how Dorothy felt when she first arrived in Oz!
Location: Jl. Drupadi, Seminyak | Open: 9am – 5pm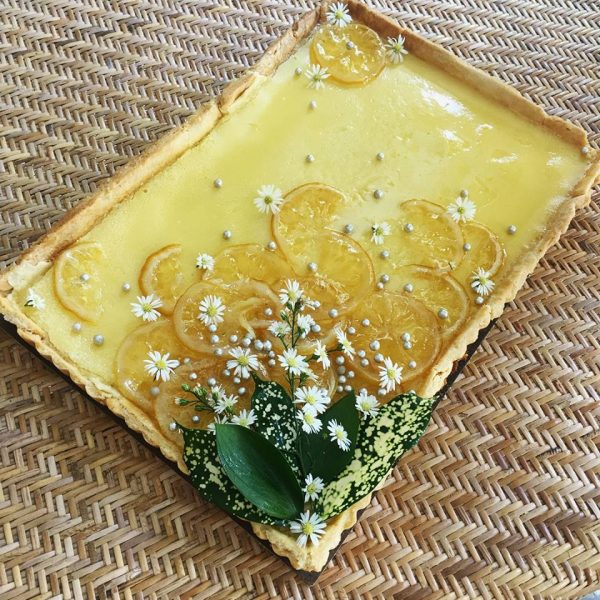 This lifestyle store has earned itself a reputation as one of Seminyak's most fabulous boutiques. The floorspace is huge and you will find it full to the rafters with a beautiful array of wonderfully designed furniture, knick-knacks, jewellery and textiles, including clothing lines for men, women and children. When you are done with the shopping, you can unwind in the store cafe which is well known for serving some of the best coffee around as well as a range of organic snacks and tasty treats.
Location: 10 Jalan Basangkasa, Seminyak | Open: 7:30 am – 6pm Mon – Sat, 9am – 6pm Sun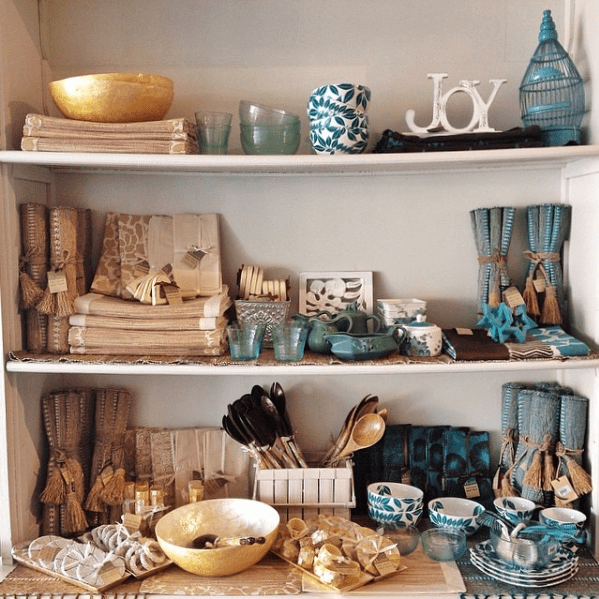 This is a family-owned, fair trade business (@balizen) that places great importance on giving back to the community, with all of their products being created by local artisans. Their designs are drawn from a mixture of traditional and contemporary Asian inspirations and are made from natural materials such as bamboo, vetiver and cotton. This is arguably the best store in Seminyak for textiles, their range of soft furnishings (lamp shades, bed linen, tableware, cushion covers etc) would be at home in any of the world's most fashionable cities. I'm not sure that I have ever recommended a store for its umbrellas before, but the ones here are based on the traditional Balinese parasols that you see will outside every temple and in every ceremony and they are absolutely beautiful.
Location: Jl. Raya Taman No.27, Seminyak  | Open: 10am – 7pm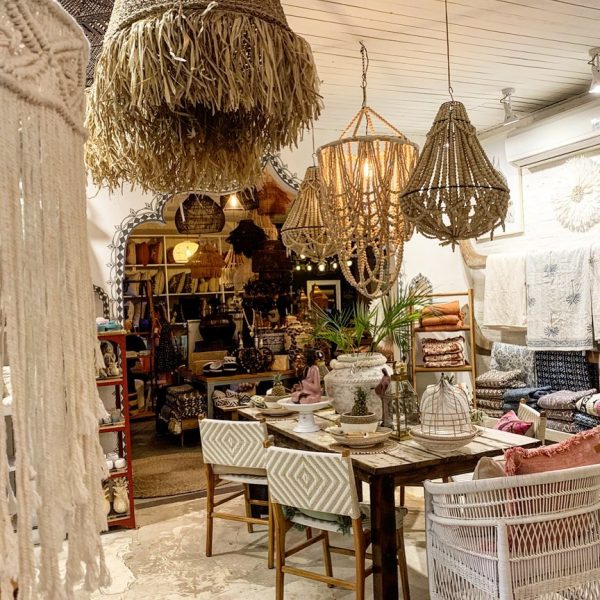 Situated in Bali's trendiest up and coming neighbourhood, Canggu, Bungalow Living is the absolute epitome of island life and bohemian style. From the outside, the shop looks like a cute, wooden framed house, a look which is often accentuated by the owner's poodle! On the inside the store is teeming with beautiful soft furnishings (cushion covers, throws, etc) inspired by designs from all over Asia. You will also find rattan furniture, small ornaments and other accoutrements and accessories, all in stylish natural colours. If you are worried you won't be able to pack all of your amazing finds, have no fear as Bungalow Living also sells through their website and is able to arrange international shipping.
Location: alan Raya Pantai Berawa No.35, Canggu  | Open: Monday – Saturday 8am – 6pm, Sunday 9am – 5pm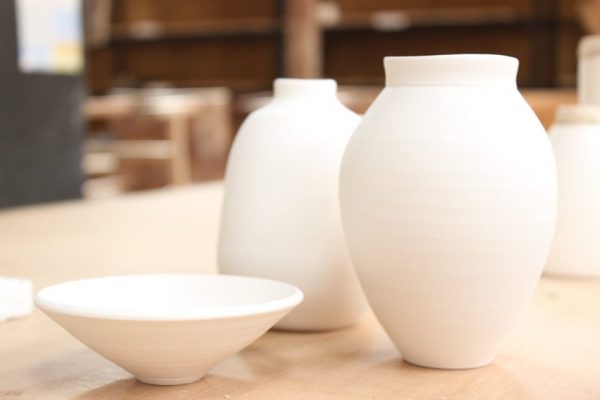 Despite being a family run business Gaya Ceramic employs over 100 skilled artisans who work together to create some of the most attractive ceramics you will ever lay eyes on. Stepping into their showroom in Ubud is like a breath of fresh air, their work is designed to emulate the moods and shapes of the world and is comprised of mainly soothing blues, natural stones and other 'earthy' colours, highlighted with flecks of gold and silver. If you are looking to bring a new level of sophistication and style to your dinner parties and home decor, then this is the place to come – just ask the Mandarin Oriental, the Ritz Carlton, or one of the many other internationally renowned luxury brands that have bought from them. Gaya's products do not come cheap, but they do provide a design service that offers a high level of customisation and I would probably kill to own one their beautiful vases!
Location: Jl. Raya Sayan 105, Ubud | Open: Monday to Saturday 9am – 6 pm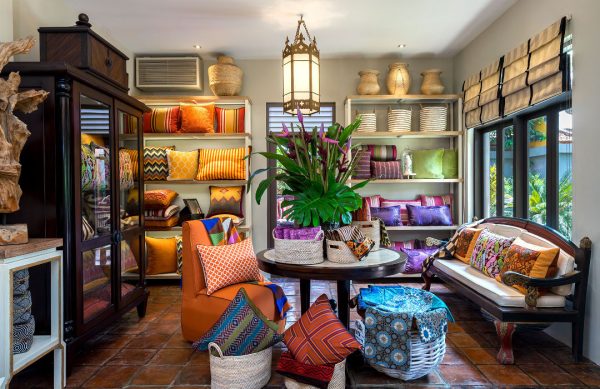 The Kamala Home Boutique is spread across two traditional Balinese townhouses in central Ubud. Shopping here is 'experiential' meaning that their furniture and accessories have been set up as they would be in a home. The basic concept for their collection is 'tropical modern', a perfect blend of east and west, old world and new, where locally sourced materials and traditional techniques are given a vibrant modern twist, resulting in some truly unique pieces that will leave your home looking like a tropical paradise.
Location: Jl. Tegal Sari No.10, Ubud | Open: 9am – 5pm
Although the above stores are only a drop in the ocean when it comes to the Bali shopping experience, they will give you a great place to start and, hopefully, plenty of opportunities to take a little piece of Bali back home with you.
Please follow and like us: