Feeling hungry? Is eating one of your favourite activities to do in Bali? We don't blame you! Bali is a food paradise as much as anything else and you can be sure you came to the right place for heavenly local dishes spiced and grilled to perfection! Bali has got a lot of amazingly delicious food on display – literally! – keep reading to find out what food you can't miss out on during your Bali holiday. This blog post is all about top Indonesian dishes to try. Here are 6 of our favourites:
1. Nasi Campur – the best way to try everything!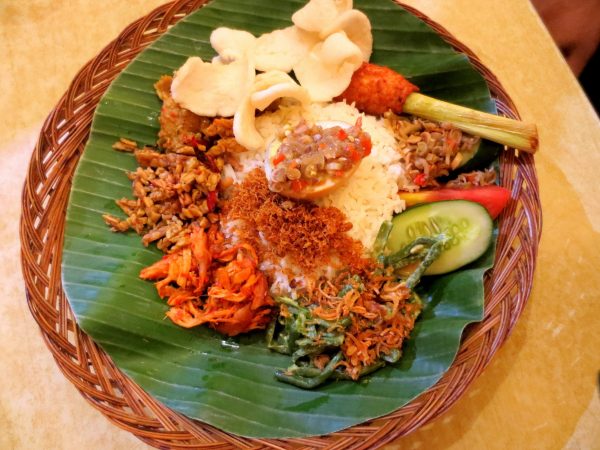 Nasi Campur is all about 'food on display'. The idea here that you can eat exactly what you like. You get a plate of rice and you pick the dishes you want to go with your rice. 'Nasi' is the local word for 'rice' and 'campur' translates to 'mix'. So,  you gotta mix and match and soon you'll be munching on delicious home-cooked Indonesian food at the local warung. Staying in Seminyak? Try the food at Warung Melati, Warung Murah or Warung Kolega. In Sanur, Warung Santai is a great option and Canggu, check out Warung Bu Mi. Looking for a fancier version of nasi campur, ask for 'rijsttafel' at top Indonesian restaurants such as Made's Warung, Merah Putih or Bambu Restaurant.
2. Babi Guling – whole roasted suckling pig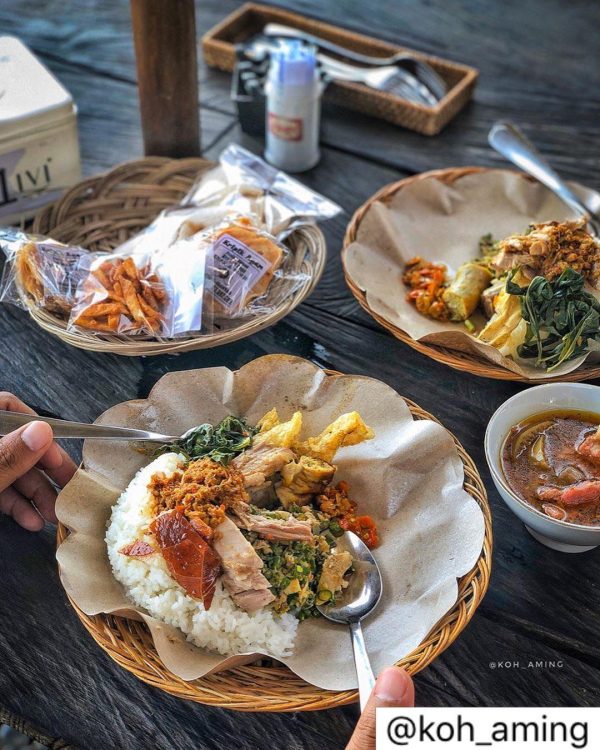 Babi Guling is truly Balinese! At every Balinese party and celebration, you can expect to find suckling pig – a whole pig stuffed with local spices slow-roasted over a fire to provide large groups with a feast of food. Not Halal but if you are one of those travellers who like to try everything and eat as the locals do, babi guling is not to be missed! Most people love it! There are plenty of local eating places that serve nothing but babi guling. A plate comprises of different parts of the suckling pig, from the juicy meat to the crispy skin. The most famous places to try this local Balinese delicacy is Ibu Oka in Ubud and Pak Malen in Seminyak but you can basically get it all around the island.
3. Martabak & Terang Bulan – savoury and sweet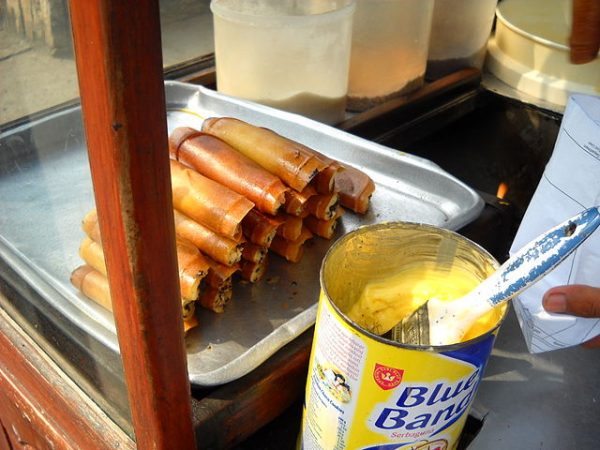 Another local snack you have to try is Martabak and Terang Bulan. These are inexpensive snacks you can buy in the evening along the roadside all around Bali. This is real authentic 'street food'! Martabak is like a giant Indonesian lumpia, crispy, fried in oil and stuffed with meat and veggies. Terang Bulan is the dessert, usually made at the same street stall but baked in a pan. If you are not on a diet, you gotta try it! It's like a big cake or pancake with butter, condensed milk, chocolate, banana, peanuts or whatever you like. A sweet treat you will only find in Indonesia!
4. Pisang goreng – crispy fried bananas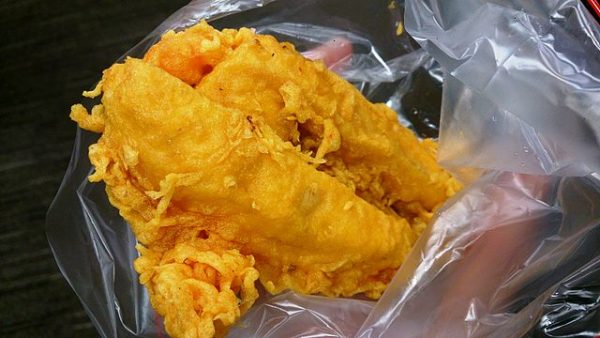 Talking about fried stuff, another favourite is 'pisang goreng' – fried bananas. You will find it at night markets made freshly in front of your eyes. Totally yummy!
Relate: Organic eats in Seminyak: A haven for food lovers
5. Rujak – a spicy fruit salad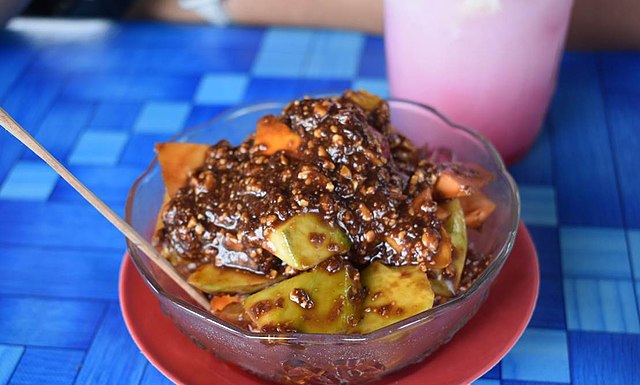 Can you handle spicy food? If your answer is yes and you love it, you must try a local dish called 'rujak'. For the locals, rujak is like a mid-day snack. So, what is it? It is a fruit salad but not a regular one – this one is drenched in a yummy spicy sauce made from palm sugar, tamarind, salt, shrimp paste and chilli, lots of chillies! Rujak is one of my personal favourite dishes!
6. Sate Lilit Ikan – fish satay on a lemongrass stalk
You probably already had your share of delicious chicken sate but how about trying something new – something typical Balinese – fish sate. Sate Lilit is minced fish meat skewered on a lemongrass stalk and smoked over a charcoal fire. It is delightful!
Please follow and like us: