When you think of France, you may picture endless vineyards, medieval towns, beaches and mountains but did you know you can also go on an unforgettable ski holiday in the French Alps? There are gorgeous ski chalets you can rent for a wonderful time with family and friends. Want to go top of the notch? These are our most amazing luxury ski chalets in France: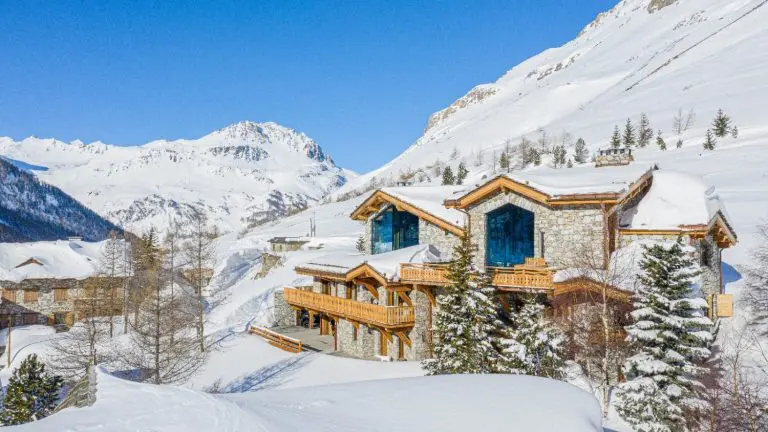 This luxury chalet is located in the stunning Val d'Isere in France. Just minutes from the lovely town of La Fornet and close to the slopes, this wooden chalet has 5 bedrooms and impressive luxury facilities. How about a private indoor heated pool? In fact, Chalet Orca has an entire dedicated wellness space with a jacuzzi, sauna, hammam and a large Italian shower. You get to enjoy spectacular views from the bed and the wooden balconies. Chalet Orca has a private gym and a room with a billiard table. It's just impossible to get bored. The design of this chalet is ultramodern while still maintaining a traditional feel. We love the extra-high full-length glass windows providing you with breathtaking views of snow-covered mountains. Al we can say is "wow!".
Highlights
Wooden luxury chalet
Stunning architectural design
just 200 metres from the nearest ski lift
Private pool
jacuzzi, sauna & hammam
private gym
Sleek, stylish and contemporary, the 5-level Villa Dolce Vita lets you enjoy the sweetness of life in decadent ways! You'll just want to stay forever. This luxury chalet in France has no less than 8 bedrooms and it boasts amazing valley views. The villa is designed with refined Italian decors and it has amazing features including a wellness area with a heated pool. Always wanted to soak in a jacuzzi outdoors while gazing at snowy mountains? Here's your chance.
Highlights
Chic Italian decors
Heated pool
Outdoor jacuzzi
Breathtaking views of the French Alps
5 levels
8 bedrooms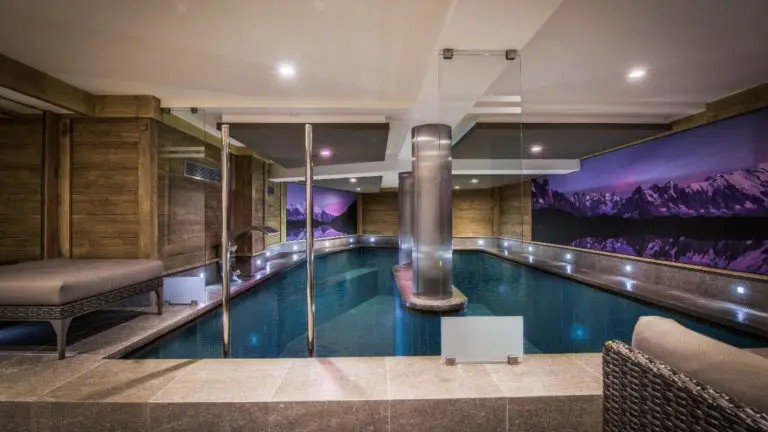 This is a stunning wooden luxury chalet with high-vaulted ceilings and rustic interiors. It's located in Courchevel 1850 in the amazing French Alps. The chalet has 4 bedrooms of which 1 is fitted with bunk beds, ideal for families travelling with kids or teens. You can expect fantastic views, spacious living areas and great extras such as a private pool.
Highlights
gorgeous wooden design
South-facing terrace
Indoor heated pool
Bunk beds for kids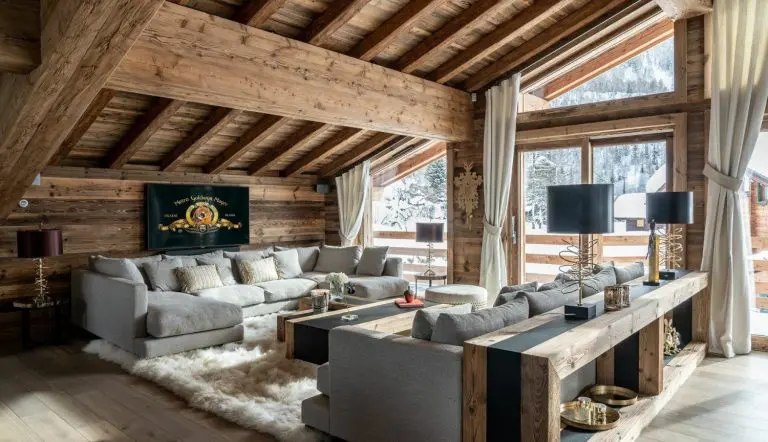 Rustic and luxurious, Chalet Infinity is a wooden private accommodation in the French Alps featuring a private swimming pool, sauna, gym, hammam and cinema. There are plush sofas and plush carpets, long draped curtains and daybeds by a fireplace – a wonderful place to spend quality time with friends and family. Villa Infinity has 5 bedrooms and from all rooms, you get to enjoy beautiful views of the countryside. The entertainment room has table football for ongoing fun for young and old.
Highlights
Wooden luxury chalet
wonderful views
Sauna, hammam, gym
High-tech cinema
Modern kitchen
Football table
Private pool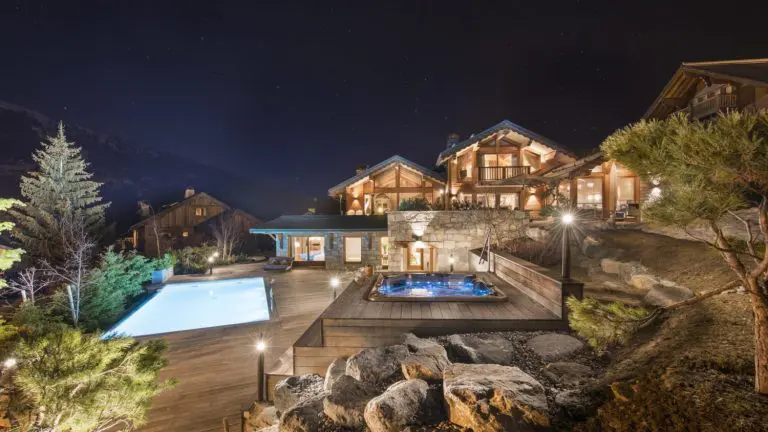 Just a short walk from the ski lift in the picturesque village of Meribel, Chalet Mont Tremblant is an amazingly spacious and luxurious holiday property in France. The chalet has 6 large bedrooms and it boasts unbeatable facilities including a big private pool, outdoor jacuzzi, sauna, Hammam and games room with a billiard table. Chalet Mont Tremblant has high vaulted wooden ceilings and large glass windows and doors for stunning views of the surroundings. There are plenty of places to relax and sit together. How about the sofa lounge around the fireplace? It's easy to feel at home!
Highlights
Located on the outskirts of Meribel
Private pool
outdoor jacuzzi
Sauna & Hammam
Games room
fireplace
Epic views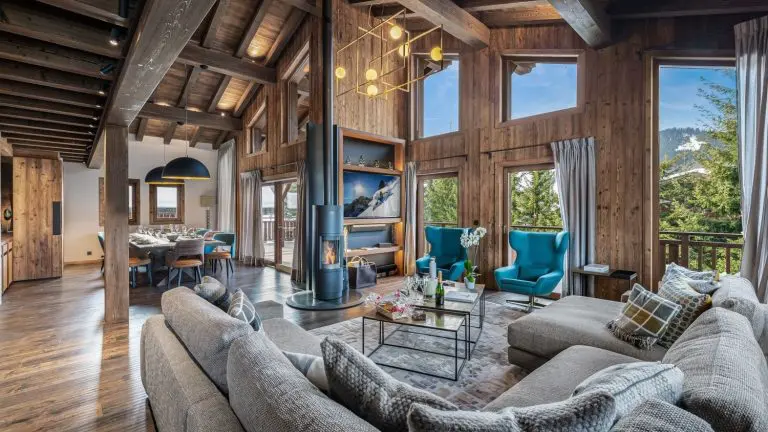 Chalet Divinity is a classy wooden luxury accommodation with chic interiors, breathtaking views and impressive facilities. The villa has a cinema, a private swimming pool, gym and jacuzzi. The living and dining spaces are spacious and bright with tall glass doors opening up to a large wooden terrace. The sofa lounge has a fireplace and stylish blue armchairs. All 5 bedrooms have AC and flat-screen televisions. The surroundings are scenic and unspoilt. A great place to reconnect with nature without having to give up on modern comforts.
Highlights
Chic interiors
gorgeous views
Private swimming pool
Private gym
Jacuzzi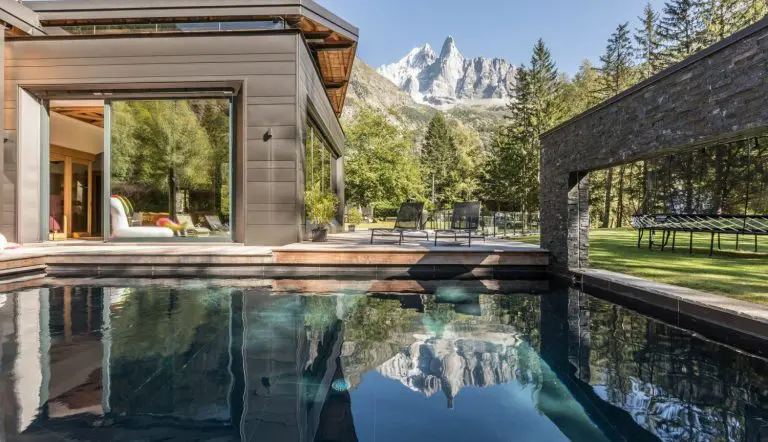 Snow-peaked mountain views to wake up to, a big private swimming pool where you can swim all day, Chalet Dalmore is an extraordinary 3-level holiday retreat in the French Alps. The huge private garden with manicured lawns and timber decks makes this chalet the perfect place to spend a holiday with friends and family. Summer of wintertime, you are bound to have a blast! Chalet Dalmore features a heated rooftop terrace, a cinema and a private spa with sauna and massage beds. Wow!!!!
Highlights
huge property in a beautiful area
Large garden with a big pool
Wellness area with sauna and massage beds
Heated rooftop terrace perfect for yoga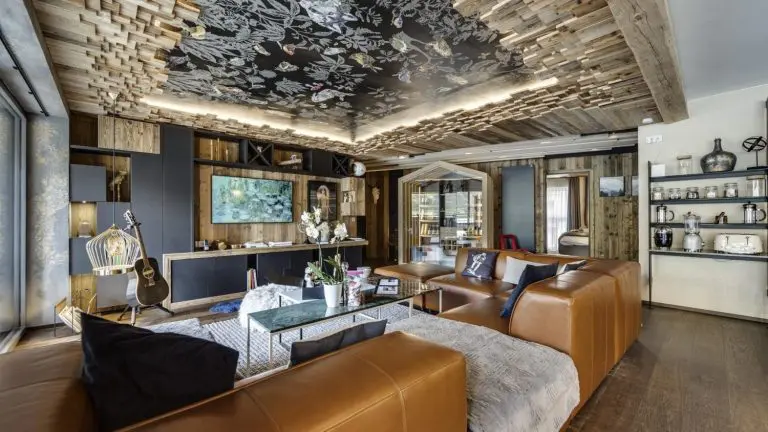 This chalet doesn't just feature mountain views but also dreamy lake views. Ultracontemporary and chic, Chalet TAJJ sits at the foot of the ski slopes in France and it is home to 5 decadent bedrooms. You will absolutely adore the outdoor terrace where you can soak in a jacuzzi while gazing at the view of Lake Tignes. The chalet also boasts a private sauna and a Roman bath. The living room has stylish leather sofas and beautiful artwork carved into the ceiling. Chalet TAJJ is a unique holiday retreat easy to fall in love with.
Highlights
gorgeous lake-view property
ultramodern designs
Terrace with jacuzzi
Wellness area with a sauna
Roman Bathtub
Want to see more? check out all of our chalets and villas in France here.
Related articles:
Please follow and like us: