What's the fun of going to Bali with your friends or families when everyone just retreats to their own room? You have no space to move around, and worse, when the kids go to bed, you have nowhere else to go, although the night is still young. That's why our clients love these villas. These villas have beautiful gardens, a private swimming pool, a living room with a kitchen (great for families!) and everyone will have their own private bedroom situated around the communal living area and garden. Perfect! Going with a group of six? Check out the best 3-bedroom villas in Seminyak below!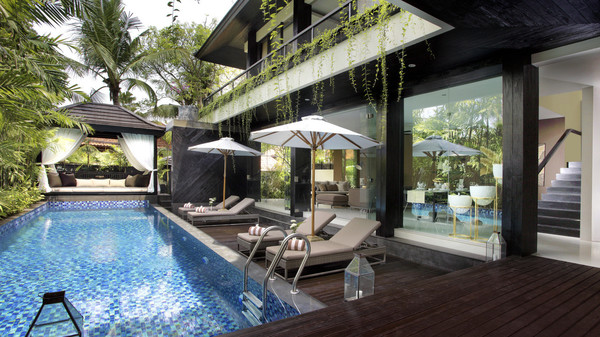 Chic and contemporary, Villa Balimu is a wonderful luxury home located right in the centre of buzzing Seminyak. Guests get to enjoy a stylish, air-conditioned living space designed with glass bi-fold doors that open up to your private tropical garden and mosaic-tiled swimming pool. Are you the type of person who likes to watch movies from the bed? All 3 bedrooms come with super comfy king-size beds, smart TVs and AC. Yay! The garden is like a peaceful haven with a 10-meter lap pool, sun loungers and a poolside gazebo with cushions. Champagne, chocolate, and charcoal colours rule the design of the living room combined with colonial-style chandeliers and chic cushioned sofas. The pool is guarded by a large hand-carved Bussha statue and there is an outdoor alfresco sofa lounge as well.
Key features
Chic interiors and artwork | AC in the living room | 10-meter lap pool in a sprawling garden | Alfresco lounge area |Smart TVs and Sonos sound system | Located in Oberoi | short walk to the beach and KU DE TA
Prices start at US$684 (low season), US$986 (high season) and US$1,276 (peak season)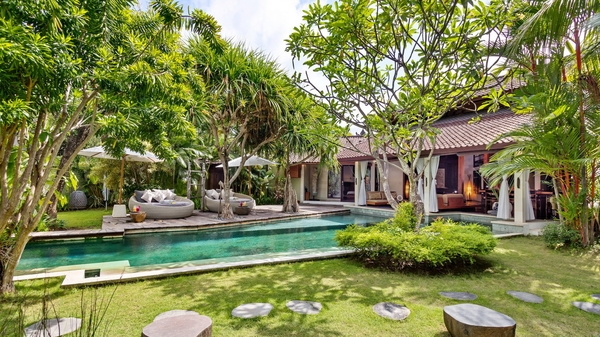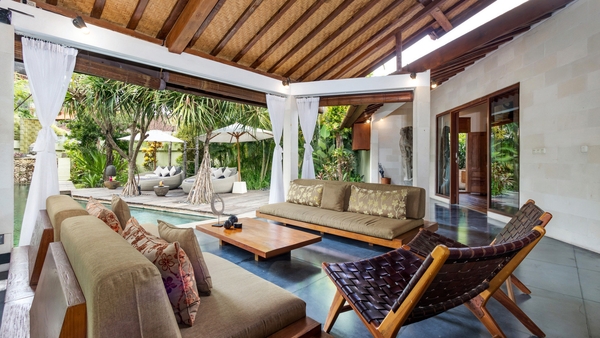 Bright, beautiful, tropical and luxurious, Villa Shantika makes holiday dream come true. This gorgeous 3 bedroom villa boasts a huge tropical garden with lots of plants and trees like some kind of oasis. On top of that, there is a long shimmering lap pool to plunge into. By the poolside, shaded by tall tropical trees, there are sunbeds and circular day beds to relax on. Get ready to soak up the sun or take a daytime nap in a paradise-like setting. That'll be restful, alright! The architecture of Villa Shantika is stunning with gorgeous teak wood and high vaulted rooftops.  The ceiling fans make sure the living space is airy and never too hot. The mezzanine is the place to be for entertainment, watching movies and reading books.
Key features
Sprawling garden like a secret paradise | 14-meter lap pool | stunning traditional architecture | Mezzanine TV lounge | Short walk to Double Six Beach |
Prices start at US$350 (low season), US$380 (mid-high season), US$450 (high season) and US$490 (peak season)
Related: Top 10 Restaurants in Seminyak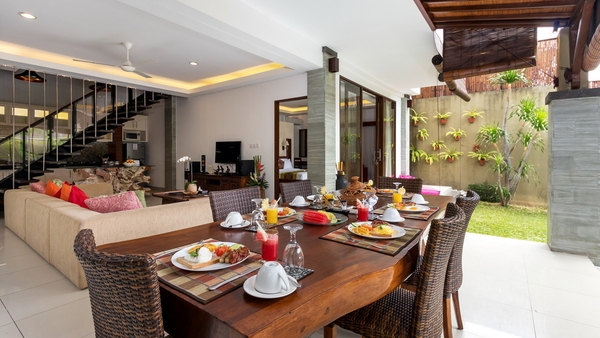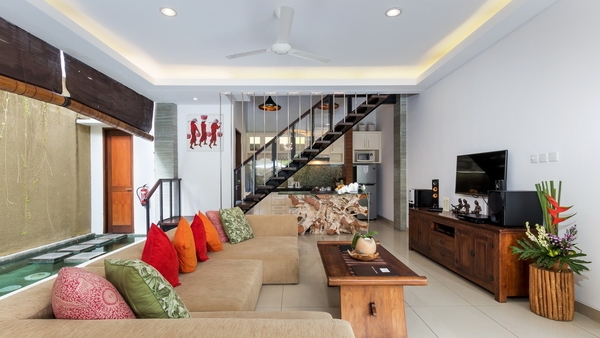 The Kumpi Villas is a complex of private residences located just behind the famous Oberoi Road in Seminyak. Fusing tropical charm with modern style, this place makes you feel right at home. You will enter this modern Balinese 3-bedroom villa in the beautiful garden where you can swim, sunbathe and chill out on comfy beanbags with a cocktail in hand. The living room is open-plan and it is furnished with a comfy sofa, TV, dining table and kitchen. Which bedroom will you pick? The downstairs one with easy pool access or one of the upper bedroom adjoined to a breezy balcony with garden views? Tropical elegance, modern comforts and a lovely team of staff at your service,  this villa is great for families looking for a 'home' on the island of Bali.
Key features
Open-plan living room | modern furnishings & tropical elegance | private pool | TV | modern family kitchen | Balcony with garden views | Located in trendy and happening Oberoi |
Prices start at US$413 (low season), US$434 (high season) and US$455 (peak season)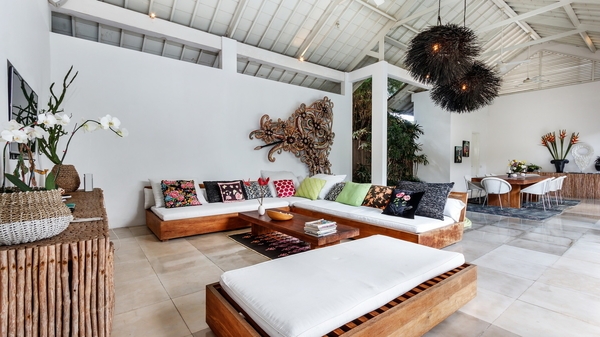 Villa Mimi is an eclectic tropical luxury villa with an abundance of space and a whole lot of charm. This 3-bedroom Seminyak villa features a large fan-cooled living space with garden and pool views. In need of some air-conditioned comfort and entertainment? Head over to the study/entertainment room with a library of books and a satellite-TV. The villa is furnished with teak and rattan furniture, ethnic carpets and hand-made traditional textiles. The 3-bedrooms have got king-size beds, TVs and garden-style en-suite bathrooms with rainfall showers and outdoor bathtubs. Want to stay close to your kids? The study can function as an extra bedroom and it is adjoined to the master suite. The pool has got a shallow area for kids to play and parents can keep an eye on them while chilling out on the beanbags. The gazebo might be the best spot for an in-villa massage.
Key features
Pool with shallow area | Gazebo built above the pool | Traditional architecture | luxurious bathrooms with bathtubs | Entertainment room/study | Located in the heart of Seminyak |
Prices start at US$412 (low season) and US$453 (high season)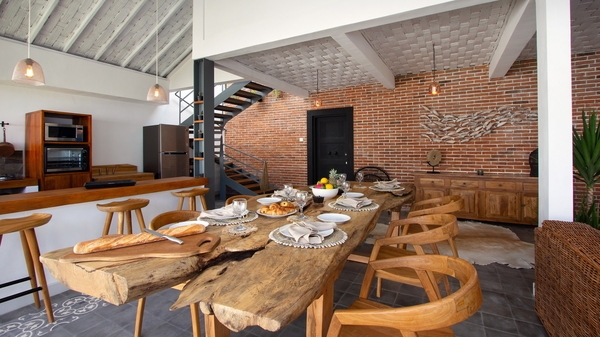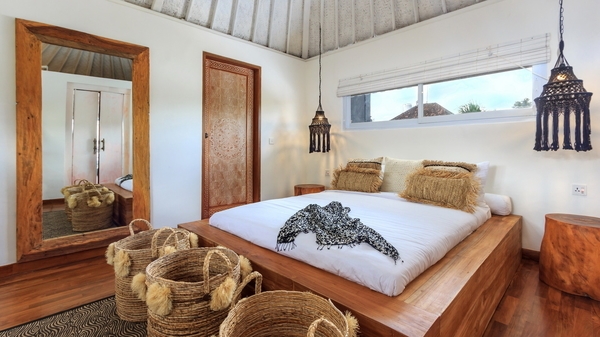 Want to stay somewhere tropical and exotic in the Drupadi area of Seminyak? Villa Madurai is the hidden gem you have been looking for! Close to Double Six and Oberoi Street, it is impossible not to love this 3-bedroom Seminyak villa with its ethnic textiles and indigenous artefacts. Villa Madurai is a tropical stunner! The garden features an outdoor lounge corner for cocktail sipping under the sun and there are in-water lounge beds – the best place to work on that tan! The living room is designed openly to the garden and the interior is all-natural and rustic. Brick walls, teak wood, rattan and hand-carved sculptures from islands across the archipelago, you can tell much love and thought has been put into the design of Villa Madura. There is a modern French kitchen, a TV with international channels and there are 3 super comfy bedrooms.
Key features
Outdoor lounge area | In-water sunbeds | Rustic interiors & tribal artefacts | Rustic kitchen with a French butchers table & wine rack | Superbly located in central Seminyak |
Prices start at US$300 (low season), US$310 (mid-high season), US$370 (high season) and US$400 (peak season)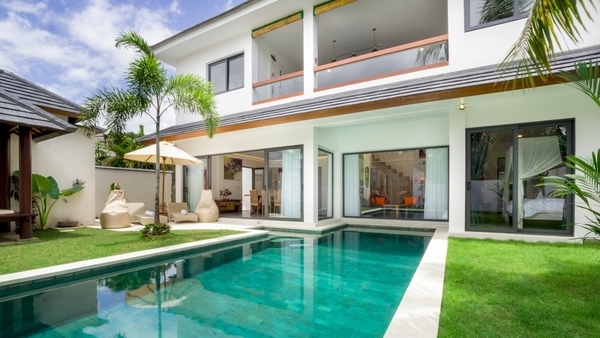 Villa Wiana is a modern, two-level luxury villa where living is sweet and tropical.  The villa is furnished and decorated elegantly with natural recycled timbers, rattan and hand-picked artwork. Downstairs, there is a sitting area, dining area and a large, fully-equipped family kitchen. On the second floor, the is a large open-plan entertainment hall with a billiard table and 2 cushioned sofas facing a massive flat-screen TV. The private garden is green and sunny. From the manicured green grass to the tall tropical trees and a glistening private pool tiled with natural green stones, everything is tranquil and wonderful here in the garden of Villa Wiana.  This family paradise is set amidst the lively shopping and dining streets of Seminyak. The beach is just a sip and a jump away. Be sure to catch the sunset in time!
Key features
Billiar table | TV corner | Pretty garden with a private pool | Direct pool access from the living room | large family kitchen | central location in Seminyak |
Prices start at US$330 (low season), US$350 (mid-high season), US$390 (high season) and US$430 (peak season)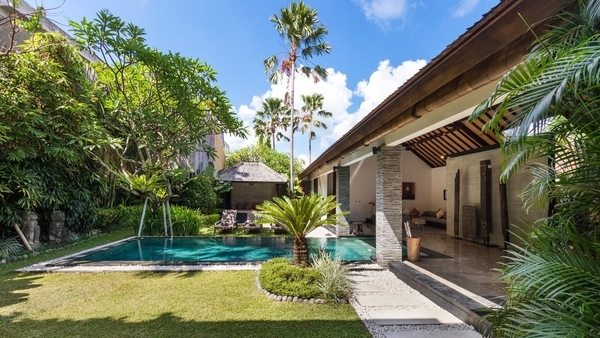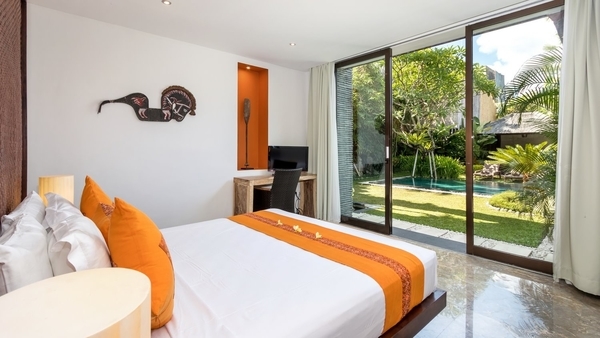 In need of a private villa tucked away somewhere secluded in the centre of town? Villa Anjali Orange is part of the Anjali Villas in Seminyak – the only 3-bedroom villa in the complex – and it makes a really comfortable and elegant island home near the famous beach clubs and restaurants in Petitenget (think Potato Head, W Bar, Sarong, Bambu, Metis). The design of Villa Anjali Orange is tropical chic, featuring a shiny marble floor, suede sofas, indigenous artwork and direct access to the private swimming pool in the garden. Go swim and sunbathe and enjoy a massage in the garden bale or go hang out upstairs on the rooftop terrace with a bottle of chilled white wine. Options are plentiful!
Key features
Open-plan living room | Large garden with a pool | Garden bale | Rooftop lounge | Located in Petitenget | Tropical charm & French flair | Natural tropical chic designs |
Prices start at US$330 (low season), US$350 (mid-high season), US$390 (high season) and US$430 (peak season)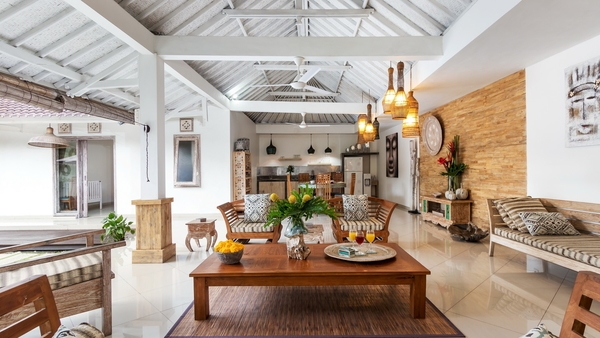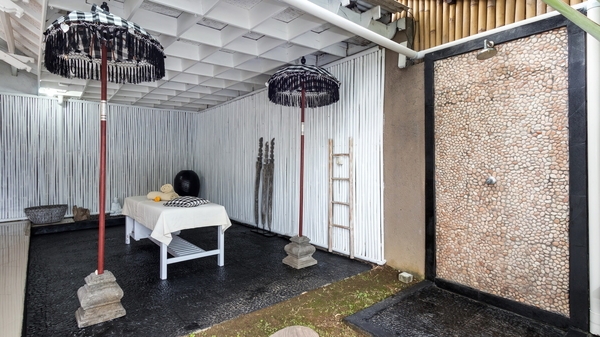 Another gorgeous, tropical-style 3-bedroom holiday rental in Seminyak is Villa Watie. This beautiful island retreat features a large garden with frangipani trees, palm trees and flowering plants growing lushly around the private pool and the sun deck with lounge beds. The living room features a traditional high-pitched ceiling painted in white and there aren't any walls separating the living space from the garden. How tropical! The interior design features teak wood, tribal artwork, copper lamps and apart from the sofa lounge with a TV, the dining area and the kitchen, Villa Watie has a tranquil little massage corner leaving you with nothing more to wish for! (Check out 10 best late-night spas in Seminyak)
Key features
Large tropical garden with a pool | Open-concept living space | All-natural interior design | Massage area | 5-minute stroll to the beach | very affordable |
Prices start from US$240 (low season), US$260 (peak season) and US$270 (peak season)
Please follow and like us: